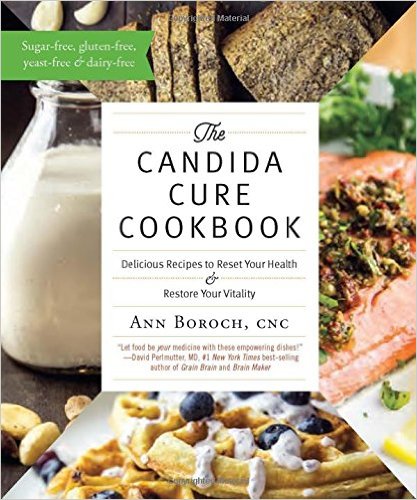 I'm so excited to finally share this cookbook with you.  After 2 years of collaborating with M.S. and Anti-Candida Guru, Ann Boroch, CNC, The Candida Cure Cookbook is finally here.  You can find it on Amazon by clicking here:
Give your body and your taste buds a boost with these nutritious and delicious recipes―all sugar-free, gluten-free, yeast-free, and dairy-free.
The Candida Cure Cookbook is filled with the recipes, resources, and tips you need to take control of one of the most important yet overlooked obstacles to optimal health: candida, or yeast, overgrowth. Candida overgrowth, says award-winning author and candida expert Ann Boroch, is the hidden cause of a wide range of health conditions that plague us today―from allergies, fatigue, leaky gut, bloating, irritable bowel syndrome, and sinusitis to eczema, anxiety, depression, brain fog, and autoimmune disease.
—
"When diet is wrong medicine is of no use. When diet is correct medicine is of no need. "
– Ancient Ayurvedic Proverb