A plant-based taco that's reminiscent of pulled pork, but totally vegan! Spicy Vegan Jackfruit Tacos are easy to prepare and will satisfy vegans and non-vegans alike!
have you heard of jackfruit?
Jackfruit is a fruit (the largest fruit in the world!) that grows in tropical areas of Southeast Asia, Brazil and Africa. Although technically a fruit, it's not very sweet with a neutral flavor that will absorb whatever seasoning you add to it. When cooked slowly, Jackfruit has a consistency similar to shredded chicken or pulled pork. Jackfruit is usually something that people gravitate towards when they're first transitioning to a vegan or plant-based diet because it's so hearty and similar to dishes they may be missing.

how the heck do you open it…
If you've ever seen an uncut Jackfruit, you may be wondering how the heck to cut it open! That's a very valid question and something i've actually never done, lol! There are many step-by-step guides online illustrating how to actually cut one open yourself, and fortunately they now sell canned Jackfruit in stores like Trader Joe's, Sprouts and Whole Foods, which is what i rely on instead!

Low and Slow
In order to get the texture of these tacos soft, flavorful and shredded you have to have a little patience. Cooking the Jackfruit in seasoning over low heat for at least 20 minutes allows it to absorb all the flavor and get soft. As you're cooking, keep an eye on it and add more liquid as necessary. Once it's soft, simply mash it using a potato masher or a fork.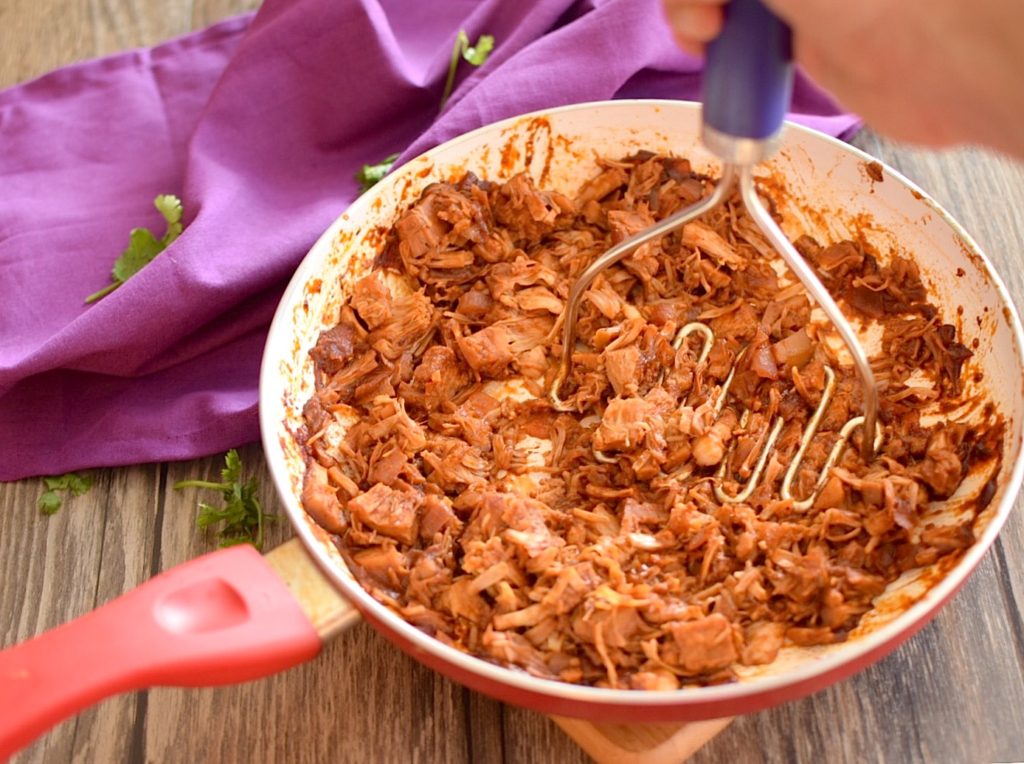 Specialty Equipment and Ingredients for this recipe:
Spicy Vegan Jackfruit Tacos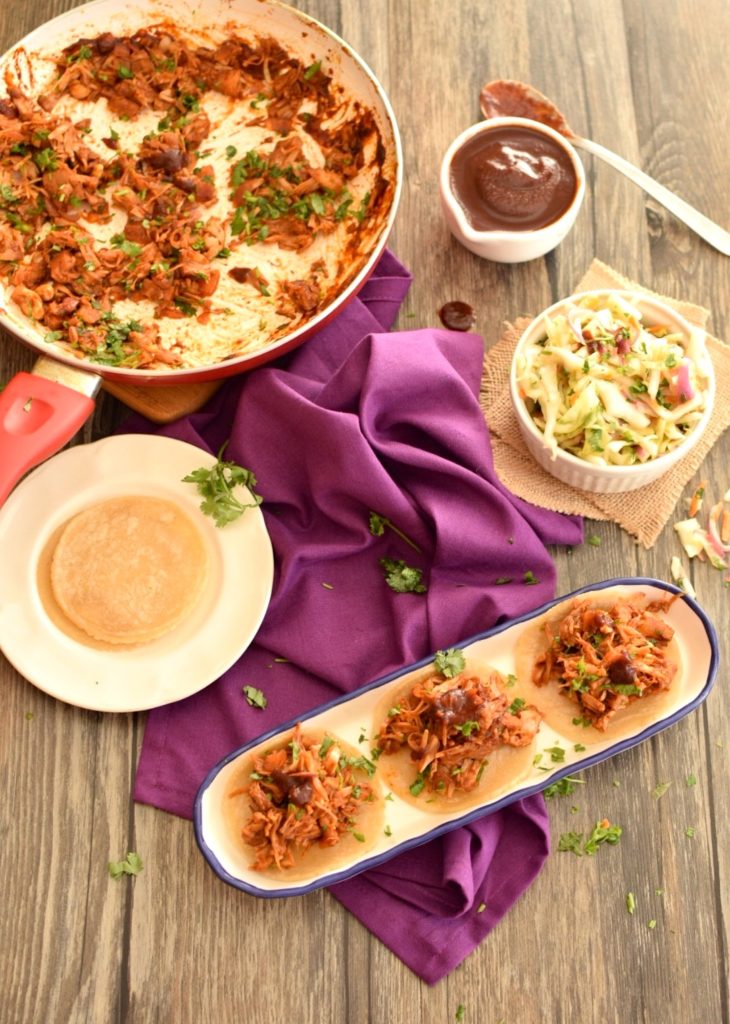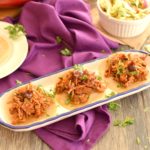 Spicy Vegan Jackfruit Tacos Recipe
Vegan | Gluten-Free
Ingredients
1

Tablespoon

olive oil

1/2

cup

red or yellow onion

diced

Pinch

sea salt

2

cups

fresh jackfruit meat

1/2

cup

BBQ Sauce

Organic, Vegan and Gluten-Free

1

cup

filtered water

divided, more if needed

2

green onions

minced

4

sprigs cilantro

minced
Instructions
heat a large skillet (with a fitted lid) with olive oil over medium heat. Once hot, add diced onion and a pinch of sea salt. Sauté for 2 - 3 minutes, or until onion starts to soften and become translucent.

Add jackfruit meat, BBQ sauce and 1/2 cup filtered water, give everything a quick stir and cover with fitted lid. Simmer for about 10 minutes, checking occasionally to stir. Add 1/2 cup more filtered water, give another quick stir and sauté for about 5 - 10 minutes more.  If liquid ever seems to be too low add more filtered water 1/2 cup at a time. Continue to simmer until jackfruit is tender. This should take about 20 minutes total.

Using a potato masher, or a large fork, mash the jackfruit. Add green onions and cilantro and stir again to combine.

Taste for seasoning and adjust sea salt as necessary. Serve with corn tortillas or our homemade Nut Free Paleo Tortillas.