Where to Turn?
I know first hand that there's a whole LOT of conflicting information out there about what foods to eat and avoid while on a Candida Diet.   On top of already feeling crappy and overwhelmed, it can be very confusing and frustrating.  I was there too!
I tried everything out there when I first suspected I had candida.  Oregano Oil, Bentonite Clay, Juice Cleanses, Papaya Seed Smoothies, Coffee Enimas…the list goes on and on.  It wasn't until I met Naturopath Ann Boroch, that things started to shift.
Ann Boroch was a naturopath who healed herself of Multiple Sclerosis (M.S.) with a candida diet. After that she dedicated her life and career to helping those with Candida overgrowth and auto immune diseases such as M.S., Lupus, and Crohn's do the same for almost 20 years!  I was lucky enough to start cooking for Ann in my personal chef business and we ultimately became close friends.  I studied her dietary program inside and out and ultimately wrote all the recipes for her book The Candida Cure Cookbook.
I have used these principals to help my personal chef and coaching clients over the past 4 years.
Everyday Recipes for Your Candida Diet:
Ultimately, I created my own Digital Cookbook with over 100 easy and delicious recipes for you to enjoy while on you Candida journey.  I truly hope this book acts a guide to you and helps make your candida cleanse as easy and delicious and possible!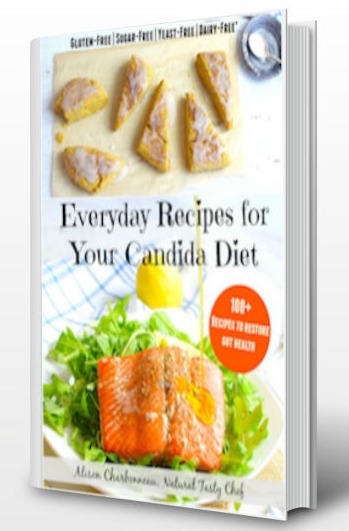 Foods To Eat
BEANS & LEGUMES TO EAT
(Enjoy only 1 – 2 times per week, or avoid until after 30 days)
Adzuki beans
Black beans
Fava Beans
Pinto Beans
Lentils
Garbanzo Beans (Chickpeas)
Kidney Beans
Navy Beans
Mung Beans
White Beans
Lima Beans
CONDIMENTS TO EAT
Mustard (made with Apple Cider Vinegar)
Brown rice vinegar
Apple cider vinegar
Umeboshi vinegar
Coconut aminos
Guacamole 
Homemade salsa
Homemade Mayonnaise 
DAIRY PRODUCTS TO EAT
Unsalted grass-fed butter
Unsweetened non-dairy milk (almond, coconut, hempseed)
Ghee
DRINKS AND MISCELLANEOUS TO EAT AND DRINK
Mineral Water
Teas (green and herbal)
Gum/mints (xylitol based)

FRUITS TO EAT
Green apples
Lemons/limes
Strawberries
Avocados
Coconut (fresh, or unsweetened shredded)
Strawberries
Blueberries
Blackberries
Raspberries
Grapefruit
Cranberries (fresh, unsweetened)
GRAINS & FLOURS TO EAT
Amaranth
Arrowroot
Brown rice/flour
Buckwheat/flour
Cassava flour
Coconut flour
Kuzu or Kudzu root
Millet
Tapioca
Teff/flour
Tigernut/flour
Quinoa/flour
MEAT, POULTRY & FISH TO EAT
(free range, hormone free, antibiotic free, grass-fed)
Beef or bison
Chicken
Cod
Eggs
Lamb
Mahi Mahi
Salmon
Shellfish
Turkey
NUTS & SEEDS TO EAT
Almonds
Brazil nuts
Chestnuts
Chia seeds
Flax seeds
Hazelnuts
Hemp seeds
Macadamia nuts
Pecans
Pine nuts
Pumpkin seeds
Sesame seeds
Walnuts
OILS TO EAT
Almond
Avocado
Coconut
Flax seed (no heat)
Grapeseed
Hemp seed (no heat)
Olive
Safflower
Sesame (no heat)
Sunflower
ORGANIC VEGETABLES TO EAT
Artichoke
Asparagus
Bamboo shoot
Beets
Bok choy
Broccoli
Brussels sprouts
Cabbage
Carrots
Cauliflower Celery
Chives
Collard greens
Cucumbers
Dandelion
Daikon
Endive
Fennel
Garlic
Kale
Kelp
Leeks
Lettuces
Mustard greens
Ocean vegetables
Okra
Olives
Onion
Parsley
Parsnip
Pumpkin
Radish
Rhubarb
Rutabaga
Jicima
Spinach
Squash (all)
Zucchini
Yams
Watercress
Water chestnuts
Turnips
Swiss chard
Sweet potatoes
Tomatoes*
Eggplant*
Peppers*
*Eat in moderation or avoid completely if you have arthritis or experience achy joints.

SWEETENERS TO EAT
Pure stevia (liquid/powder form)
Xylitol (birch source) 
Luo han (fruit extract)
Chicory root
ENJOY AFTER 60 DAYS
cacao nibs (unsweetened)
Cacao and Cacao powder 
Gluten free oats and flour
ENJOY AFTER 90 DAYS
Goat's milk and cheese (raw)*
Sheep's milk and cheese (raw)*
*Pregnant or nursing women should not eat raw dairy products 
Apricots
Bananas
Cherries
Guava
Tangerines
Mango
Oranges
Papayas
Peaches
Pears
Persimmon
Pineapple
Plum
Pomegranate
Prunes
Kiwi
Melons
Pistachios
Cashews
Peas/Green beans
Fermented foods:
(Kimchi, sauerkraut, tempeh, yogurt, nutritional yeast, cultured vegetables)
Foods To Avoid
BEANS TO AVOID
Tempeh
Tofu
Soybeans/soy products
CONDIMENTS TO AVOID
Gravy
Relish
Mayonnaise (store bought)
Ketchup (store bought)
Salad dressing (store bought) 
Pickles
Jams/jellies
Balsamic vinegar
Red wine vinegar
Worcestershire sauce
Vinegars (except raw apple cider vinegar and brown rice vinegar)
Soy sauce, ponzu and tamari
Sauces and vinegars with sugar
Spices that contain yeast, sugar or additives
Mustard (unless made with apple cider vinegar)
DAIRY TO AVOID
Keifer
Ice cream
Margarine
Yogurt
Buttermilk
Cheese
Sour cream
Cow's milk
FRUITS TO AVOID
Dates
Dried fruit
Raisins
Fruit juice
GRAINS TO AVOID
Barley
White flours
White rice
Whole wheat/flour
Rye
Farro
Kamut
Spelt
Corn
Pasta (except gluten and corn free)
Pastries
Breads (except gluten, dairy, yeast and sugar free)
Cereals (except gluten, dairy and sugar free)
Crackers (except gluten, dairy, yeast and sugar free)
MEAT, POULTRY & FISH TO AVOID
Tuna
Hotdogs
Pork
Sausages
Bacon (except turkey)
Processed and packaged meats
NUTS TO AVOID
Peanuts/peanut butter
OILS TO AVOID
Canola
Corn
Cottonseed
Peanut
Soybean
Processed oils and partially hydrogenated and hydrogenated

SWEETENERS TO AVOID
Agave nectar
Aspartame (Nutra sweet)
Barley malt
Brown sugar
Brown rice syrup
Cane sugar/juice (all)
Coconut sugar/nectar
Corn syrup
Erythritol (Truvia, Nectresse, Swerve)
Fructose
Honey
Saccharin
Maple syrup
White sugar
Yacon syrup
VEGETABLES TO AVOID
Corn
Mushrooms
Potatoes

MISCELLANEOUS TO AVOID 
Alcohol
Candy/chocolates
Fast food
Fried food
Gelatin/Jell-O
Gluten 
Soda
Want A Printable Version Of This?  Click The Picture Below: