Are you ready to combat your candida from the inside out? My cookbook,  Everyday Recipes for Your Candida Diet is here to help!
Is your candida taking over your life? Are you tired of digestive problems, hormone imbalances, mental fog, sinus issues, chronic fatigue, achy joints, and unnecessary weight gain? If so, I'm here to help! Since 2013 I have been working with and cooking for clients with Candida overgrowth. Here I've put together my most popular, flavorful, and healthy recipes in this comprehensive Candida Diet Cookbook: Everyday Recipes for Your Candida Diet
This book is a useful tool to help you beat your candida and look and feel your best! AND, the recipes are so delicious; you won't even realize that you're on a candida-fighting "diet"!
Here's a few of some of my favorite recipes: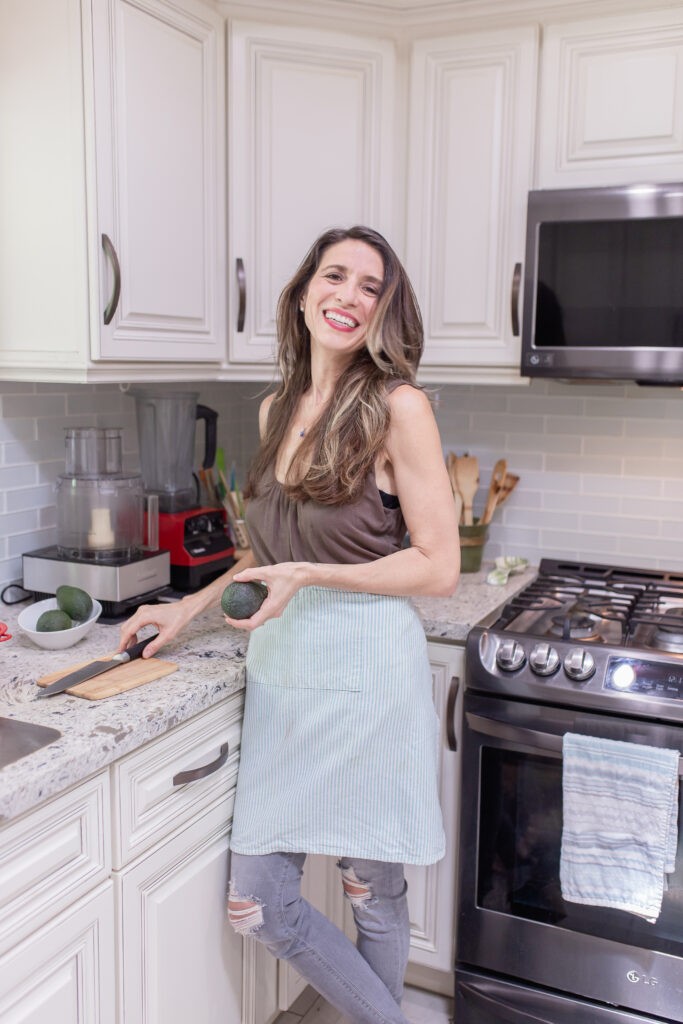 Golden Turmeric Latte
Strawberries and Cream Smoothie
Lemon, Blueberry Waffles
Nutty Power Granola
Leek and Onion Quiche
Marinated Kale Salad
Indian Style Vegetable Korma
Garlic, Basil Sliders
Butternut Squash and Black Bean Tacos
Rosemary, Cauliflower Soup
Spinach and Artichoke Dip
Lemon, Poppy Seed Cookies
Vanilla Scones
Chocolate Pudding
Pumpkin Pie, and more!
Am I making you hungry yet?!?
WHAT'S INCLUDED IN EVERYDAY RECIPES FOR YOUR CANDIDA DIET: 
Over 100 recipes including beverages, breakfast dishes, entrées, salads, soups, side dishes, desserts, breads, dressings and dips!
Vibrant, color photos for each recipe.
Nearly all recipes are plant-based, soy-free, corn-free, sugar-free, dairy-free, and gluten-free.
Each recipe has been crafted to avoid candida-feeding ingredients.
Every recipe has been tested multiple times to ensure easy-to-follow directions with delicious results, every time.
4 additional "Optional Proteins" recipes are available to add to any savory meal.
A "Foods to Eat and Avoid" page that clearly lays out which foods are generally OK on an anti-candida diet, and which foods should be avoided.
This book is available in paperback AND digital. The digital version downloads as a PDF for you to print out or store on your computer or other devices.  Once downloaded, for your convenience, all recipes within the Table of Contents are linked to bring you straight to that recipe within the ebook.  Also compatible with iBooks so you can have it with you at all times!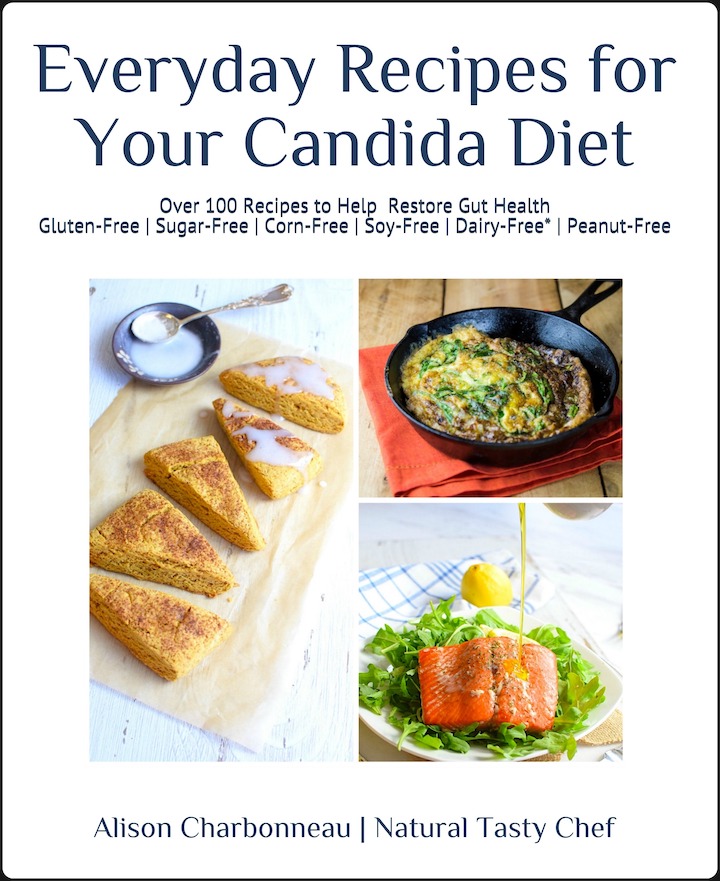 IMPORTANT NOTES FOR THE DIGITAL CANDIDA DIET COOKBOOK:
– Your device may require apps such as iBooks or Adobe Reader.
– If you lose your copy please click this link HERE to log into your library. You may also refer to the email you received when purchased as this will have a download button. If you have any issue with either of those options, please email us with the date of purchase and your PayPal receipt as proof. 
– This product is 258 MB.  If the download fails please ensure you have an internet connection, sufficient storage space on your device for the file and then restart your computer or laptop and try downloading again.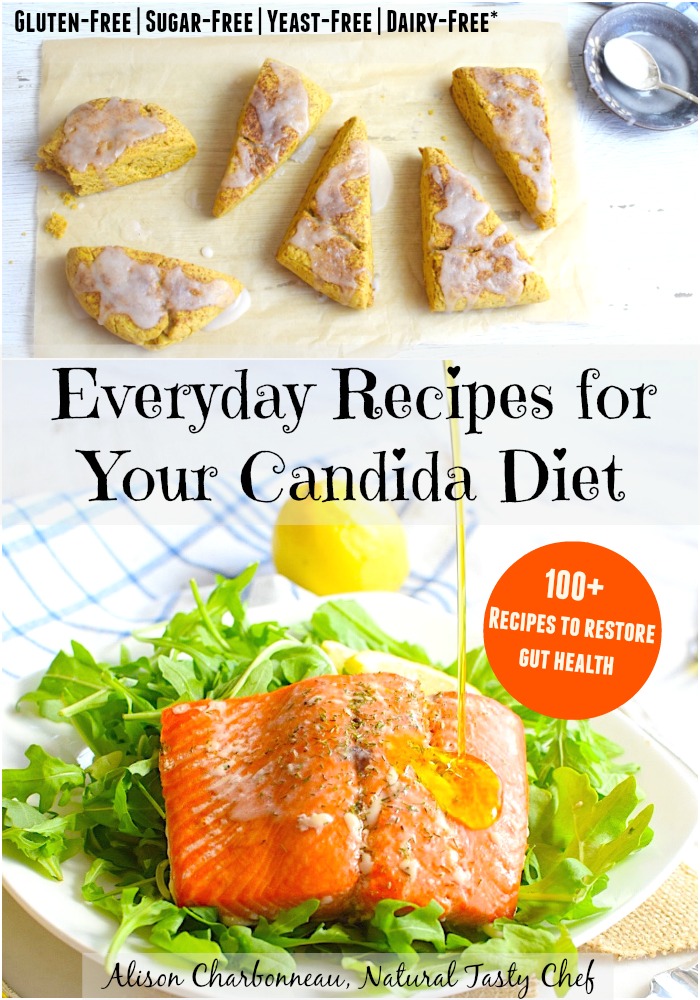 —-
HERE'S WHAT PEOPLE ARE SAYING:
"I have always struggled with feeling "brain fog", stomach aches and a bad taste in my mouth after eating sugar but never knew what to do about. Upon searching the internet I am SO grateful I found Alison and her company Natural Tasty Chef. Not only have I used her for meals but this new e-cookbook is amazing and allows me to cook like her (well not as good as her) at home. Removing the dairy and eating a more whole foods diet following Alison's e-cookbook has made me feel better, have more energy and of course drop a few pounds that I am always looking to lose! Thank you to Alison and Natural Tasty Chef!"
Bina (Geriatric Care Manager, AZ)
"This book is such a life saver! I used to feel overwhelmed looking for healthy foods that are right for my body, and yummy recipes that are easy to follow. Having this book takes a load off my shoulders and now I feel like I have someone guiding me. The lemon scones and waffles are my personal favorite!"
Lily (Documentary Film Maker, CA)
"I'm a full-time working mom of three kids, ages 8, 6 and 4 so I need easy, fast meals that my kids will actually eat! I've been on a Candida plan for a little over 3 months now and am feeling great! The recipes in this ebook are easy to follow and delicious. I've made most of them now and many of them make it into my weekly rotation. I love the eggs over Brussels sprouts, vanilla scones (my personal favorite), and her strawberry cream parfait. My kids love her pancakes and will eat pretty much anything I make from this book! I'm so happy to have this to rely on to keep me on track."
Erin (Bioligist, MA)
"I was looking to cure Candida and found Alison [Natural Tasty Chef]. My wife and I did her 90-day Candida diet and we ended up loving the food. The scones, salmon salad tacos, quiches. We loved the food! Her recipes make the food taste good so that we didn't miss the Candida feeding ingredients!"
Jake (Actor, CA)
"Alison takes the guess work out of what to make for the next meal. Everyday Recipes for Your Candida Diet has a great mix of quick and easy, complex and satisfying, and just for fun recipes. I especially appreciate how many recipes are loaded with veggies, and are balanced in terms of color, texture, and flavor. I love how I can eat everything I make from this cookbook and know that it is healing for my body! Although I don't suffer from a candida condition, I find the recipes to work really well for me."
Rachel (Culinary Instructor, TX)
"Alison is an amazing chef and her recipes are not only top-notch, but absolutely delicious! I have been enjoying her recipes for years and now I can't wait to have a hard-copy to have on hand in my kitchen. Cheers to living a natural tasty life! "
Kate (fitness Instructor, NC)