A gluten and dairy free Gender Reveal cake that's filled with either strawberries or blueberries and frosted with whipped coconut cream!  It's a Gender Reveal the Natural Tasty Way!
There's a bun in the oven!
My husband and I are expecting our first child in September, and my good friend suggested doing a gender reveal party. I absolutely love surprises so this sounded like the perfect idea.  Her and I both scoured the internet looking for a healthy version of a gender reveal cake to no avail, and that's when this cake was birthed…pun intended!
How it worked:
I asked my birthing center to place the gender of our baby in a sealed envelope that I gave to my mother-in-law, talk about self control, along with this cake recipe. We then waited 2 looong weeks for Mother's Day weekend since we'd have the whole family together to join in on the surprise. In addition to this cake, I made a variety of vegan ice creams including my Vegan Espresso Chip Ice Cream.

Behold, a Natural Tasty Gender Reveal Cake
The cake:
This is a 4 tier cake. As you'll see, it needs at least 4 layers to store the berry reveal (aka your babies gender) in the center of the middle two via a cut out.
Typically you see jelly beans, gum balls or M&M's inside gender reveal cakes. In our Natural Tasty cake we use either strawberries or blueberries, natures' candy!
The frosting:
To keep this cake refined sugar free I used powdered xylitol in the whipped cream frosting.  Using coconut sugar would have given the frosting a thicker feel and a brown tint. I wanted the whipped cream to be nice and white, which makes the beautiful berries pop! If staying completely refined sugar free isn't necessary or as important to you, powdered sugar can be substituted here in equal ratios for the same effect.
The frosting has a slight coconut flavor to it. Feel free to add 3 – 4 drop-off your favorite essential oil to it to give it a unique flavor profile.  I can see lemon, orange or lavender going well here.
Pro Tips:
Bake all 4 cakes the night before you decorate, this gives them plenty of time to cool before frosting. Carefully store them in the fridge until the next day.
When frosting, be sure to spread a thin layer of frosting inside and all around the the center cut-out of the cake. This step will seal the center and prevent any berry juice from seeping and making the cake soggy.
After the cake has been frosted, immediately place it back in the fridge until you're ready to serve.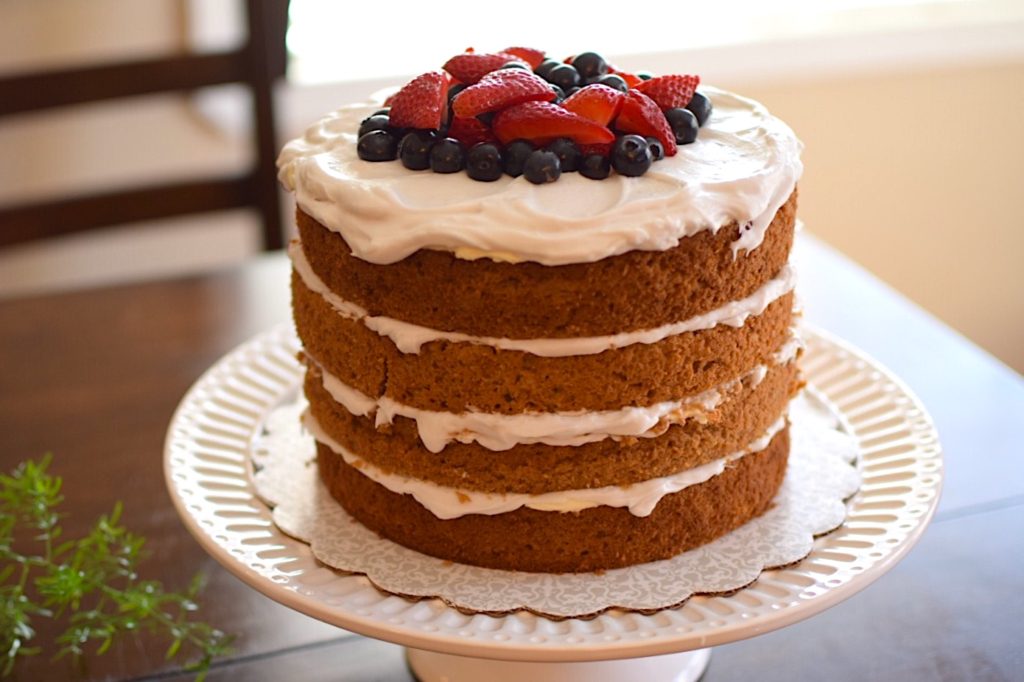 Final thoughts
This was absolutely worth the time, effort and the wait!  Waking up the morning of our party felt like Christmas as a kid and having all our family and friends around us as we cut the cake, anxiously awaiting the reveal, was more exciting than I can even explain.  It was by far the most exciting day I've experienced in a long time, if not my entire life!
If you've had or been to a gender reveal party in the past, I'd love to hear about it!  Want to know what we're having?  Keep scrolling..
Specialty Equipment and Ingredients for this Recipe
A Natural Tasty Gender Reveal Cake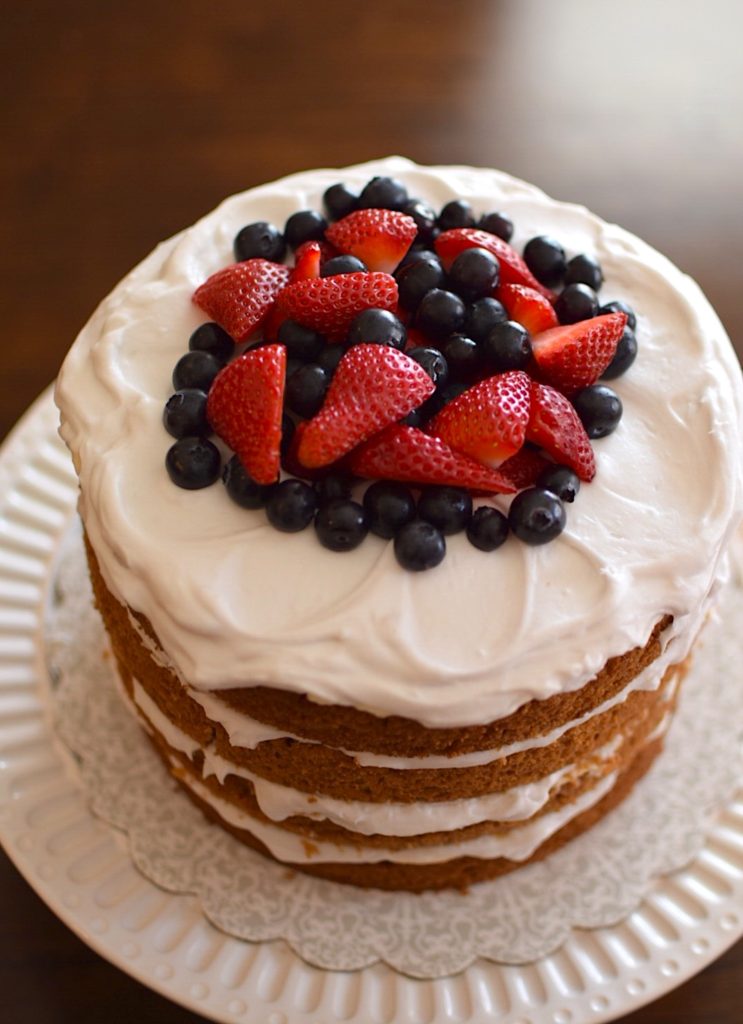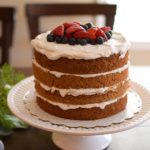 Gluten Free Gender Reveal Cake
Gluten-Free | Nut-Free | Soy-Free
Ingredients
For the cakes:
1

and 1/2 cups unsweetened coconut milk

or other non-dairy milk

2

Tablespoons

apple cider vinegar

2

cups

all purpose gluten free flour

I used Trader Joe's blend

1/4

cup

+ 2 tablespoons tapioca flour or arrowroot

1

teaspoon

xanthan gum

omit if your blend already contains it

2

teaspoons

baking powder

1/2

teaspoon

baking soda

1/2

teaspoon

sea salt

1/2

cup

plus 2 Tablespoons coconut oil plus more for greasing, room temp.

(option to use unsalted, grass-fed butter if dairy's not an issue)

1

and 1/2 cups coconut sugar

2

teaspoons

pure vanilla extract

4

egg whites + 1 whole egg

at room temperature

3

cups

fresh strawberries or blueberries (depending on gender)

more for decorating
For the coconut whipped topping:
2

cans full fat coconut cream

2

and 1/2 cups powdered xylitol*

option to use powdered sugar

1 - 2

teaspoons

vanilla extract**
Instructions
For the coconut whipped cream:
Place the 2 cans of coconut cream and a large mixing bowl in the fridge for at least 4 hours before using. When ready to use, open the can without shaking and remove just the coconut cream and place into your chilled mixing bowl. Save the coconut water for soups or smoothies. Add the powdered sugar and vanilla extract.

Using a handheld mixer, begin to beat until light and fluffy. If you prefer a sweeter frosting, add more powdered sugar 1 Tablespoon at a time until desired sweetness is achieved.

Cover with plastic wrap and place in the fridge until ready to frost.
For the cakes:
Combine the coconut milk and apple cider vinegar with a whisk and set aside.

Preheat your oven to 350°F. and place your oven rack on the middle shelf. Grease 2 8-inch round cake pans and set aside.

Into a medium-size bowl add the flour, arrowroot or tapioca flour, xanthan gum, baking powder, baking soda and sea salt. Whisk to combine well. Set aside.

In the bowl of a stand mixer fitted with the paddle attachment or a large bowl with a handheld mixer, beat the butter or coconut oil, coconut sugar and vanilla on medium-high speed for at least 3 minutes, stopping to scrape the entire mixture off the sides and bottom of the bowl. Beat until light and fluffy. Add the egg whites, egg and "buttermilk" to the wet mixture and continue to beat.

Now add the dry ingredients about 1/2 cup at a time, until all the flour has been added. Mix for another 30 – 60 seconds, or until everything is fully combined. Be careful not to overmix, as this will leave the batter with a gummy texture.

Divide the batter evenly between the two prepared baking pans and smooth each into an even layer with an offset spatula. Place the baking pans in the center of the preheated oven and bake for 20 minutes. Rotate the pans, and bake another 10 minutes, or until the batter is starting to pull away from the sides of the pan and a tooth pick comes out clean.

Remove the cakes from the oven and allow to cool in the pans for about 15 minutes before turning out onto a wire rack to cool completely. Repeat to make 2 more layers.

To assemble:

Flatten cake layers by trimming off rounded tops. In 2 layers, cut small round out of center, using 4-inch round cutter.

To assemble cake: Place 1 uncut cake layer on cake stand or serving platter; spread a thin layer of buttercream frosting and top with whipped cream frosting. Top with 1 layer with center removed; spread with thin amount of buttercream frosting and top with whipped topping. Repeat for the second layer.

Take the buttercream frosting and spread a thin layer on top of the third layer and also inside the center of the cake where the fresh berries will go. This will help seal the center and prevent the berries from making the cake soggy. Now fill with desired berries. Strawberries for a girl and blueberries for a boy.

Finally, top with full cake layer. Spread a thin layer of buttercream frosting on top and top with whipped coconut cream.

Place in the fridge until ready to serve! Enjoy
Recipe Notes
*To make powdered Xylitol place xylitol in a dry blender and starting on low speed, blend until a powdered texture is formed.  Powdered sugar can be substituted here.
**Option to add 3 - 4 drops of your favorite essential oil such as lemon, orange or lavender.
We're Having a GIRL!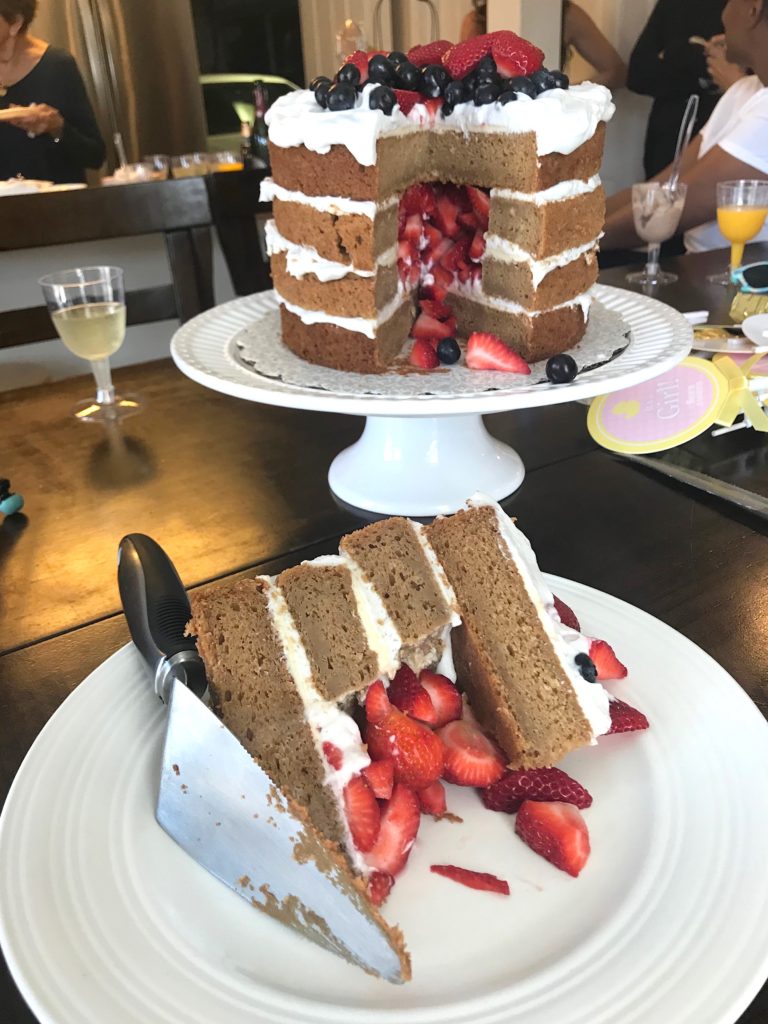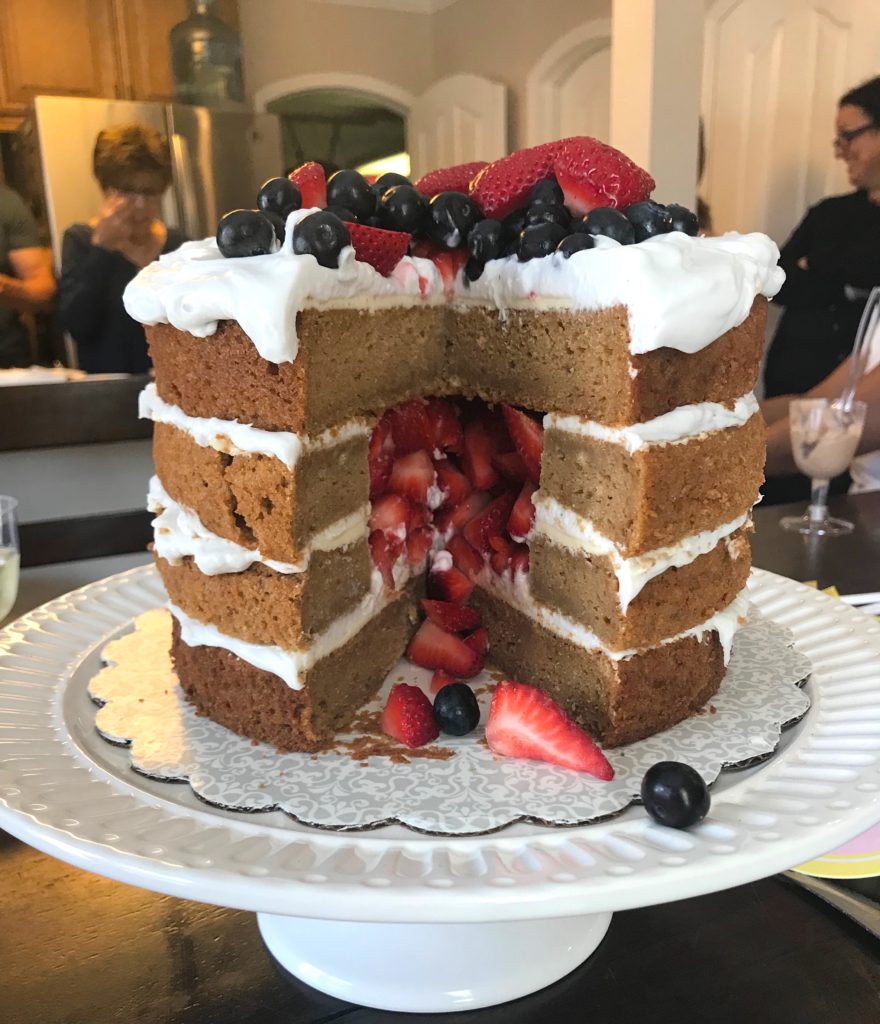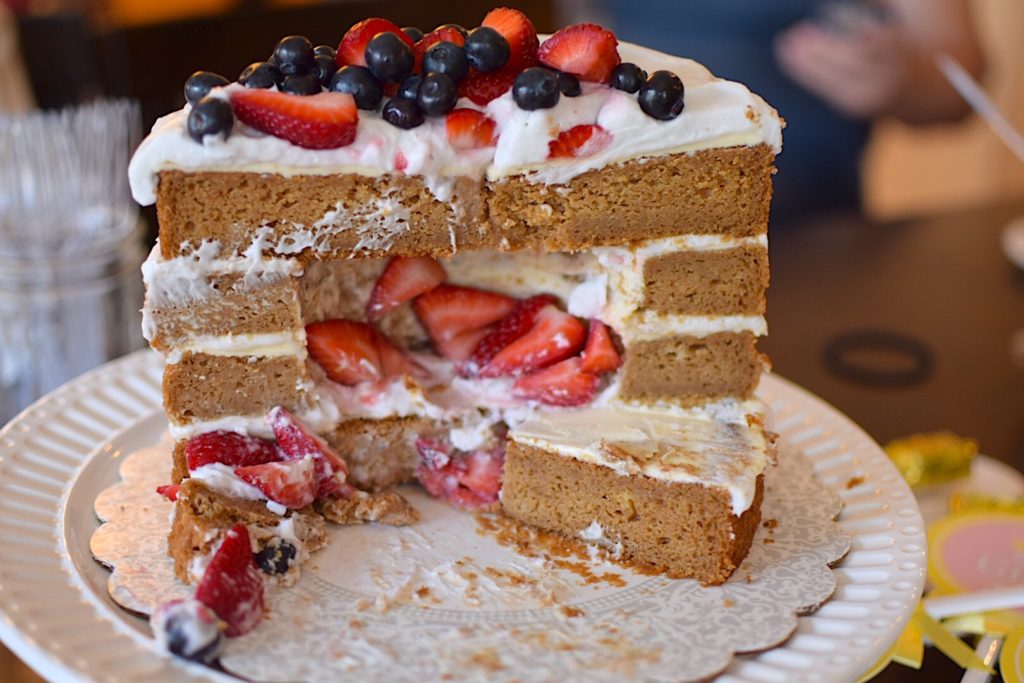 Made this recipe?  Let us know with a comment below or tag us with your photos on Instagram @NaturalTastyChef or on Facebook @Alison Charbonneau, Natural Tasty Chef!  We LOVE hearing about and seeing your re-creations ?