A dairy-free (Vegan) and nut free pesto recipe that's oh SO healthy and delicious.  Use as a dip, spread on your favorite pizza crust or pour over noodles! Say hello to your new go-to Dairy Free Pumpkin Seed Pesto Recipe!
Nut Allergies
Pesto traditionally calls for fresh basil, parmesan cheese and pine nuts a rich, buttery nut with a slightly sweet flavor. And although pine nuts are delicious, some people have nut allergies (like my husband) and they are also quite expensive. So, in this recipe I've omitted the cheese all together to make it dairy-free and substituted the pine nuts for pumpkin seeds, which also have incredible health benefits, as you'll see below!  You could also substitute hemp seeds in this recipe for an equally delicious and nutritious pesto sauce.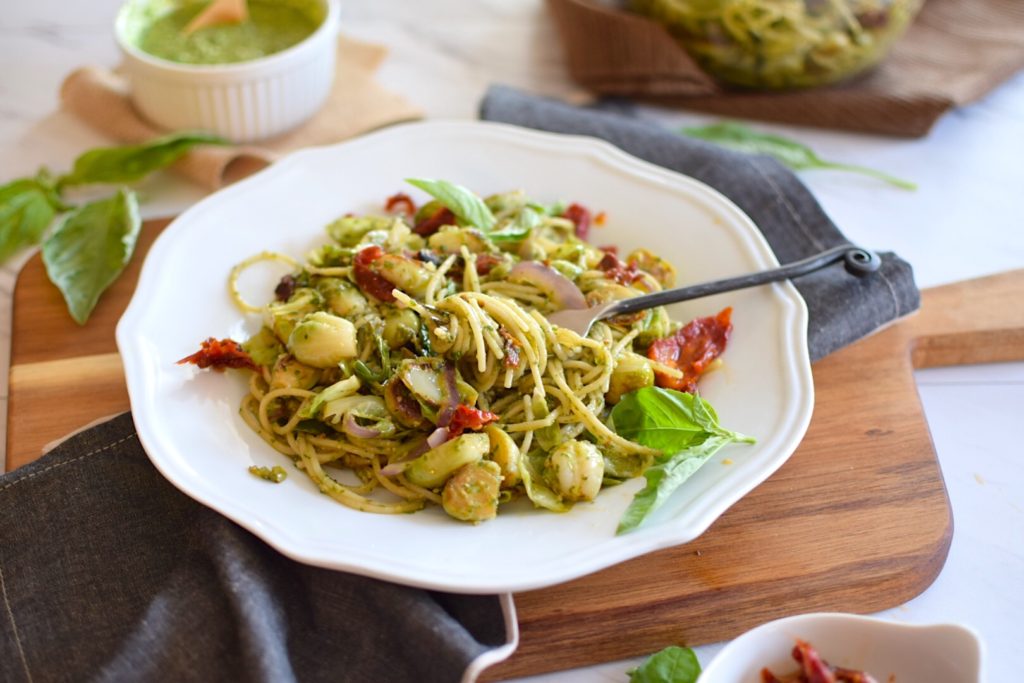 Let's talk about Mg for a second.
(That's Magnesium for you folks who don't speak in terms of the periodic table of elements.  All the kids are doing it these days.)  Anyhoo, let's look at what magnesium does in the body:  It is a huge help to the function of your heart and blood vessels, it aids muscle operation, especially during intense exercise, relieves constipation, is anti-diabetic, and maintains healthy bone structure.  It also keeps excess calcium in your body in check.  But the most exciting benefit of magnesium is its ability to counter depression and anxiety.
An abundance of scientific research has recently been concentrating on this very phenomenon.  Without talking too sciency, magnesium helps our over-stimulated brain turn "off", and filters stress hormones, like cortisol, from entering the brain and causing anxiety, depression, memory loss, and brain fog.  One recent study, called the SMILES trial, altered the diets of patients who suffered from "major depressive episodes".  Their food consisted of a Mediterranean diet (with lots of magnesium).  The result?  Patients adhering to the 12-week nutrition plan found great improvement in their mental health, better than what was predicted by the researchers conducting the study.  These results have caused the launch of more studies which investigate the connection between mental heath and nutrition.  Wait, what?!?  A good diet can lead to a healthier brain and better mood?  That's so revolutionary!  😉
Good News & Bad News
Ok, now I have some good news and some bad news.  Let's start with the bad news: Most Americans, unknowingly, suffer from magnesium deficiency.  Why?  Here are some popular theories:
Much of our drinking water has become "soft", as in stripped of

 

minerals, including magnesium.
Other factors such as alcohol consumption, diabetes, and gastrointestinal problems, excrete a lot of magnesium out of the body.
Our typical American diet doesn't provide our bodies with enough magnesium.

 

Here in the good ol' U.S. of A. we love our meat, cow's milk, soda, sugar, and white flour.

 

Unfortunately, all of those items have very little to no magnesium whatsoever.
Ready for the good news??  It's not too difficult to add more magnesium to your diet.  Here are some foods high in magnesium: Spinach, chard, dark chocolate (no, that's not a joke), almonds, brazil nuts, cashews, black beans, kale, whole grains, avocados, bananas, and coconut water.  Oh yah, and seeds!  One quarter cup of pumpkin seeds provides almost half of your daily recommended intake of magnesium!  Boo-yah!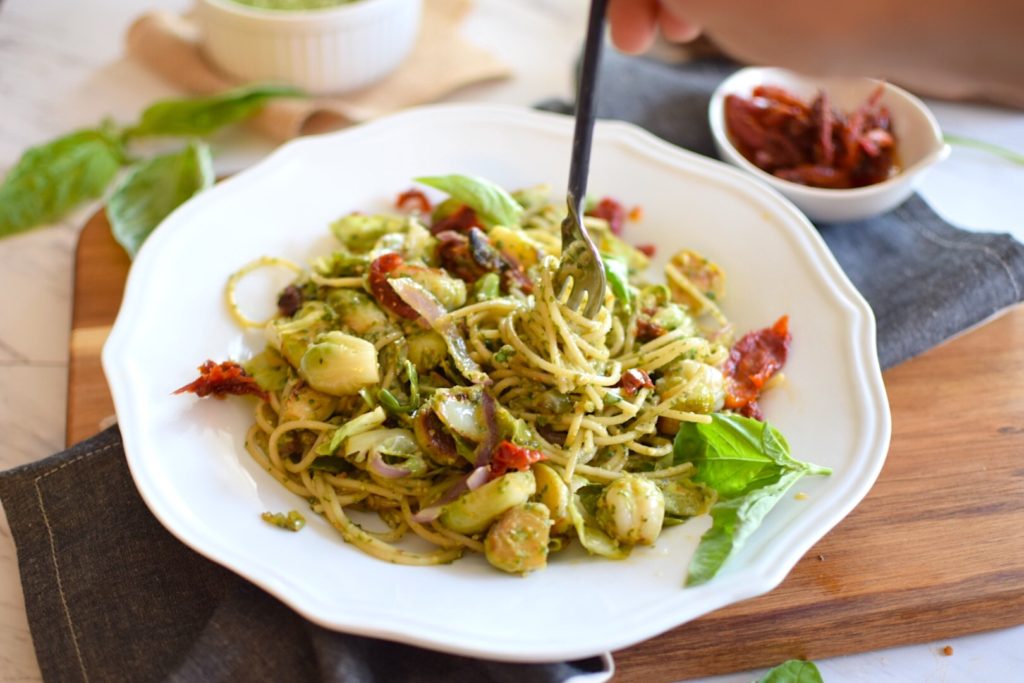 Make it a Meal
In the recipe above, I've added fresh Pumpkin Seed Pesto to brown rice noodles with sautéed yellow onions, brussels sprouts and sun dried tomatoes for a delicious Vegan and Gluten-free dinner! You can find the full recipe by clicking HERE.
This pesto also works well as a pizza sauce or spread on a veggie or egg sandwich!
PRO Tip on storing pumpkin seeds:
My recommendation is to keep your pumpkin seeds in an airtight container in the fridge; they should last for several months.  If you doubt the freshness of your seeds, do as Gandalf from the Lord of the Rings says, "always follow your nose."  (Wow.  I'm such a nerd.)  If the seeds have an "off" smell, toss them out!
Dairy Free Pumpkin Seed Pesto Recipe
Dairy Free Pumpkin Seed Pesto
Vegan | Gluten-Free | Nut-Free | Anti-Candida
Ingredients
3

garlic cloves

1/2

cup

pumpkin seeds

2

cups

packed fresh basil

1/4

cup

lemon juice

or the juice of 2 small lemons

1/4 - 1 /2

teaspoon

sea salt

Pinch

black pepper

1/2

cup

olive oil
Instructions
Place garlic cloves into a food processor and pulse for 2 - 3 seconds to start breaking them up.  Now add the pumpkin seeds, basil, lemon juice, sea salt and black pepper.  Start your food processor and while it is running begin pouring in the olive oil in a steady stream.  Continue until all of the oil has been added and everything is fully incorporated.  Taste for seasoning.

Use immediately or store in an airtight container in the fridge for up to 1 week or in the freezer for up to 1 month.
Recipe Notes
*Option to substitute hemp seeds in place of pumpkin seeds in equal amounts.