Delicious crepes that are easy to make, healthy and Grain Free!! These Easy and Healthy Paleo Crepes make the perfect addition to your breakfast or brunch!!
Remember those books you read as a kid in which you got to "choose your own adventure"?  Ya know, you're reading about some explorers in the jungle and the book says, turn to page 37 if you want to go check out a waterfall, or if you'd rather explore a dark cave, turn to page 64.  Well this recipe kinda has that same premise.  Choose your own adventure, culinary style!  (Somehow I don't see this selling really big with the kiddos.) 
Savory or Sweet
Here you'll have two options to choose from: sweet or savory crepes.  And if you're into meal planning for more than a single meal, these are great to make in batches for several occasions.  First, start off with a batch of sweet crepes for a yummy breakfast.  Once those have cooked and you are happily eating away, cook another batch keeping them savory and use them as tortilla wraps for dinner or a meal the following day.  The wraps will last 4-5 days, refrigerated.  BTW, these little guys are wheat-free, gluten-free, corn-free, and are friendly with the Paleo diet as well. 

Not all eggs are created equal
Eggs are what give these crepes their structure and it's important to note that not all eggs are equally nutritious. The darker in color the yolk, the more nutrient dense they are. For best quality eggs, look for USDA Organic, non-GMO and Pasture-Raised (which generally means they're allowed to roam free, eating plants and insects, their natural food).
My favorite brand for eggs is by Vital Farms. They work with small family-run farms, and have their own operations, too. Their hens spend the daylight hours outside—with at least 108 square feet per bird.
You can find Vital Farms Eggs in stores like Sprouts and Whole Foods. I simply order them from Milk and Eggs Grocery Delivery (Orange County or Los Angeles Area only).  Milk and Eggs works directly with Vital Farms, so they're fresh and can offer a great price point!
How to serve
My favorite way to serve these crepes is in a sweet style, smeared with our 3 Ingredient Vegan Chocolate Frosting Recipe spread inside and topped with fresh berries.  For the chocolate drizzle on top, simply take a little Chocolate Frosting and add non-dairy milk or our Easy Vegan and Sugar Free Creamer one Tablespoon at a time until drippy.
For a savory crepe, try adding chopped avocado, tomato and sautéed spinach.
Whichever way you choose, I hope they make your healthy breakfast or brunch extra special!!


Specialty Ingredients for this recipe
Easy and Healthy Paleo Crepes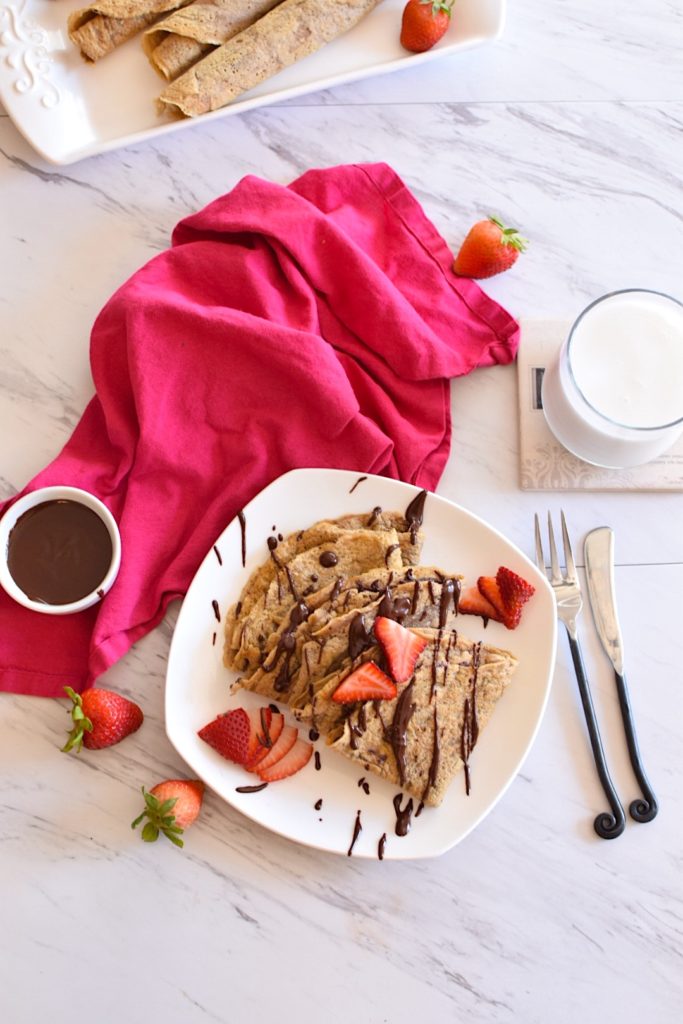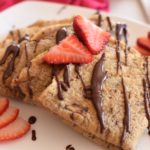 Easy and Healthy Paleo Crepes
Grain-Free | Gluten-Free | Paleo
Ingredients
1/2

cup

arrowroot or tapioca flour

1/2

teaspoon

baking powder

1/2

teaspoon

baking soda

1/2

teaspoon

sea salt

4

eggs

room temperature

2

Tablespoons

avocado oil

2

teaspoons

apple cider vinegar
For Sweet Crepes:
2

Tablespoons

coconut sugar*

use xylitol for a candida diet

1/2

teaspoon

ground cinnamon

1

teaspoon

vanilla*

optional

Olive oil or unsalted grass-fed butter for greasing pan
Instructions
Add all ingredients to a blender (If making sweet crepes: also add coconut sugar (or xylitol, cinnamon and vanilla, if using)  Starting on low speed, blend, slowly working to high, until everything is combined.  You may need to stop once and scrape down the sides.

Heat a medium size non-stick skillet over medium heat and add 1 teaspoon of coconut oil or grass-fed butter.  To test the warmth of the pan, carefully hover your hand over the center of the skillet.  Once it feels hot in the center, add ¼ cup of batter, spreading into a circle.  Use the smooth edge of the measuring cup to spread the batter around and/or pick up the pan and gently rotate it so the batter spreads into an even circle.  Let cook for about 1 - 2 minutes, or until you see the batter start to set.  Small bubbles might form in the center when ready to flip.  Using a spatula, carefully loosen the edges of the crepe and then flip over and finish cooking for about 30 seconds more.  Remove from heat and let cool on a cooling rack.

Repeat until all the batter is used.