My Favorite Green Smoothie is a healthy and delicious smoothie recipe that's dairy free and packed with all the good stuff!
Go big or go home
Oprah Winfrey. Beethoven's 5th symphony. The sun. What do these things have in common? Well my friends, they could all be aptly described by the word: POWERHOUSE. Let's turn to Mr. Webster for a little insight: A powerhouse is a person or thing of great energy, strength, or power. I love that!
I must say, my favorite smoothie (ironically called "My Favorite Green Smoothie"), is a freakin' powerhouse among its peers. Although I don't recommend living solely on juices and smoothies, you have to admit, they do provide a ton of nutrients and vitamins in a small, convenient, drinkable package.

What's on the inside counts
Let's get to the ingredient list. My Favorite Green Smoothie has:
Banana (potassium)
Frozen Fruit (antioxidants)
 Fresh Spinach (iron)
Coconut Water (hydrating)
Nanogreens (vitamins and minerals)
 Chlorophyll (detoxification)
Flaxseed oil (heart and brain health)
Fish or Cod liver Oil (brain health)
I could write a book about all the benefits of these ingredients – magnesium, iron, omega fatty acids, potassium, antioxidants – those are all things you'll get in this smoothie. But what I want to focus on is how this particular blend of ingredients benefits your bowel health. (I know, suuuper sexy topic).

The joy of being regular
Being "regular" never sounded so nice…for your bowels, that is. A regular outward flow of unnecessary waste is something you never really think about…until you have problems down there. I'm sure my friends with little ones can relate with counting and tracking poopy diapers.
When it comes to having a happy colon (along with the rest of your digestive tract) it's important to intake a variety of fiber. Some fiber binds your stools together (insoluble) and other fiber makes your stools soft and easy to pass (soluble), if you get my drift.
My Favorite Green Smoothie is loaded with both kinds. The banana acts as our binding fiber, cuz let's be honest, no one enjoys the runs. The berries, spinach, and coconut water help everything to pass smoothly and softly. Aah, that's a sigh of relief. I've also added some flaxseed oil, which is quite unique in that it performs both functions. It offers natural constipation relief and yet also helps slow and stop diarrhea. Every colon's dream.

Blend away, baby!
As you incorporate this powerhouse smoothie into your diet, notice how good you'll feel both inside and out. And maybe…you'll even get a nice bowel movement out of it!!! We are getting WAY too personal, I know.
On a side note, a good quality blender is key to thoroughly mixing all the ingredients together in My Favorite Green Smoothie. No icy chunks or small pieces of spinach in your teeth. I use a Vitamix which can be expensive (but sooo worth the investment). However, if investing in a Vitamix is not in the cards right now, I also recommend a Ninja Blender.

Specialty Equipment and Ingredients for this recipe:
My Favorite Green Smoothie Recipe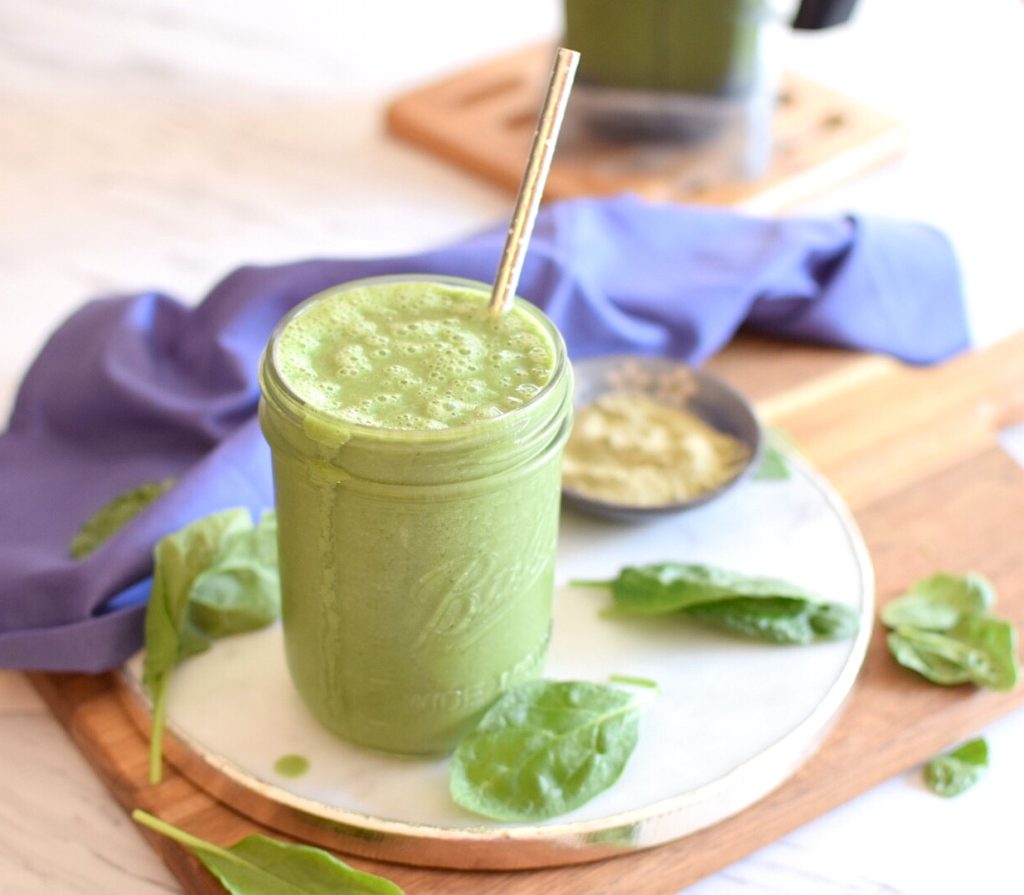 My favorite Green Smoothie Recipe
Dairy-Free | Gluten-Free | Paleo
Ingredients
1

large

ripe banana

2

cups

frozen fruit

I like frozen peaches, mango or a cherry, berry blend

1

cup

fresh spinach

2

cups

coconut water

1

scoop nanogreens

1

dropper full chlorophyll

1

teaspoon

flaxseed oil

1

teaspoon

fish oil or cod-liver oil

optional (but highly recommended, especially if pregnant!)

1

scoop

plant-based protein powder

optional
Instructions
Place everything in a high-powered blender and starting on low speed start to blend, slowly working up to high. Blend for 1 - 2 minutes, or until nice and creamy. Enjoy!
Thinking Of Going Vegan But Not Sure Where To Start? Check Out Our One Week Vegan Meal Plan, Complete With Grocery Lists And Recipes!