Vegan and Gluten Free Baked Sweet Potato Fries that are sure to be a family favorite!  Tender, sweet and loaded with vitamins and minerals.
Who doesn't love a good french fry? Even better, who doesn't LOVE sweet potato fries or "sweetie fries" as I like to call them. Fries seem to be a staple here in the United States and whether you're ordering a burger, ice cream or fish…a side of fries is always an option.
Making homemade fries is actually a lot easier than you might think with the ability to make them a lot healthier for you too!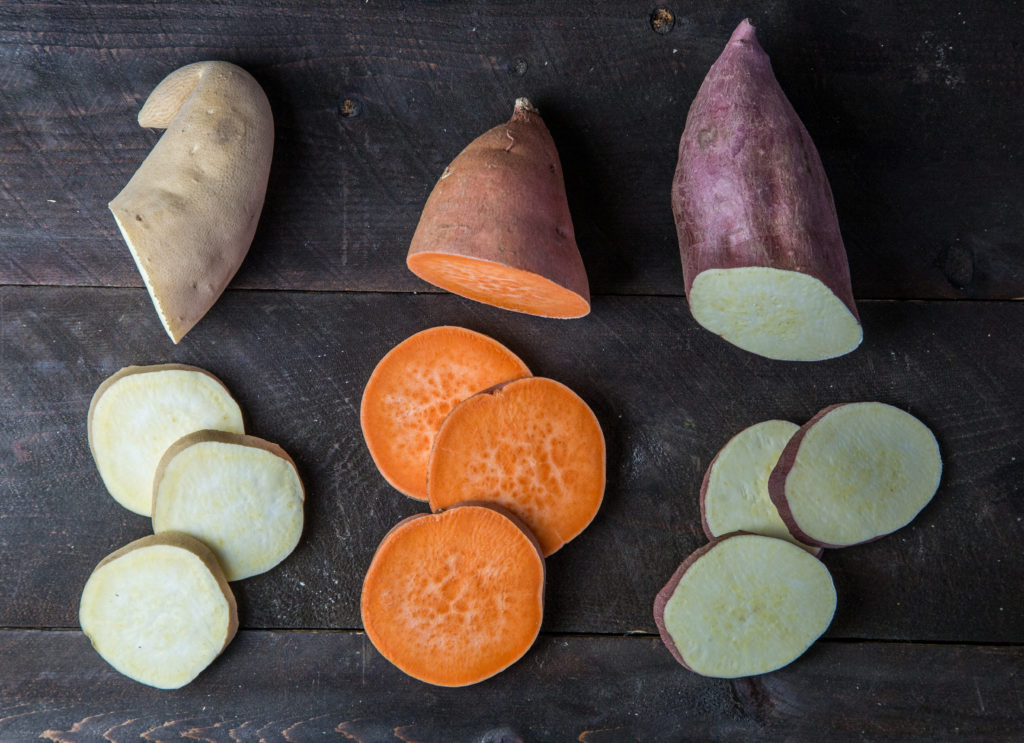 Sweet Potatoes
Sweet potatoes and yams are tubers that you'll find in white, orange or purple (some are even purple inside!).  White and purple are traditional sweet potatoes, with yams being orange in color and slightly softer and sweeter when baked.  All have amazing health benefits along with being inexpensive and relatively easy to find at most grocery stores.
High in Vitamins and minerals
Sweet potatoes are a good source of several vitamins, such as Vitamins A, B6, C and D.
Vitamin C in particular is helpful in preventing colds and flus, which you've probably already heard before, but it also helps bone and tooth formation, digestion, and blood cell formation. In addition, Vitamin C is though to help with the production of collagen (helping you to maintain youthful elasticity in your skin) and this powerful vitamin also helps protect our bodies against toxins that may be linked to cancer. That's quite a resume for one Vitamin!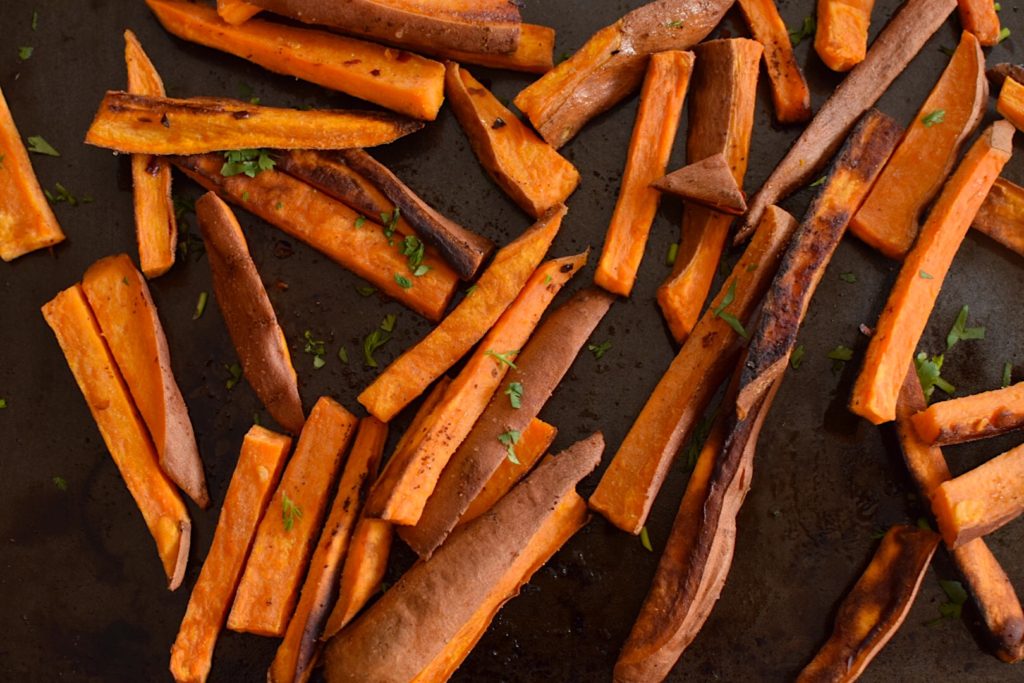 Good sources of Potassium and Magnesium:
If you're feeling increased levels of anxiety or stress, you may want to consider your potassium intake. Increasing potassium can actually help you feel more calm!  In addition, potassium helps with healthy blood pressure and brain function as high levels of potassium allow more oxygen to reach the brain, increasing cognitive function.
Magnesium is just as important, also helping with stress, nerves and anxiety and relieving sore muscles and muscle spasms. Magnesium is also necessary for healthy artery, blood, bone, heart, muscle, and nerve function.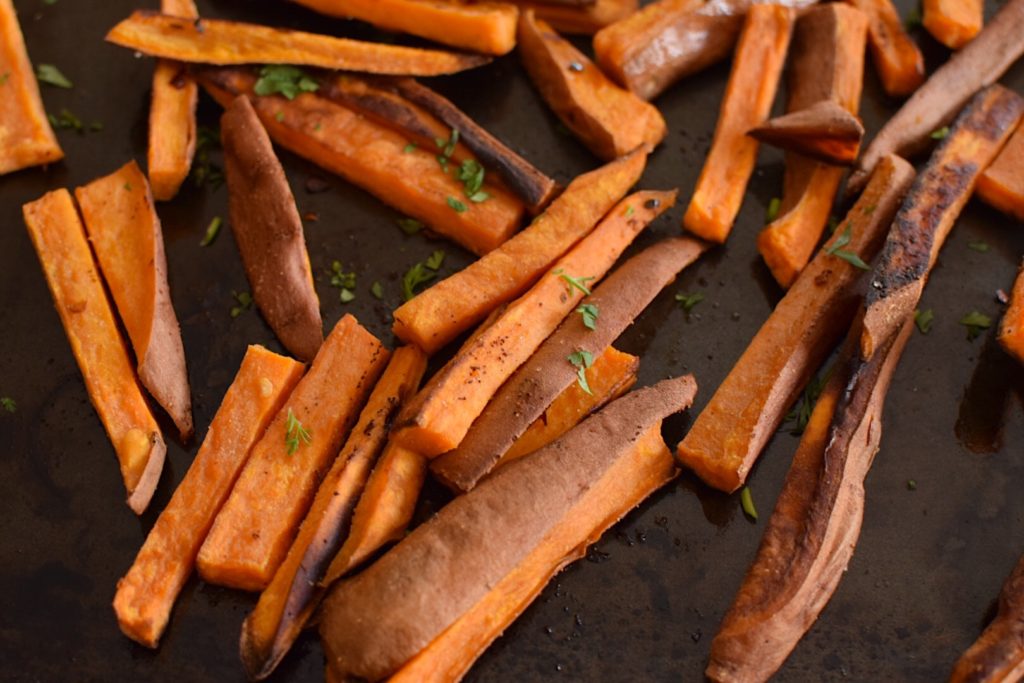 Back to the Sweet Potato fries
I call these fries because they're fry shaped, but these potatoes are not fried. They're baked in the oven using olive oil and sea salt.  And, of course, if you like a little spice in your life, you could add a dash of cayenne pepper or a sprinkle of red pepper flakes.
Pro Tips:
Make sure to cut your fries relatively the same size throughout, this will ensure even cooking.
Using clean hands, rub the oil and seasoning evenly over each fry before baking.  
Lay fries in an even layer on your baking sheet without overlapping.  If necessary, use two baking sheets.
Stir your fries carefully halfway through cooking and make sure they are not overlapping before placing the tray back in the oven.
Cook your fries on the rack one up from the bottom of the oven. This will get them nice and crisp.
Finally, if organic, Skin ON!
The skin of sweet potatoes contain high amounts of fiber, vitamins, minerals and beta carotene.  So as a general rule if they're organic, leave the SKIN ON!! If they're conventional, meaning not organic, go ahead and peel them. More often than not vegetables that are not labeled organic have been sprayed with pesticides, with a good amount resting on the skin, so it's always a good idea to peel conventional veggies before eating.
Baked Sweet Potato Fries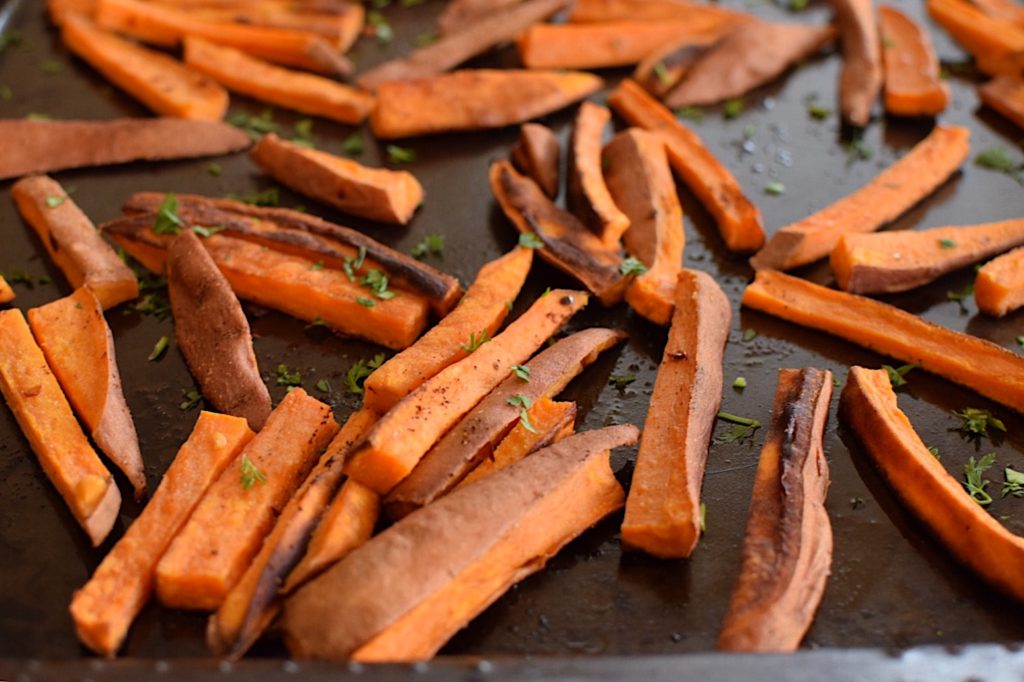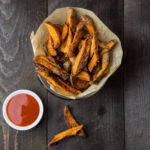 Baked Sweet Potato Fries
Vegan | Gluten-Free | Anti-Candida
Ingredients
2

large

or 4 small organic purple, white, or orange sweet potato (about 8 cups once sliced)

2 - 3

Tablespoons

grape seed or olive oil

1/4

teaspoon

sea salt

1/4

teaspoon

garlic powder

1/8

teaspoon

black pepper
Instructions
With your oven rack place one up from the bottom, preheat the oven to 400 degrees F. and line a baking sheet with parchment paper.*

Wash your potatoe(s) with a vegetable brush and If organic, leave the skin of the sweet potato on. If not, peel potato first.

Cut into thinly fry shapes, keeping them roughly the same size for even cooking. Place in a large mixing bowl. Add 2 Tablespoons of oil, sea salt, garlic powder and black pepper. Using your hands, rub the ingredients into all of the potato slices. If the fries seem too dry, add one more Tablespoon of oil. Place them onto baking sheet, trying not to overlap.


Bake fries for about 15 - 20 minutes. Remove from the oven and flip the fries using a spatula. Return to oven and continue baking for about 5 - 10 minutes more or until they are cooked to your liking. Once you have removed the fries from the oven, give them a few minutes to cool and to become crispier.
Recipe Notes
*I don't use parchment paper when baking my fries and they never stick, but if you are worried about them sticking to the baking sheet line it with parchment paper.
I like serving these with Baked Sweet Potato Fries with our Homemade Sugar-Free Ketchup!