If you think chocolate and peanut butter are a match made in heaven, this Vegan Peanut Butter, Chocolate Chip Ice Cream is for you!  Rich, creamy with the perfect hint of peanut butter and filled with crunchy chocolate chips.

Ice cream makes me feel like a kid again.  It's sweet, messy and oh so comforting.  Especially on hot summer days while out with family, friends or the hubby.  Whether happy, sad, celebrating or home sick, ice cream is something that's enjoyed on any occasion.
Vegan Ice Cream
The base of this ice cream is full fat coconut milk which closely mimics the creaminess of dairy milk or cream.  It's important to note that full fat coconut milk (not reduced fat) is what gives this ice cream that rich, creamy flavor you expect and crave! In addition to full fat coconut milk, we add sweetened condensed coconut milk by Nature's Charm, which has less water and more fat thereby adding a deeper level of richness, subtle sweetness and ensuring that the final product has thick and creamy texture.
So Creamy
Creamy is the ultimate goal of any ice cream recipe, am I right?  When making ice cream, a creamy texture is achieved by keeping the ice crystals in the batter as small as possible.  This is where the sweetened, condensed coconut milk comes in. If ice crystals are too big, your ice cream has more of an icy/grainy texture…not so comforting.  That's why we use an ice cream maker for this dessert.  It churns, while freezing keeping ice crystals small.

Investing In an Ice Cream Maker
I know, I know you already have so many kitchen appliances and an ice cream maker seems a bit frivolous.  But I assure you, you won't be sorry you invested in one.  Ice cream makers are pretty inexpensive these days and it's the only way to get this rich, decedent texture in a non-dairy way.

How to Enjoy
You can enjoy this ice cream immediately after it's churned, or for a firmer ice cream, place it in a loaf pan or other container in the freezer for about 1 – 2 hours before scooping into cones.
What I particularly LOVE about this ice cream (or any homemade ice cream made in an ice cream maker) is that it will stay rich and creamy even after storing it in the freezer. I've even tested this ice cream after sitting in the freezer, in a sealed container, for several weeks. It was still a creamy, dreamy perfection. Just be sure to remove it about 10 minutes before scooping and serving and you're good to go!
Pro Tips:
Make sure your base and paddle have been in the freezer for at least 4 hours, or preferably overnight, before making ice cream.
At around 10 minutes into churning, gently stir the ice cream with a rubber spatula to ensure that the chocolate chips are mixed evenly throughout.
When serving leftover ice cream (if there is any) remove it from the freezer for about 10 minutes before scooping and serving.

This ice cream recipe is:
Vegan
Gluten-Free
Soy-Free
Kid-Approved
This recipe uses the same base as my Vegan, Espresso Chip Ice Cream.
If you can't find sweetened condensed coconut milk in a store near you, here's a recipe to make your own: Homemade Vegan Sweetened Condensed Coconut Milk.
Enjoy!
Vegan Peanut Butter, Chocolate Chip Ice Cream Recipe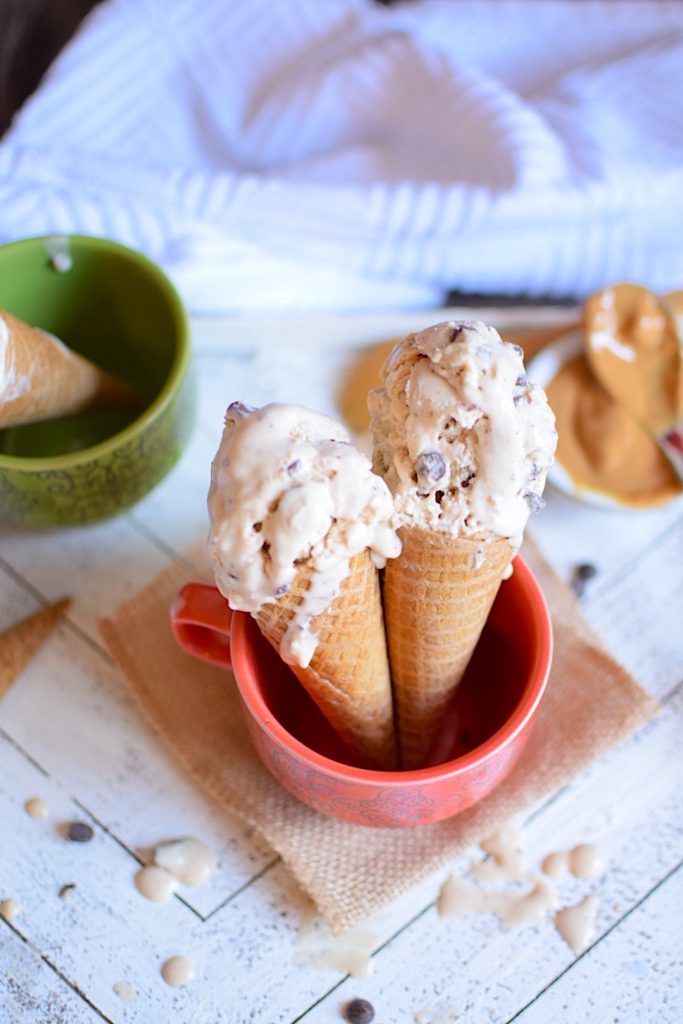 Vegan Peanut Butter, Chocolate Chip Ice Cream
Vegan | Gluten-Free | Soy-Free
Ingredients
1

can full fat coconut milk

2/3

cup

sweetened condensed coconut milk*

1/3

cup

creamy, all natural peanut butter**

1

dropper full liquid stevia

Pinch

sea salt

1/4

cup

vegan chocolate chips**

Enjoy Life or Lily's Stevia Sweetened
Instructions
Place everything except the chocolate chips into a blender and blend until fully combined. Add the chocolate chips and blend again for 2 – 3 seconds more, just to combine everything. Add batter to a chilled ice cream maker and churn for 15 - 20 minutes.

Enjoy immediately or for a firmer ice cream, transfer to an air tight container with a fitted lid and freezer for 1 – 2 hours before serving.

Store leftover ice cream in a sealed, airtight container in the freezer for up to 2 months.