Gluten-Free Lemon, Blueberry Waffles that fit an Anti-Candida Diet with a Vegan option! Perfectly sweet, light and fluffy with a slightly crisp exterior. These waffles make sugar free eating delicious!
Part of my mission is to inspire a passion for mindful eating.  You might be thinking right now, so…what is mindful eating? Well, let me break it down for ya:  Quite simply, it's cultivating awareness.  And more specifically, with food, it's being aware of what we feed ourselves and how we consume it.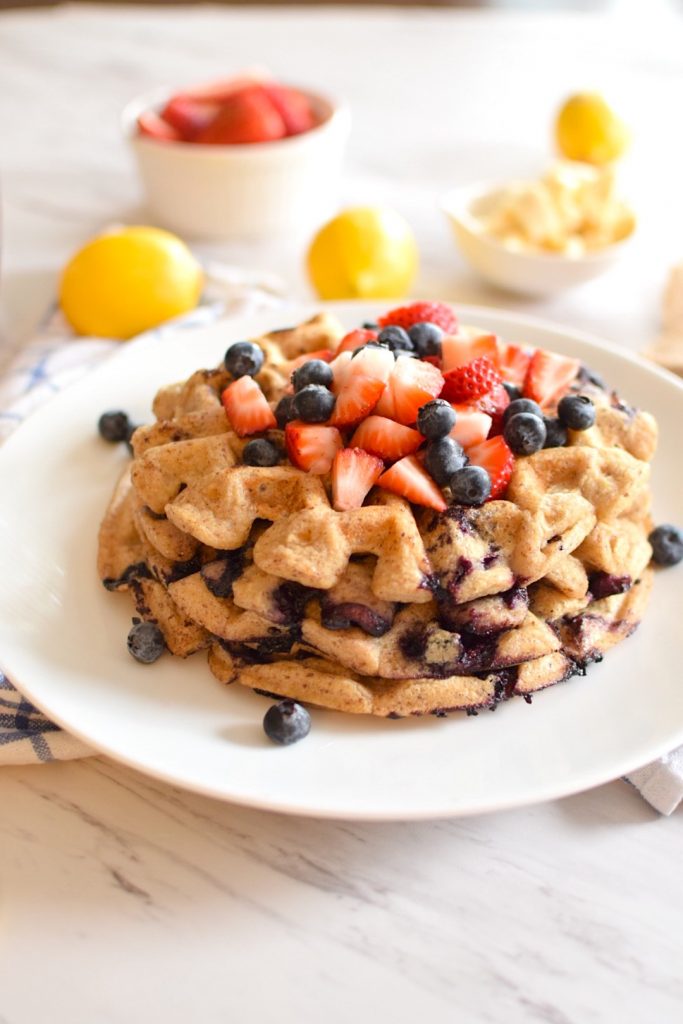 Questions to ask yourself:
What kind of sprays or repellents might have been added to this apple before it was harvested?  Why am I craving greens right now and what does that tell me about what I need for my body at this moment?  Am I really tasting my meal, savoring it, and chewing it up for better digestion?  How do I feel after I eat it, and how long do I feel sated for?  All these questions make us more aware of our food consumption, and maybe more importantly, the emotions we experience in tandem with it.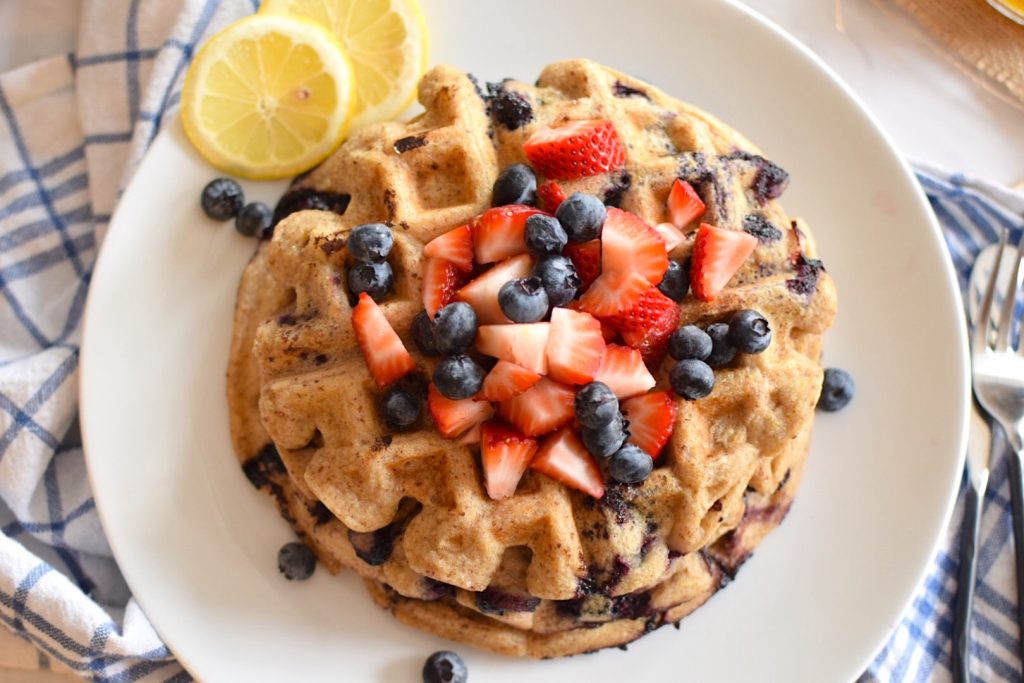 Challenges with mindful eating:
One thing that makes mindful eating challenging is the amount of options that exists in our society.  Sometimes less really is more, right?!?  So many choices can lead to confusion and anxiety.  I know some of my friends and clients working toward weight loss definitely struggle with the plethora of options at any checkout stand (which usually consists of highly-processed foods and sweet treats, of course).  But options can also be good.  For those of us abstaining from certain foods, for whatever reasons, we can still enjoy some of our favorite flavors and dishes because of the variety of substitutions available.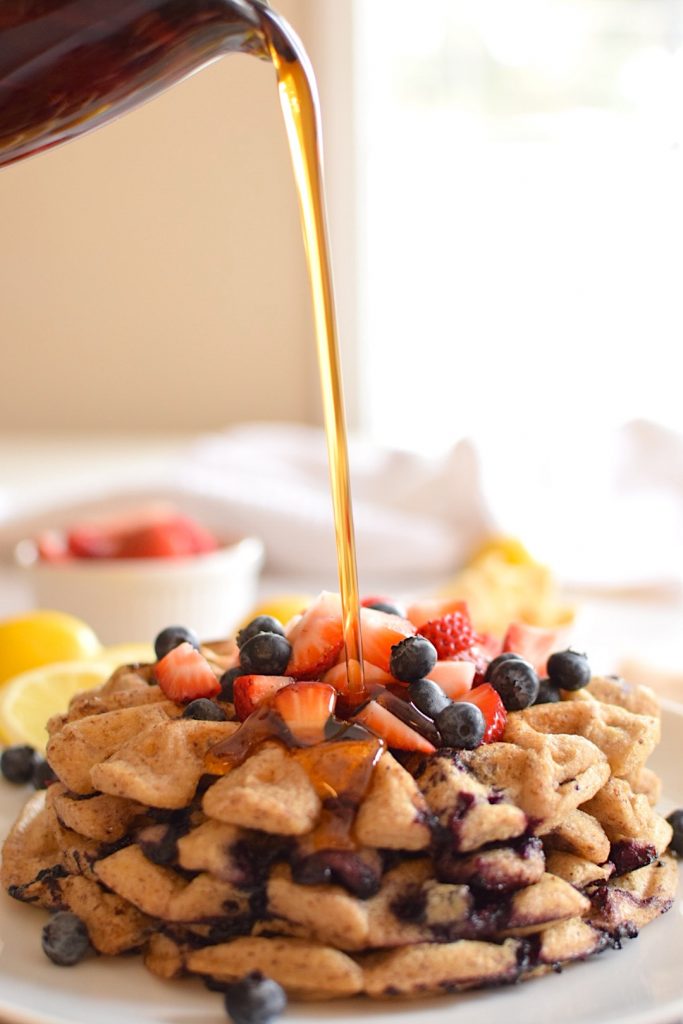 Gluten-Free Lemon, Blueberry Waffles were Born!
That's exactly how I dreamt up my Gluten-Free Lemon-Blueberry Waffle recipe.  I wanted to savor this breakfast treat that I so enjoyed as a child, but didn't want it to disrupt my gut (literally).  To all my peeps out there struggling with Candida, gluten-sensitivities, or other gut issues, these waffles are meant for you, baby!  Using brown rice flour and arrowroot to form the batter, and xylitol and liquid stevia to slightly sweeten it, we put a twist on this classic recipe, opening it up to a wider range of people who can now enjoy it.  Oh, and the lemon and blueberries just make it that much tastier AND better for you.  I truly hope you enjoy them!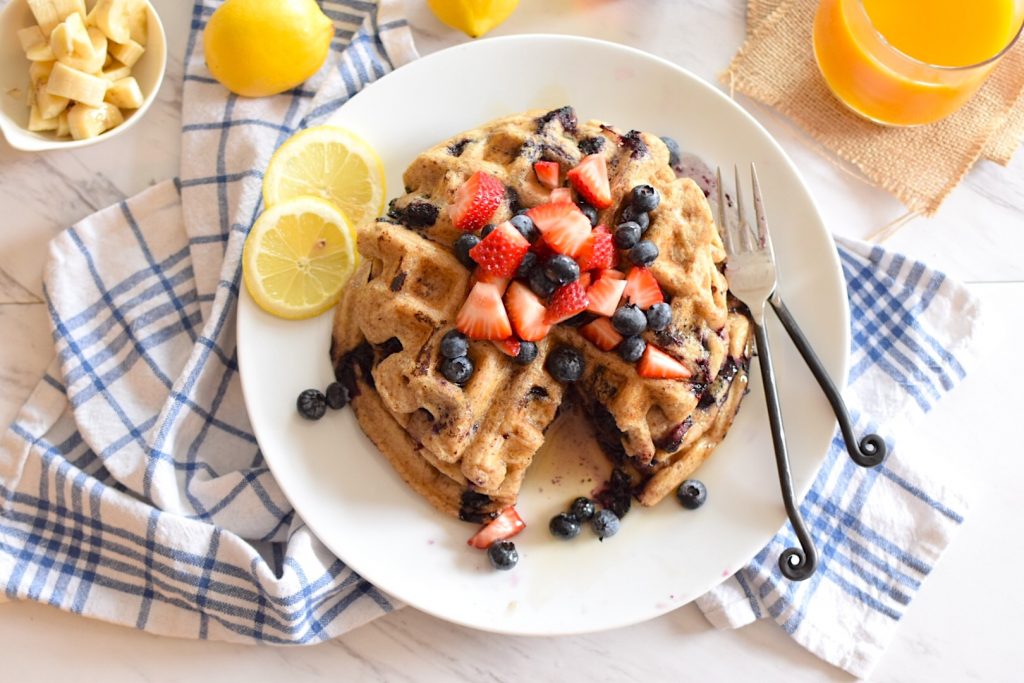 For those following a strict Candida Diet:
Obviously maple syrup, even best quality, is a no-no when following a strict Candida Diet.  Although pure maple syrup does contain vitamins and minerals, it's too high in sugar for those trying to get Candida under control.  If that's you, here's a quick and easy Sugar-Free "Syrup" Recipe you can enjoy with these delicious waffles:
Anti-Candida, Sugar-FREE "Syrup" Recipe

Makes about 3/4 cup
INGREDIENTS:
1/2 cup fresh blueberries
2 Tablespoons unsweetened coconut milk
2 – 4 drops liquid stevia
Pinch sea salt
DIRECTIONS:
Place everything in the blender, and blend until smooth.  For a thinner consistency, add 1 teaspoon of coconut milk at a time until desired consistency is reached.
For a Vegan Option:
You can easily make these waffles vegan by using flax seed eggs. Learn how to make a Flax Egg HERE.
Gluten Free Lemon-Blueberry Waffles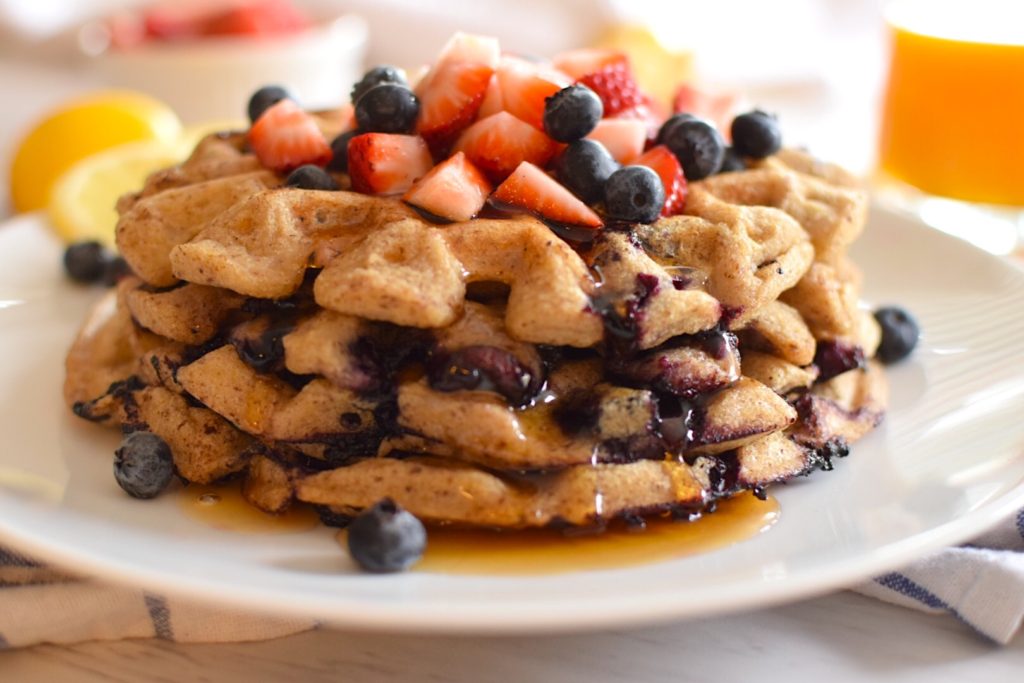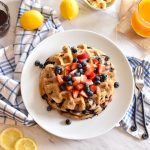 Gluten-Free Lemon-Blueberry Waffles
Vegan | Gluten-Free | Nut-Free | Anti-Candida
Ingredients
1

cup

brown rice flour

1/4

cup plus 2 Tablespoons

arrowroot or tapioca flour (starch)

2

Tablespoons

xylitol

or coconut sugar if Candida is not an issue

1

teaspoon

baking powder

1

teaspoon

xanthan gum

1/2

teaspoon

sea salt

zest of 1 lemon

1 and 1/4

cup

unsweetened coconut milk

2

Tablespoons

grapeseed oil

2

eggs*

juice of 1 lemon

1

dropper full liquid stevia

about 20 drops

1

cup

fresh, organic blueberries

Coconut or olive oil spray
Instructions
Preheat waffle iron.

In a medium-size mixing bowl, whisk together the brown rice flour, arrowroot, xylitol, baking powder and sea salt until well combined and free of lumps. Zest the lemon into the bowl by grating the entire yellow surface layer, making sure not to grate into the white rind, which is bitter. Whisk zest into the dry mixture.

In a separate smaller bowl, juice the lemon. Add the coconut milk, oil, eggs, lemon juice and liquid stevia. Whisk this all together.

Now add the wet ingredients to the dry ingredients and mix until completely combined. Gently fold the blueberries into the mixture.

For each waffle, generously spray the heated waffle iron surface with coconut oil spray. Pour batter, about 1/2 heaping cup at a time, into the center of the waffle iron and cook according to your iron's instructions. When each waffle is done, remove it from the iron (I like to use a fork to carefully pry the waffle out of the iron and transfer with a spatula).

Enjoy immediately served with syrup of choice and fresh berries.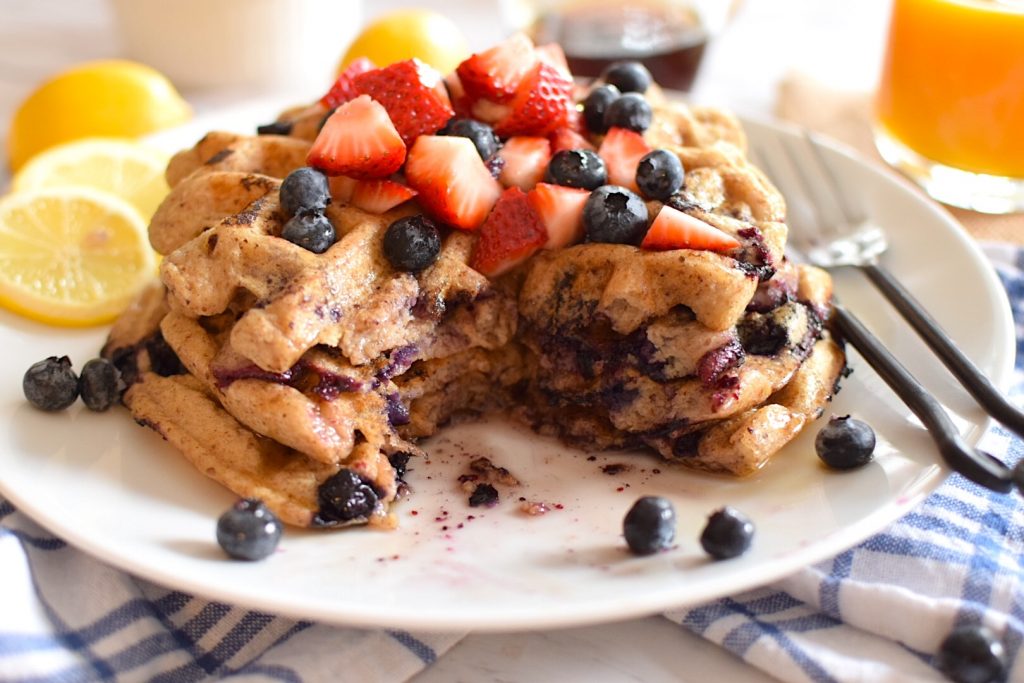 If you're following a Candida Diet, be sure to check out our latest cookbook Everyday Recipes For Your Candida Diet. Now available in digital format and paperback. Over 100 recipes that all fit a sugar-free candida diet.