These delicious mini cheesecakes are not only vegan and gluten free, but there's no baking involved! Packed with plant-based protein and healthy fats, they're creamy, dreamy and delicious.  Vegan Lemon, White Chocolate Cheesecake Bites!
All right, raise of hands if your daily food intake looks something like this:
Healthy breakfast
Healthy lunch
Healthy snack
Healthy dinner
9m: chips, alcohol, sugary snacks, chocolate, pretzels, etc.
Come on, you can admit it to me.  There's no judgment from my end.  We all have days like this, even on occasion.  We can be soooo aware about what we eat all day long and then start binge snacking at night on things that don't really serve our bodies in any positive, nutritional way.
One thing that's helped my clients
One thing that's helped my clients lose weight and curb binge eating is portion control.  Now this is nothing new I'm preaching here, there's lots of advice out there on portion control…because it works.  When I make desserts, I prefer to divide them up in small portions for this very reason.  Instead of making a tall, 9-inch round cheesecake, I portion it into bite size pieces.  This might take an extra minute or two of time, but it can pay off during those late night binges.  Instead of grabbing a whole cheesecake from the fridge, you'll probably just sneak one or two pre-portioned cheesecake bites already wrapped in their pretty little paper cups.
Don't have a lot of self-control?
Only keep a few bites in your fridge at a time and the rest stored in your freezer, waiting to be thawed for when you're ready for more.  Your waistline wins as well as the dessert god ruling your stomach and brain.
Ok, so let's get to the recipe!  It's pretty awesome.
It's:
Vegan
High in fiber, protein, and good fat (from the cashews)
It relies on natural sweeteners such as dates, maple syrup and coconut sugar which contain vitamins and minerals stripped from white sugar
Is high in vitamin C because of all the lemon juice
Gets its creamy, dairy-free texture from coconut oil and cacao butter
Wait, what?  Cacao butter?  Yep you heard right.  You know, the stuff you rub your bod down with?  The same stuff.  Well, kind of.
When we hear the word butter, one conjures up pictures of cow's milk being churned and possibly Paula Dean.  However, cacao "butter" is just a name to describe the texture of this delight; it's not actually derived from any animal's milk.
Vegan Lemon, White Chocolate Cheesecake Bites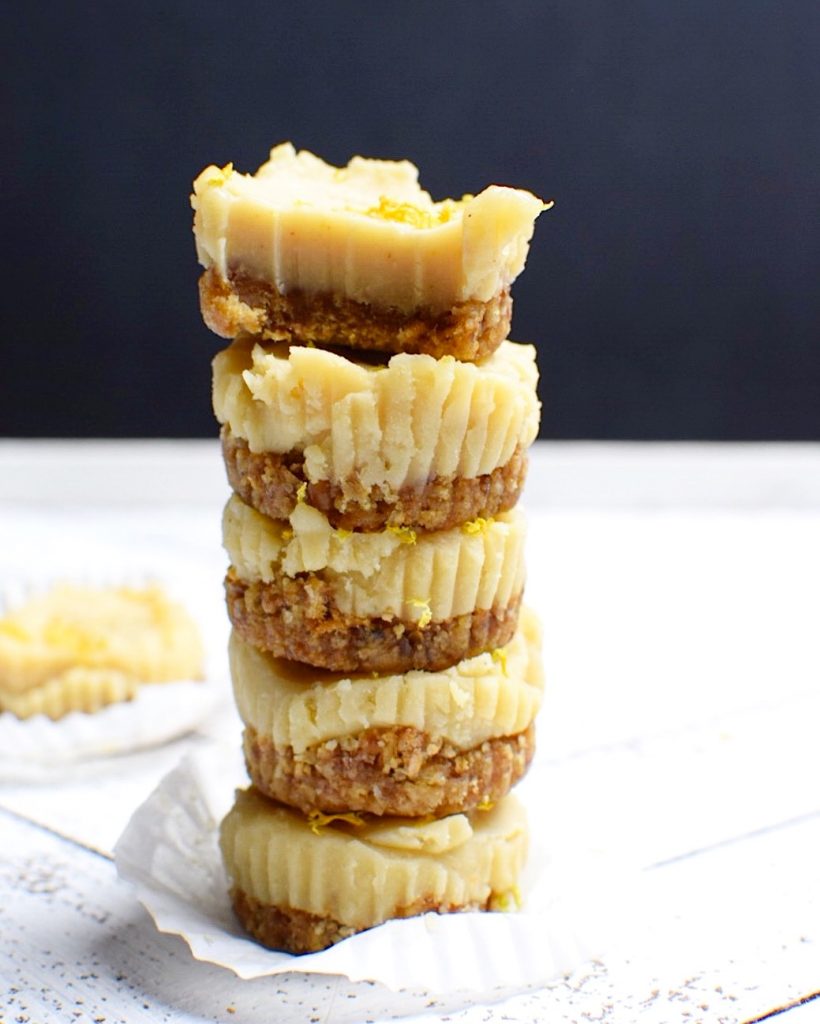 Good quality raw cacao butter
Good quality raw cacao butter is made using a 'cold-pressed' method, which involves pressing organic raw cacao beans or nibs until the oil inside slowly starts to separate from the protein and fibre. The liquid butter that results is placed into containers and allowed to cool and solidify before packaging. This special technique avoids exposing the cacao butter to high temperatures and thus prevents it from being damaged during the production process, which enables the finished product to retain an optimum quantity of valuable nutrients.
Vegan
Raw cacao butter is totally vegan, unrefined, contains no sugar or milk and is rich in vitamins, minerals (particularly magnesium) and essential fatty acids that provide a range of benefits for our health. It's not only delicious, with its subtle scent of chocolate , but it's also exceptionally nourishing for our skin and is sometimes used as a body lotion.
When the cacao butter is added to homemade chocolate desserts, it gives it that silky smooth, velvety texture.  Plus, it provides a huge amount of flavonoid antioxidants and healthy fatty acids.  Win-win!
Now that you know about how flippin' cool cacao butter is and how good it is FOR you, let's get cooking.  Please let me know how you like my Lemon, White Chocolate Cheesecake Bites and if those little portioned-out bite-size servings are as helpful as I intended them to be 🙂
Specialty tools and ingredients for this recipe:
Vegan Lemon, White Chocolate Cheesecake Bites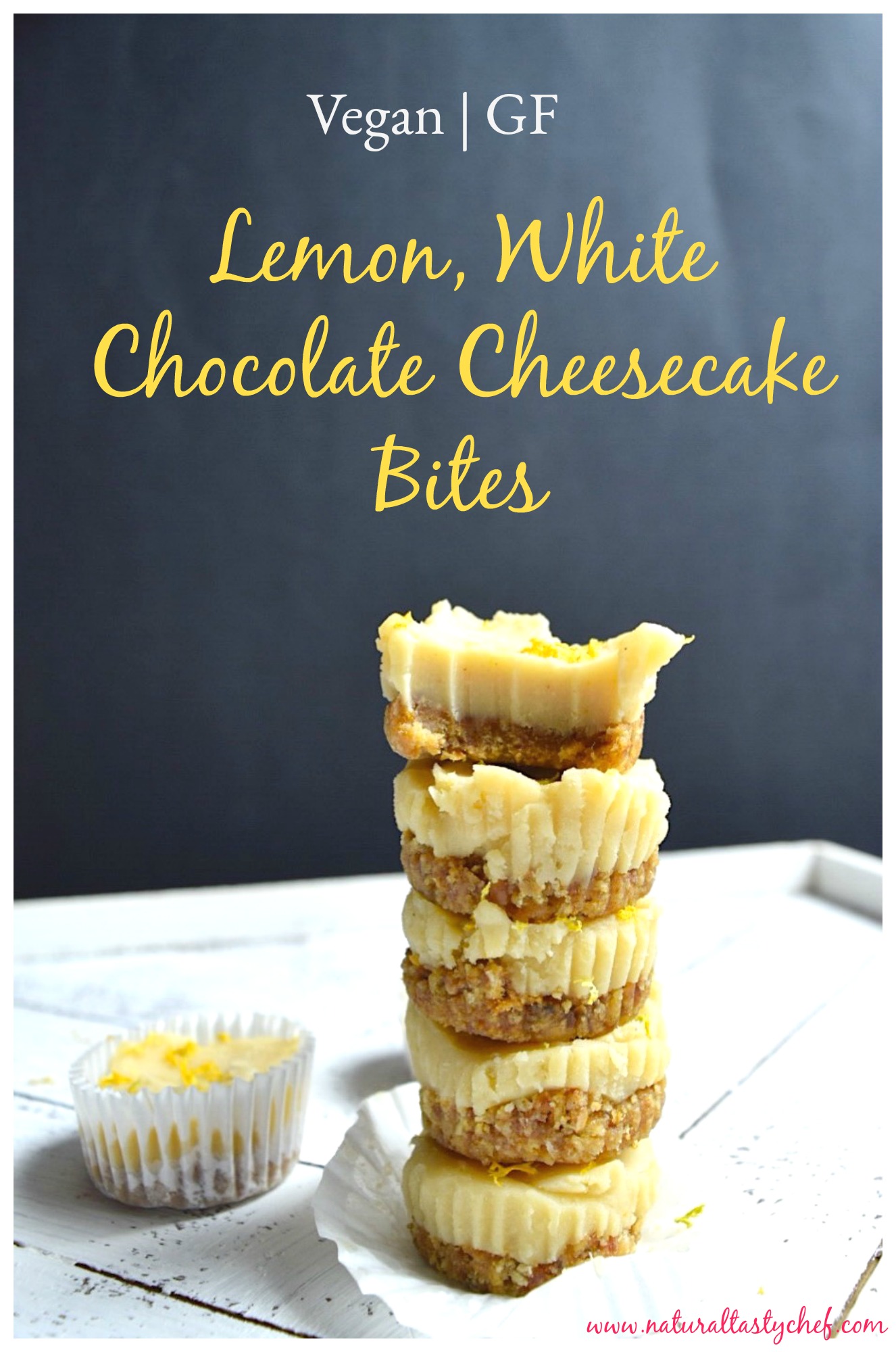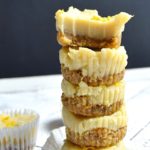 Vegan Lemon, White Chocolate Cheesecake
Vegan | Gluten-Free
Ingredients
Crust:
3/4

cup

walnuts

3/4

cup

fresh medjool dates

pitted

1

Tablespoon

coconut oil

melted

Pinch

sea salt
Filling:
3

Tablespoons

coconut oil

3

Tablespoons

cacao butter

1/4

cup

coconut cream

1/4

cup

maple syrup

3/4

cup

raw cashews*

3

Tablespoons

lemon juice

4

– 5 drops lemon essential oil

optional

Generous pinch sea salt

Zest of 2 medium lemons

divided
Instructions
Line 24 mini muffin cups with liners and set aside.

Place walnuts into your food processor and pulse until they start to form a meal. Add dates and process again until everything is fully combined. Add 1 teaspoon of crust to your lined mini muffin cups. Let set in the freezer for 15 minutes.

To prepare the filling melt the coconut oil and cocoa butter in a small saucepan over low heat. Add to a high-powered blender with coconut cream, maple syrup, cashews, lemon juice, lemon essential oil (if using) and sea salt. Blend starting on low speed and slowly working up to medium and high until smooth and creamy. Add the zest of 1 lemon and starting back at low speed, blend again to incorporate.

Pour about 1 heaping Tablespoon of filling into each muffin cup and finish by zesting one more lemon over the top.

Place in the freezer to set for about 2 hours.

Store in an airtight container in the fridge for up to 2 weeks or in the freezer for up to 3 months.
Recipe Notes
*Option to soak cashews in filtered water for up to 4 hours and drain before using.  This step will make the cashews softer.
You can find all our Natural Tasty Dessert Recipes HERE!