These vegan, grain free Chocolate Maca Protein Doughnuts are dense, chewy and satisfying!  They're also full of protein and contain Maca Root, a superfood native to Peru that is thought to help regulate hormone levels, increase fertility (in both men and woman), boost the immune system, memory and focus.  That's some big talk for a doughnut!
Chocolate Maca Protein Doughnuts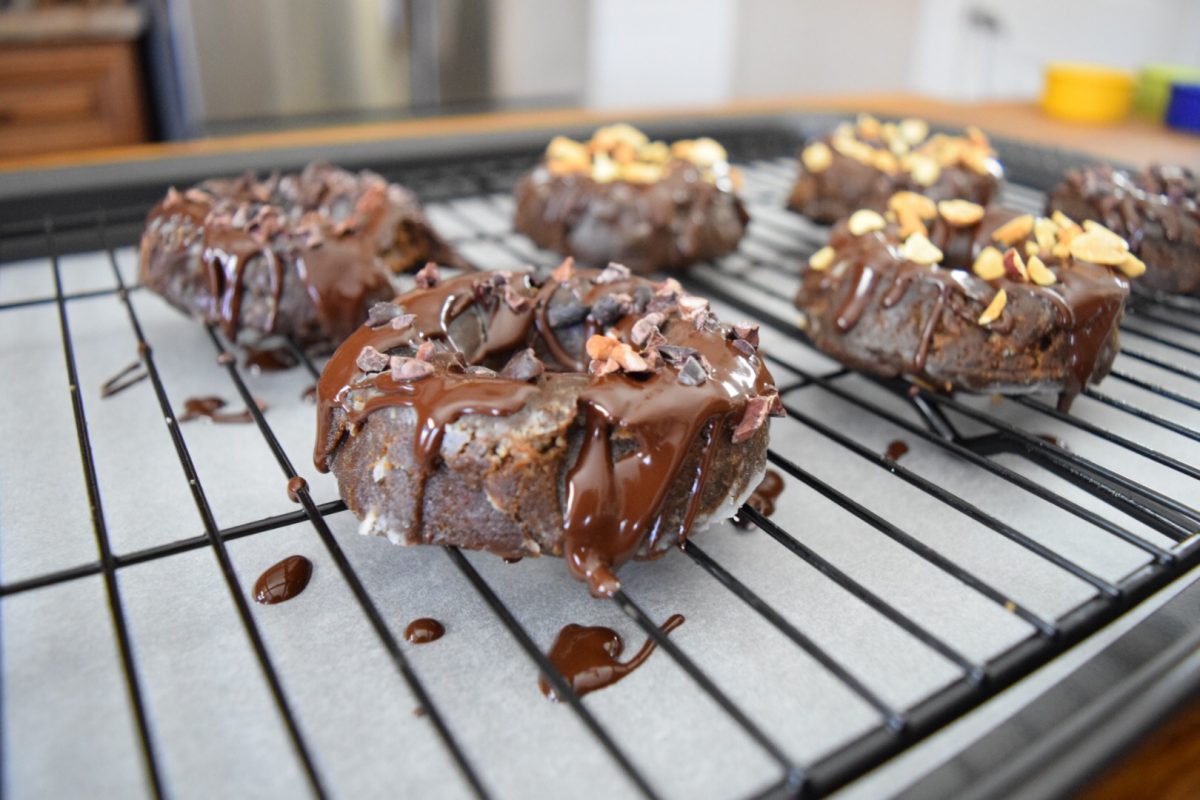 This is what the batter looks like.  It's dense, moist and will stick together when you pinch it with your fingers. This dough is not pourable, you'll be molding it into your doughnut tin.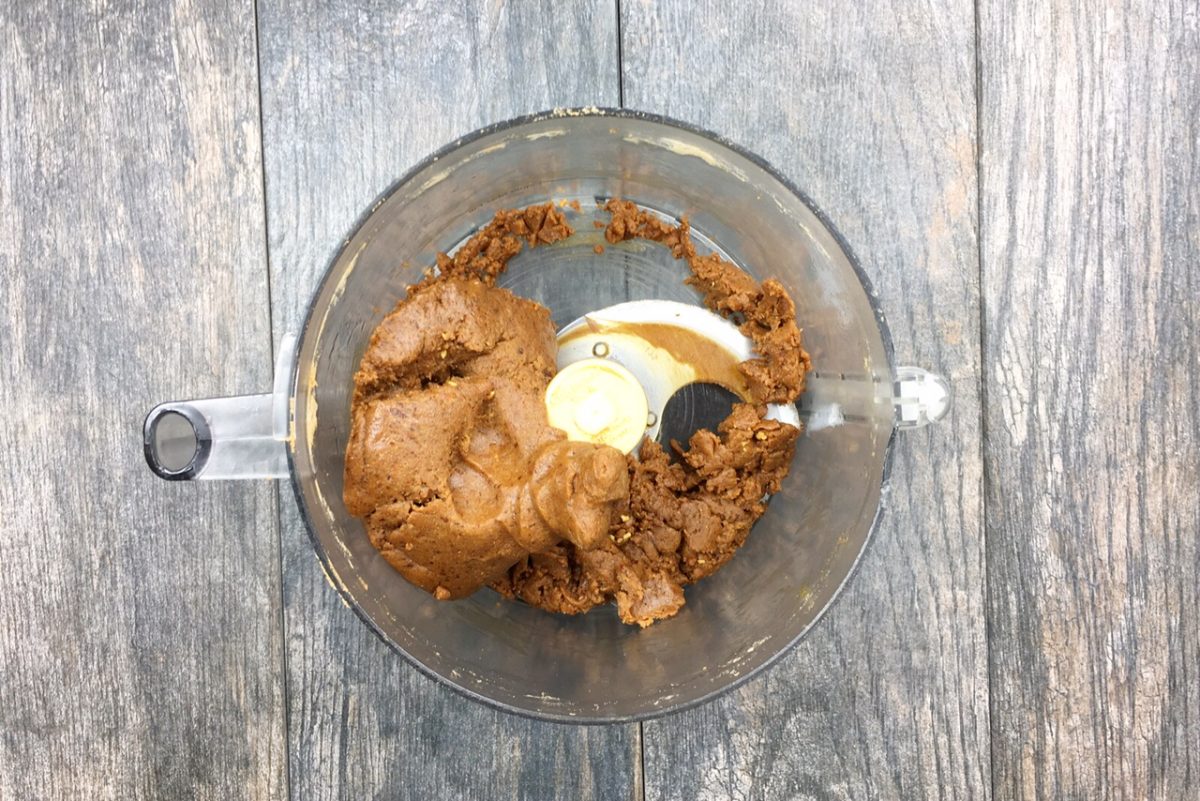 Make sure to generously grease your doughnut tin.  To do this, use either coconut oil spray, or i like to use room temperature coconut oil and a paper towel and smear it around.
This step will ensure that you can remove the doughnuts from the molds with ease.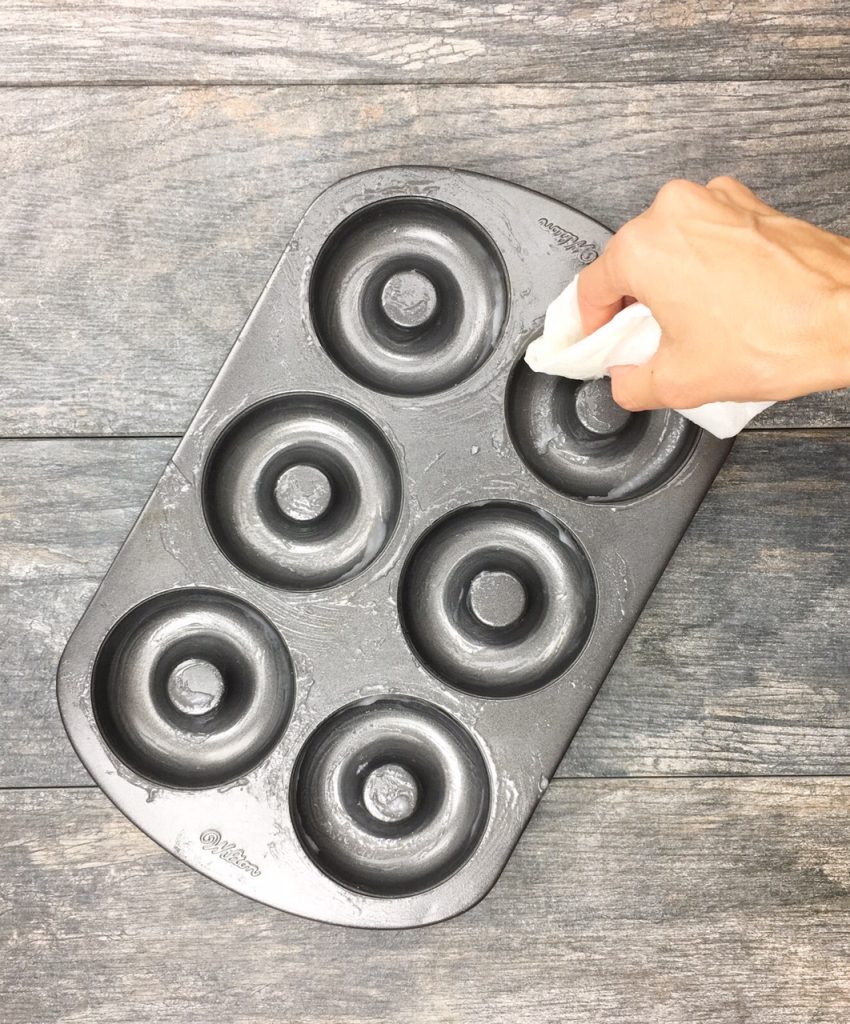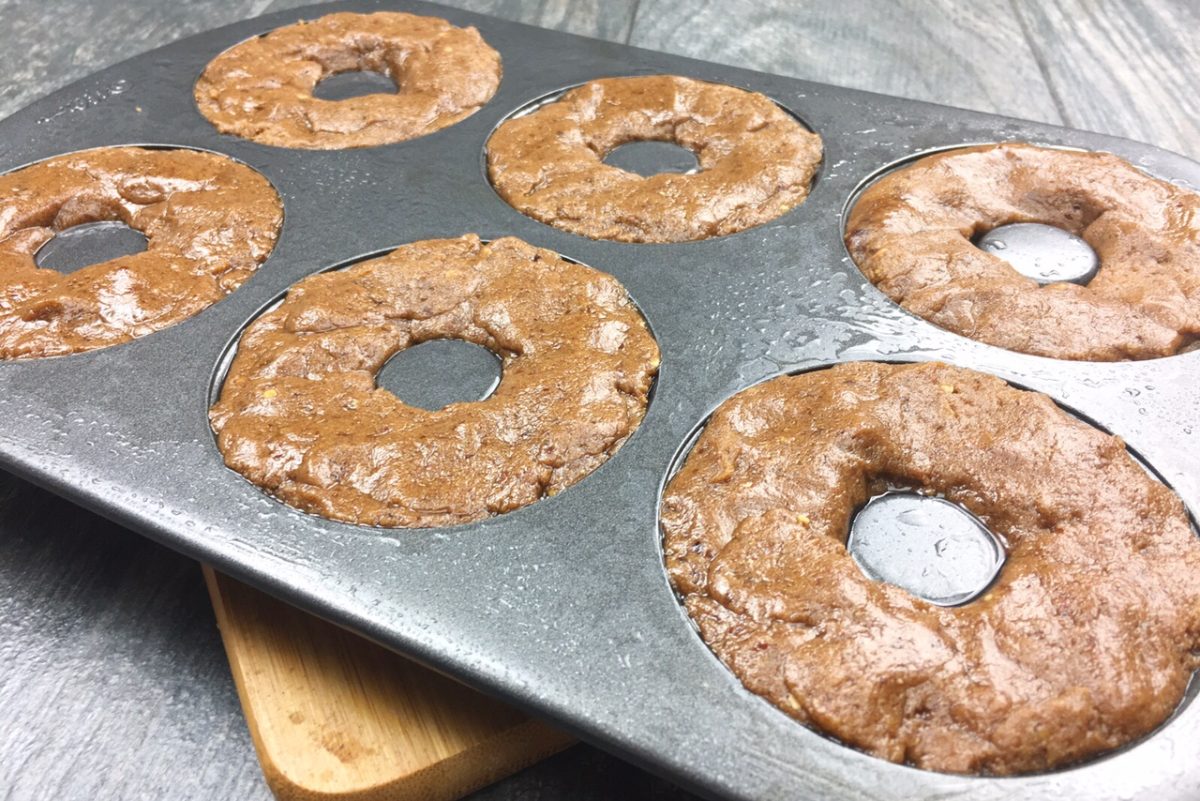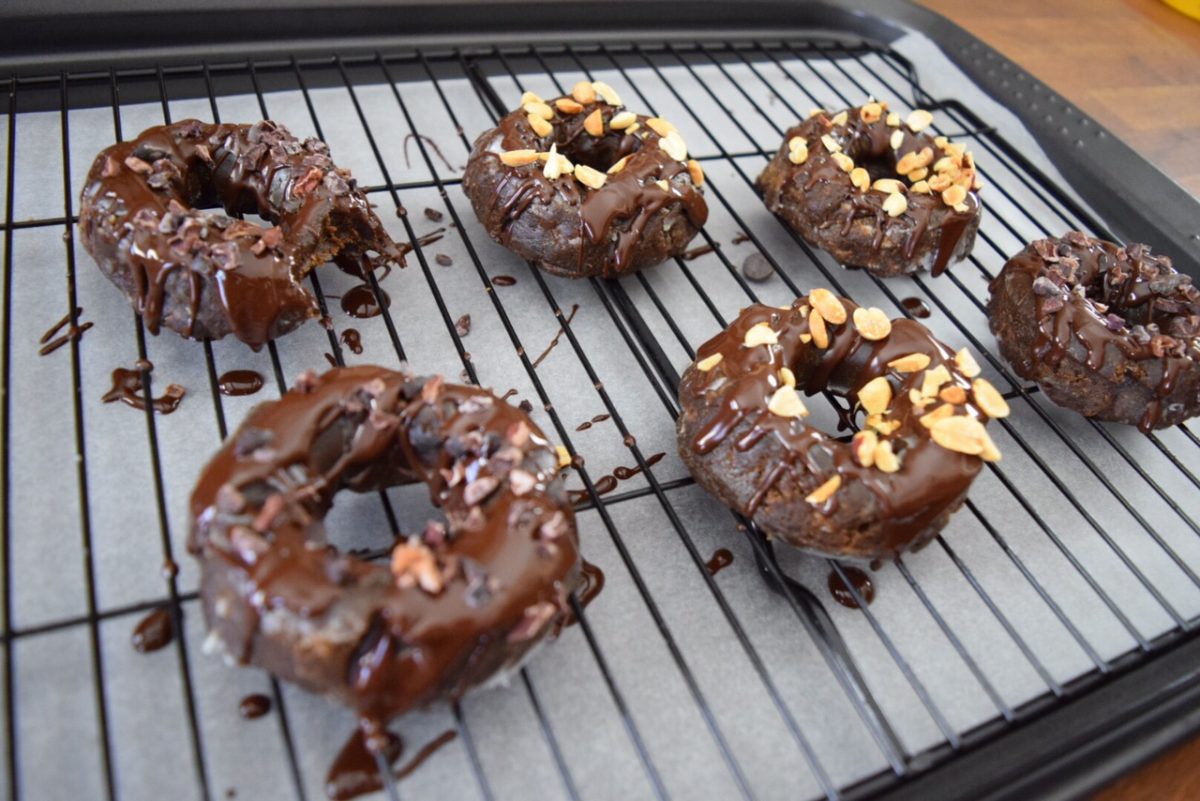 Specialty ingredients and tools for this recipe:
Chocolate Maca Protein Doughnuts Recipe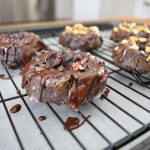 No-Bake Chocolate, Maca Protein Doughnuts
Vegan | Gluten & Grain-Free | Paleo
Ingredients
Donuts:
2

cups

packed and pitted soft medjool dates

1

Tablespoon

coconut oil

1/3

cup

creamy, unsalted peanut or cashew butter

1/2

cup

vegan chocolate protein powder

I used Trader Joe's Chocolate Hemp Protein Powder

1/4

cup

maca root powder

1

generous pinch sea salt
Chocolate drizzle:
1/4

cup

vegan chocolate chips melted with 1 teaspoon coconut oil
Garnish:
Cacao nibs

mini chocolate chips, shredded coconut or chopped peanuts
Instructions
Place the dates in a food processor and pulse.  Next add the coconut oil and process until the dates form a thick paste.  Now add the maca root powder and sea salt and pule again.  Scraping down the sides occasionally.

Finally add the nut butter and protein powder and process until everything is well combined.

Generously oil 6 doughnut tins with coconut oil or coconut oil spray and set aside.

Place about 3 -4 heaping Tablespoons of batter into each donut tin and set in the freezer for about 1 hour.

Remove the doughnuts carefully, using a butter knife, by going around the doughnut edge and prying it out.

Place all 6 doughnuts on a wire cooling rack over a baking sheet while melting your chocolate (this will catch any extra drizzle).

Combine the chocolate chips and coconut oil in a glass bowl.  You can melt the chocolate in a microwave at 30 second intervals or over a double boiler.

Drizzle melted chocolate over each doughnut and place in the freezer one more time to set.  Store these in an airtight container in the fridge or freezer, but they will be most enjoyable if left out at room temperature for about an hour before indulging!!
Chocolate Maca Protein Doughnuts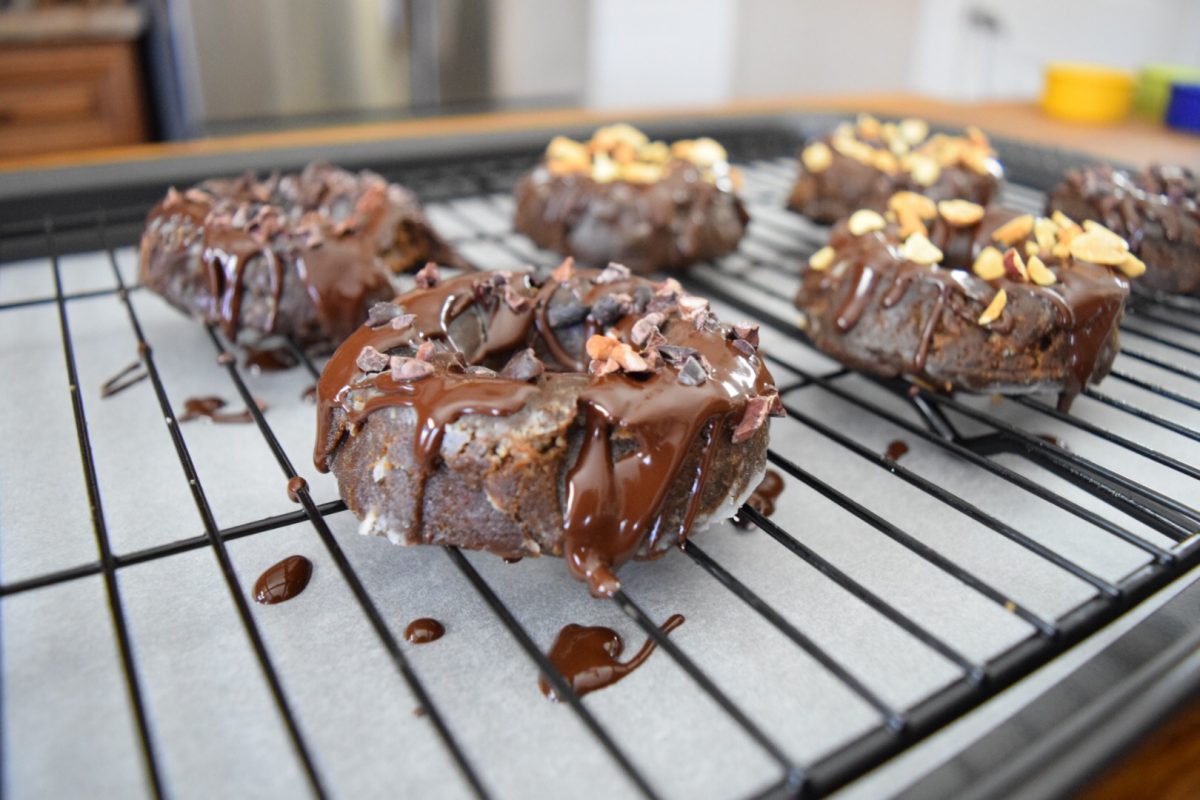 Need some help navigating your health and wellness?  Check out my Health and Diet Coaching. Book your FREE complimentary 30-minute session

HERE

 today!
—
Like this post? Please share it 🙂