3 Ingredient oatmeal cookies that are hearty, satisfying and kid friendly! The perfect way to use up those overly ripe bananas
These cookies couldn't be easier to make and are healthy for you too. They take about 20 minutes to make from start to finish and are naturally sweetened, relying on 3 basic ingredients: ripe bananas, rolled oats (I prefer gluten-free) and coconut oil. Easy. Healthy. Delicious!
I created this recipe while visiting my family in Boston.  I was staying with my twin sister who has a 6 year old son and 2 year old twins (boy and girl).  Needless to say, the house can get a little CRAZY!  While rummaging through her kitchen, I found 2 overripe bananas and since I absolutely hate wasting food, it's a serious pet peeve of mine, I decided to put the bananas to good use and make cookies! 🙂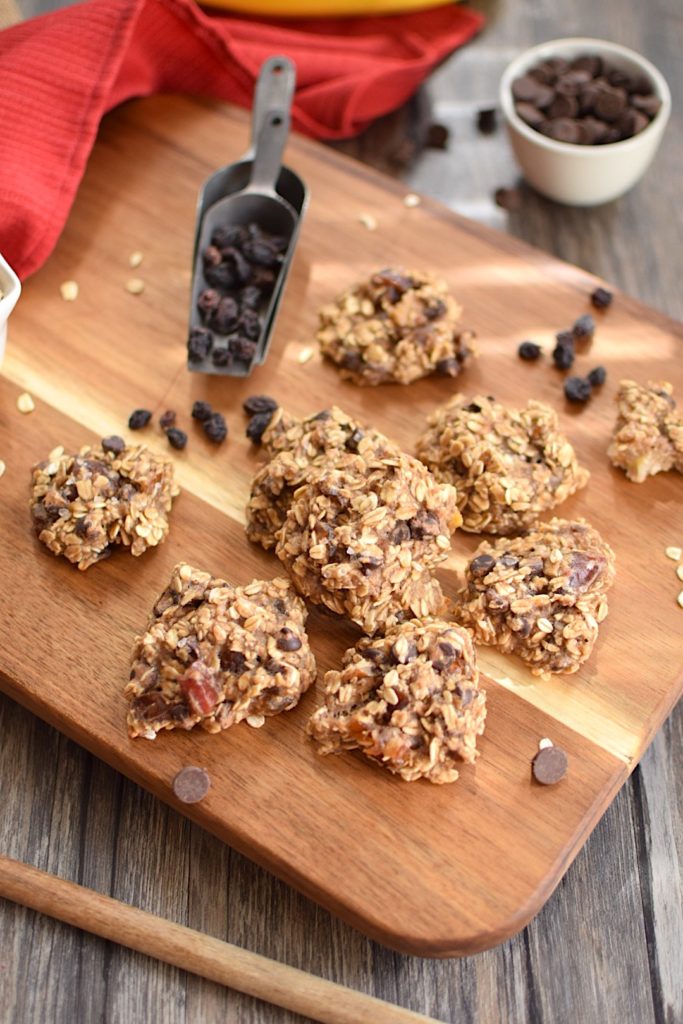 The Amazing Banana:
Bananas are a pretty incredible fruit. Not only are they extremely affordable, but they're loaded with health benefits too.
Bananas are high in Vitamin B6 which helps your body in so many ways from producing red blood cells to removing toxic chemicals from your liver and kidneys, maintaining a healthy nervous system and also assisting the body in metabolizing carbs, fats and amino acids.
Bananas are also a great source of Vitamin C, Magnesium and potassium. Ever get a bad charlie horse at night? I know, the worst! Eat a banana.  Muscle cramps are usually an indicator of low magnesium, and a banana can help just that!

Naturally Sweet!
Bananas are a great way to naturally sweetened desserts and smoothies.  The mashed bananas in these cookies replace the need for any added sugar, which makes these a healthy go-to dessert.
For extras, I opted for ground cinnamon, vegan chocolate chips and chopped dates, but these are yummy as is or I could also see these cookies being delicious with dried cherries, raisins, and/or walnuts.
Enjoy!
Specialty Ingredients For This Recipe:
Easy Banana Oat Cookies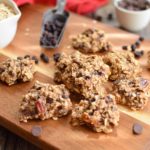 Easy Banana Oat Cookies
Vegan | Gluten-Free | Dairy-Free | Nut-Free
Ingredients
Cookies:
2

ripe bananas

mashed

1

cup

gluten free rolled oats

pinch

sea salt
Optional:
Vegan chocolate chips

Raisins

Chopped dates

Dried cherries

Cinnamon

Vanilla
Instructions
Preheat oven to 350 degrees F. and line a baking sheet with parchment paper. Mash the bananas with a fork, or place into a food processor and give a quick pulse. Add rolled oats and a pinch of sea salt and mix to combine. Add in any optional ingredients you desire.

Scoop batter out at about 1 – 2 Tablespoons on to prepared baking sheet. These cookies wont spread. Bake for about 12 - 15 minutes, or until golden brown!

Store leftover cookies in a sealed, airtight container in the fridge for up to 1 week.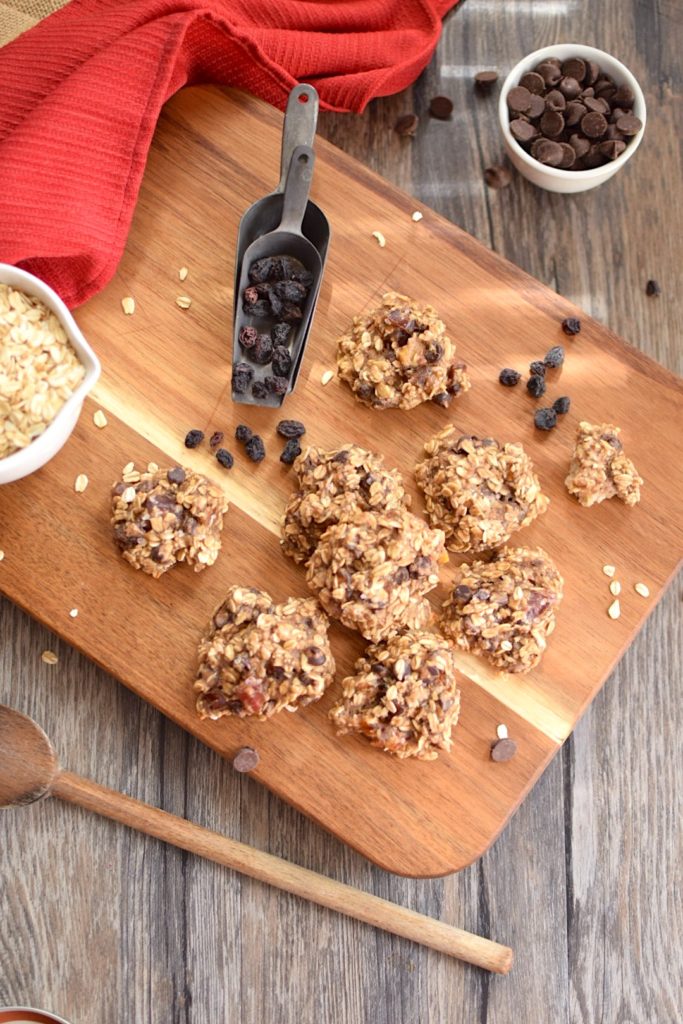 Looking for other ways to use your overripe bananas? Try our 5 Ingredient, Paleo Blender Pancakes!