A Vegan Sweetened Condensed Coconut milk that's refined sugar free. This rich, sweet and slightly sticky condensed milk is perfect for your favorite vegan candies and ice creams.
If you've made any of my dessert recipes, you've probably noticed that I love using sweetened condensed coconut milk. It's in our Easy, Vegan No-Fail Chocolate Fudge, Vegan Chocolate Covered Caramels, Vegan and Gluten-Free Twix Bars, Easy, Vegan Mounds Bars, and my churned Vegan Ice Creams (Peanut Butter, Chocolate Chip and Espresso Chip). Sweetened condensed coconut milk is thick, sticky and sweet with a very low water content making it perfect for these types of desserts.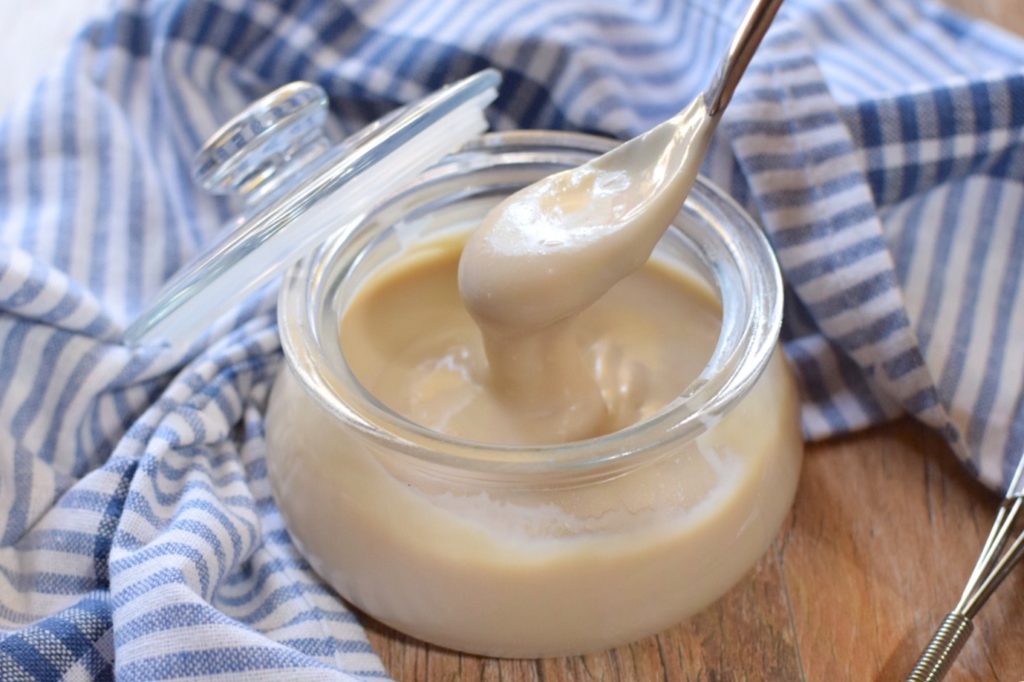 No Access to Vegan Sweetened Condensed Coconut Milk?
Over the last few months, quite a few of you have asked where you can find Sweetened Condensed Coconut Milk. And as it turns out, it's not readily available to everyone. Unfortunately, substituting evaporated coconut milk or straight up coconut cream is not an equal swap. So what's the solution? To make your own, of course!
Here's a recipe to make your very own Vegan Sweetened Condensed Coconut Milk that's just like store bought, but even better. This Sweetened Condensed Coconut Milk is also refined sugar-free!! Yipee

Here's what you'll need:
Full Fat Coconut Milk, 

Maple Syrup or Agave (Sub Xylitol for a CANDIDA DIET)
Sea Salt (just a pinch) &
Patience!
The Key to this recipe:
The key to making Sweetened Condensed Coconut Milk is patience. The liquid needs to reduce to about have which can take about 35 – 45 minutes. This gets most of the water out and leaves you with a thick, sweet and sticky milk. But this is not a recipe where you can set it and forget it. It's kind of like a 6 month old; all over the place! You really need to stand there and watch it and whisk it continuously to prevent burning. However, it is well worth it. The end result will take you to divine culinary places…think creamy vegan ice creams, soft and velvety caramels, rich and chocolatey fudge and more!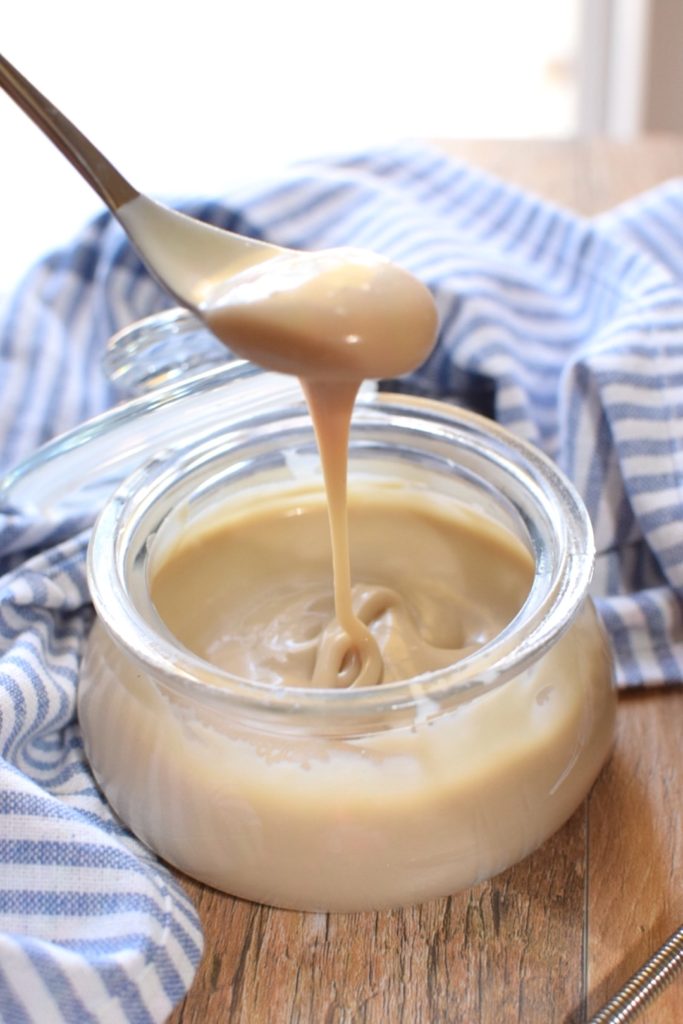 A Sugar-Free, CANDIDA DIET Option:
I've also made this recipe using xylitol to make a Vegan + Sugar Free Sweetened Condensed Coconut Milk, and it worked like a charm!  If you're following a candida diet or trying to eliminate sugar, this is a total win. In fact, I even tested my Vegan Chocolate Fudge recipe with it, using stevia sweetened chocolate chips to make a Sugar-Free, Vegan Fudge. It was such a great treat for a friend who's a diabetic.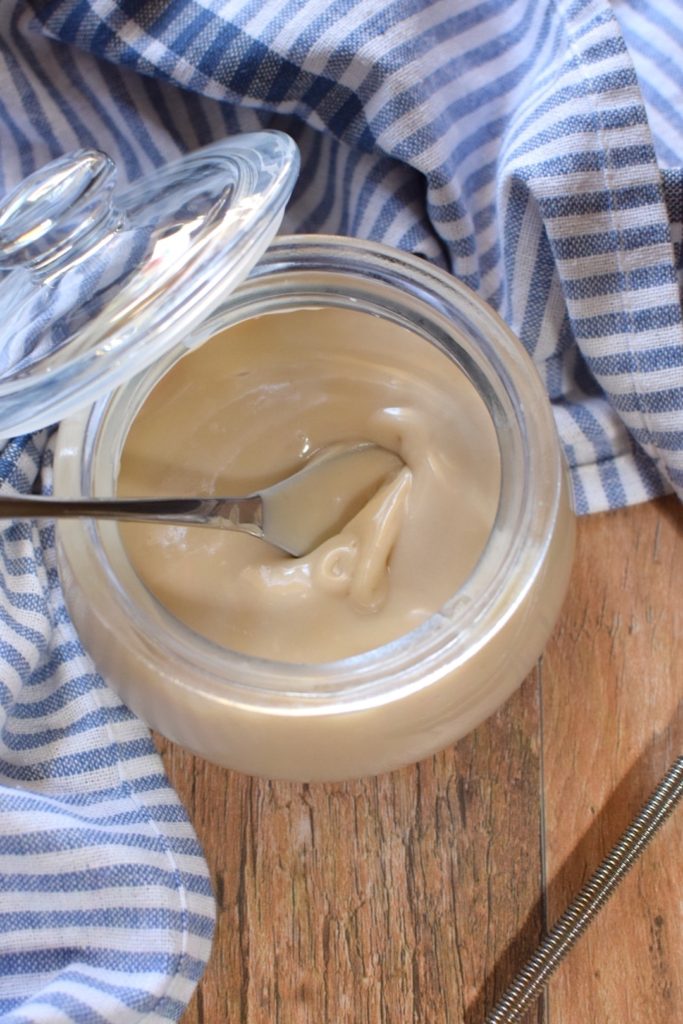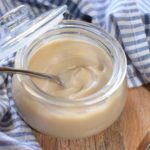 Vegan Sweetened Condensed Coconut Milk
Vegan | Gluten-Free | Paleo | Sugar-Free, Candida Diet Option
Ingredients
2

cans

full fat coconut milk

( 14 ounces/400 ml each )

1/2

cup

maple syrup or agave nectar*

(use xylitol for a sugar-free/candida diet option)

2 pinches

sea salt
Instructions
Add all ingredients to a medium sized saucepan and bring to a boil over medium heat. Keep uncovered and reduce heat slightly but continue to Simmer liquid. Simmer, whisking continuously to prevent burning, for 35 - 45 minutes, or until liquid has reduced to about half and starts to thicken. 

Pour into a container and let cool before covering with a fitted lid. Keep in mind that this will thicken in the fridge. 

Store in fridge with a fitted lid for 7 - 10 days.
Recipe Notes
*SUGAR-FREE/CANDIDA DIET OPTION:
Substitute equal parts xylitol in place of maple syrup. You could also substitute 1 full dropper (about 40 drops) liquid stevia per each can of coconut milk. 
—
If you make this recipe, be sure to check out following vegan dessert recipes:
—
Thinking of going Vegan but not sure where to start? Check out my One Week Vegan Meal Plan, complete with grocery lists and recipes!