This Gluten-Free Orange Cauliflower is a healthier, plant-based and gluten-free spin on Orange Chicken. It's slightly sweet, slightly sour with a grain-free coating. 
Orange chicken used to be a favorite dish of mine, but it's definitely not the healthiest item on the menu.  Typically made with poor quality chicken, battered in refined flour and fried in old, poor quality oil, this dish has a lot going wrong for it.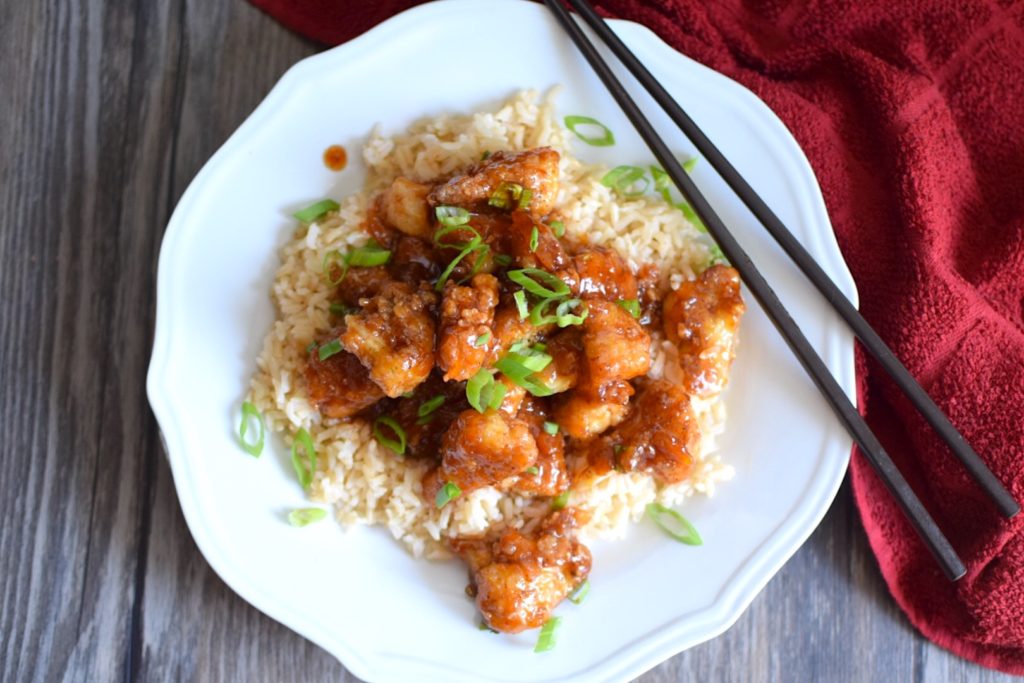 Everything Cauliflower
In this healthier twist, cauliflower is the star of the show. Cauliflower has gotten a pretty good reputation lately.  It can be made into "mashed potatoes" (see my previous post), cauliflower "rice" and even as a cauliflower "pizza crust". Sooner or later it was bound to make its way into a sweet and sour dish!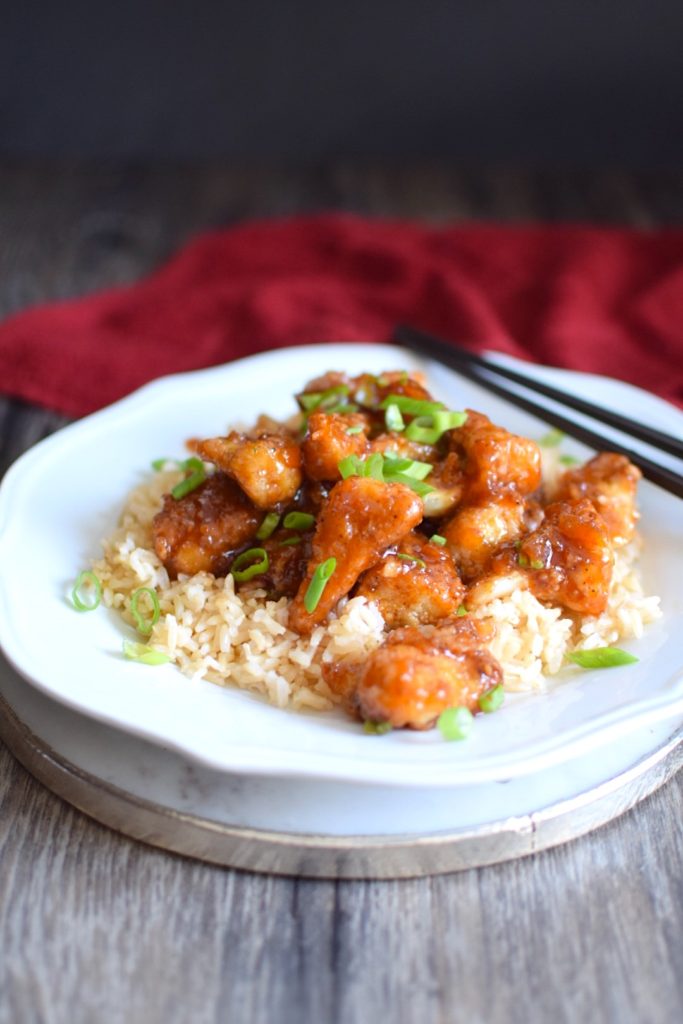 The New Superfood
Cauliflower actually packs a nutritional punch!  It's not always mentioned as much as say kale or spinach, but it certainly has its fair share of health benefits. For starters it's thought to fight cancer cells. Cauliflower contains something called sulforaphane (it took me a couple times to pronounce it also), but sulforaphane is a sulfur compound that has been shown to kill cancer stem cells and slow tumor growth. Some even believe that eliminating cancer stem cells might be the key to controlling cancer. Pretty powerful, eh?!
Further studies have been done with cauliflower and adding cauliflower with curcumin (the active compound in turmeric) may help prevent and treat prostate cancer. It's also rich in vitamins and minerals, thought to act as an anti-inflammatory and high in antioxidants.


Keep In Mind
With all these amazing health benefits, it's a good thing that it's starting to make more of an appearance in main stream dishes. But keep in mind that raw cauliflower contains a natural chemical called goitrogen, which all cruciferous vegetables contain. Glucosinolates can be harmful to the thyroid gland, so be mindful of eating these veggies raw. That also goes for juicing and smoothies.  However, once you cook these vegetables that is deactivated and no longer a threat to the thyroid…phew.
Simply put, always cook your cruciferous vegetables (cauliflower, cabbage, kale, brussels sprouts and broccoli).

Gluten + Grain Free
The batter of these babies is both gluten and grain free using coconut flour and arrowroot or tapioca flour.  They're pan fried in coconut oil and then baked for about 15 – 20 minutes to get them nice and crisp.  I've found that the key to the battering process is to use one wet hand (for dunking in the egg mixture) and one dry hand (for flouring).  This prevents the batter from clumping and minimizes the mess.
I hope you enjoy this recipe as much as me and my family do!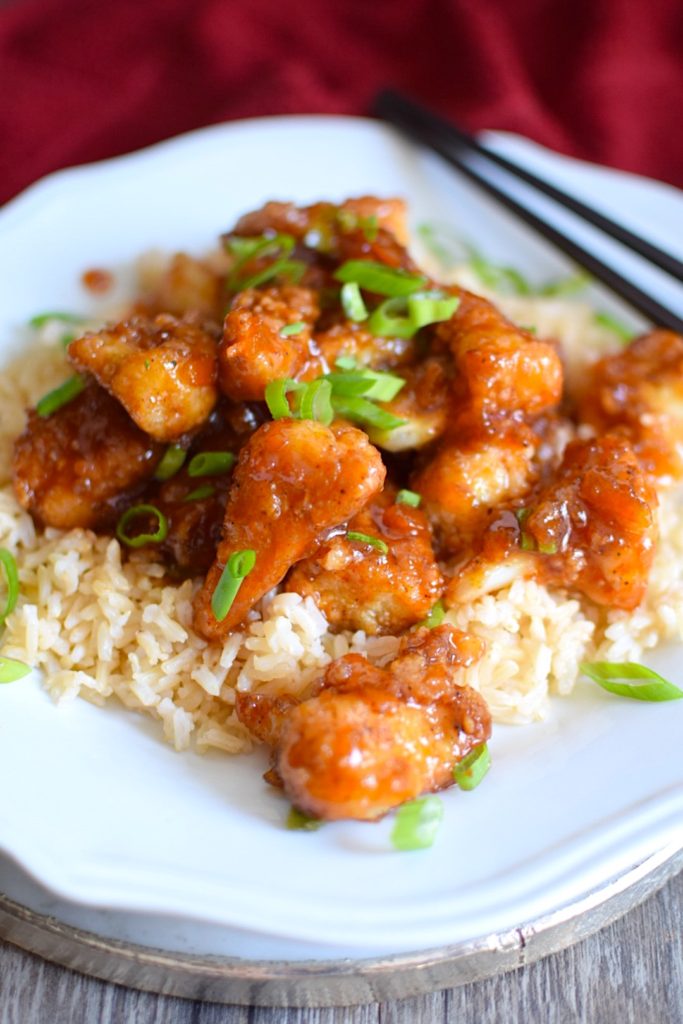 Gluten-Free Orange Cauliflower Recipe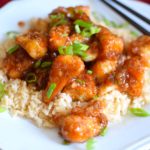 Gluten-Free Orange Cauliflower
Paleo | Gluten-Free | Dairy-Free
Ingredients
Coconut oil

1

small head

or 1/2 large head cauliflower
Wet batter ingredients:
2

eggs

2

Tablespoons

unsweetened coconut or almond milk

Pinch

sea salt
Dry batter ingredients:
1/2

cup

coconut flour

1/2

cup

arrowroot or tapioca flour

1/2

teaspoon

baking soda

1/4

teaspoon

sea salt
Orange sauce:
1/2

cup

organic orange marmalade

1/2

cup

good quality BBQ sauce

pinch

sea salt

Garnish: green onion

minced
Instructions
Preheat oven to 350 degrees F. and line a baking sheet with parchment paper. Set aside.

In a medium size bowl, whisk together all the dry batter ingredients. In a separate smaller bowl, whisk together the wet batter ingredients.

Heat a large skillet over medium-high heat with enough coconut oil to coat the bottom and about 1/4 inch up along the sides. I like to use a cast iron skillet for this.

Using one hand, dredge each cauliflower floret in the egg mixture and with your other hand coat in the dry mixture. Place the cauliflower in the hot oil and allow to get crispy and golden. Turn after about 2 minutes on each side. Then, carefully remove and place on the baking sheet. Continue until all the cauliflower has been cooked. You might have to cook them in batches depending on the size of your skillet and the amount of cauliflower florets you have.

Place the baking sheet into the oven and bake for 15 – 20 minutes, or until florets are golden brown and pierceable with a fork.

In the meantime heat the sauce ingredients by placing it in a small saucepan over low heat and stirring until warm.

Once the cauliflower is done baking, let cool for about 5 – 10 minutes before carefully transferring to a large mixing bowl. Pour sauce over cauliflower and gently stir to combine, being careful not to remove the crispy coating.

Serve warm over a bed of brown rice and garnished with green onion.