This Candida Diet Cauliflower Mash is creamy, comforting and healthy for you too! Using a simple cooking method and whole foods ingredients makes this side dish something you can feel good about feeding yourself and your family!

The Simple Things in Life.
Not all things need to be complex in order to be great.  Take the Jaws' theme song for instance…can you hear it?  Dudah. Dudah. Dudahdudahdudahdudah. A few well-chosen notes can invoke an uneasy feeling… and perhaps even make you question the placidity of your own swimming pool. I think the same concept applies to mashed potatoes. (No, I don't mean they inspire fear in you). With just a few simple ingredients, this classic meal poises as a truly great dish that stands the test of time. 


Traditional Mashed Potatoes.
However, when it comes to how beneficial mashed potatoes are for the human body, we start to see some issues.  A lot of us grew up with mashed potatoes consisting of butter, cream cheese, lots of salt, and oh yeah, white potatoes!  Now as an adult, I strive to eat more nutrient dense food and see traditional mashed potatoes as a "fun food" or something I make on special occasions. So I decided to do something with my mashed potatoes. I've added a secret ingredient, which i'm sure you have guessed by now, cauliflower!

Cauliflower?!
I know, at first thought cauliflower may seem a bit strange to be in mashed potatoes, but like bananas in smoothies…it works!! In addition to the cauliflower, I've subbed white sweet potato for the traditional russet potato and a can of coconut milk in place of milk.
Candida Diet Friendly too!
These swaps make this dish healthier, more nutrient dense, nightshade free and suitable for a candida diet. By swapping out traditional white potatoes for nutrient-packed sweet potatoes and cooking them in coconut milk with lots of anti-inflammatory (and anti-vampire) garlic, these mashies are perfect for your everyday meal.  This side dish is absolutely delicious and better for our bodies too.


Kid Friendly 🙂
On a side note, this recipe is also great for little eaters.  Rest assured that the only words you'll be hearing from your kids when they eat this will be, "Can I have more, please???"   
Candida Diet Cauliflower Mash Recipe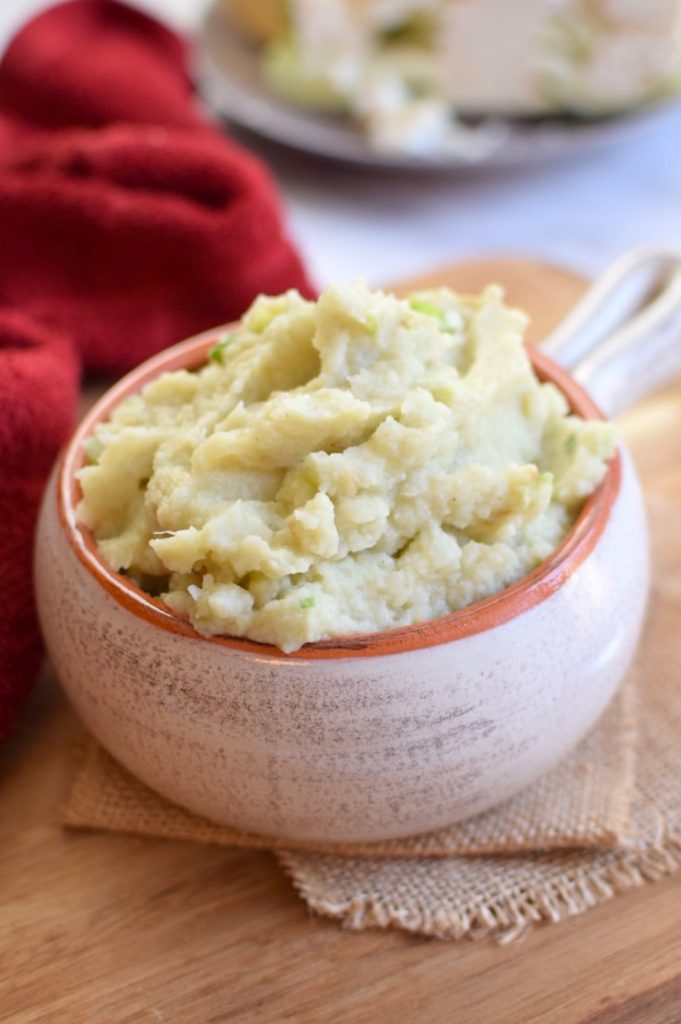 Candida Diet Cauliflower Mash
Paleo | Anti-Candida | Gluten-Free | Nightshade-Free
Ingredients
2

cups

white sweet potato*

washed and cubed

3

cups

cauliflower

chopped

4 - 6

garlic cloves

1

13.5 ounce can coconut milk

1/4

teaspoon

sea salt

more if desired

Filtered water

4 - 6

Tablespoons

organic, grass-fed butter

Pinch

black pepper
Instructions
In a medium sized saucepan add the sweet potato, cauliflower, garlic, coconut milk, and sea salt.  Add filtered water to cover just the top of the veggies.  Bring to a boil, cover with a fitted lid, and reduce heat to medium-low. Simmer for 10 – 15 minutes, or until the sweet potato is pierceable with a fork.  Remove from heat.

If there is excess liquid, use a slotted spoon to remove the potatoes, cauliflower, and garlic cloves from the saucepan and place in a large mixing bowl. Add the butter, another pinch of sea salt and black pepper. Using a potato masher, mash until everything is fully incorporated. Now switch to a hand-held mixer and whip until smooth and creamy. Taste for seasoning and add more sea salt if necessary.

Enjoy!
Recipe Notes
*If sweet potato is organic, no need to peel.