Soft, creamy cashew butter meets dark chocolate to create a healthier vegan dessert that's reminiscent of peanut butter cups but without the peanuts!
Why Cashew Butter?
Did you grow up eating peanut butter cups? I definitely did! My whole family loved them. And although I still love a good Peanut Butter Cup, I've cooked for several clients over the years who are either allergic to peanuts or are choosing to avoid them due to health reasons such as candida or due to their high mold content. That's why I created these Healthy, Homemade Cashew Butter Cups using all natural, creamy cashew butter sweetened with pure maple syrup and surrounded by good quality, dairy free chocolate! They totally satisfy your sweet craving without blowing your healthy diet.

How to make your own Cashew Butter
These days cashew butter can be found in most grocery stores, especially health-based grocery stores like Trader Joe's, Sprouts and Whole Foods.  If you don't have access to a store like that you can always find it online on Amazon. And, of course, you can easily make your own Cashew butter at home with a high powered blender like a Vitamix or Ninja. Here's some simple instructions on how to make Cashew Butter at home:
Homemade Cashew Butter Recipe
~Makes about 2 cups~
INGREDIENTS:
2 cups roasted and salted cashews
DIRECTIONS:


Add cashews to a high powered blender, such a

s a Vitamix or a Ninja and blend on low speed for about 8 – 10 minutes. You may need to stop and scrape down the sides with a spatula occasionally.
*NOTE: raw cashews will NOT work well for this recipe!

Feel Free to Get Creative
For years I sold almond butter cups to a juice bar using this exact recipe, just with almond butter in place of cashew butter and they were always a big hit. So feel free to get creative with your nut butter and also with the size! I've also made this recipe into full sized cups as well. This exact recipe will make about 12 full sized cashew butter cups.
BONUS: This dessert recipe fit's Vegan, Paleo and Gluten-Free diets! Wohoo!
Specialty ingredients for this recipe:
Healthy, Homemade Cashew Butter Cups Recipe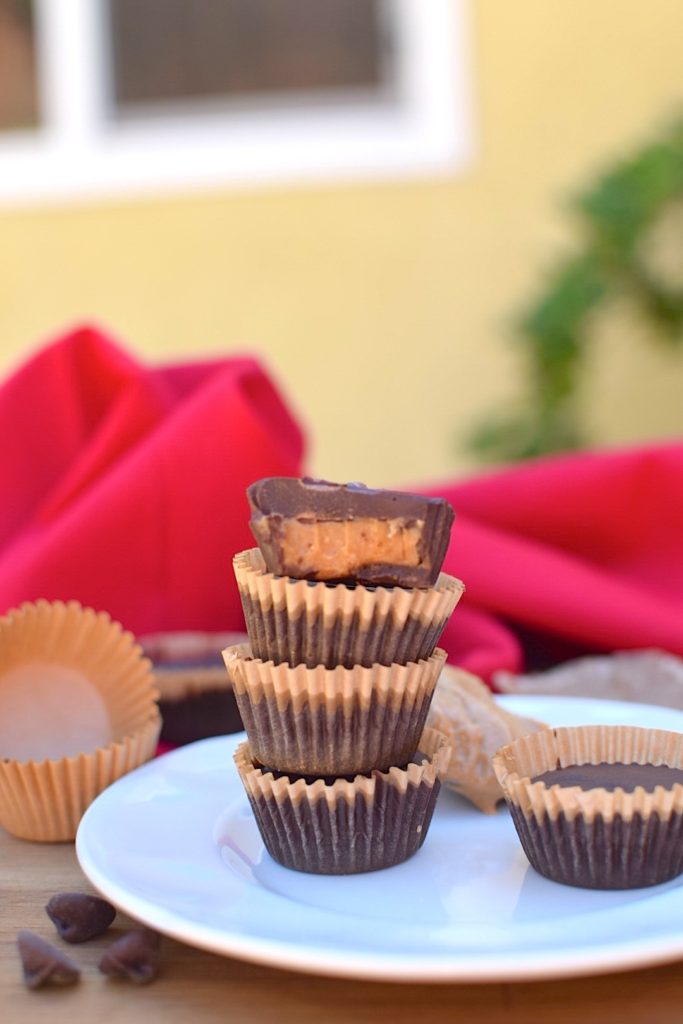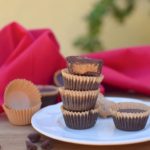 Healthy, Homemade Cashew Butter Cups
Vegan | Paleo | Gluten-Free
Ingredients
For the peanut butter filling:
1

and 1/2 cup creamy cashew butter

all natural

1/2

cup

plus 2 Tablespoons pure maple syrup

1/4

teaspoon

sea salt

omit if your cashew butter is already salted
For the chocolate coating:
4

cups

vegan chocolate chips

I prefer enjoy life or Lily's

2

Tablespoons

coconut oil

Course pink sea salt for garnish
Instructions
Mix the cashew butter filling ingredients together using a mixer to get it nice and creamy. Set aside.

Line 48 mini muffin cups with liners and melt the chocolate by placing the chocolate chips and coconut oil in a heat safe bowl and heating over a double boiler or in the microwave at 30 second intervals (this should take no longer than 90 seconds total).

Pour about 1 teaspoon melted chocolate into each muffin cup, I like to use a teaspoon for this and use it to gently spread the chocolate up and around the sides of each cup. Place in the freezer for about 5 – 10 minutes to set.

Remove chilled chocolate molds from the freezer and fill with about 2 teaspoons of cashew butter filling. Top with another Tablespoon of melted chocolate and sprinkle with a pinch of course pink sea salt.

Place back in the freezer to set completely.