A healthy, flavorful and visually beautiful Black Bean Bowl recipe that makes the perfect Vegan entree any day of the week.
Culinary School
As you may know, my culinary training was at a plant-based culinary school in Austin Texas, The Natural Epicurean, which focused on using food as medicine. In school we learned how to prepare healthy and delicious food as well as why we used (or avoided) certain ingredients. Choosing that culinary school was probably one of the best decisions I've ever made in my life!
After culinary school I spent a month living with my parents back in Boston as I figured out what to do with my newfound skills and knowledge. At the time, my father had recently retired leaving him with lots of time on his hands and bright eyes when it came to his health and cooking. I had introduced him to yoga several years prior, so improving his diet was a natural next step.
The skills I shared with my father almost 8 years ago have dramatically improved his life. He's lost over 30 pounds, increased his energy and vitality, and managed to eliminate the migraine headaches he had been suffering from his whole life. That's right, gone completely. 8 years later, still no migraines!
This black bean bowl was one of the first recipes I taught my father to make. I chose this recipe because it's easy to prepare, healthy and delicious to boot! Of course my father loved it, and still makes this on a regular basis which makes my heart smile.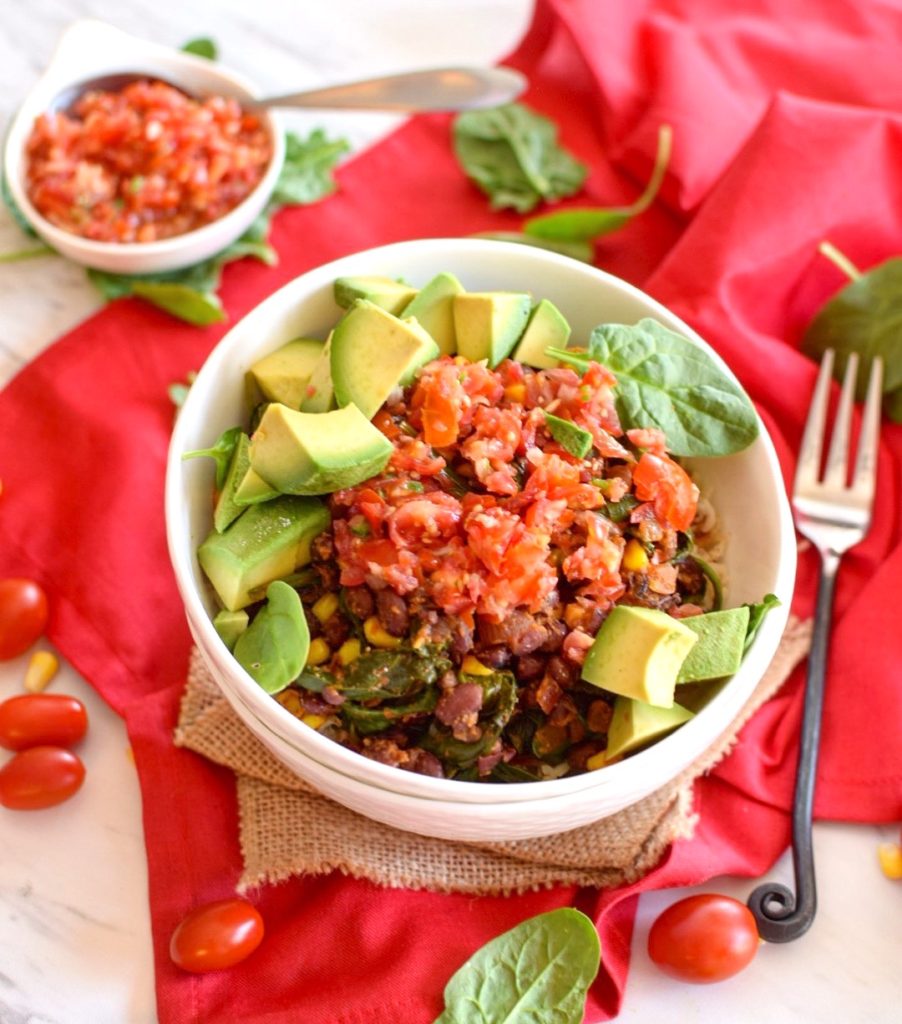 Packed with Flavor
Health benefits aside, this dish is packed with flavor! I'd argue that this dish will satisfy a vegan and meat-eater alike. By sautéing all the vegetables and adding seasoning along the way we create layers of flavor that pack a punch. So whether your a strict vegan, loosely following a plant-based diet or just looking for a easy, flavorful dish this recipe's for you. Eating healthy doesn't have to be bland or boring…I promise!

It's beautiful
Yet another reason why I love this dish is how visually beautiful it is. I'm sure you've heard the expression you eat with your eyes, but did you know how true that expression actually is? Having a visually beautiful dish is important for digestion because digestion starts in the mouth. The initial sight of  food stimulates the production of saliva which contains an enzyme called amylase. This enzyme helps with the breaking down of carbohydrates, kicking off the digestion process.  Nature's pretty amazing, right!
Given all its bright, beautiful colors, it's pretty easy to beautifully plate this dish. We've got green spinach and avocado, yellow corn, black beans and bright red salsa. That's why I love serving this to my family, friends and personal chef clients.
I hope you enjoy this recipe as much we all do!
Specialty Ingredients for this recipe:
Healthy, Vegan Black Bean Bowl Recipe: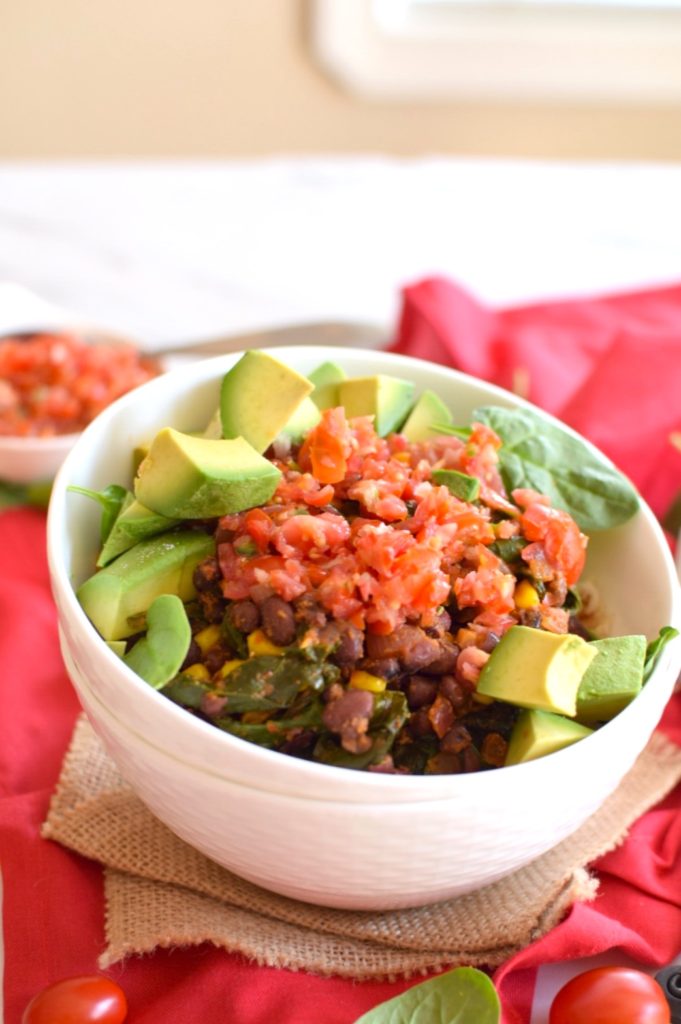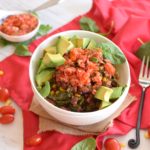 Healthy, Vegan Black Bean Bowl
Ingredients
1

cup

short grain brown rice

uncooked

2

cups

filtered water

1/2

teaspoon

sea salt

divided

2

Tablespoons

olive oil

1/2

cup

red onion

small dice

3

cloves

garlic

minced

2

Tablespoons

jalapeno pepper

seeded and minced

1

teaspoon

ground cumin

1

teaspoon

smoked paprika

1/3

cup

frozen organic corn

1

15 ounce can organic black beans, strained and rinsed well

1

cup

fresh spinach

2

teaspoons

apple cider vinegar

Juice of 1 lime

2

green onions

green and white parts, minced

4

sprigs cilantro

minced

1

ripe avocado

chopped

Salsa
Instructions
For the brown rice:
Rinse the rice in a fine mesh strainer under cool water. Place in medium sized sauce pot with a fitted lid; add filtered water and a pinch of sea salt. Bring to a boil over high heat, cover with a fitted lid and reduce the heat to low. Simmer for 40 minutes. Turn off the heat and let sit for another 5 minutes before removing the lid. (This step prevents sticking). Remove lid and fluff with a fork.
For the black beans:
Heat a large skillet with 2 Tablespoons olive oil and once hot, add the onions, garlic and jalapeno pepper and a pinch of sea salt. Sauté for 2 – 3 minutes, or until it starts to smell fragrant. Add the cumin and smoked paprika and sauté for about 1 – 2 minutes more. Add the corn and give a quick stir, sauté for another minute. Add the black beans and fresh spinach and stir to combine.

Add the apple cider vinegar and lime juice and cover with a fitted lid for about 3 – 5 minutes until everything gets soft and flavorful.

Finally add in the green onions and cilantro. Serve over cooked brown rice with chopped avocado and salsa.