A hearty and healthy Vegan Tortilla Soup recipe that uses shredded Jackfruit in place of shredded chicken. It's quick and easy to make and packed with flavor. This soup also freezes well, so make a big batch and freeze it to have on hand for any night of the week.
Get to know Jackfruit
Are you familiar with Jackfruit yet? If you're vegan or enjoy meat free meals occasionally, I suggest you get familiar ASAP! Jackfruit is a versatile fruit native to India. When ripe its sweet and sticky, but unripe it's neutral in flavor and will take on any flavor you season it with. Ever seen vegan pulled pork on a menu? That's Jackfruit! Vegans love unripe Jackfruit because you can season it any way you wish and shred it to resemble pulled pork or in this case shredded chicken. It's texture is thick, soft and juicy, making it hearty and satisfying.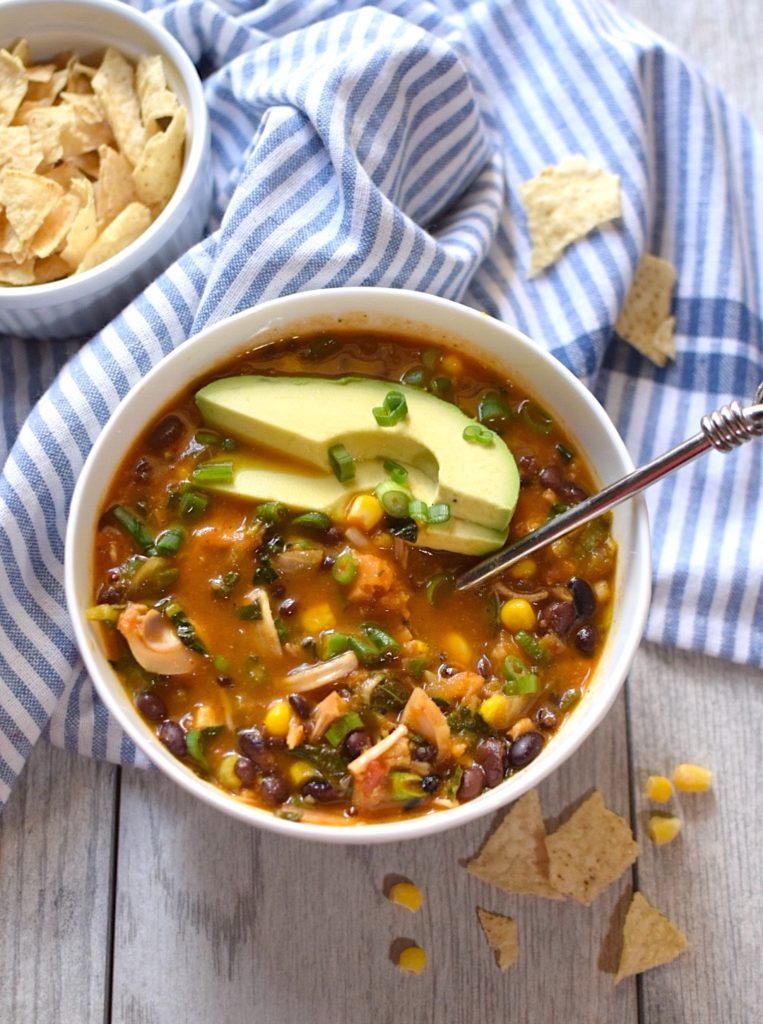 Nutritional profile
Although Jackfruit is a good source of vitamin C, magnesium and potassium, it's also relatively high in carbohydrates and not a very good source of protein or fiber. That being said, it's a fun fruit to play around with, especially since its texture is good for re-creating meat-based dishes, but it's not a fruit that I would heavily rely on for nutritional purposes. In this recipe, I've added black beans for protein and chopped kale for additional fiber…and because you can never eat too many leafy greens.
Finally sold in cans
Uncut Jackfruit is a bit daunting to work with. It's giant with a very hard shell leaving you wondering how the heck to open it. One individual jackfruit can grow up to 100 pounds, making it the largest tree fruit in the world. This is not a tree you want to picnic under, lol! Luckily, companies like Natures Charm and Trader Joe's are now selling cut Jackfruit in cans. This makes it much more convenient to use on a regular basis.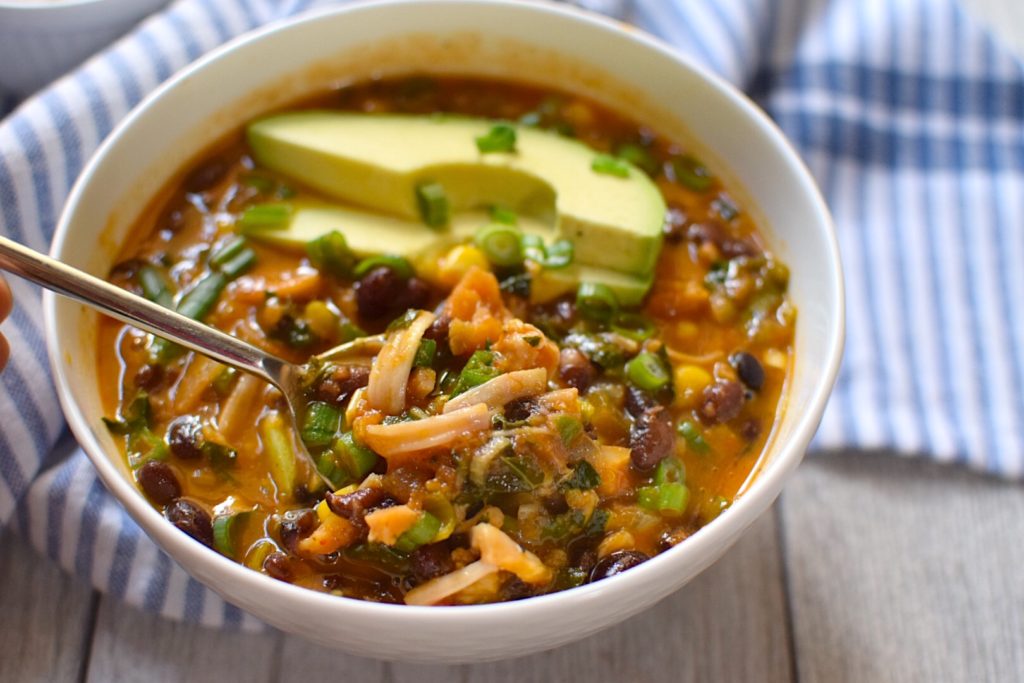 It all comes together
In this hearty Tortilla Soup we combine Jackfruit with black beans for texture and protein. There's also a secret ingredient that makes this soup extra flavorful…it's salsa! Salsa may not be something you first think of to put in a soup, but trust me when I tell you it totally works. Make sure to purchase a good quality, flavorful one. I love Trader Joe's Double Roasted Salsa. It's thick, smokey and only mildly spicy. However if spicy food is your jam, feel free to find a spicy salsa for extra kick.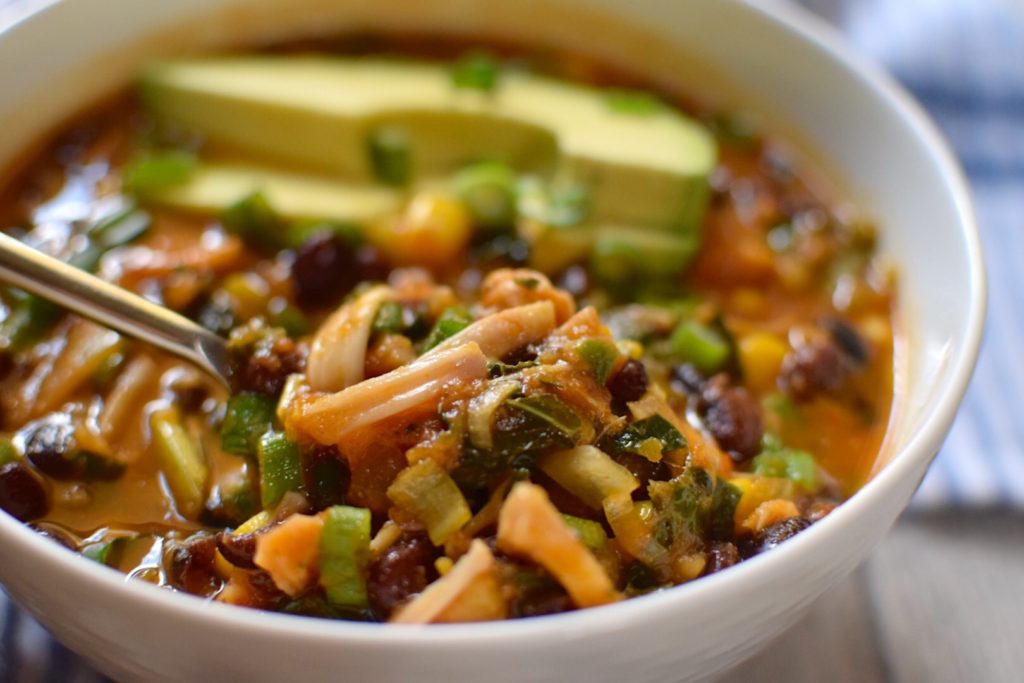 Helpful tips regarding this recipe
Jackfruit is neutral in flavor so you'll want to make sure you season it well. In this recipe, Jackfruit is added with the spices and sautéed for several minutes before adding vegetable broth. This makes it nice and flavorful.
This soup freezes well. Make a double batch and freeze the extra in a mason jar for a rainy day!
Top your Tortilla Soup with a dollop of our Easy Vegan "Sour Cream," recipe found HERE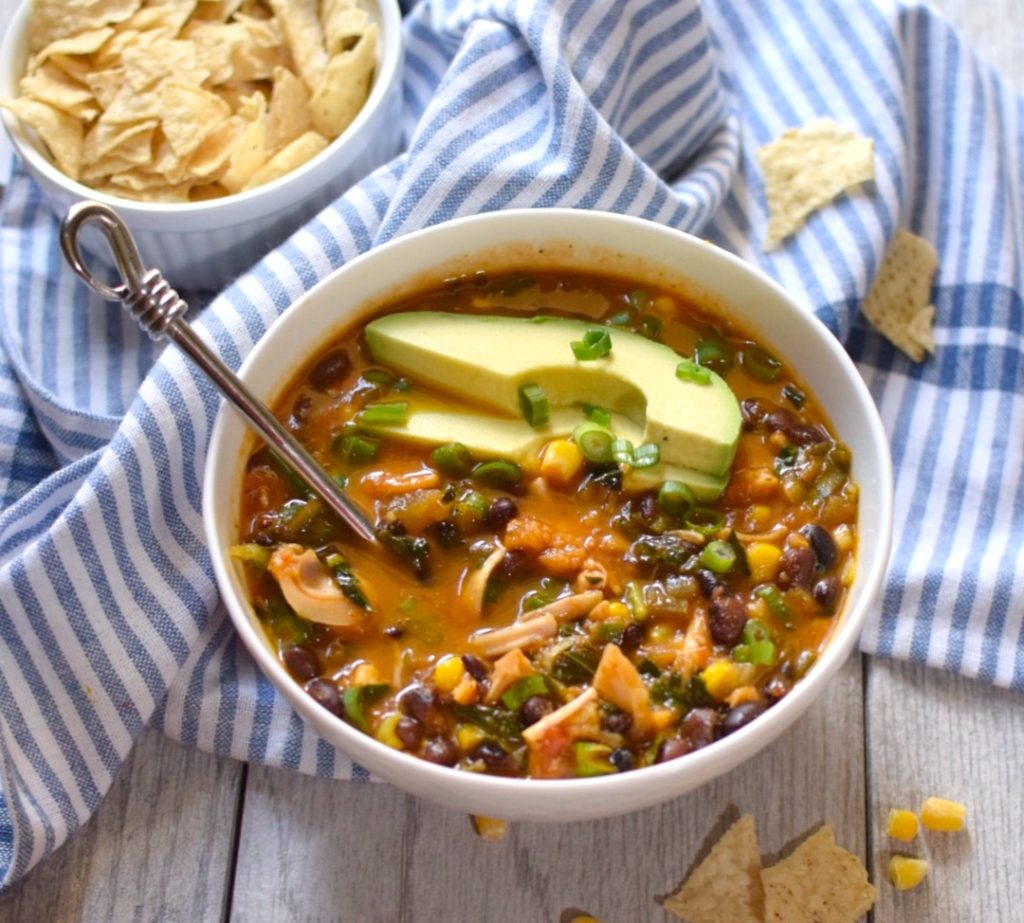 Healthy Vegan Tortilla Soup Recipe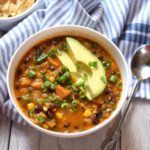 Healthy Vegan Tortilla Soup
Vegan | Gluten-Free
Ingredients
2

Tablespoons

olive oil

1

medium sized yellow onion

small dice

1/2

teaspoon

sea salt

divided

1

pound

canned Jackfruit*

about 20 ounces, drained and rinsed

3

teaspoons

ground cumin

3

teaspoons

ground chili powder

3/4

cup

red salsa**

3/4

cup

organic frozen corn

2

(15-ounce)

cans black beans

rinsed and drained

3

cups

vegetable broth

more if necessary

1 and 1/2

cups

kale

finely chopped***

1

avocado

sliced

organic corn chips
Instructions
Heat olive oil in a large soup pot over medium heat. Once warm, add the onions and a pinch of sea salt. saute for 2 - 3 minutes, or until the onions start to get soft and fragrant.

Next add the Jackfruit, cumin, chili powder, and remaining sea salt. Give everything a good stir and saute for about 2 minutes more. Add the salsa, frozen corn and black beans and stir to combine.

Finally add the vegetable broth and cover with a fitted lid. Reduce heat to low and simmer for 15 minutes. Add the chopped kale and simmer 2 - 3 minutes more.

Stir in the green onions and taste for seasoning.

To serve top with sliced avocado and serve with organic corn chips.
Recipe Notes
*I like Trader Joes Brand or Nature's Charm.
**I use Trader Joes Double Roasted Salsa.
***I prefer Lacinato kale, but any type will work.
***Top with our Easy Vegan Sour Cream.
Thinking Of Going Vegan But Not Sure Where To Start? Check Out Our One Week Vegan Meal Plan, Complete With Grocery Lists And Recipes!