Frozen Bananas, coconut cream and fresh mint combines to make a delicious and healthy dairy free "ice cream" that's ready in minutes!
Who loves Mint Chip Ice Cream?
Or Mint Chippy as my friends 4 year old daughter would say!  I personally love Mint Chocolate Chip Ice Cream, however Cow's milk and my body mesh together like oil and water…meaning…that they don't!  But my taste buds still long for the finer things traditionally made by dairy, like ice cream!  Sigh…my ice cream maker sits perched on its shelf, lonely as ever, collecting dust.  But before we get all melancholy, rejoice!  I present you with Homemade Vegan Mint Chip Ice Cream!

Healthy, No Churn
With some frozen bananas and coconut milk (and a good blender or food processor) you too can achieve fine tasting "ice cream" without the cream.  My mint chip flavor is one of my favorites, which includes, of course, its two star ingredients: mint and cacao nibs or chocolate chips!
All Hail Mint
Mint is hailed as one of the most delightful herbs, with its usage and mythology dating far back into the history books.  The cultivation of mint was developed in Asia and along the Mediterranean and was named after an ancient Greek mythological creature, a river nymph called Menthe.  People have been creatively using mint in dozens of ways throughout history, from cooling minor skin burns, freshening breath, easing digestion, to opening the nasal and respiratory pathways when inhaled or steeped in a hot tea.  The people of ancient Athens used mint leaves to freshen up their underarms and medieval monks cultivated it for sauces, healing balms, and even in liquors.  Gotta love the monks.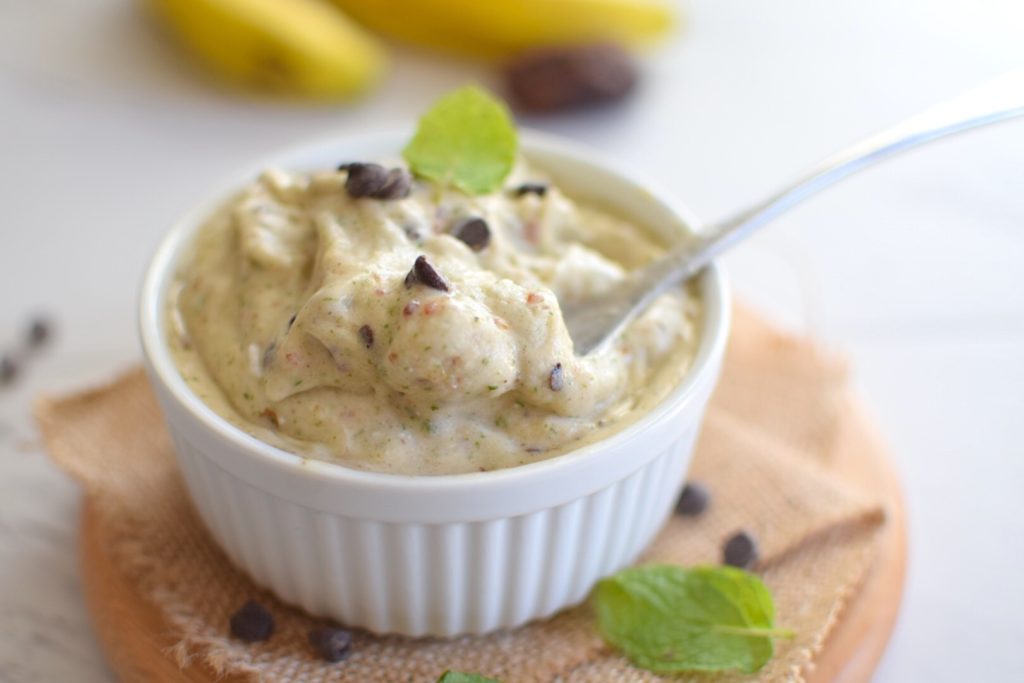 Today mint is going in my Homemade Vegan Mint Chip Ice Cream to give it that cool, fresh vaporous flavor so well balanced by chocolate!   You can opt for some good ol' vegan chocolate chips to add to it, or cacao nibs or cacao paste.  Cacao nibs and paste is chocolate in its pure, unadulterated form. It's also SUGAR FREE and possesses amazing health benefits in the form of phytonutrients and flavonoids, heeding the title of a "superfood"!  Help!  I'm drowning in a world of highly processed sweets with refined sugars!  –  I'll save you ma'am.  My name is Cacao.  I'm dark, handsome, a little bitter, but super good for you!
Thanks, Cacao, you're a real pal.
Investing in a Vitamix?
For this recipe I suggest using a high-powered blender such as a Vitamix, however, if you don't have a beast-like blender, fear not!  We have tested this recipe in a food processor with you in mind and Voila..as you'll see below, it works!

Other specialty ingredients for this recipe:
Enjoy Life is my favorite brand of Chocolate Chips since they're free of: Soy, Dairy, Corn, Nuts and Gluten.   If you're going with the Sugar-Free option of this recipe, choose Lily's Stevia Sweetened Chocolate Chips OR Cacao Paste instead.
Healthy No Churn Mint Chip Ice Cream Recipe

Healthy No Churn Mint Chip "Ice Cream"
Vegan | Paleo | Sugar Free Option
Ingredients
2

cups

frozen banana chunks

1/4

cup

coconut cream

more if needed

2

Tablespoons

fresh mint leaves*

10

drops liquid stevia

(or 1 Tablespoon agave syrup)

2

fresh medjool dates, pitted

optional for additional sweetness

Pinch

sea salt

2

Tablespoons

vegan chocolate chips OR cacao nibs or paste**
Instructions
Place everything except the chocolate chips into a high-powered blender**, and starting on a low speed, start to blend, slowly working up to a medium speed. If you have a Vitamix use the wand to keep pushing the bananas into the blades to keep spinning. If not, you may have to stop several times and use a spatula to carefully push the mixture back into the middle of the blender so it will keep blending. If texture is too thick and will not blend well, add another 1/2 teaspoon of coconut cream. Blend until thick and creamy.

Taste for sweetness and peppermint levels. Add more if desired. Finally add the chocolate chips and bring speed back to low and blend for 2 or 3 more seconds to incorporate the chocolate chips.

Enjoy immediately!
Recipe Notes
*Option to use 1 – 2 drops peppermint essential oil if food grade quality. If using, add in with initial blend.
**For a Sugar-Free option use Cacao Nibs or Paste in place of Vegan Chocolate Chips.  My favorite Raw Cacao Paste is The Raw Food World Raw Cacao Paste.  
***For best results use a high powered blender such as a Vitamix. If that is not an option use a food processor instead.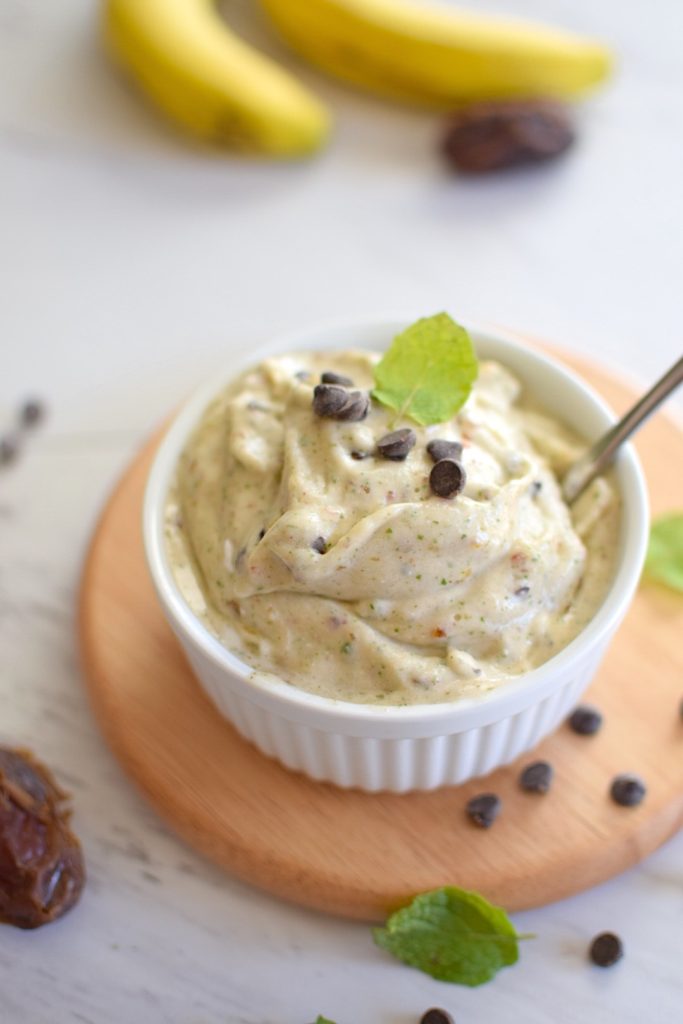 Need Some Help Navigating Your Health And Wellness?  Check Out My Health and Diet Coaching  Book Your FREE Complimentary 30-Minute Session HERE today!