Macadamia nuts and Medjool Dates create a vegan, grain-free dessert recipe that's quick to prepare, healthy and delicious.
Quick, Easy & Healthy Too!
If you're looking for an easy and healthy dessert recipe, look no further! These 4 ingredient Macadamia Date Rolls are quickly going to become your new best friend. Taking only minutes to prepare, anyone can do this!!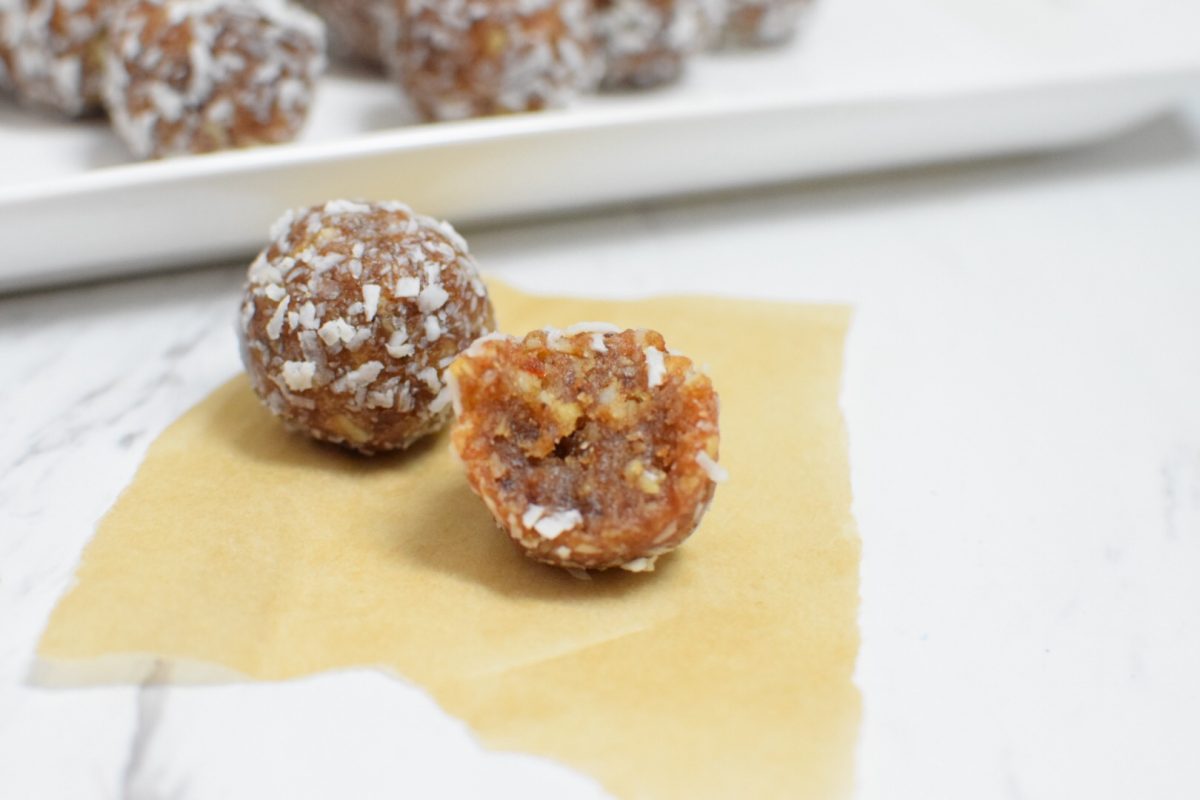 Not all dates are created equal
There are actually several different varieties of dates, but Medjool Dates are the most commonly used here in the U.S. Medjool dates are large, soft and very sweet, with a flavor that almost resembles caramel. This is why you'll see Medjool Dates in lots of vegan and raw dessert recipes. They're soft, sweet and meaty making them the perfect binder and natural sweetener all in one.
Quick tip to soften your dates:
Don't worry if your dates aren't very soft. If you soak them in filtered water for about 10 – 20 minutes, they'll soften back up and be usable again. And if they're very hard, you could try using boiling water to speed up the soaking process.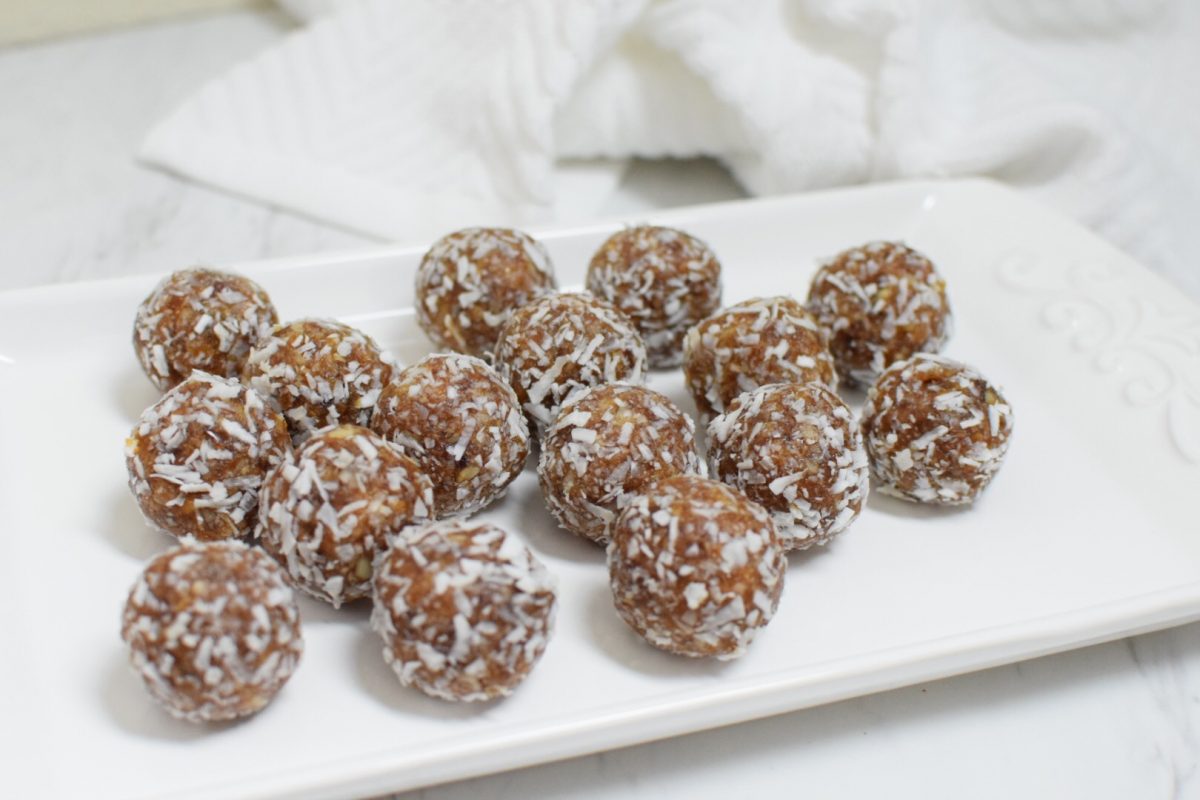 Pre-workout snack or energy booster!
The combination of dates and nuts make these Date Rolls a great pre or post workout snack. Dates are high in natural sugars which are easily processed and utilized by the body and nuts give you a good boost of plant-based protein. I love making this recipe in big batches to keep in the freezer so I always have some on hand to snack on in a pinch or to give to friends and family when they're visiting.
Not a Macadamia Nut Fan? No problem
I chose macadamia nuts in this recipe simply because they're an underused nut and i wanted to give them some love. But any nut will work here. I often make these with cashews and they're equally delicious.

This recipe fits the following diets:
✨Vegan
✨Raw
✨Paleo
✨Gluten-Free, &
✨Naturally Sweetened
Specialty Equipment and ingredients for this recipe:
Raw Macadamia, Date Rolls Recipe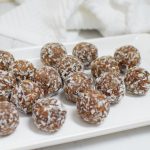 RAW MACADAMIA, DATE ROLLS
Raw, Vegan, Paleo, No-Bake
Ingredients
1 1/2

cups

unsalted macadamia nuts

1 1/2

cups

pitted medjool dates

1

Tablespoon

coconut oil

1

pinch

sea salt

1

cup

unsweetened shredded coconut

for coating
Instructions
Place the macadamia nuts in your food processor and give it a quick pulse to start breaking down the nuts.  Next add your dates, coconut oil and sea salt and pulse again until well combined.

Spread your shredded coconut out on a large plate and take about 1 Tablespoon of the batter at a time, roll in your hand to make a smooth ball, and gently roll in the shredded coconut.  Continue this until all of your batter has been used up.

Store these in an airtight container in your fridge or freezer!

Enjoy 🙂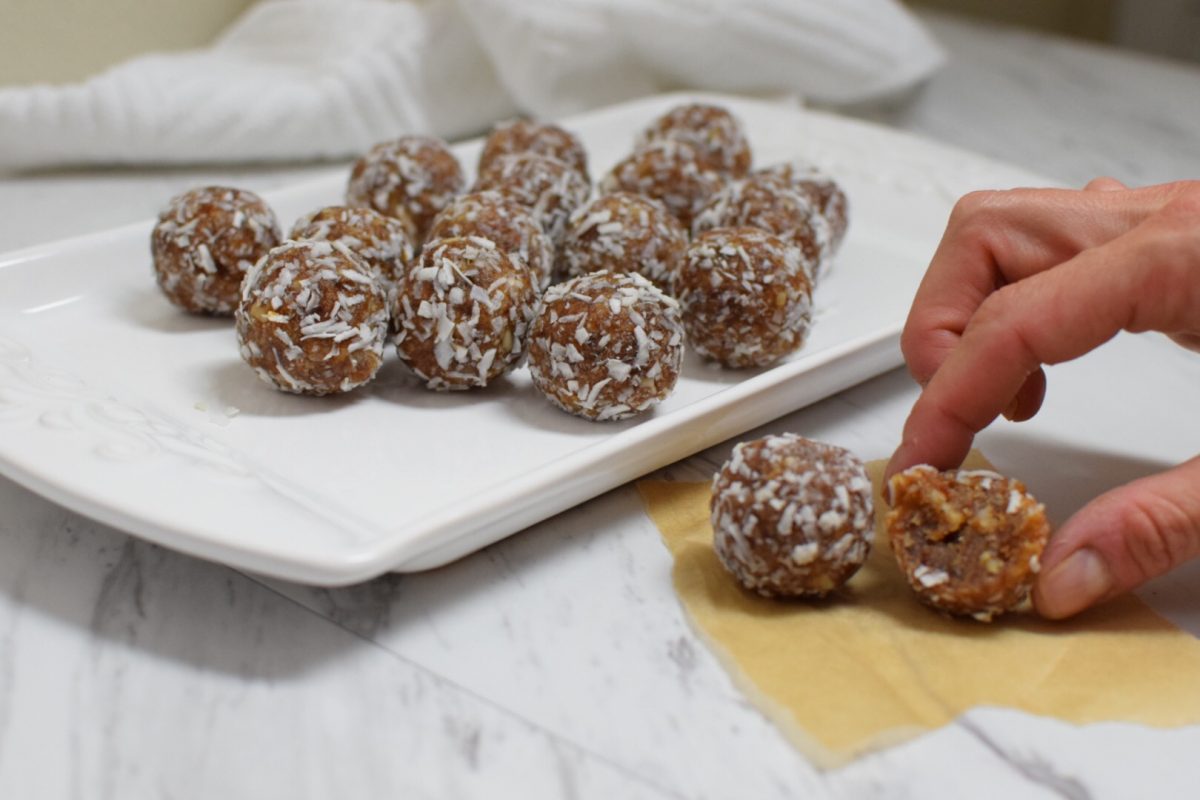 Thinking Of Going Vegan But Not Sure Where To Start? Check Out Our One Week Vegan Meal Plan, Complete With Grocery Lists And Recipes!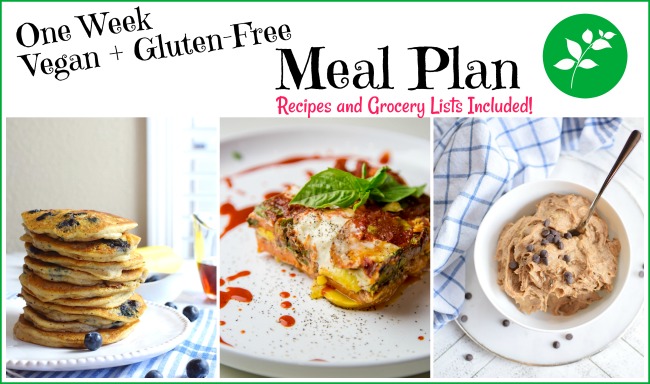 Need some help navigating your health and wellness?  Check out my HEALTH COACHING SERVICES. Book your FREE complimentary 30 minute session

HERE

!
—