A vegan, nut-free and gluten-free spin on Twix bars! Vegan shortbread drizzled with sweet, gooey caramel and coated in rich chocolate. The classic Twix Bar just got a healthy makeover!
Healthier Candy Bars
Recreating candy bars is one of my favorite things to do in the kitchen! I love showing people that that healthy eating doesn't have to be about deprivation or giving up your favorite foods. Instead, it can be fun, adventurous and delicious, especially as you learn to adapt recipes with healthier ingredients, recreating the foods you and your family love!
Candy bars in particular are generally made with poor quality ingredients. Loaded with refined sugars such as high fructose corn syrup, poor quality oils like soybean and/or canola and artificial colors and flavorings, it's almost impossible to find FOOD anywhere in the ingredient list. Not in this recipe!

The shortbread
For the shortbread we use brown rice flour and arrowroot, moistened with coconut oil and pure maple syrup, which contains trace minerals and antioxidants and won't spike your blood sugar as drastically as refined white sugar. Small, consistent change such as this, switching from table sugar to more natural forms, make a big difference over time.

The CARAMEL
The caramel in these bars is probably my favorite part. This caramel is not date or nut butter based, but instead uses coconut oil, coconut sugar, sweetened condensed coconut milk (the best!) and pure vanilla extract. Boil together for 4 minutes and you're left with a sweet, thick and chewy caramel that's out of this world DELICIOUS and pretty darn close to traditional caramel!
NOTE: If you can't find sweetened condensed coconut milk in a store near you, here's a recipe to make your own: Homemade Vegan Sweetened Condensed Coconut Milk.


Finally, Chocolate
Let's not forget the chocolate coating. I love using vegan chocolate chips by Enjoy Life because they're free of gluten, dairy, corn, soy and nuts. But any vegan chocolate will do. In fact, Trader Joe's chocolate chips are naturally Vegan? Pretty cool, eh!
This recipe is:
Vegan
Gluten-Free
Soy-Free
Nut-Free

Vegan and Gluten Free Twix Bars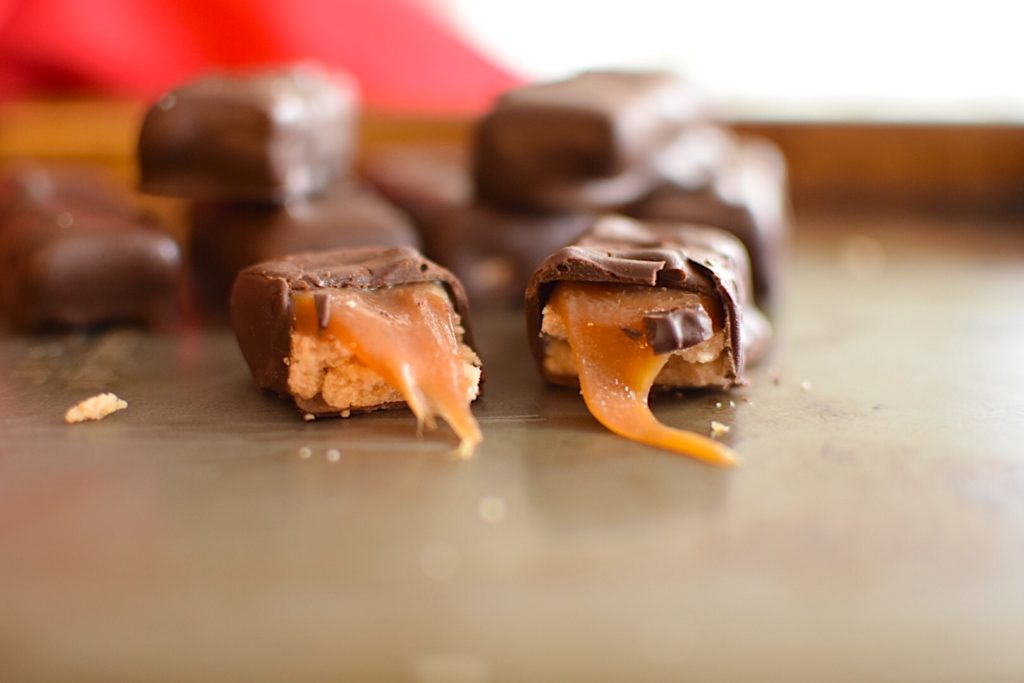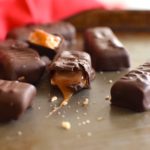 Vegan and Gluten Free Twix Bars
Vegan | Gluten-Free | Nut-Free
resting time
1
hour
30
minutes
Ingredients
For the shortbread:
1/4

Cup

Coconut oil*

melted

3

Tablespoons

maple syrup

1/2

Cup

brown rice flour

1/2

cup

plus 2 Tablespoons arrowroot or tapioca flour

1/4

teaspoon

xanthan gum

pinch

sea salt
For the caramel:
1/4

cup

coconut oil

1/2

cup

coconut sugar

1/4

cup

maple syrup

1/3

cup

sweetened condensed coconut milk*

about 3.5 ounces

1/2

teaspoon

vanilla

2

pinches

sea salt
For the chocolate coating:
1

cup

vegan chocolate chips

I like Enjoy Life Dark Chocolate Chips

1

Tablespoon

coconut oil
Instructions
For the shortbread:
Preheat your oven to 350 degrees F. and line an 8x8 baking dish with parchment paper and grease lightly with coconut oil.

In a small bowl combine the coconut oil and maple syrup. In a separate medium sized mixing bowl combine the brown rice flour, arrowroot, xanthan gum and sea salt. Use a whisk to combine and remove any lumps

Pour the coconut oil mixture into the flour mixture and switch to a spatula or wooden spoon to combine. The batter should be thick (not pourable) and damp. Using clean hands or a spatula, press the batter into the baking dish and spread evenly. Bake for 15 – 20 minutes, or until golden brown.

Remove from the oven and let cool.
For the caramel:
Combine all the caramel ingredients into a small saucepan over medium heat, bringing to a rapid boil. Whisk continuously, boiling for 4 minutes exactly. Pour over shortbread. Place baking dish in the freezer to set for about 15  - 20 minutes.  Once set, cut into desired bar sizes and place each bar on a baking sheet lined with parchment paper. Now place them in the freezer while you melt the chocolate.
For the chocolate:
Combine the chocolate and coconut oil in a heat safe bowl and melt either over a double boiler or in the microwave, heating at 30 second intervals until fully melted. This should take 90 seconds total (3 intervals of 30 seconds each in the microwave). Stir to continue melting until chocolate is smooth and creamy.

Remove your bars from the freezer and using two forks, place your cookies one at a time in the chocolate mixture caramel side down first and then spinning around to get chocolate over the whole cookie. Use your two forks to pull the cookie out of the chocolate. I like to gently slide the bottom of the bars over the edge of my glass bowl to catch any excess chocolate before placing onto the cookie sheet

Continue with each bar until all of your bars have been coated. Place your cookies back in the fridge to firm up for about 30 minutes to an hour before serving.

Store these in a sealed container in the fridge. If stored in the freezer, the caramel will turn to a toffee texture so remove them about 20 minutes before enjoying.
Recipe Notes
*If you can't find sweetened condensed coconut milk in a store near you, here's a recipe to make your own: Homemade Vegan Sweetened Condensed Coconut Milk.
**Unsalted butter can be used in place of coconut oil for a non-vegan version.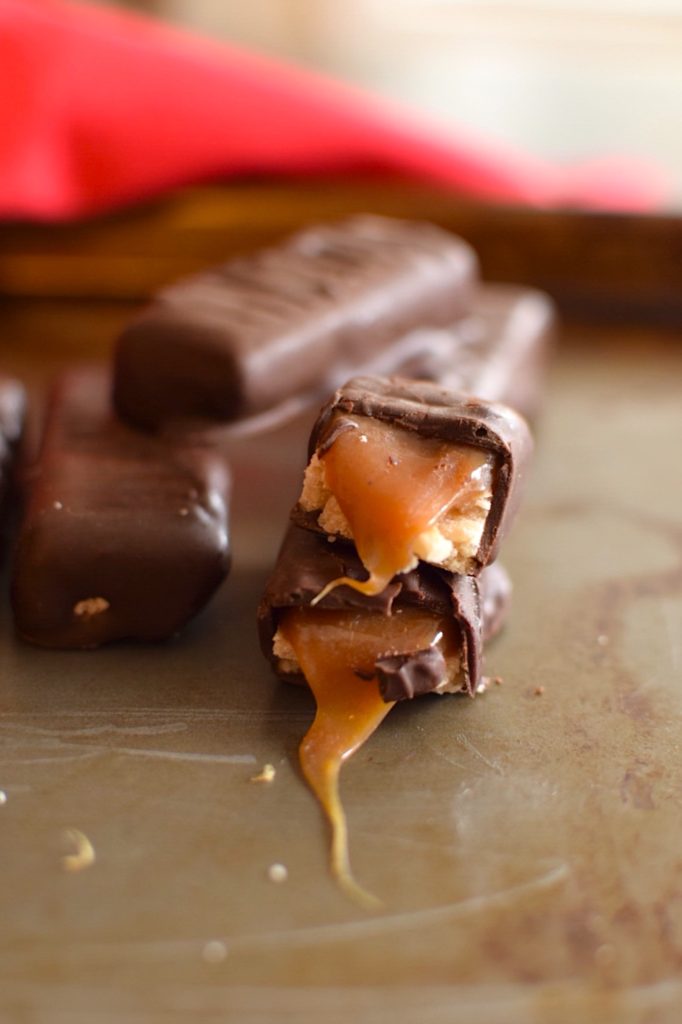 Thinking Of Going Vegan But Not Sure Where To Start? Check Out Our One Week Vegan Meal Plan, Complete With Grocery Lists And Recipes!