On a cold, brisk morning, who doesn't love a steaming bowl of oatmeal (or porridge if you're in the U.K.)?  This gluten-free recipe, with the option to be vegan, speaks to breakfast lovers everywhere. Plus, it has 3 healthy ingredients thrown together: apples, oats and cinnamon. Let's take a deeper look at cinnamon in particular.
Cinnamon the super food!
This silky smooth and smoky spice has long been regarded by many cultures as an essential ingredient to include in everyday diets. Recent scientific discoveries now back this up. In fact, in one study, 26 spices were compared for their nutritional value. Beating out garlic, cinnamon ranked the top spice to cause anti-inflammatory effects on the body, due to its antioxidant properties. (I swear, every time I open my cinnamon jar I hear tiny voices shouting, "we're number one! We're number one!") It also stimulates insulin sensitivity, therefore helping lower blood sugar levels and producing an anti-diabetic effect.
Cinnamon is turning out to be a huge superhero in fighting disease, too. The science community is unveiling research that points to how cinnamon might effectively fight the HIV virus, treat respiratory tract infection caused by fungi, prevent certain cancers, and improve conditions for patients with neurodegenerative diseases such as Alzheimer's and Parkinson's.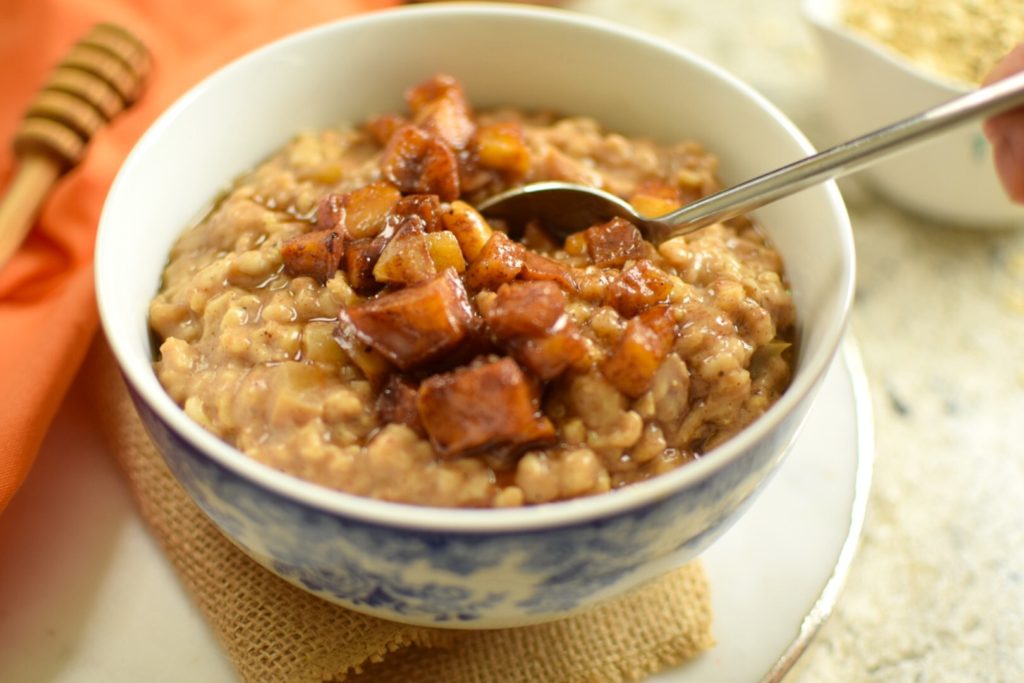 High in Fiber
In this recipe, I've added apples and cinnamon to classic oatmeal for a sweet and satisfying meal. Apples, like oats, are high in fiber, making this recipe a one-two punch in the fiber department as well. I also like this combination because it reminds me of the Apple, Cinnamon Quaker Instant Oatmeal I used to eat as a kid. 🙂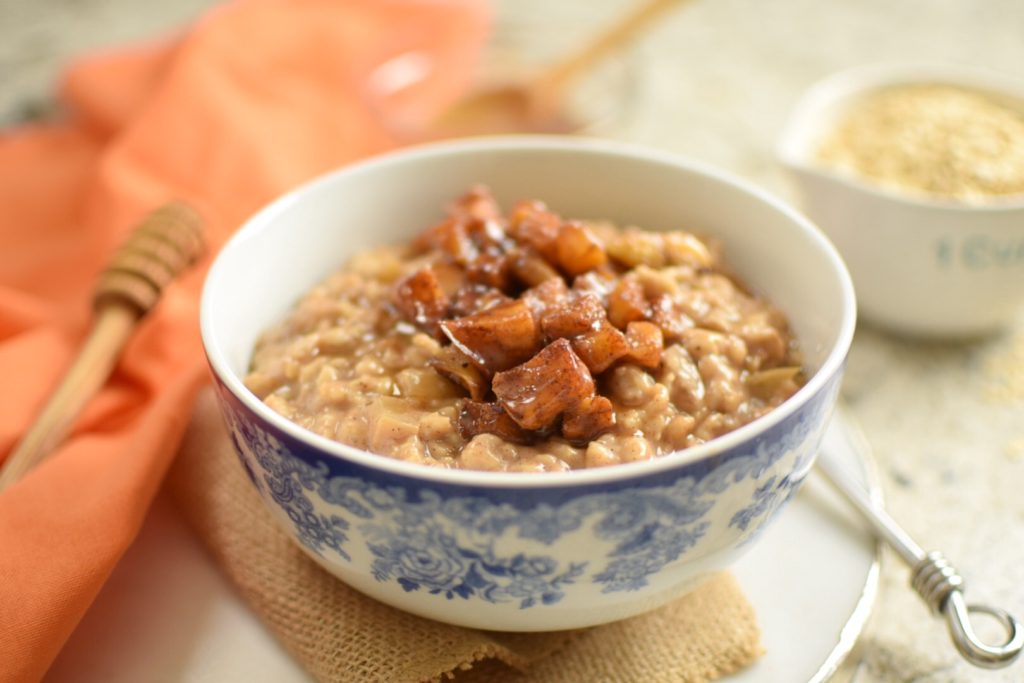 Naturally Gluten-Free
It should also be noted that oats by nature are gluten free, however they're typically processed on machinery that also processes grains that contain gluten such as wheat and barley. For this reason, there's a chance of cross contamination. If you suffer from celiac disease, you'll want to make sure you purchase Certified Gluten-Free Oats, which means the oats are processed on Certified Gluten-Free machinery and there will be NO traces of gluten. For others that simply prefer to avoid gluten, the call is up to you. Nowadays it's not hard to find Certified Gluten Free Oats in most grocery stores.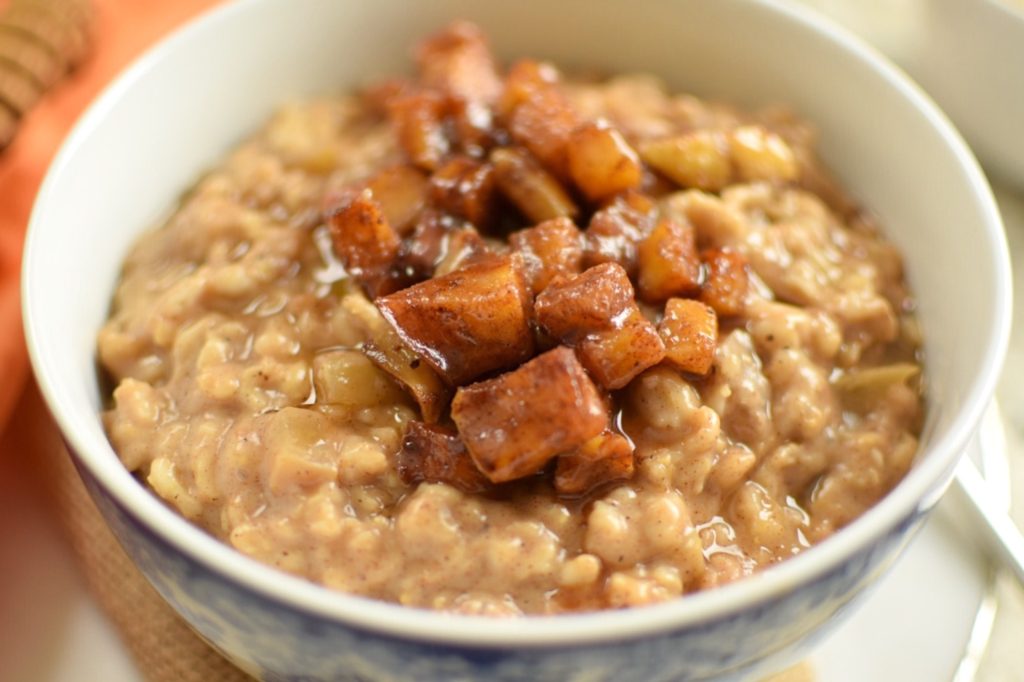 Specialty Equipment and Ingredients for This recipe:
Caramelized Apple Gluten Free Rolled Oats Recipe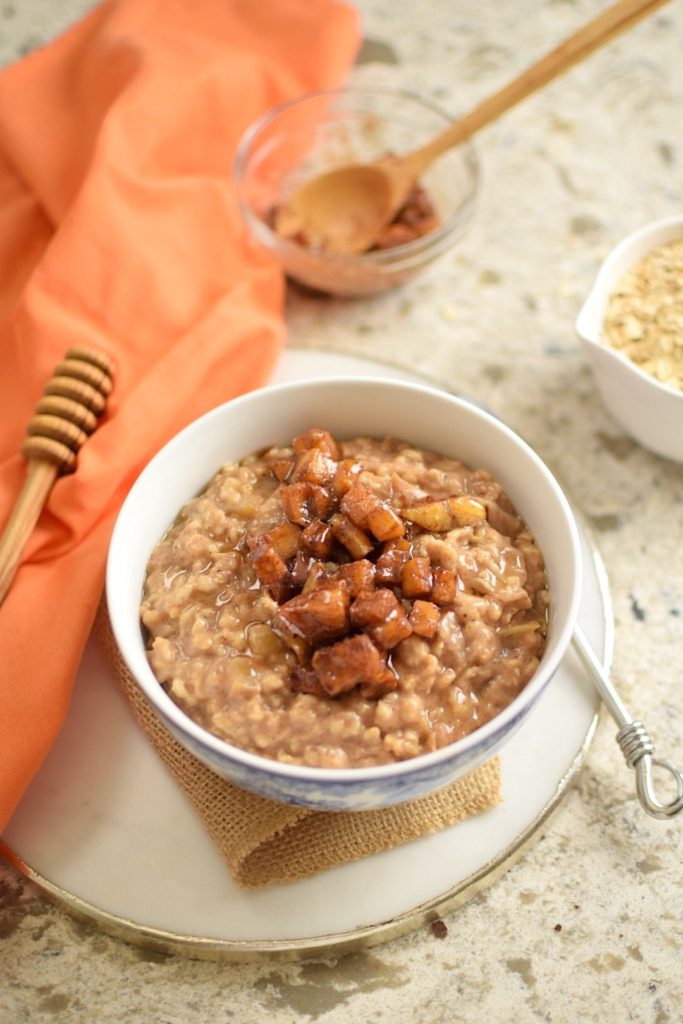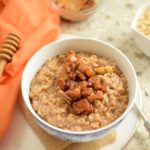 Caramelized Apple Gluten-Free Rolled Oats
Gluten-Free | Refined-Sugar Free | Nut-free | Vegan Option
Ingredients
3

Tablespoons

grass-fed butter or coconut oil for vegan option

2

cups

organic red apple

small dice (skin on)

1/8

teaspoon

sea salt

3

Tablespoons

coconut sugar

2

teaspoons

ground cinnamon

divided

1/4

teaspoon

nutmeg

1

teaspoon

vanilla extract

1

cup

gluten free rolled oats

aka Old Fashioned Oats

2

cups

unsweetened non-dairy milk

1

cup

filtered water*

Flaxseed oil for garnish

optional

honey for garnish

optional (omit for vegan option)
Instructions
Heat a medium sized saucepan over medium heat and add grass-fed butter or coconut oil. once warm, add diced apples, sea salt, coconut sugar, 1 teaspoon ground cinnamon and nutmeg. Saute until the apples start to soften and caramelize, about 5 - 10 minutes. Remove 1/3 of the apple mixture and set aside for garnish.

Next, add oats, 1 more teaspoon cinnamon, vanilla, non dairy milk and filtered water. Bring to a boil. Once boiling, reduce the heat to low and cover. Simmer for about 10 - 15 minutes (or according to package instructions), stirring occasionally to keep from spilling over.

Serve warm topped with remaining apples a dash of cinnamon and drizzled with flaxseed oil and honey, if using.