A healthy and delicious Vegan Lentil Salad recipe that's easy to prepare, high in protein and low in calories!
I am declaring the days of trying to be super-model skinny by any means necessary as officially over! The other day I saw a woman wearing a shirt that read, "Forget skinny, I'm trying to be a badass!" Bravo! Feeling good about our bodies, and what we fuel them with, is so much more important than just looking good but eating crappy.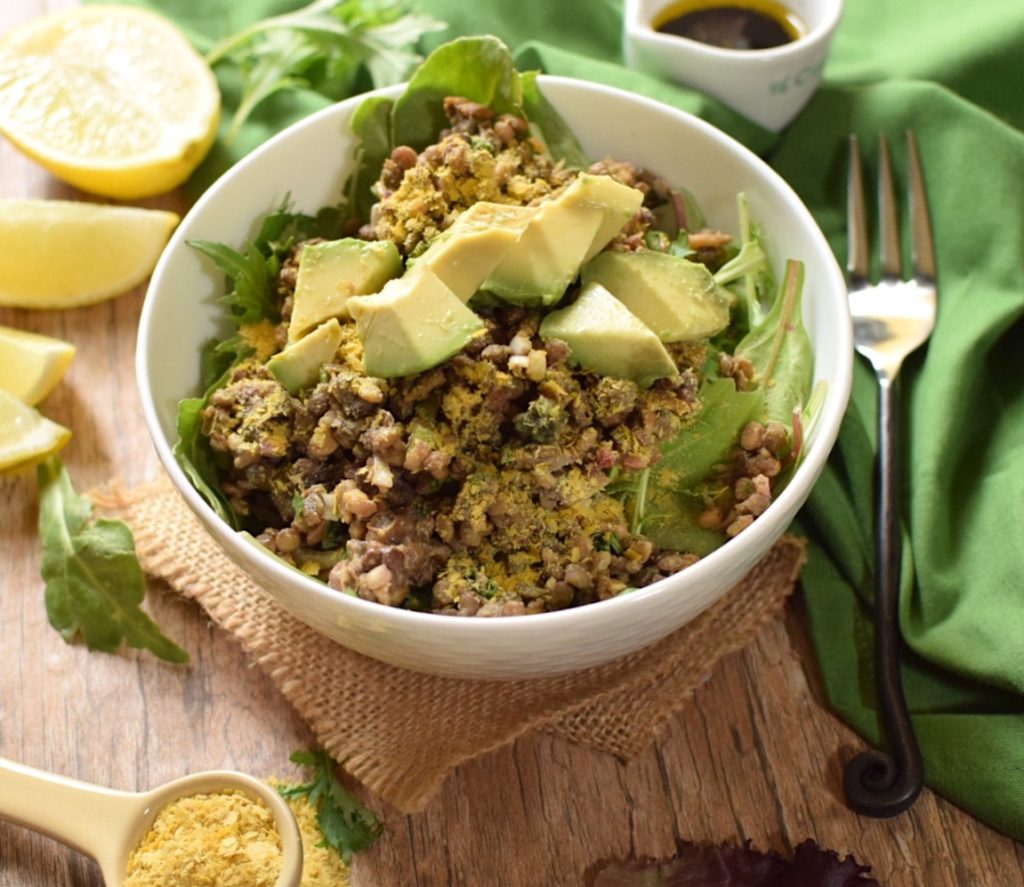 But for many of us, weight loss is still a goal. Perhaps you long for your younger days when you felt you were naturally at your ideal size and shape. Or maybe you've always struggled with weight gain and the yo-yo effects of fad dieting. There's a whole industry out there making billions off of this very subject. From a chef's perspective, I've noticed an interesting pattern in my own body and in the bodies of my clients: when highly processed foods containing an excessive amount of sugar, fat, calories, and additives are removed from our diet, the pounds tend to shed! Although this may not be every person's experience, I can't tell you how many clients have lost weight once I began cooking clean and healthy meals for them. Many did not necessarily seek this out, it just happened.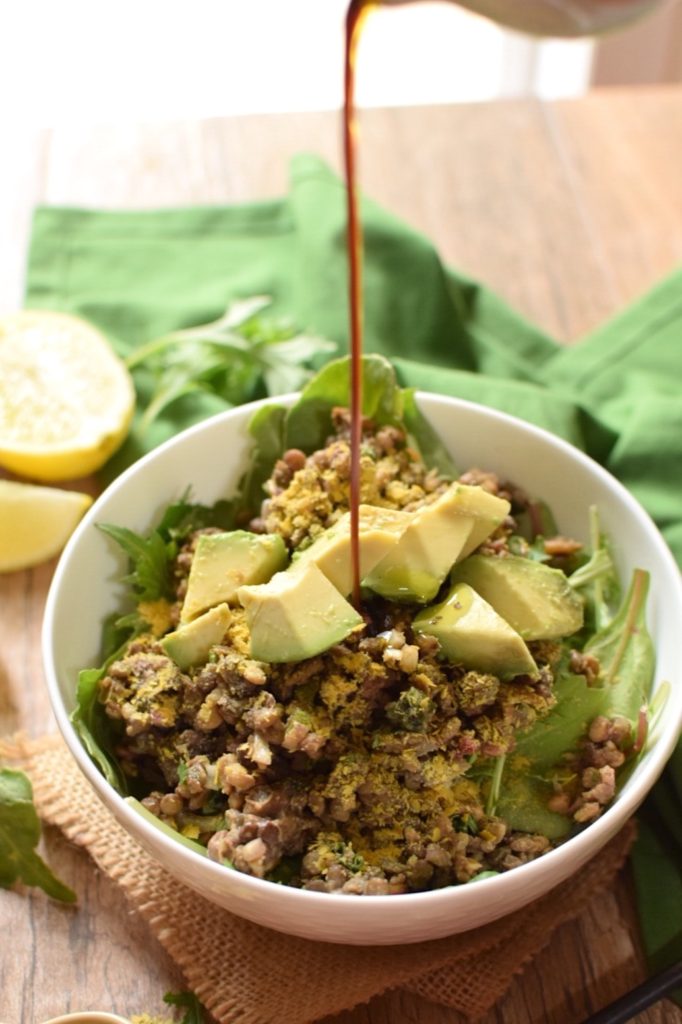 Lentils, our tiny, power-packed friends
Most of the time, meals I prepare for my clients are much more nutritional than their previous diets, but also less caloric. Fewer calories, but better nutrition = a happy body 🙂 This is where lentils, our tiny, power-packed friends, come into the picture. Oh, you're not friends with lentils? Well, you should definitely send them a friend request, especially if weight loss is your goal. Lentils make us feel very full with their high amount of fiber, even though they are pretty low in calories. They are also incredibly rich in folate, magnesium, iron, protein and vitamin B1. So, if you're trying to slim down, you don't need to gnaw on baby spinach and carrots all day long; go ahead and whip together my super yummy Lentil Salad! You'll get about 18 grams of protein, 16 grams of fiber, and only 230 calories for every 1 cup of cooked lentils. Sounds like a deal!

Great for Postpartum:
I enjoyed this salad so much in the first few weeks after giving birth. My husband would make it for us several times each week (yep, he's the best) and I would practically lick the bowl clean. I found this salad light and refreshing which was perfect for the Los Angeles heat in October while also packing a nutritional punch.
My body desperately craved and needed protein for recovery in the first few weeks after childbirth and the lentils were perfect for that. Nutritional yeast provides a good source of B Vitamins, protein and minerals which helps prevent nursing moms from getting depleted and keeps up a nice milk supply. Breastfeeding is no joke! The avocado is rich and fatty to keep you full and satisfied while the flaxseed oil is not only a good source of Omega 3-Fatty acids, but also helps relieve constipation which is extremely common right after childbirth.
Pro Tip: Store your flaxseed oil in the fridge after opening. It's a delicate oil and will go rancid quickly. And never, never cook with flaxseed oil. It's only a finishing oil which makes it great for salads, smoothies or on top of oatmeal.
Check out our Creamy Vanilla Rolled Oats Recipe for another great postpartum recipe that also helps with milk supply!
Healthy, Vegan Lentil Salad Recipe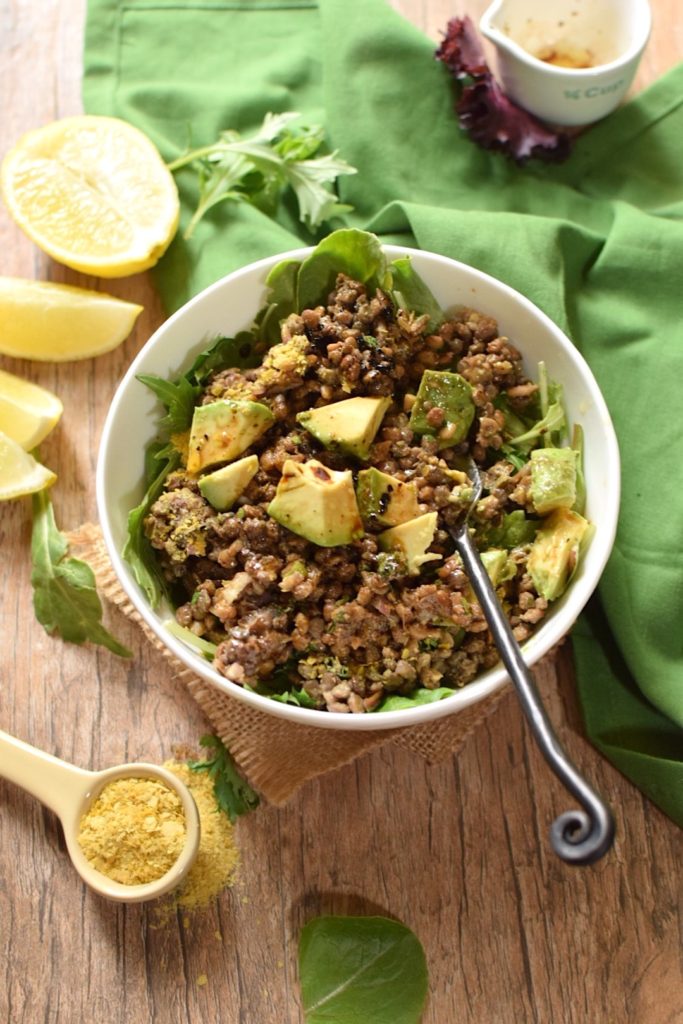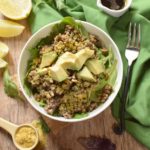 Healthy, Vegan Lentil Salad
Vegan | Gluten-Free | Plant-Based
Ingredients
Lentils:
2 and 1/2

cups

cooked lentils*

about 1 pound

1

Tablespoon

olive or avocado oil

1/2

cup

red onion

small dice

3

pinches

sea salt

1

Tablespoon

fresh lemon juice

1/4

cup

sunflower seeds

I like roasted and salted

1

Tablespoon

nutritional yeast

or Brewer's Yeast for lactation

1

avocado, diced
Dressing:
4

Tablespoons

Flaxseed oil

or Olive oil

2

Tablespoons

apple cider vinegar or balsamic vinegar

more if you love vinegar

1

generous pinch

sea salt

1

pinch

black pepper
6 - 8 cups leafy salad greens
Instructions
Add cooked lentils to a large mixing bowl with olive or avocado oil, red onions, sea salt, lemon juice, sunflower seeds and nutritional yeast. Mix with a fork to break up lentils and combine.

In a separate small mixing bowl, add the dressing ingredients and whisk to combine. 

To serve, place 2 cups of leafy greens or arugula on a plate and top with 1 cup of lentil salad and top with chopped avocado. Drizzle 1 - 2 Tablespoons of dressing over each salad and enjoy!
Recipe Notes
*Trader Joe's sells cooked lentils found in the produce section that work great with this recipe. If you don't have access to Trader Joe's, cook 1 cup dry lentils according to package instructions. 
Thinking Of Going Vegan But Not Sure Where To Start? Check Out Our One Week Vegan Meal Plan, Complete With Grocery Lists And Recipes!