Finally! A gluten-free brownie recipe that's dense, fudgy and refined-sugar free! 
"OMG gluten-free is the latest fad diet. Everyone's doing it!"
"I've just been diagnosed with celiac disease. I guess no more carbs for me." 
"Yuck! Those cookies are gluten-free? They must taste like cardboard."
These are all statements I've heard before, and they're all false. With so much media attention on fad diets, it's easy to hear misinformation spread like wildfire. (Fake news, anyone?) Unfortunately, going gluten-free is one that has been hammered by falsehoods and biased statements. So, before we dive into to the DELICIOUS Fudgy Brownies, let's clear the air!
First of all, yes gluten free has become quite popular today. That does not make it a fad diet. There is a small percentage of the population that cannot tolerate any form of gluten whatsoever (celiac disease) and a much larger percentage that are gluten sensitive. For these people, going gluten free is not a fad diet; it's the only way to survive without horrible consequences. If you're not suffering from celiac disease and are not gluten sensitive, you can still enjoy gluten free products all you want!

Lots of Grains are Naturally Gluten-Free
Second, for those of you who have been diagnosed with celiac disease or have gluten sensitivity, it does not mean the end of the world for you. You are not sentenced to gnaw on celery sticks for the rest of your life. Guess what?!? You can have carbs! As long as those carbs don't contain gluten. Here are some grains that do not have gluten in their genetic make-up:
corn
brown rice
quinoa
oats (yes, oats are naturally gluten-free!)
buckwheat
millet
sourghum
polenta
amaranth
teff
See?? Lots of possibilities! So don't worry, you WON'T have to give up carbohydrates and you WILL have lots of choices.


Not all Gluten-Free Products are made equal!
And finally, necessity truly is the mother of invention. Because so many consumers have been demanding GF products that also taste good, chefs and manufacturers have been creatively cookin' up more and more yummy GF products. Walk into any grocery store in America and they'll most likely carry GF pasta, pizza, bread, lasagna, pad thai, cookies, protein bars…and on and on the list goes. So please, if you only tried a single gluten free cookie at your hippie cousin's new moon celebration party and didn't like it, don't judge all GF products the same. That would be like eating a crummy slice of pizza and then claiming that all pizza tastes terrible. Silly goose.
Back to the Fudgy Gluten Free Brownies…
So now that we've cleared the air, let's get to the GOOD stuff! These Fudgy Brownies are so popular, I always get requests for more. They're gluten free and can be made dairy free by subbing coconut oil for the grass fed butter!  I've also worked really hard to make this recipe refined sugar free as well, which is pretty rare for a badass, fudgy brownie like these. Using a blend of maple syrup and coconut sugar to sweeten and Lily's Chocolate Chips (which are stevia sweetened) sprinkled throughout, these brownies rely on natural sweeteners which is better for your teeth, your bones and your waist line. You get about 9 – 12 brownies per batch and since they're made with good quality, whole food ingredients they're extremely satisfying. Meaning you'll feel satisfied after enjoying one without feeling the need to eat the whole batch in one siting!

Some common questions regarding this recipe:
Can I substitute a gluten-free flour blend for the brown rice flour and tapioca flour?
Yes, you can, just sub 3/4 cup gluten-free flour for the brown rice flour and tapioca flour. If your gluten-free blend already contains xanthan gum, then just omit adding more to the recipe.
What if i can't find Lily's Chocolate Chips?
Feel free to substitute your favorite chocolate chips for the Lily's. I specifically called for Lily's in this recipe because it's stevia sweetened making these brownies refined sugar free. But another chocolate chip I really enjoy using is Enjoy Life's Chocolate Chips. These are free of gluten, dairy, soy, corn and nuts.
Would Flax-Eggs work for this recipe?
Probably, but I haven't tested it myself, but that swap would make these brownies vegan. You can find instructions to make a flax egg HERE.
Specialty Ingredients for this recipe:
Gluten Free Fudgy Brownies – Refined Sugar Free Recipe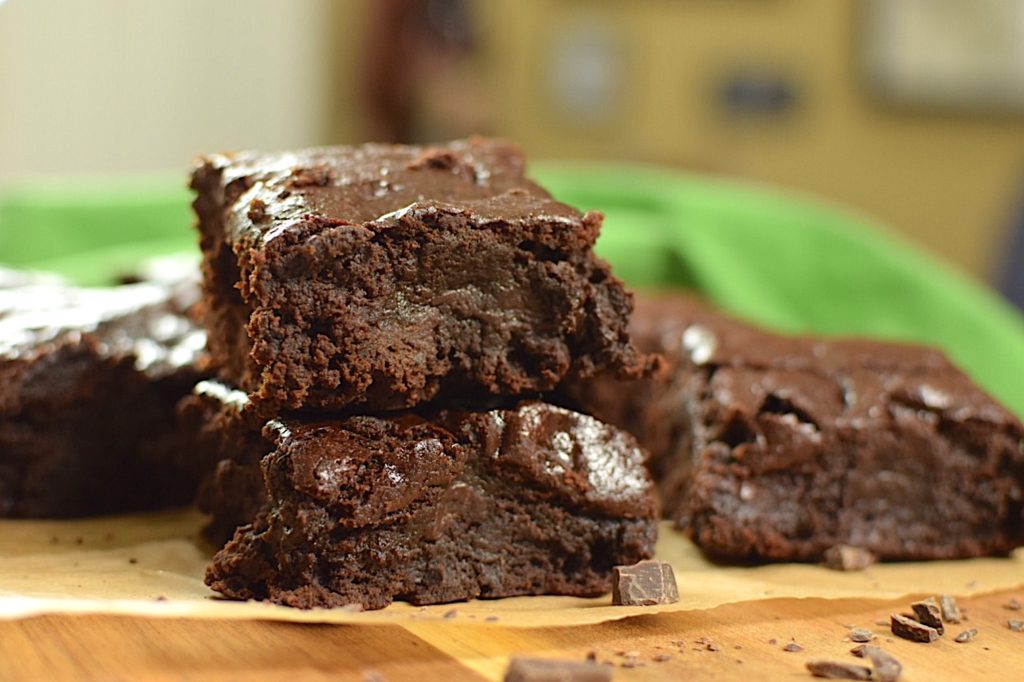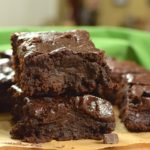 Gluten Free Fudgy Brownies
Gluten-Free | Dairy-Free | Refined Sugar-Free | Nut-Free
Ingredients
3

large eggs

room temperature

1/2

cup

grass-fed butter, vegan butter or coconut oil

melted

1/2

cup

maple syrup or agave

1

teaspoon

gluten free vanilla extract

1/2

cup

brown rice flour

1/4

cup

tapioca flour or arrowroot

1

cup

coconut sugar

3/4

cup

cocoa powder

1

teaspoon

baking powder

1/4

teaspoon

sea salt

1/2

cup

Lily's stevia sweetened vegan chocolate chips
Instructions
Preheat oven to 350 degrees F. lightly spray the bottom of an 8 x 8 baking sheet with oil spray and then press a sheet of parchment paper inside and lightly spray again.

In a separate bowl combine the brown rice flour, tapioca or arrowroot, coconut sugar, cocoa powder, baking powder and sea salt. Whisk to combine and remove any lumps. Set aside.

In a medium sized mixing bowl, whisk together 3 eggs and set aside.

In a small saucepan, add the butter or coconut oil, maple syrup and vanilla extract and heat over low heat until butter or coconut oil is melted. Next pour this into your beaten eggs while slowly whisking, making sure not to cook the eggs.

Add your wet mixture to the dry and using a wooden spoon, mix to combine. The batter will be thick and wet, but not too runny.

Finally, fold in the chocolate chips and pour/spread the batter into your prepared baking dish.

Bake for about 25 - 35 minutes, or until the edges start to pull away. A toothpick stuck into the center should still come out wet. Allow brownies to cool for about 20 minutes before pulling out of the dish by lifting the parchment paper. Wait at least 30 minutes total before cutting into squares. These will be fudgy as the name implies, so the cooler they are when cut, the easier.

Store leftover brownies in an airtight container on the counter for up to 3 days or in the fridge for 5 - 7 days.

Enjoy with a tall glass of cold almond or coconut milk.
Recipe Notes
*If using a different gluten Free Flour blend and it does NOT contain xanthan gum, add 1/2 teaspoon of xanthan gum when adding the gluten free flour.
Have you made these?
If You Make This Recipe, Please Let me Know!  I Love Seeing Your Creations And Hearing About How Your Recipes Turned Out.  Tag me With Your Photos On Instagram @Naturaltastychef, #Naturaltastychef Or On Facebook: Alison Charbonneau, Natural Tasty Chef!
Need some help navigating your health and wellness?  Check out my Health and Wellness Coaching. Book your FREE complimentary 30-minute session

HERE

 today!