A nut free, Vegan Pesto Pasta that's veggie packed. This hemp seed pesto pasta is dairy-free, gluten-free and fits an anti-candida diet too.
Wheat free pasta
Even though zucchini and spaghetti squash make decent noodles, sometimes I just want the real thing.  Me want pasta! (said in a Cookie Monster-type voice).  But if you're following a strict meal plan, most pasta is off-limits based on its main ingredient – wheat flour.  The great news is that these days almost every supermarket offers pasta made from things other than wheat!  You can buy pasta made from black beans, quinoa, lentils, or brown rice.  We live in abundant times with lots of options; we should celebrate that! So here is one of my few pasta recipes, that actually uses pasta, but calls for an alternative to wheat which is glorious news to my gluten-free and candida diet friends!  And, there are lots of veggies thrown in there as well.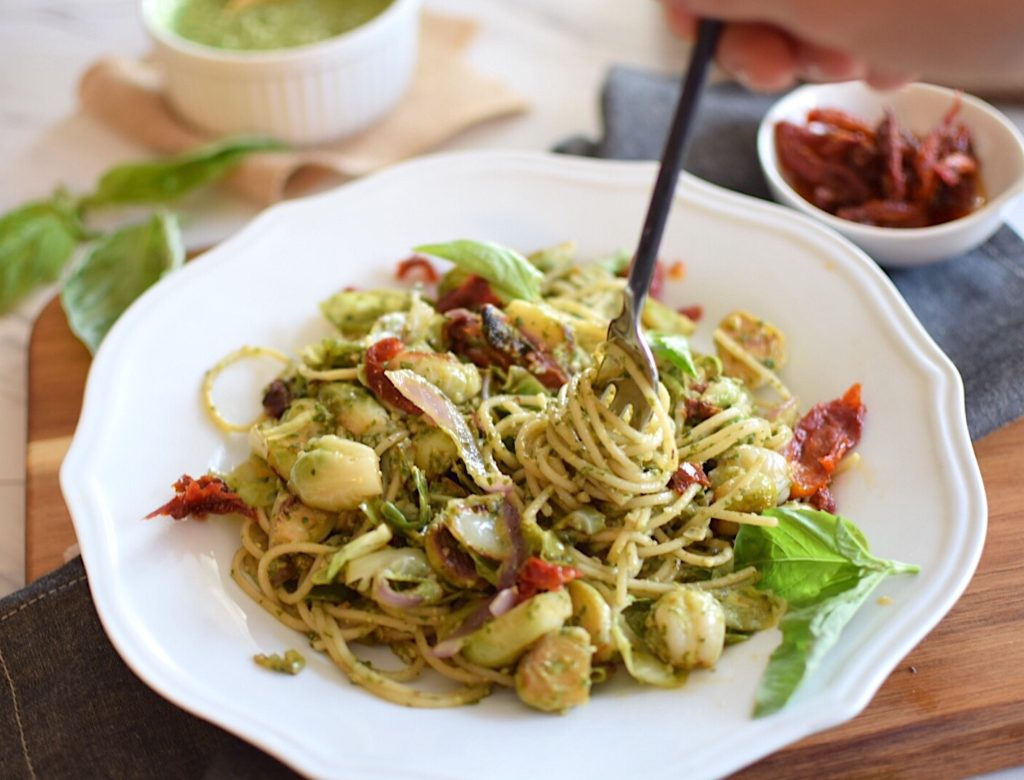 Homemade nut free pesto pasta
Pesto is quick and easy to make, and easily turned vegan. Traditional pesto usually consists of pine nuts, garlic, lemon juice, olive oil and Parmesan cheese. I've found that you can simply leave the cheese out without sacrificing flavor. Also, substituting hemp seeds in place of pine nuts makes this nut-free pesto pasta (for my friends with nut allergies like my Husband) and ups the protein profile. I've had a lot of people tell me that they don't know what to do with hemp seeds, so here's a way to use them up!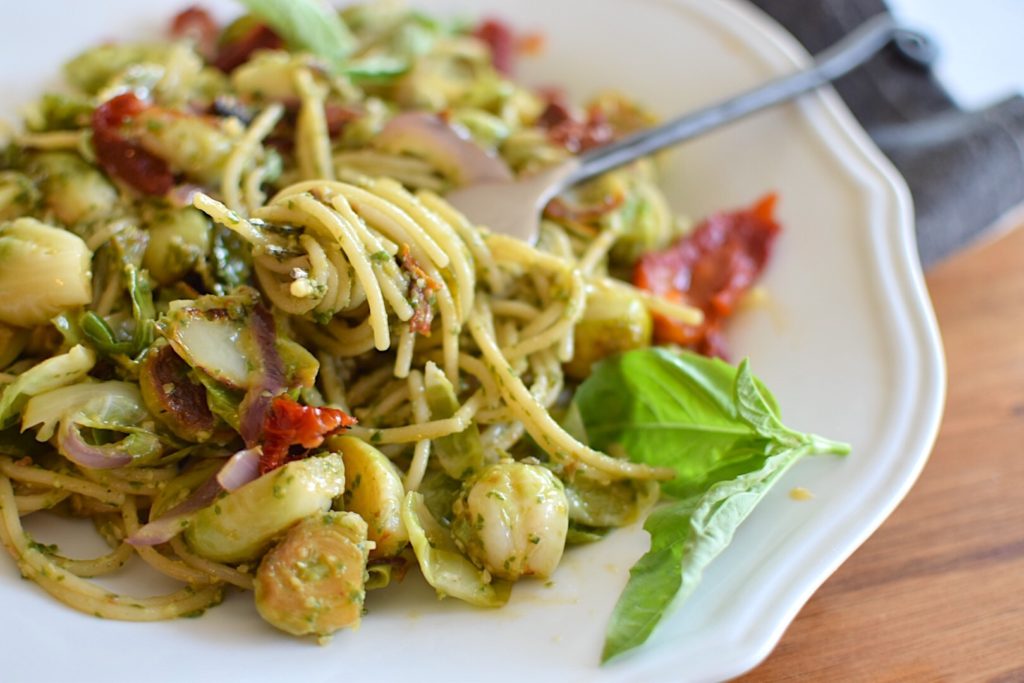 Veggies, let's not forget the veggies:
I've added brussels sprouts and sun dried tomatoes to this dish for the beautiful color combination and for health. If you could get into the habit of adding vegetables to every meal of the day, your body would thank you. And If you think you don't like brussels sprouts, I encourage you to still give this a try. Whole, boiled brussels sprouts are flavorless and "gas-bombs" and can be prepare in a much more flavorful way. I've found that cutting them in half or into quarters allows them to become much more flavorful and seasoned and really reduces the gassy effect that they can have.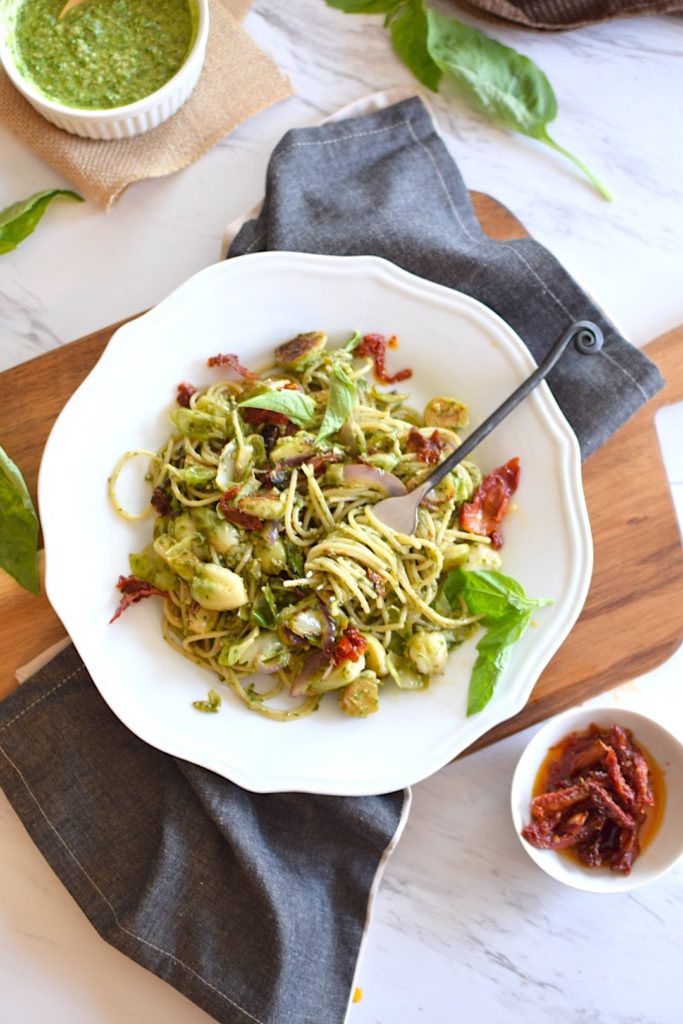 Pro Tip:
If I know I'm not going to use up all of my freshly made pesto in the following week, I like to fill small, labeled mason jars and place them in the freezer. That way it doesn't end up going bad in the fridge, and I have pesto already on-hand for a mid-week pinch!
Okay, enough with the talking, let's get cooking! xo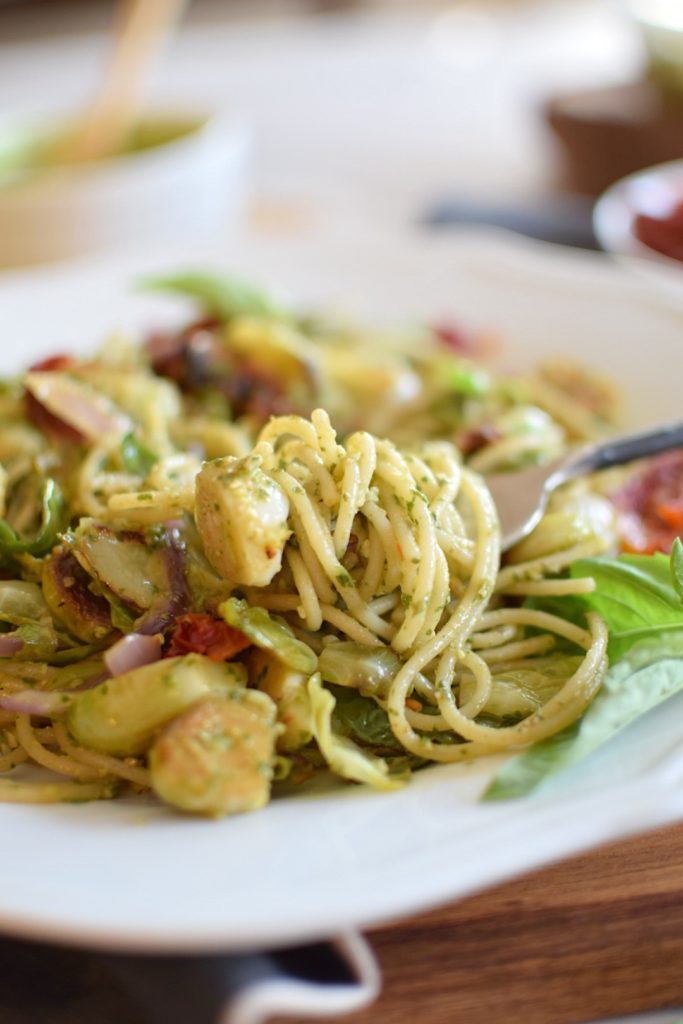 Hemp Seed Pesto Pasta – Anti Candida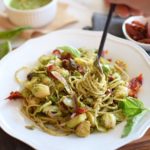 Hemp Seed Pesto Pasta
Vegan | Gluten-Free | Anti-Candida
Ingredients
For the pesto:

3

garlic cloves

1/2

cup

hemp seeds

2

cups

packed fresh basil

1/4

cup

lemon juice or the juice of 2 small lemons

1/4 - 1 /2

teaspoon

sea salt

Pinch

black pepper

1/2

cup

olive oil

For the pasta:

1/2

bag brown rice spaghetti noodles

or your favorite gluten free noodles

2

Tablespoons

olive oil

1

teaspoon

sea salt

divided

1

red onion

sliced into half moons

1

cup

Brussels sprouts

trimmed and cut in half (if small) or in quarters (if large)

1/3

cup

sundried tomatoes

in olive oil
Instructions
Start by making the hemp seed pesto:

Place garlic cloves into a food processor and pulse for 2 - 3 seconds to start breaking them up. Now add the hemp seeds, basil, lemon juice, sea salt and black pepper. Start your food processor and while it is running begin pouring in the olive oil in a steady stream. Continue until all of the oil has been added and everything is fully incorporated. Taste for seasoning and set aside.

For the pasta:

Start by cooking the pasta according to package instructions. Set aside. (note that gluten free pasta needs to be rinsed really well after cooking under cool water to remove excess starch.)

Now heat a large skillet with 2 Tablespoons olive oil. Add the red onions and a pinch of sea salt. Sauté for 2 – 3 minutes. Next add the Brussels sprouts and another pinch of sea salt and sauté for 4 - 5 minutes more, stirring to prevent from burning. Once the Brussels sprouts can be easily pierced with a fork it's time to add the sun-dried tomatoes, allowing oil and seasoning from the jar to drip in. Stir to combine and sauté for 1 - 2 minutes more, or until Brussels sprouts are cooked to your liking.

Pour all of this mixture into a large mixing bowl. Add the pasta and mix to combine. Finally add about 1/2 cup of the hemp seed pesto, or more if desired, and stir to combine. Taste for seasoning.
Recipe Notes
*store leftover pesto in an airtight container in the fridge for up to 1 week or in the freezer for 2 months.
If You're Following A Candida Diet be sure to check out Our Digital Cookbook Everyday Recipes For Your Candida Diet. Over 100 Recipes To Restore Gut Health And Get Candida Under Control! All Recipes Are Sugar-Free, Gluten-Free, Yeast-Free & Dairy-Free. Grab Your Copy today: