A non-toxic bug spay to naturally protect you from pesky bug bites that you can feel safe about spraying onto your skin!
Ahh Sweet Nature…
We recently moved into a home that's much closer to the mountains with lots of greenery and wildlife around. I absolutely LOVE it!  Being in nature with the fresh air is so calming to me. We always have Humming Birds in our backyard and often see deer peacefully roaming around the streets and in the hills. The only downside to our lovely new home and yard is that wildlife generally means more bugs!
That's why I created this DIY Non-Toxic Bug Spray! Store-bought bug-spray is not only toxic for our bodies but also for the environment. As you'll see, nature has provided us with all we need to safely repel the pesky bugs and flies.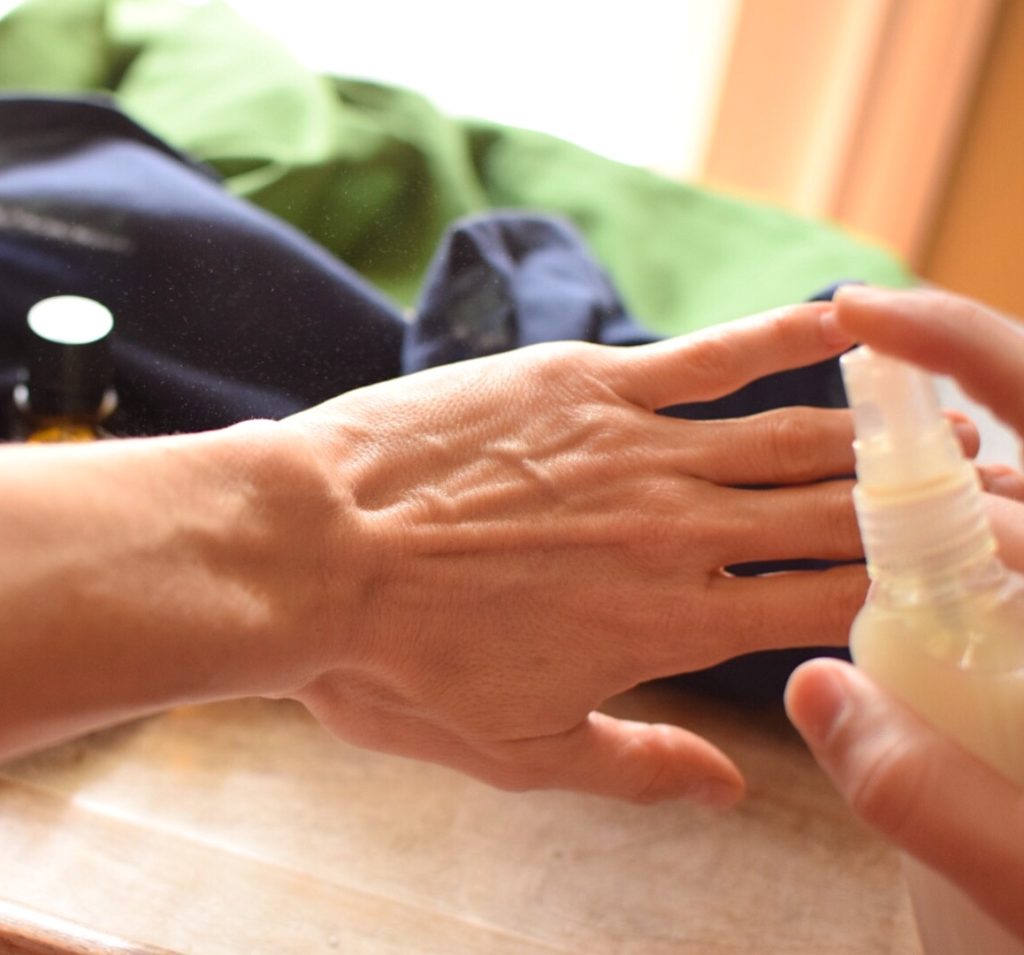 Your Skin is Porous!
Your skin is the largest organ of your body and since it's porous, it absorbs whatever you put on it.  Meaning the ingredients in your perfumes, lotions, cosmetics and bug sprays make their way into your precious body, your blood and lymphatic system. What you put on your body is just as important as what you put in your body.
Ingredients of OFF
With that in mind, have you looked at the ingredient list of bug spray lately? Here's what OFF is made of:
DEET, fragrance, butane, propane, isobutene, ethanol, corn starch, water, magnesium carbonate, isopropyl myristate, aminomethyl propanol, dimethicone, sodium benzoate.
I had actually never heard of DEET before and decided to do a little more digging. This is what I found:
DEET: As a precaution, manufacturers advise that DEET products should not be used under clothing or on damaged skin, and that preparations be washed off after they are no longer needed or between applications.[20] DEET can act as an irritant;[7] in rare cases, it may cause severe epidermal reactions.[20] Other symptoms that can occur are breathing difficulty, burning eyes, headaches.
I thought this was particularly interesting because don't we usually apply bug spray directly onto our skin?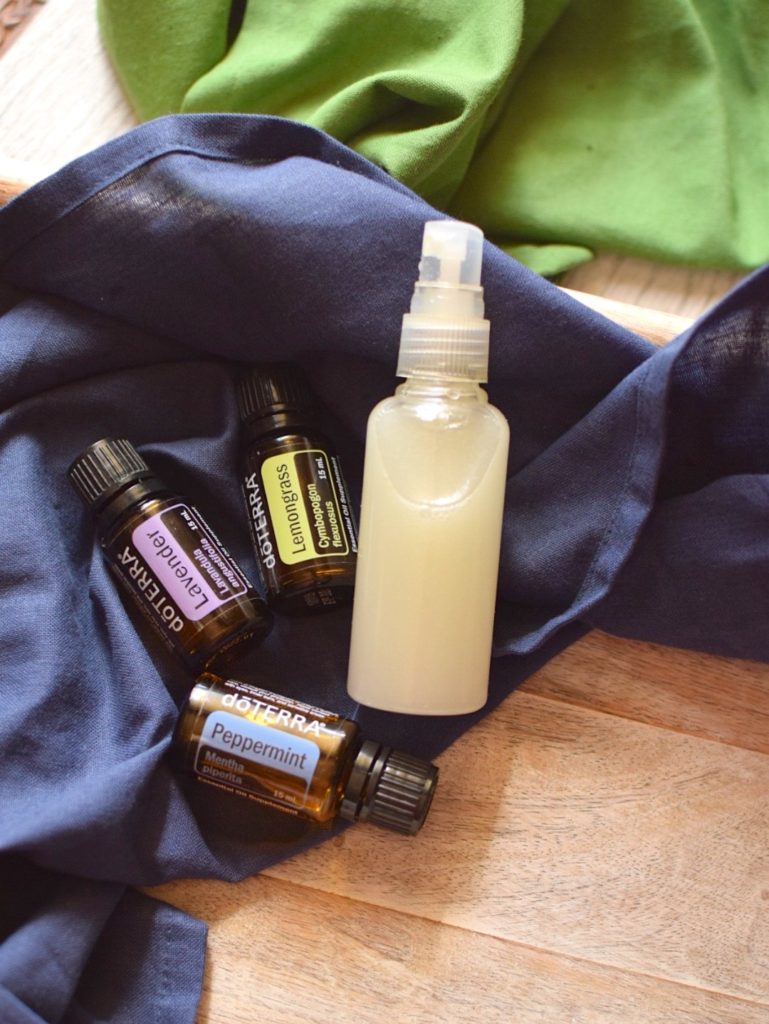 Make your own!!
Let's make our own non-toxic bug spray with natural ingredients that we can even pronounce. This all natural, non-toxic bug spray is incredibly easy to make using essential oils that smell nice, are better for the environment and wont make you sick! Plus, it's soothing to the skin, as opposed to drying so it wont make you feel icky like you need to take a shower after applying.
Lemongrass oil
You may be surprised to learn that Lemongrass is actually a very effective bug repellant! It's actually closely related to the Citronella plant, which you may be more familiar with like the citronella candles you may have purchased in stores for outside use to help repel bugs. Lemongrass combined with citronella makes a powerful bug repellant. Thank you Mother Nature!
Peppermint oil is a natural repellent for Mice, mosquitoes and spiders while lavender is not only soothing to the skin, but also effective in repelling moths, flees, flies and mosquitoes.
I added witch hazel for it's soothing, astringent properties and a good quality oil such as Argon, Vitamin E or Jajoba to act as a carrier and also provide some moisturizing effects to the skin. My girlfriend was over the other night and she has "sweet blood." She's the girl who gets bug bites even when no one else does. We sat outside for hours and she didn't even get one bite.
I hope you enjoy this Non-Toxic Bug Spray recipe as much as I do!
specialty equipment and ingredients for this recipe
DIY Non-toxic BUG Spray Recipe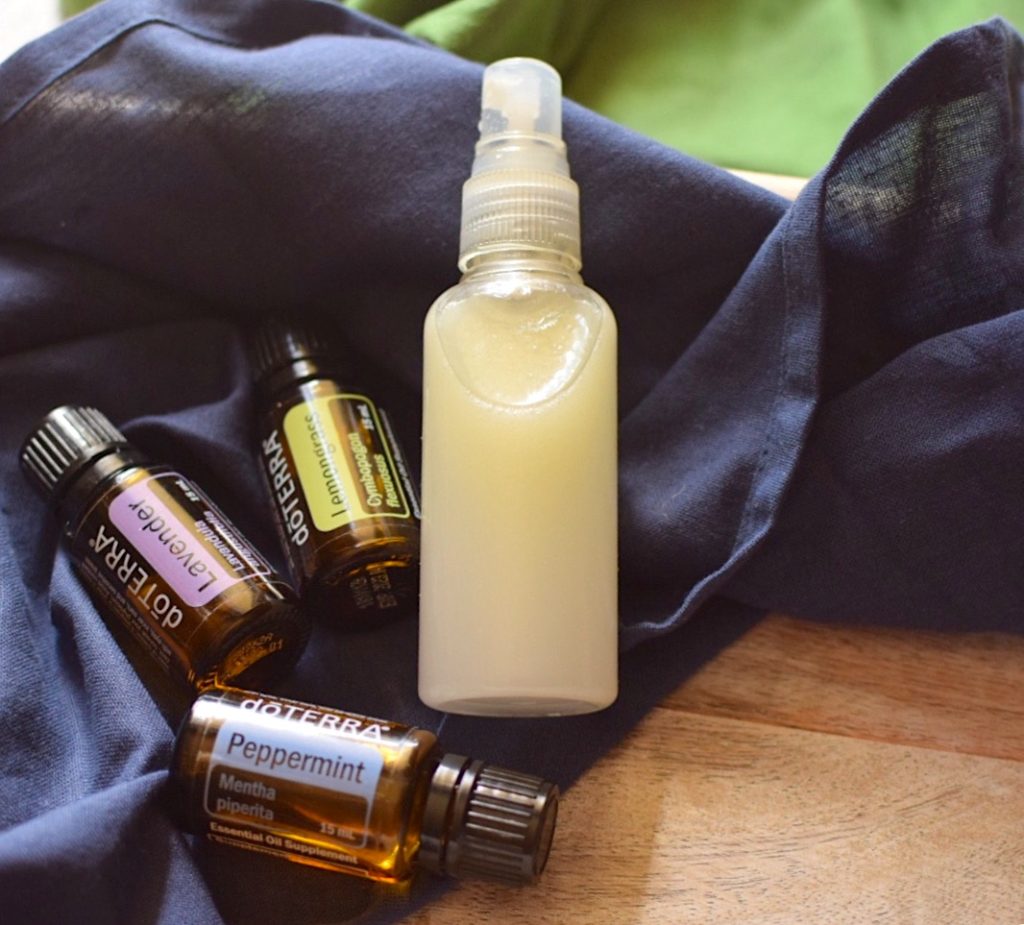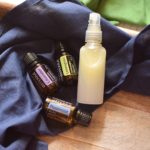 DIY Non-toxic Bug Spray
Vegan | Paraben Free
Ingredients
2

ounce

spray bottle

1

ounce

organic witch hazel

1

ounce

filtered water

20

drops lemongrass essential oil

20

drops lavender essential oil

10

drops peppermint essential oil

10

drops citronella essential oil

1

Tablespoon

argon

vitamin E or Jajoba oil
Instructions
Combine all ingredients into a 2 ounce spray bottle, shake and spray on any exposed skin. For best results, if your skin gets wet while watering plants or grass, reapply.