Paleo Chocolate Chip Scones for a Candida Diet that are slightly sweet and totally satisfying. These scones make the perfect snack or dessert and using xylitol makes them sugar free! You'd never know these scones are secretly healthy for you.
If you think you can't enjoy delicious and satisfying baked goods while following a Paleo or Sugar-Free diet, think again. Gone are the days that healthy has to mean tasteless and boring. Foods like almond flour, coconut flour and stevia sweetened chocolate chips help make recreating recipes easy and delicious. These scones are a perfect example of just that. This recipe was created for my personal chef clients who follow a Candida diet but feel better with little to no grains. They'll totally satisfy your cravings for breads and sweets, making them the perfect snack or dessert.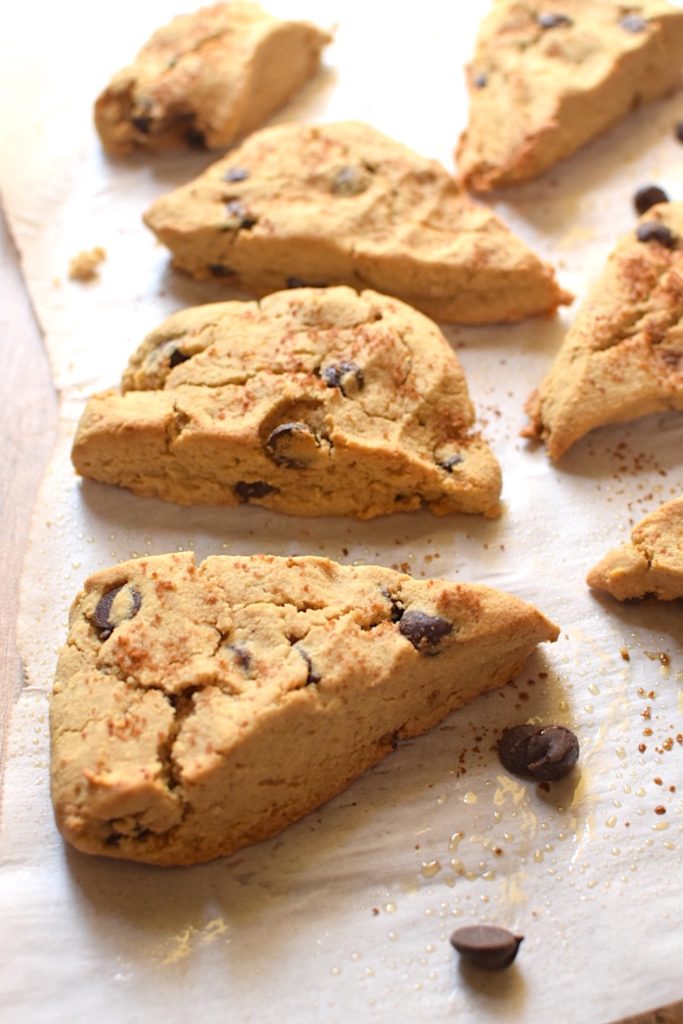 Almond Flour NOT Almond Meal
To make the texture of these scones as close to traditional, gluten-based scones, I went with almond flour as the base. Not to be confused with almond MEAL. Now you may be wondering what the difference is, but put these two flours side by side and you will quickly see. Almond flour is much softer and finely ground since the skin of the almond is removed before preparation. Almond meal, on the other hand, is typically grittier and prepared with the whole almond, skin and all. Personally, I'm slightly allergic to almonds (skin on), but have found that when the skin is removed, I can tolerate them. So things like almond milk and almond flour don't seem to bother me.
In additional to almond flour, these scones call for coconut flour and tapioca flour or arrowroot. Combine these three flours together for a perfect gluten and grain-free flour blend.


The Sweetener: Xylitol
For the sweetener of these scones I went with xylitol, I prefer Xyla brand since it's sourced from the Birch Tree as opposed to Corn husk. Since Xylitol in moderate amounts won't feed yeast or spike blood sugar, it's highly recommend if you're following a Candida diet or if you have an auto immune disease such as Multiple Sclerosis (MS), Hashimotos, lupus, etc. or if you are diabetic.
Keep in mind, that xylitol is a sugar alcohol meaning that the body doesn't actually digest it, rather it just pushes it out. I've found that some people are extremely sensitive to Xylitol since it can cause gas and loose stool so it's best to enjoy this sugar alternative in small amounts. For instance, start with once scone instead of three! 🙂 I have cooked for clients who do totally fine with Xylitol and others that can't even tolerate small amounts, so play around and see what works for you.
Of course, if Candida, Auto-immune diseases or Diabetes is not a concern to you, feel free to substitute coconut sugar or maple sugar (as long as they are in granulated form) in equal amounts for an equally delicious and healthy scone!
Stevia Sweetened Chocolate Chips!
One more mention is the chocolate chips. Since this recipe is Sugar-Free I opted for Lily's chocolate chips which are sweetened with stevia. Again, if you are not as concerned about sugar-free, feel free to sub your favorite chocolate chips in place of these. Another brand I really like is Enjoy Life Dark Chocolate Chips. Their chocolate chips are free of corn, soy, dairy and gluten.
Okay, now onto the recipe! I hope you love these scones as much as I do. What is your favorite flavored scone? You may also enjoy our other scones:
Specialty Equipment and Ingredients for this Recipe:
Sugar-Free Chocolate Chip Scones for a Candida Diet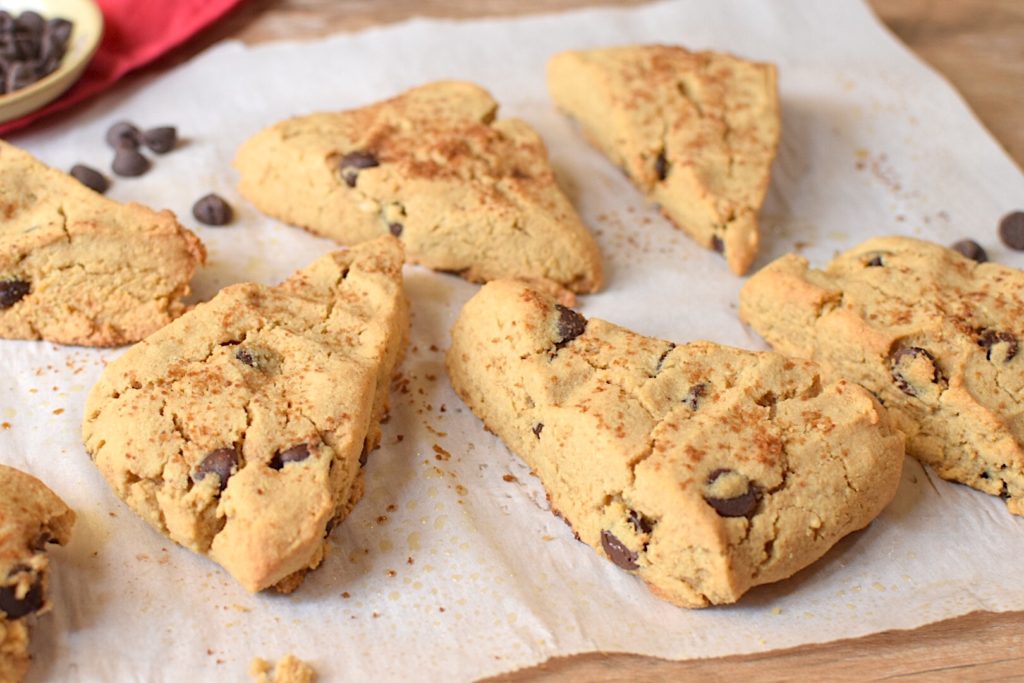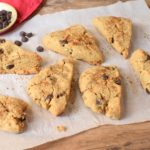 Sugar-Free, Paleo Chocolate Chip Scones
Paleo | Gluten-Free | Anti-Candida
Ingredients
1

cup

almond flour (NOT Almond Meal)

3/4

cup

tapioca flour or arrowroot

5

Tablespoons

coconut flour

1/4

cup

xylitol*

extra sugar for topping

1/2

teaspoon

xanthan gum

1/2

teaspoon

baking soda

1/2

teaspoon

sea salt

6

tablespoons

unsalted butter

chilled

1

egg

2

Tablespoons

coconut milk

1

teaspoon

vanilla

coconut oil spray

3

– 4 Tablespoons sugar-free chocolate chips

I like Lily's Brand**
Instructions
In a food processor, combine your almond flour, tapioca flour, coconut flour, xylitol (or coconut sugar), xanthan gum, baking soda and sea salt pulsing a couple times to remove any lumps. Add your chilled, cubed butter and pulse again to create a texture similar to sand.

In a separate, large bowl whisk together your egg, coconut milk and vanilla. Add the dry ingredients from the food processor into the wet and use a spatula or a spoon to combine. Finally, fold in the chocolate chips.

The batter should be slightly sticky to the touch but hold together when formed into a ball. Cover the bowl with plastic wrap and place in the refrigerator for at least 30 minutes to chill. This step could also happen the day before.

Preheat your oven to 350 degrees and line a baking sheet with parchment paper.

Remove batter from the fridge and lightly dust a large cutting board or clean counter with tapioca flour or arrowroot. Place the batter in the center and form into a log that's about 12 inches long and 2 - 3 inches tall. Using a sharp knife, cut into triangles. It might help to lightly spray your knife with oil. Place scones onto your prepared baking sheet and lightly spray the tops with oil spray and dust with a little sprinkle of xylitol (or coconut sugar). Bake for about 12 - 15 minutes or until golden brown. Remove from the oven and let rest for 5 minutes on the baking sheet before transferring to a cooling rack or serving.

Enjoy.
Recipe Notes
*Option to use coconut sugar or maple sugar in equal amounts if Candida is not an issue.
**Option to use your favorite chocolate chips in equal amounts. Cacao paste can be used for a totally sugar free chocolate chip option.
***If you do not have a food processor, option to add all dry ingredients in to a large mixing bowl and use a Pastry Blender to work cold butter into flour mixture.
For More Delicious Sugar-Free Recipes that fit an Anti-Candida Diet, check out or Digital Cookbook Everyday Recipes for Your Candida Diet with over 100 mouth watering recipes to help keep you on track! Grab your copy today!