A healthy spinach, artichoke dip that uses whole foods ingredients to create a creamy and delicious dip that fits vegan, paleo and keto diets.
high in vitamins and minerals
Popeye was really onto something when he popped open a can of spinach to gain extraordinary strength.  And although instant eye-bulging, shirt-ripping muscles aren't super realistic results from eating spinach, it still remains a very healthy green leaf.  Considered a superfood, spinach offers a cornucopia of healthy vitamins and minerals including protein, calcium, iron, vitamins A and K, folate, magnesium, and potassium.  (Spinach has more potassium than bananas!)

Frozen spinach
In this recipe, I call for frozen spinach, which often comes in handy as fresh spinach can spoil quickly.  But are the nutrients found in spinach compromised during the freezing process?  Good question.  I'm glad you asked.  It seems that the only identifiable nutrient that is compromised during the freezing process is folate, a B vitamin that may protect against heart disease.  However, a study done at Pennsylvania State University found that folate levels also drop in fresh spinach when it is transported over long distances or sits in a refrigerator for a week.  With that knowledge, frozen spinach might be a better way to go when used for cooking.  
keeping it simple, skip the thawing
In this vegan spinach and artichoke dip recipe, rather than thawing the spinach first, place it frozen directly into the skillet.  Just another step to make this recipe as easy as possible. Although cooking spinach will decrease some of the potency of its nutrients, avoiding the thawing process will keep some of these nutrient levels intact, like vitamin C. 
Honorable mentions
A few other ingredients i want to highlight in this super healthy recipe are apple cider vinegar and nutritional yeast. Apple Cider Vinegar is a go to in my pantry. I use it often when sautéing kale, collards or brussels sprouts and also use it to make salad dressings. It's thought to help regulate blood sugar and even boost gut health. Because it contains beneficial bacteria it acts similar to a probiotic in turn helping boost your immune system and your ability to digest and absorb nutrients.
Nutritional Yeast is something I've gone back and forth about over the years. When I first started a candida diet, I was told to avoid it completely since it was in fact a yeast. But now that I'm pregnant, I've been learning about all the incredible healthy and beneficial properties of Nutritional Yeast for pregnancy and beyond. For instance, nutritional yeast is high in B vitamins and thought to help ward off anxiety, restlessness and depression, all great for pregnancy. Additionally, nutritional yeast is thought to help increase milk supply postpartum. Health benefits aside, nutritional yeast adds a cheesy and slightly nutty flavor while being completely free of both dairy and nuts!
Specialty equipment and ingredients for this recipe
Healthy vegan spinach and artichoke dip recipe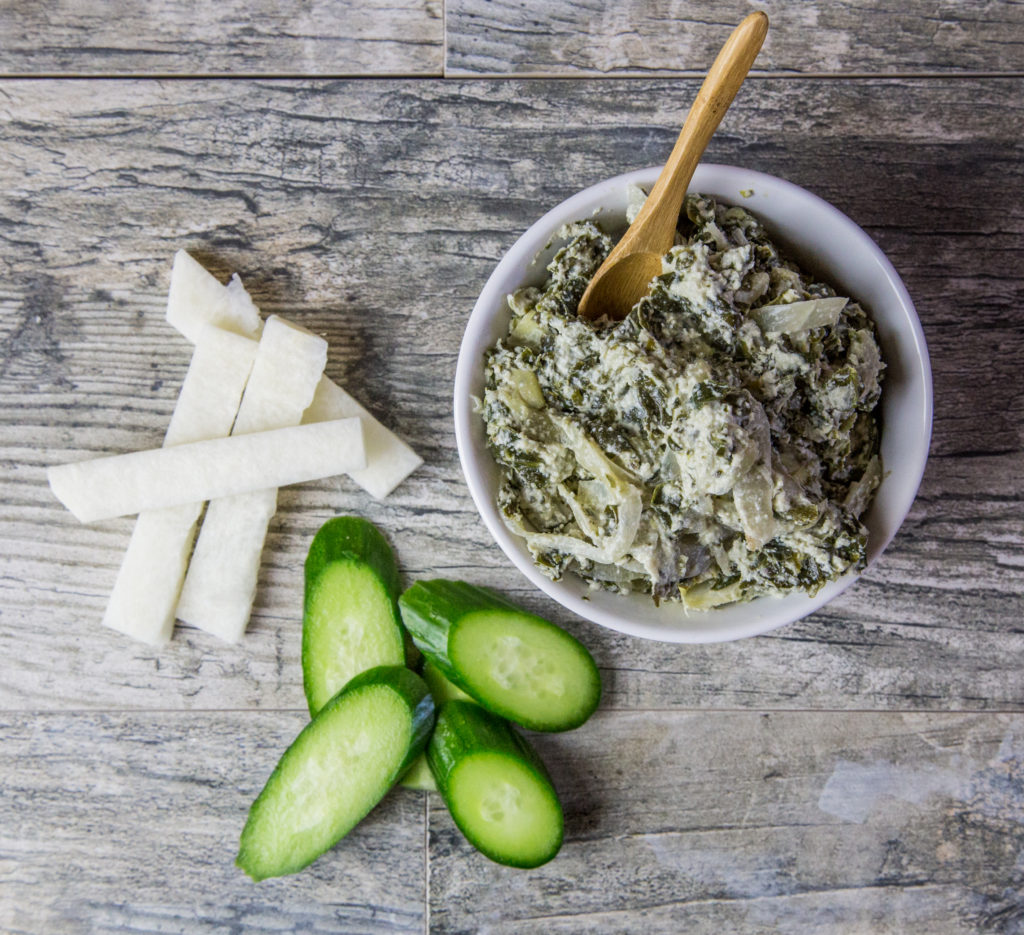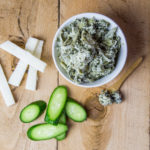 Healthy, Vegan Spinach and Artichoke Dip
Vegan | Paleo | Keto
Ingredients
For the cheesy cashew sauce
1

cup

raw cashews

soaked in filtered water

3

Tablespoons

nutritional yeast

1

Tablespoon

apple cider vinegar

1/4

teaspoon

sea salt

1/3

cup

filtered water

more as necessary
For the spinach dip
2

Tablespoons

olive or avocado oil

1/2

medium sized red onion

diced (about 1/2 cup)

2

pinches

sea salt

divided

2

cups

frozen spinach

1

can fresh artichokes

rough chop
Instructions
For the cheesy cashew sauce
Rinse the cashews in a fine mesh strainer under cool faucet water. Place in a bowl and cover with filtered water. Let soak for at least 30 minutes or up to 4 hours. Strain and rinse again and the cashews are ready to use.

Place the cashews, nutritional yeast, apple cider vinegar, sea salt and filtered water in a high powered blender. Blend starting on low speed and slowly moving up to high until smooth and creamy. You may need to stop and scrape down the sides occasionally. If the blender needs more liquid, add more filtered water 1 Tablespoon at a time until the consistency is similar to a thick sauce. Set aside.
For the spinach dip
Next, heat a sarge skillet over med-high heat and add 2 Tablespoons of olive or avocado oil. Once warm, add the diced red onions and a pinch of sea salt. Sauté for a couple minutes until onions start to soften and turn translucent. Next add the frozen spinach and sauté for a couple minutes more.  Now add the artichokes, another pinch of sea salt and sauté for about 3 - 4 minutes more, or until the spinach is cooked and all the ingredients are nicely incorporated.

Finally add the Cheesy Cashew Sauce and mix to combine.  Taste for seasoning.

Enjoy with sliced veggies such as carrots or cucumbers or gluten free crackers!
Thinking of going Vegan but not sure where to start? Check out our One Week Vegan Meal Plan, complete with grocery lists and recipes!