Homemade Mounds Bars: A healthier spin on Mounds Bars that Dairy, Gluten, Corn, Soy and Nut Free!  Easy to make with only 5 ingredients and so delicious!
Eating is emotional
So, you want to cut out refined sugar.  Or you've just decided to go full-on vegan.  Or maybe your health has suffered from a candida problem for far. too. long.
What happens next can be a mixed bag of emotions.  I know, cuz I've been there myself, and I've seen it in many of my clients, too.  There's a sigh of relief because you've reached a pivotal point.  You've had the "a-ha" moment in which you can point your finger to exactly what you want (or need) to change in your diet.  And there's freedom that comes with that.  Because now it's defined.  It's quantifiable.  And you can take the next step forward.
On the other hand, there are feelings of disappointment and even sadness over all the things in your diet you'll be giving up.  And many times, it means giving up some of your favorite dishes.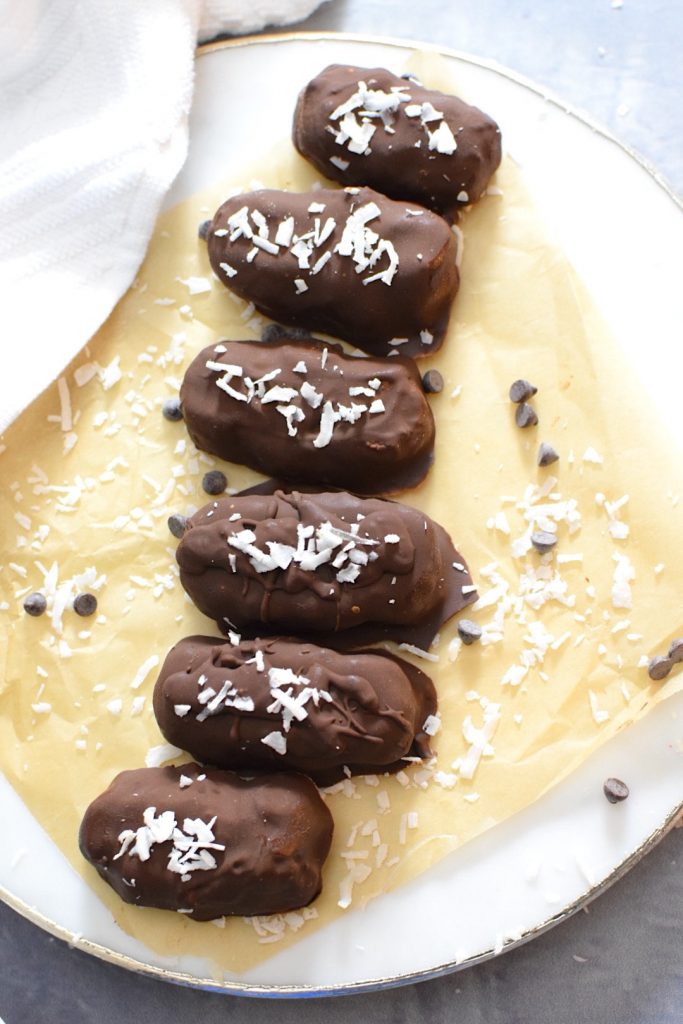 Mounds Bars – My all time favorite!
My personal, all time favorite, raid-the-pantry kind of treat that I craved as a child was Mounds chocolate candy bar!  Do you remember those?  Chocolate + coconut = heaven.  But years later, when I realized that dairy and refined sugar was not helping my body, I was SUPER upset that I could no longer enjoy my favorite candy bar. (Cue my inner 12 year old crying through her braces).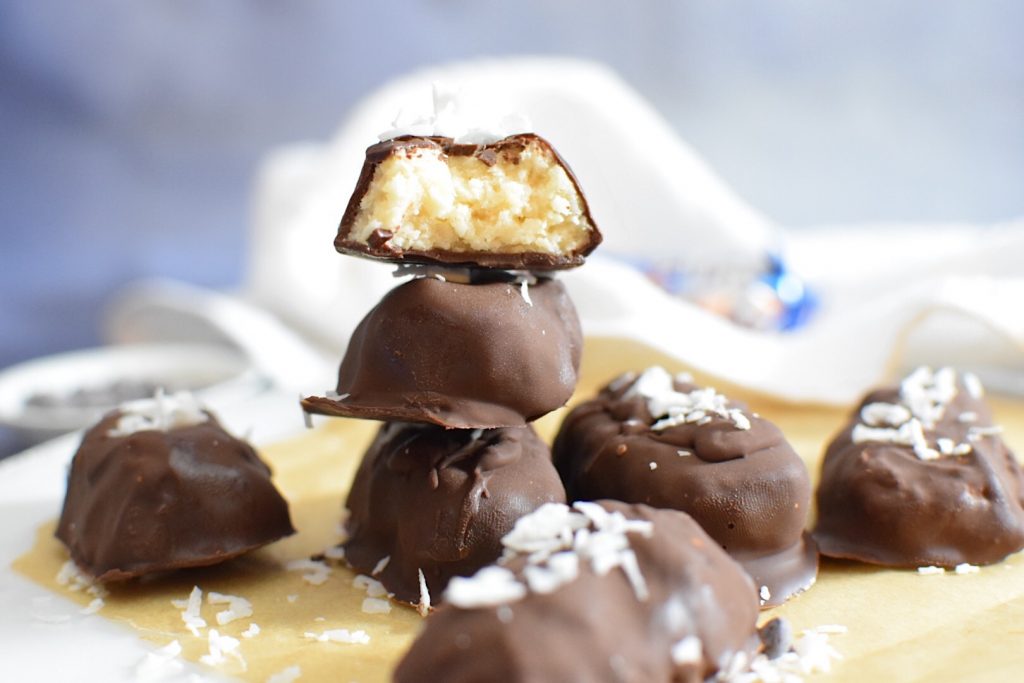 Recreating childhood favorites
Since that sad day in which I relinquished my beloved Mounds bars, it has become a passion of mine to recreate favorite dishes for my clients- the Natural Tasty Way!  It's such a fun challenge when a client tells me they love something like nachos piled high with cheese and chili, which then sets me on the hunt to recreate a healthier, cleaner version of nachos. (Damn.  Anyone getting a nachos craving?)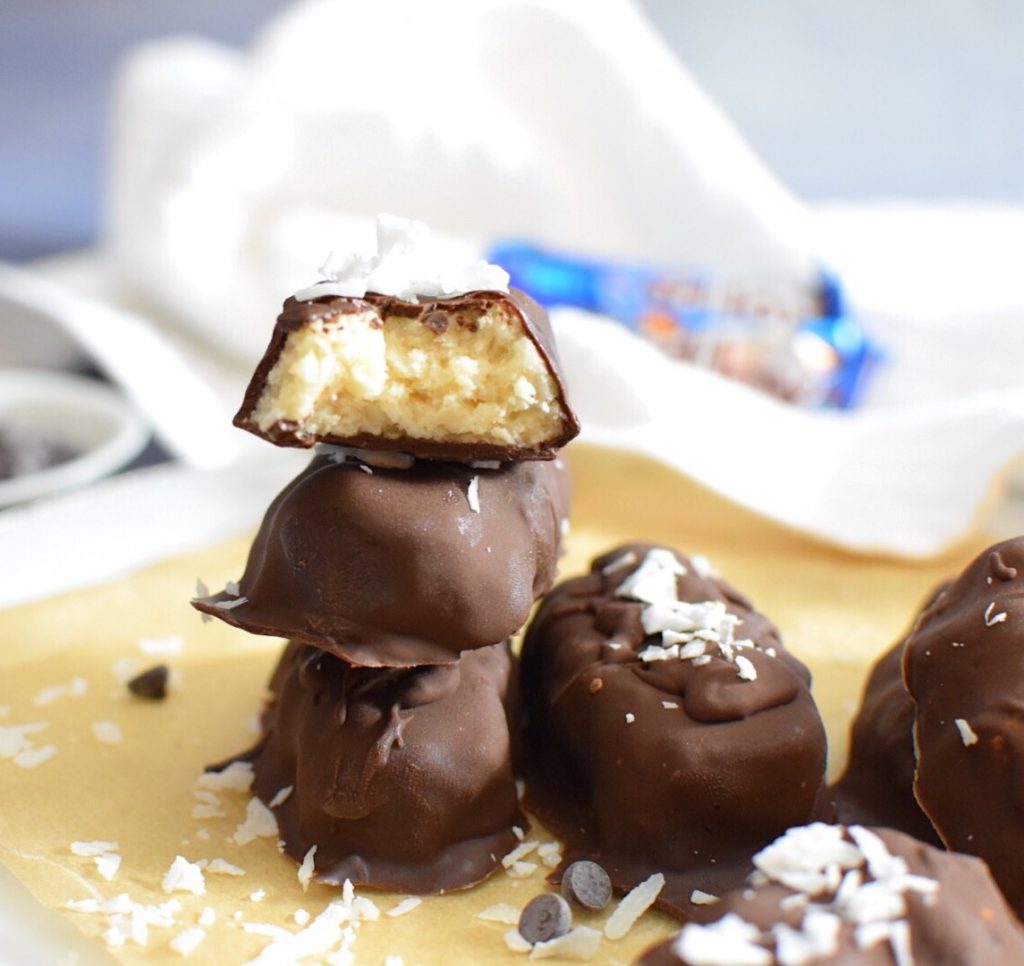 Mounds bars – the natural tasty way
Ok, back to the chocolate-y goodness of Mounds bars.  Of course, I HAD to recreate Mounds bars.  If for no one else then myself!  So I removed the dairy and refined sugar, which makes these bars:
Gluten-free
Nut-free
Soy-free
Corn-free, and
Vegan
I use sweetened condensed coconut milk along with shredded coconut and coconut oil, which gives my Spin on Mounds bars a good amount of healthy, fatty acids.
All that coconut is making me swoon.  I love coconut!  I think a trip to the Bahamas is in order real soon.  And on the plane, we can enjoy some of my coconut-packed, dark chocolate covered Spin on Mounds!  My treat 🙂
NOTE: If you can't find sweetened condensed coconut milk at a store near you, here's a recipe to make your own: Homemade Sweetened Condensed Coconut Milk. And this version is refined sugar free!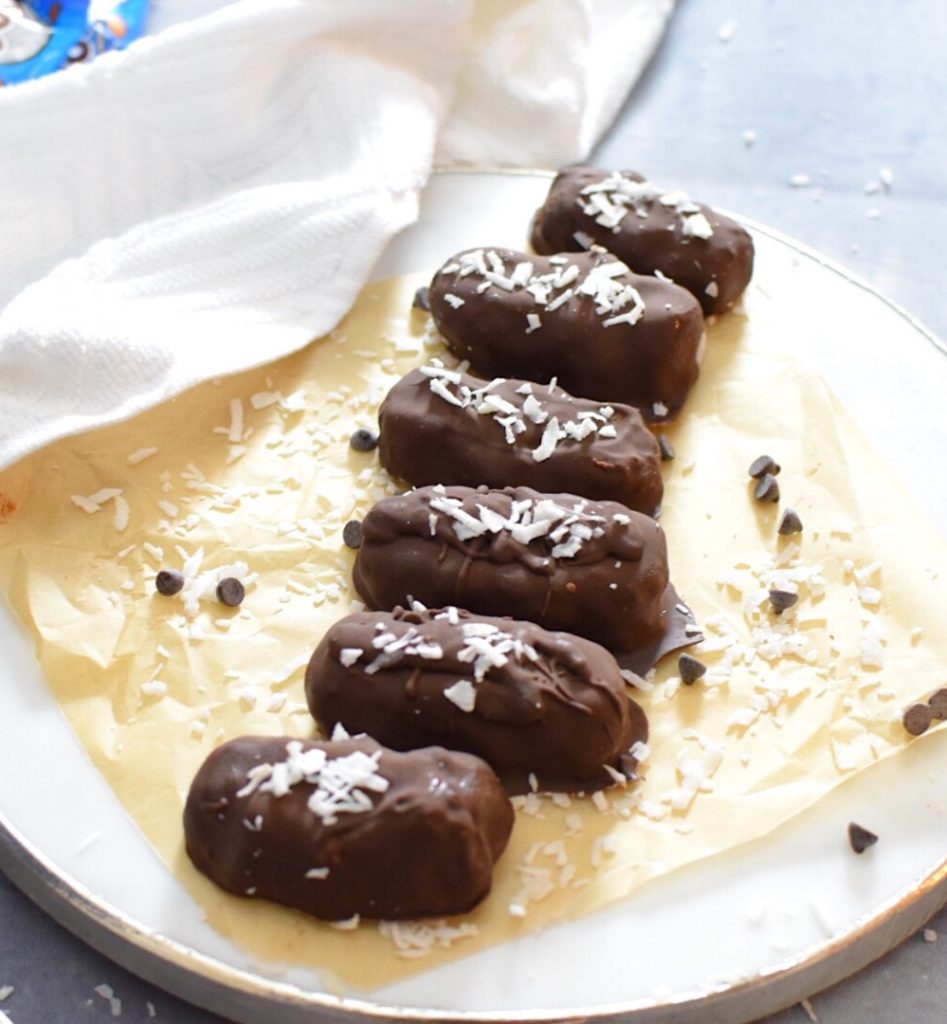 Specialty Ingredients For This Recipe: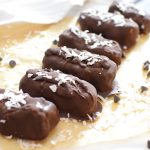 Homemade Mounds Bars
Vegan | Gluten-Free
Ingredients
For the bar:
2

cups

unsweetened shredded coconut

more for garnish

1/4

cup

plus 2 heaping Tablespoons sweetened condensed coconut milk*

pinch

sea salt

2

teaspoons

vanilla extract

1

scant Tablespoon coconut oil
For the chocolate coating:
1

cup

vegan chocolate chips

I prefer Enjoy Life Dark Chocolate Chips

2

heaping teaspoon coconut oil
Instructions
Line a baking sheet with parchment paper and spray with coconut oil spray. Set aside.

Place all the bar ingredients into a food processor and process for about 20 – 30 seconds, or until fully combined. You may need to stop and scrape down the sides occasionally.

Using a spoon or mini spatula, form batter into mini logs and line on baking sheet. Place in the freezer while you prepare the chocolate coating.
For the chocolate coating:
Place the vegan chocolate chips and coconut oil in a heat-safe bowl and either microwave at 30 second intervals or heat over a double boiler until melted.

Remove baking sheet from the freezer and using 2 forks, dip eat mound bar into the chocolate, using the forks to flip and coat completely. Garnish the top with a sprinkle of shredded coconut. Continue until all the mounds bars are coated.

Place back in the freezer to set.

Enjoy!

Leftovers should be stored in an airtight container in the fridge.