This Kale and Quinoa "Caesar" Salad is our healthy spin on the classic that incorporates quinoa and kale to create a vegan, gluten-free and anti-candida twist on Caesar Salad.
Reinventing a Classic
Today we're taking a classic salad that typically uses romaine lettuce and parmesan cheese as the base and upping the nutritional value with high protein quinoa and kale. The dressing which typically calls for anchovy, egg yolk and more parmesan cheese is also getting a vegan makeover.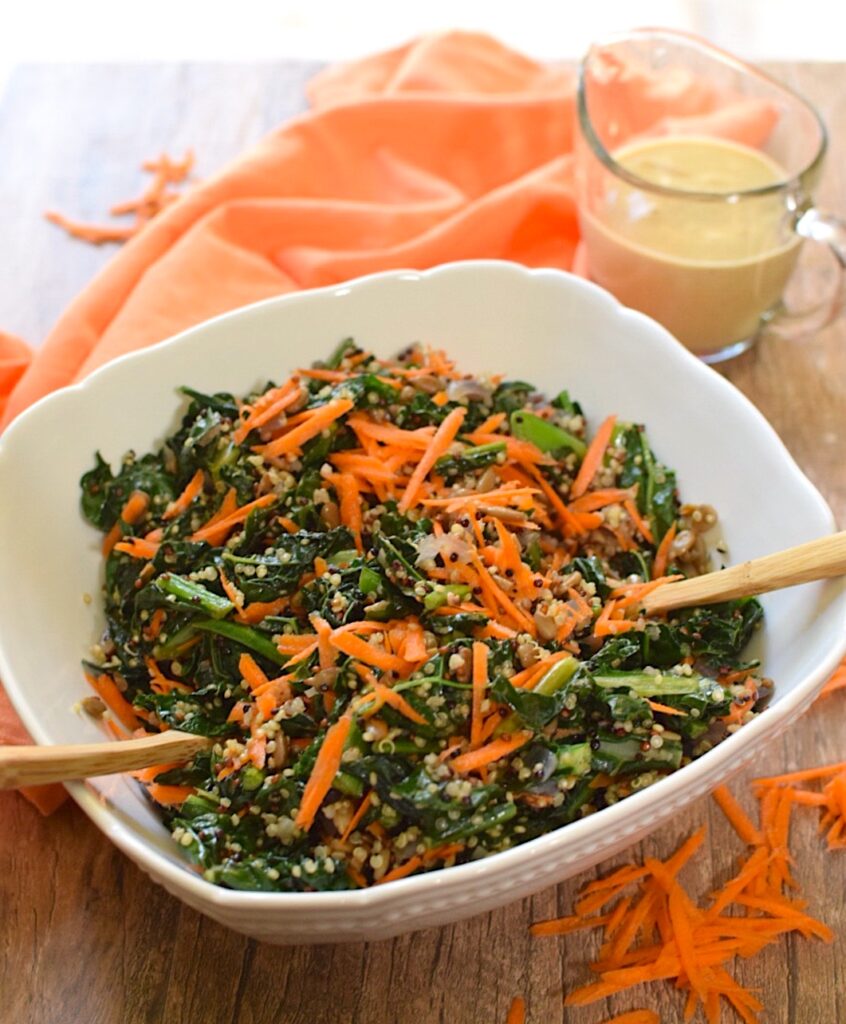 Our star ingredient today is quinoa!
Considered an ancient grain, quinoa is actually the seed of the flowering plant chenopodium quinoa which originates from South America.  (It's ok, I can't pronounce that word either).  High in protein, with a mild, nutty flavor and slightly crunchy texture, quinoa is mainly eaten as a grain and can substitute for rice or barley or be made into flakes or milled into a gluten-free flour.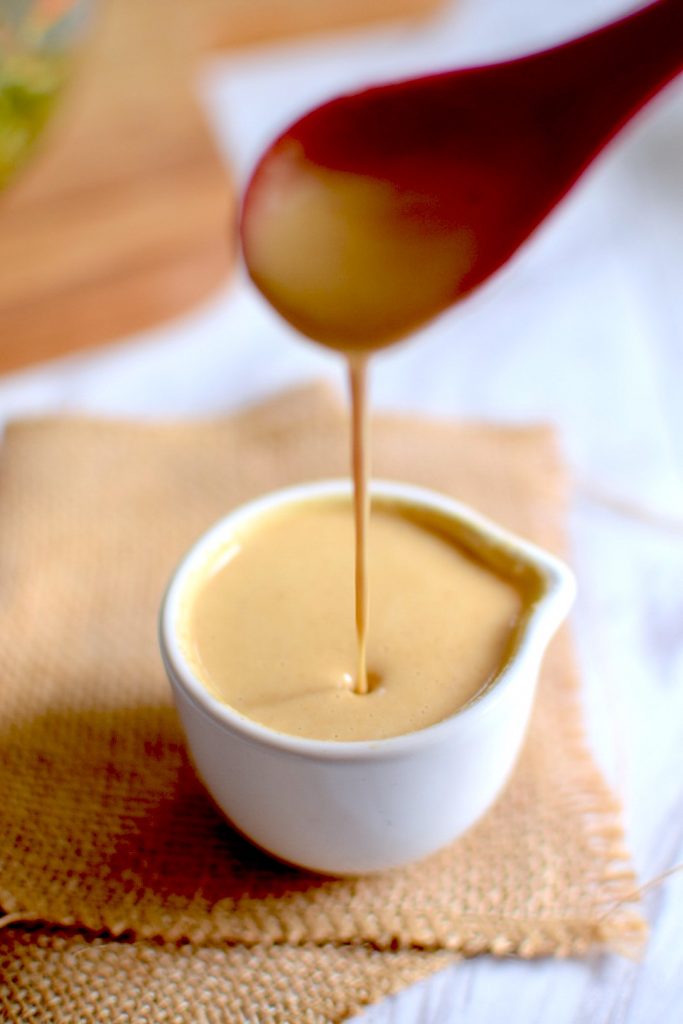 Quinoa has an amazing nutritional profile.
Quinoa is naturally gluten free, high in magnesium, zinc, iron and fiber, but especially boasts a high protein content with all nine essential amino acids, which help form proteins and muscle in the body.  (Another way to get more use out of that gym membership).  This makes quinoa a great plant-based source of protein, especially for those steering clear of animal products.
Occasionally, I will get questions about how to increase protein in a vegan or vegetarian diet.  No one can deny that a hunk of meat has a lot of protein, but for my fur-friendly family out there trying to steer clear of animal products, finding a protein substitute can be a production.  Rather than looking for that one unicorn item that has the same amount of protein as meat, you might have to get a little more creative.  Take a little protein here, a little there, toss them together, and boom:  You get some more protein!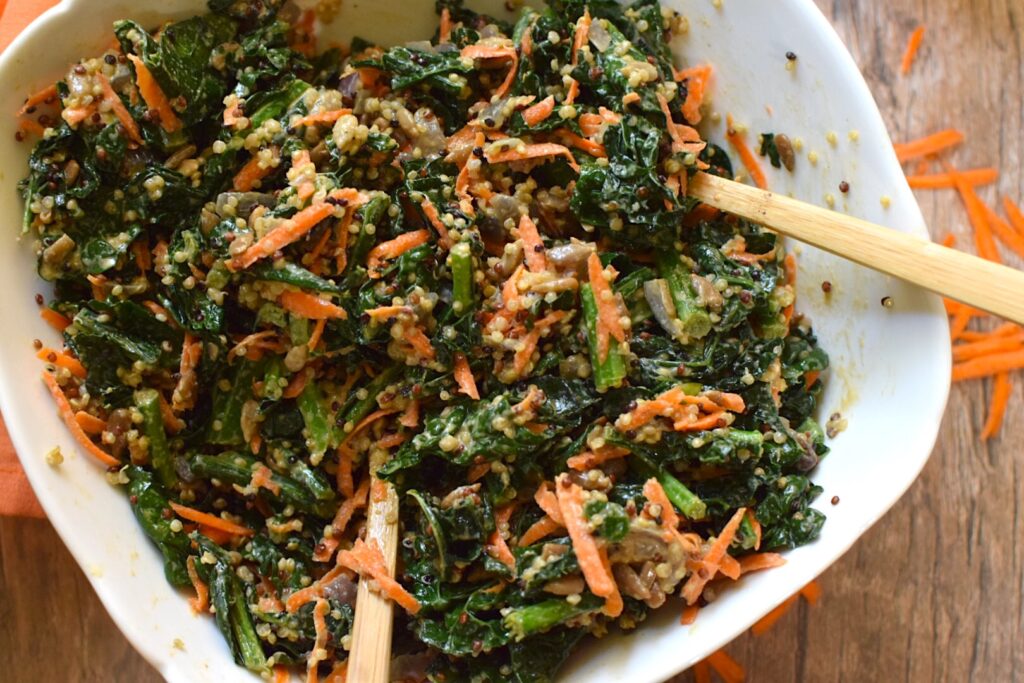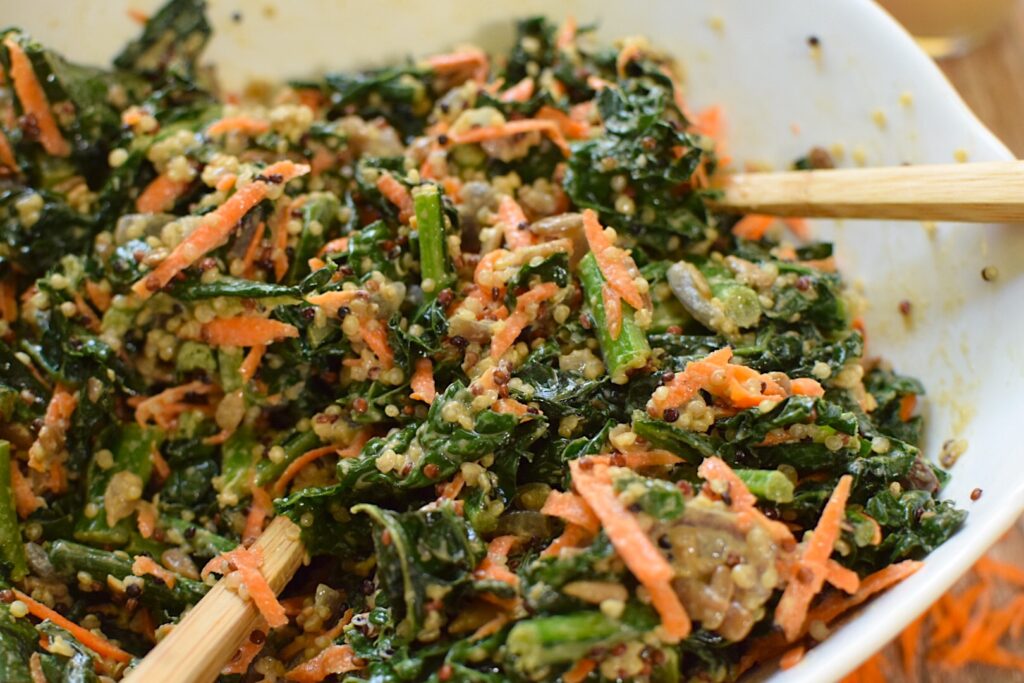 Plant Based but High in Protein
This recipe uses all plant-based ingredients, and a few of them, when thrown together, offer a significant source of protein.  1 cup of cooked quinoa has 8 grams of protein.  1 cup of kale has 2.9 grams of protein.  And 1 cup of sunflower seeds has 29 grams of protein!  So for this recipe, the total protein for the entire batch is 21.05 grams.  If you decide to eat this as a meal and consume about half of this batch, you'll get 10.5 grams of protein in one serving.  You're welcome 🙂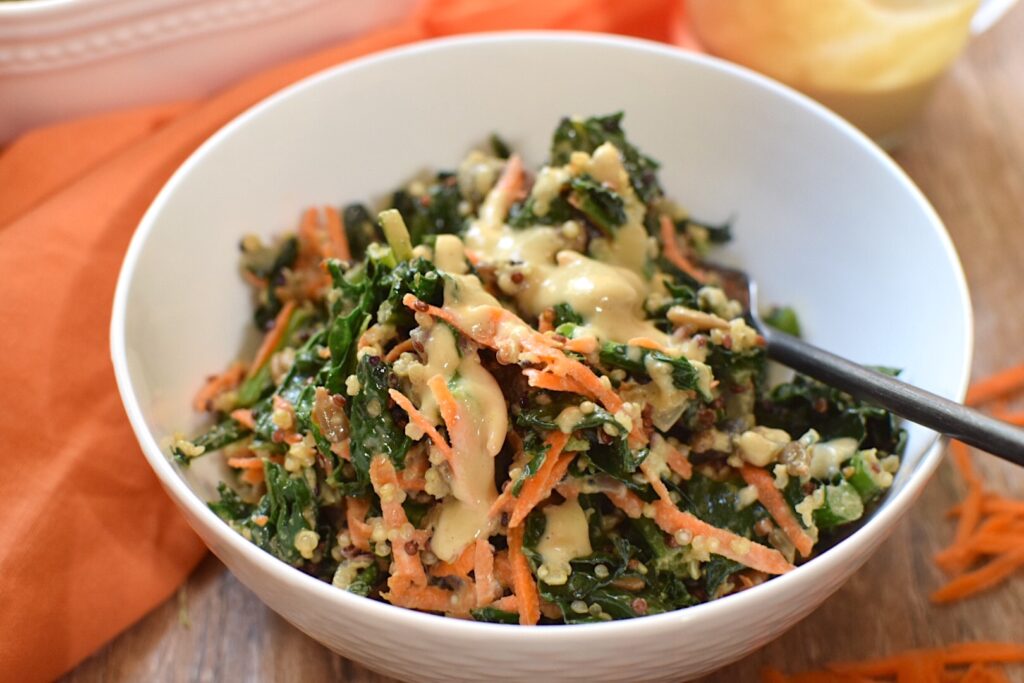 Pro Tips:
When meal prepping or making for personal chef clients, I like keeping the dressing on the side. That way the salad doesn't get soggy. I use small salad dressing containers or mason jars that I get from Smart and Final. You can find them on Amazon as well.
Specialty Tools and Ingredients for This Recipe: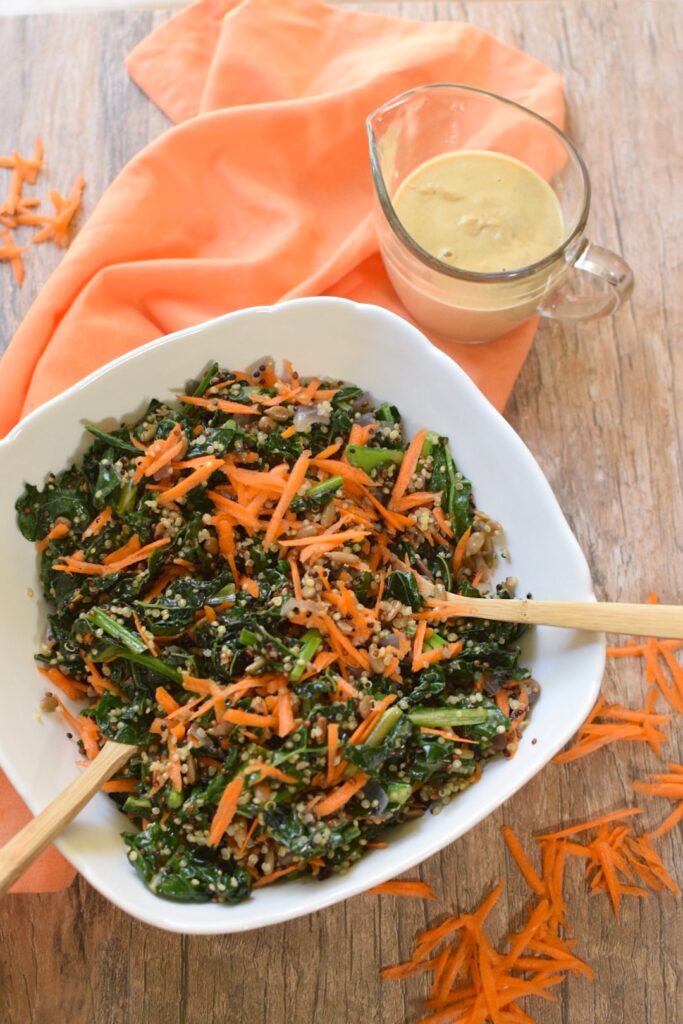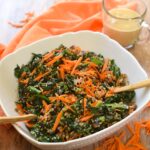 Kale and Quinoa "Caesar" Salad
Vegan | Gluten-Free | Anti-Candida
Ingredients
For the Salad:
1

cup

filtered water

1

cup

tri-colored quinoa

rinsed thoroughly

1/4

teaspoon

sea salt

divided

4

cups

kale

shredded or cut into small pieces*

2

Tablespoons

olive oil

1/2

medium size red onion

small dice

1/2

cup

carrots

shredded

1

Persian cucumber

small dice**

1/4

cup

sunflower seeds

I like roasted and salted
For the "Caesar" Dressing:
3

Tablespoons

filtered water

2

Tablespoons

olive oil

2

Tablespoons

creamy

unsalted tahini butter

1

Tablespoon

coconut aminos

Juice of 1 large or 2 small lemons

about 2 Tablespoons

2

large garlic cloves

1/8

teaspoon

sea salt
Instructions
To make the salad:
Start by rinsing your quinoa in a fine mesh strainer under the faucet to remove any dust or dirt. Now place filtered water and rinsed quinoa in a small saucepan with a pinch of sea salt and bring to a boil over high heat. Cover with a fitted lid, reduce heat to low and simmer for 15 minutes. After 15 minutes, turn off the heat and let sit for another 5 minutes before removing the lid. Fluff with a fork.

Heat 1 Tablespoon of olive oil over medium heat in a large, non-stick skillet and sauté red onion with 1/8 teaspoon sea salt for 1 – 2 minutes, stirring constantly to prevent burning.  Now add the chopped kale and remaining 1/8 teaspoon sea salt and sauté for 2 - 3 minutes more.

Place the sautéed kale into a large bowl. Add the shredded carrots, Persian cucumbers and sunflower seeds and mix to combine. When the quinoa is finished cooking, add that ass well and
To prepare the dressing:
Place all of the dressing ingredients into a blender and starting on low speed, blend slowly working up to a higher speed until everything is well blended. If dressing is too thick, add more filtered water, 1 Tablespoon at a time until desired consistency is reached. Taste for seasoning.

To serve place 1 - 2 cups of kale and quinoa salad onto a plate and drizzle with dressing.

Store leftover salad in an airtight container in the fridge for 4 - 5 days. Leftover salad dressing can be stored in a sealed jar in the fridge for up to one week.
Recipe Notes
*I like to shred the kale in a food processor by roughly chopping kale, placing in a food processor and pulsing several times until very small pieces are formed. If you don't have a food processor, chop into small pieces using your knife.
**I prefer Persian cucumbers because they tend to be less watery and have less seeds.
I like to serve this salad with grilled chicken or salmon and Nut Free Paleo Tortillas!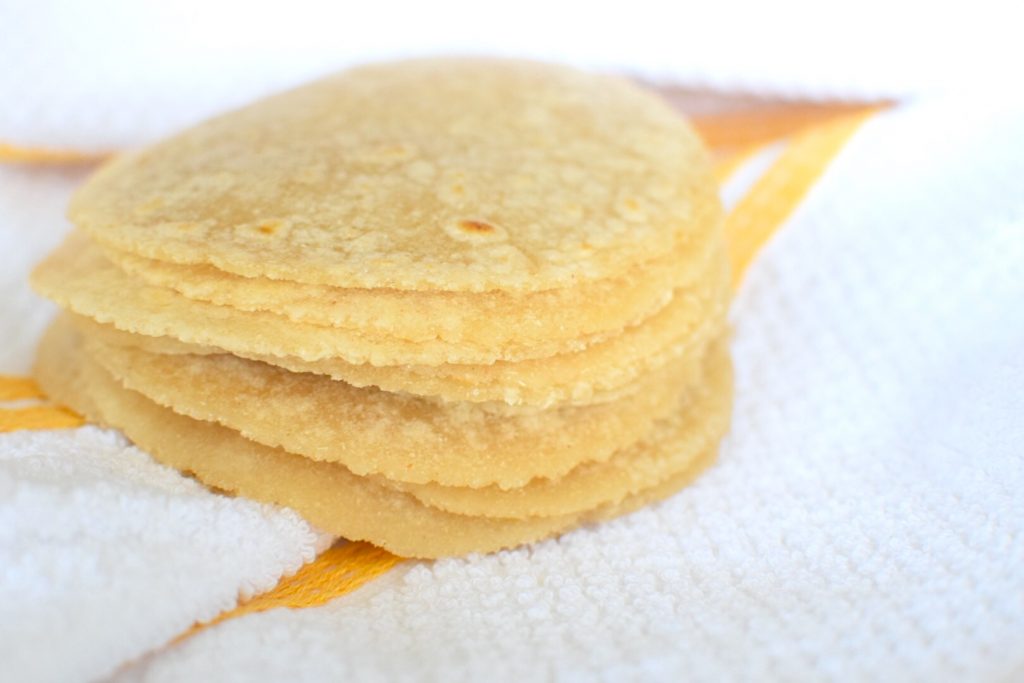 If you've recently gone Vegan or Gluten-Free, be sure to check out our Vegan and Gluten-Free Meal Plan. One weeks worth of menu planning complete with recipes and grocery lists!