This Mixed Veggie Frittata is super healthy, protein packed and fits a Candida Diet.

Delicious enjoyed on its own, but even yummier paired with an arugula salad or kale sauté.  Easy to prepare and the perfect way to use up that loose produce in the fridge.  This Frittata fits a Paleo, Gluten-Free and Candida Diet!  Go get your Cast Iron Skillet, and let's get cooking!!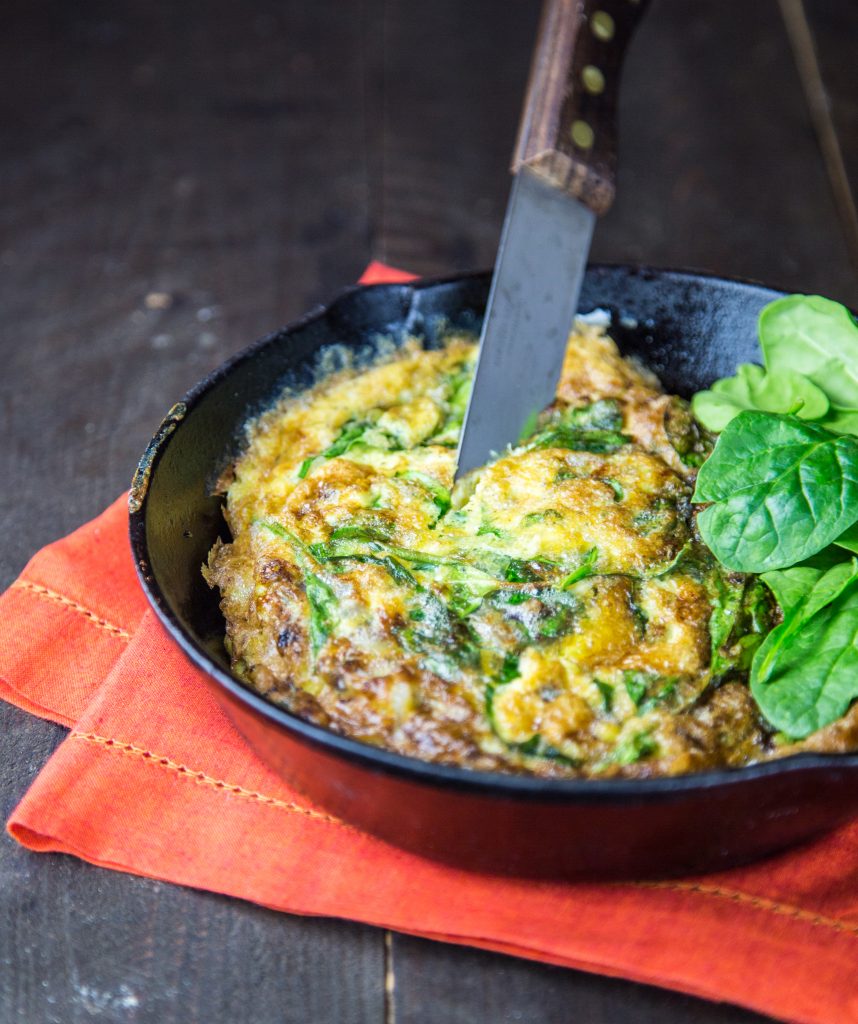 Perfect for leftovers
Like so many great culinary dishes, the Frittata originates from Italy.  However, it has been very difficult to pin down an actual written recipe for this breakfast/lunch/dinner delight. The accepted belief as to why that is, is due to the fact that a Frittata is incredibly common and basic and besides eggs, it can house a multitude of additional ingredients.  Everything from potatoes, zucchini, tomatoes and asparagus all taste great in a frittata. Traditional Italian mamas (or so believed) used Frittatas as a way to get rid of leftovers in the kitchen.  Whatever ingredients they had, they threw into the frittata. Therefore, it's assumed that there has been no real need for a written recipe.  I encourage you to "repurpose" your unwanted veggie leftovers into your own frittata.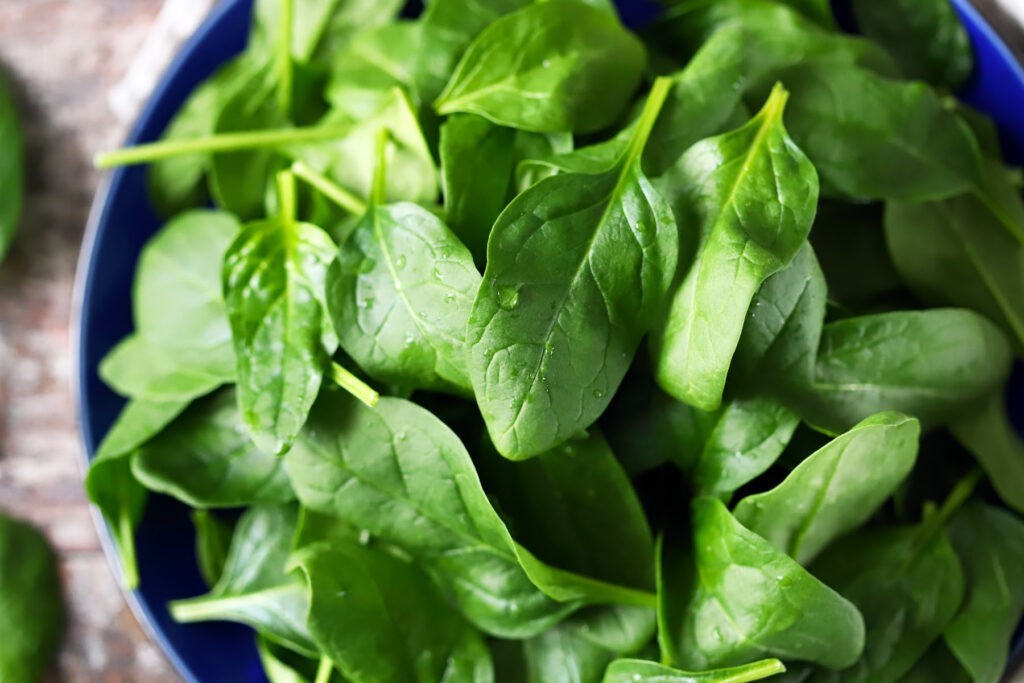 This frittata recipe uses only a few, but powerful, ingredients and totally fits a Candida Diet. Onions and garlic are a great source of antioxidants and also an easy way to add big flavor to eggs.
Candida Diet Breakfast
For those following a candida diet, breakfast can be a challenge. I personally remember being stumped as to what to eat, even as a trained chef. This becomes even more stressful for those who have limited time in the morning or who have to eat on the go. Something I love so much about frittatas is how well they hold up in the fridge. When stored in an airtight container, these will last 3 – 4 days. I regularly make these for my personal chef clients as a breakfast or dinner. To reheat, simply place a slice in a toaster oven for about 5 minutes or pop it in the microwave if absolutely necessary.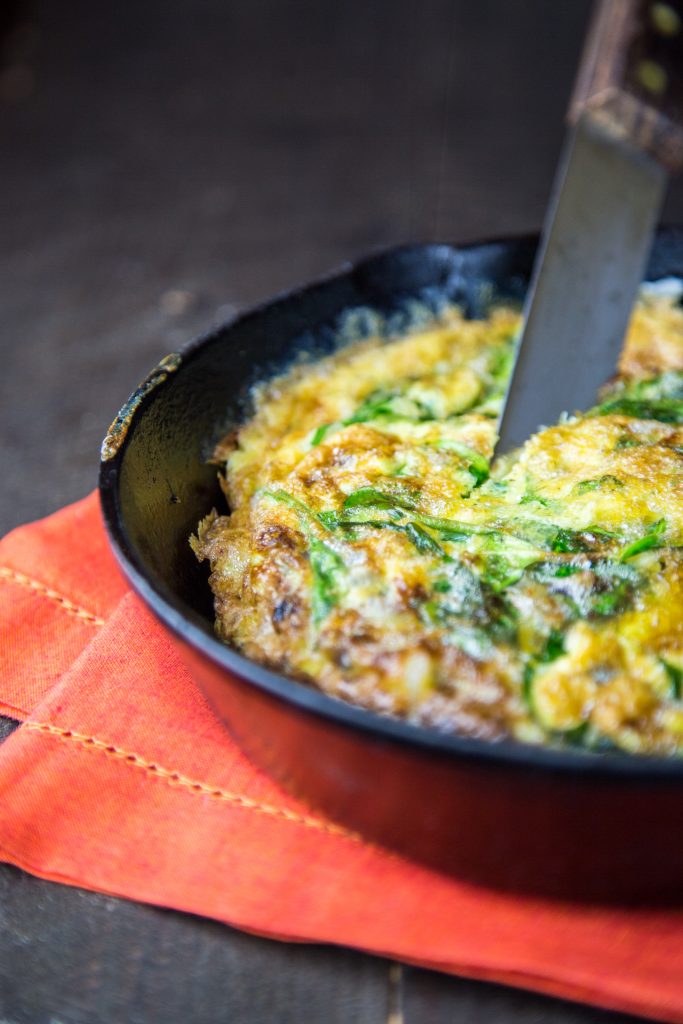 And just some more food for thought:
Proteins, including eggs, are best digested when combined with non starchy vegetables, such as leafy greens. This crustless breakfast classic, full of eggs, veggies, and leafy green spinach, fits Paleo and candida diets and fulfills proper food combining techniques.  So long, laxatives!
For this recipe I used a 12-inch Cast Iron Skillet. Now let's get cooking!
Mixed Veggie Frittata Recipe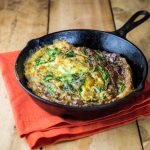 Mixed Veggie Frittata
Paleo | Anti-Candida | Gluten-Free
Ingredients
6

– 7 organic

free range eggs

2

Tablespoons

water or non-dairy milk

Olive oil or butter for sautéing

1/2

medium red onion

diced

3

cloves

fresh garlic

peeled and minced

1/2

teaspoon

sea salt

1

cup

fresh spinach

2

green onions

white and green parts, finely minced

pinch

black pepper
Instructions
Preheat oven to broil setting.

Whisk eggs and water or non-dairy milk and set aside.

Heat a well seasoned 12 inch cast iron skillet with butter or olive oil over medium heat. Add red onion, garlic, and sea salt and sauté for a couple of minutes, making sure the garlic does not burn. Next add the fresh spinach and give a quick stir. Pour egg mixture into the pan and stir one more time. Sprinkle with fresh green onions and a pinch of black pepper.

Cook for about 4 – 5 minutes, or until the egg mixture starts to set on the bottom. Using an oven glove, remove the skillet from the burner and place in the broiler for about 4 – 5 minutes more, or until lightly browned and fluffy.

Let this cool for a couple minutes before slicing.

Enjoy warm with a side of salsa!
For more recipes that fit a candida diet, you might like my cookbook Everyday Recipes for Your Candida Diet. Available in Paperback and Digital.