Creamy Carrot and Ginger Soup, a healthy, vegan soup that's quick and easy to prepare yet insanely delicious!
Where it all began
I have to start by saying that I wasn't actually a soup fan until I went to culinary school.  Growing up soup was something that came in a can or a box like Campbell's, Cup Noodles or Ramen Noodle Soup. Luckily all that all changed in culinary school where I learned how to make healthy, delicious, homemade soup that used minimal ingredients and was so satisfying and delicious!
The soup recipe I'm sharing with you today is a personal-chef client favorite.  This  soup would get requested on a weekly basis.  And as you'll see, I use simple ingredients that come together in perfect harmony.  Carrots, yellow onion, ginger and coconut milk make this delicious, plant-based soup that's filling, satisfying, slightly sweet and SO delicious!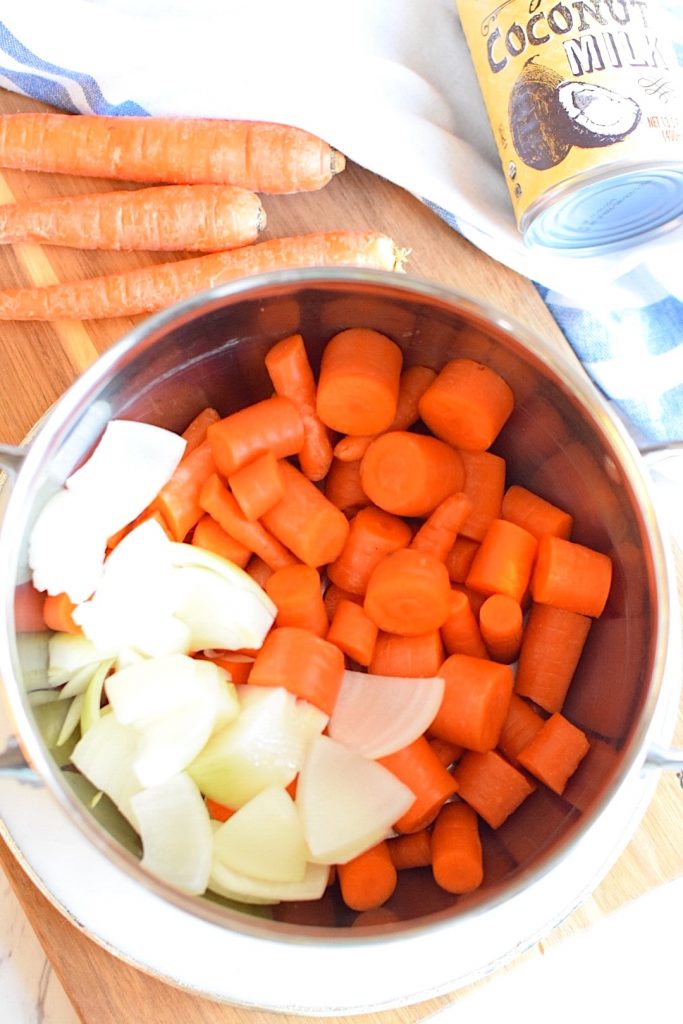 Pro Tips:
I've found a couple things are key to making this soup fantastic:
Tip No. 1:  Be cautious that you're not adding too much liquid. Only add enough filtered water to just cover the carrots as shown below. This will ensure a rich, thick and satisfying soup.
Tip No. 2: Make sure to blend the soup long enough to get it velvety smooth. If you have a Vitamix, getting a smooth texture won't take long, maybe 1 solid minute or so. If you don't have a high-powered blender like a Vitamix don't worry, you'll still be able to create a delicious soup it will just take a little more patience and time.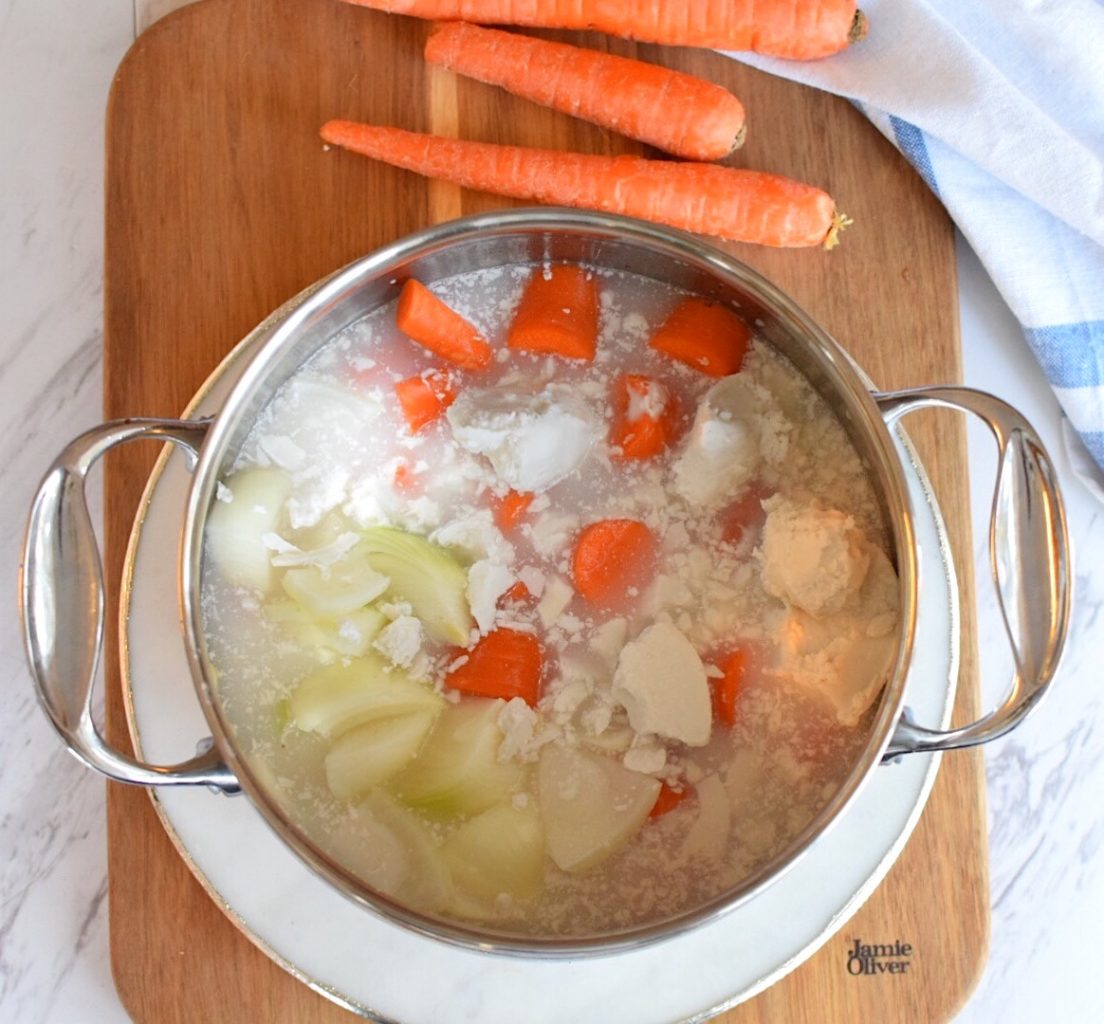 Now let's talk briefly about ginger…
Originally grown in China, Ginger is one of the healthiest spices around.  This moist root stem contains aromatic oils like gingerol (very creative name) that is responsible for a number of health benefits.  Its anti-inflammatory properties are most notable.  Consumption of ginger helps in diminishing joint pain, relief from muscle soreness after a workout, and relief from other inflammatory diseases, like gingivitis.  This mighty root can also help symptoms such as indigestion, nausea, and irritable bowel syndrome (IBS).
Ginger seems to be especially kind to woman, as it helps alleviate pain during menstrual cramps and morning sickness during pregnancy.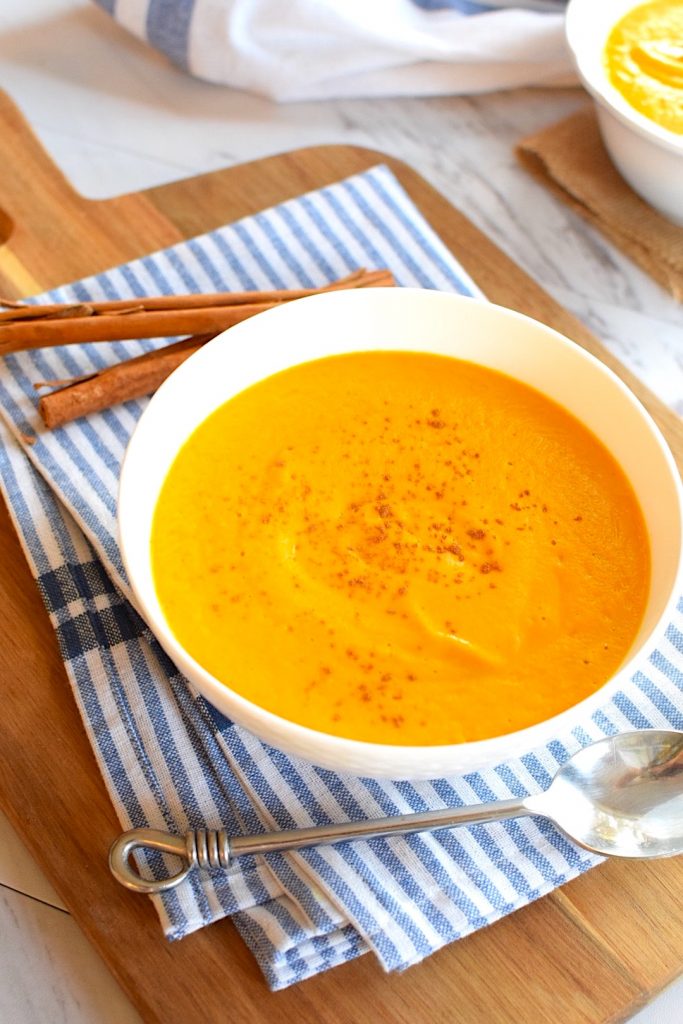 Simple yet delicious
For a cold, winter's day, I've combined ginger with carrots to make this slightly sweet soup. By using coconut milk instead of dairy, we add the properties of heart-healthy saturated fatty acids from coconuts, plus make vegans happy everywhere!
This delicious Creamy Carrot and Ginger Soup fits the following diets:
Vegan
Gluten-Free
Paleo
Anti-Candida
I hope you enjoy this soup as much as me and my clients do.  And if you aren't yet a soup person, I hope this recipe converts you.
Enjoy! ❤️
Creamy Carrot, Ginger Soup Recipe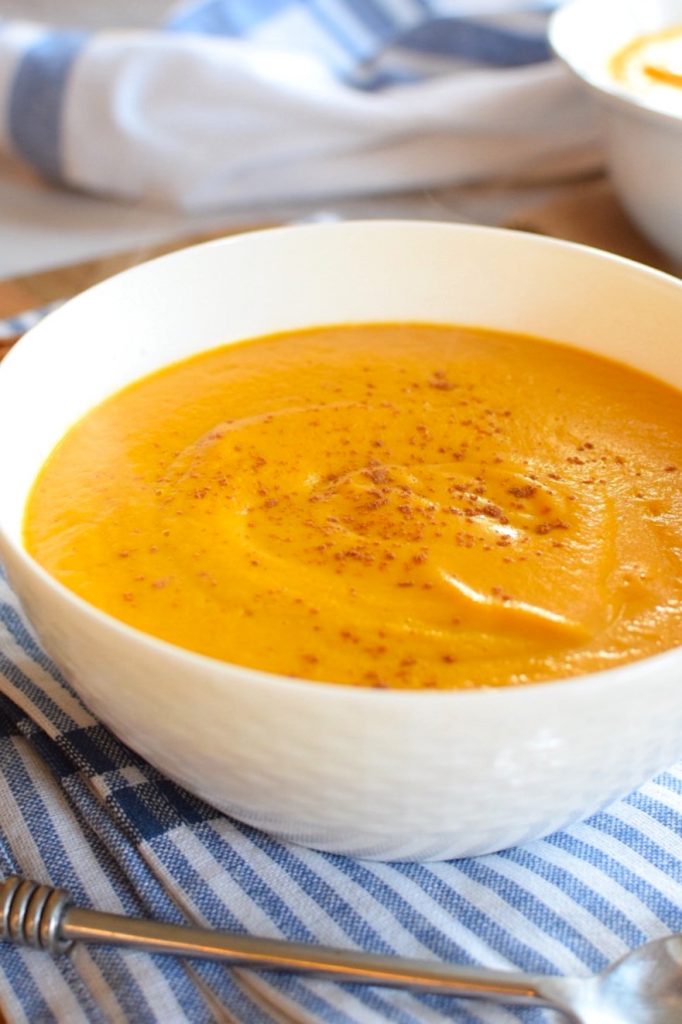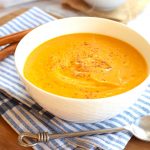 Creamy Carrot, Ginger Soup
Vegan | Gluten-Free | Anti-Candida | Paleo
Ingredients
6-8

medium sized organic carrots

1 pound, chopped*

1

yellow onion

diced

1 - 2

inch

piece of ginger

peeled and diced

1

14 ounce can of full fat or light coconut milk

Filtered water

Sea salt

1

teaspoon

ground cinnamon

or more if you love cinnamon
Instructions
Place carrots, onion, ginger, and coconut milk into a medium to large saucepan and add just enough filtered water to cover the vegetables.  Add a pinch of sea salt and bring to a boil and then reduce heat to low. Cover and simmer until vegetables are soft, about 15 minutes.

Transfer to a blender. Add ground cinnamon and blend until smooth and creamy. Season to taste.
Recipe Notes
*No need to peel carrots if they are organic. If not, peel carrots first.
**During certain seasons, such as Spring and Fall, carrots are their sweetest and this recipe will work best.  If you're making this soup out of season, you may want to add 1 - 2 teaspoons of sweetener of choice.