A rich and creamy turmeric latte recipe that's both dairy and sugar free to fit a Candida Diet. This super healthy latte makes a great snack or after-dinner dessert.
Golden Turmeric Milk Latte
Hmmm…I spy something yellow.  Something bright yellow!  Something bright yellow that's super beneficial and flavorful.   Have you guessed it yet?  It's turmeric!  (I know, I know, for the longest time I thought it was t-u-m-e-r-i-c, too.  It's not.  There's an extra "r" in there.)  Anyway, the people of India, along with other Asian countries, have been using this radioactive yellow spice for centuries.  Remember when Christopher Columbus set off to find India across the Atlantic Ocean in order to establish a more direct trade route?  Yah, he must have had a serious hunkering for some turmeric to risk his life on proving that the earth was indeed round!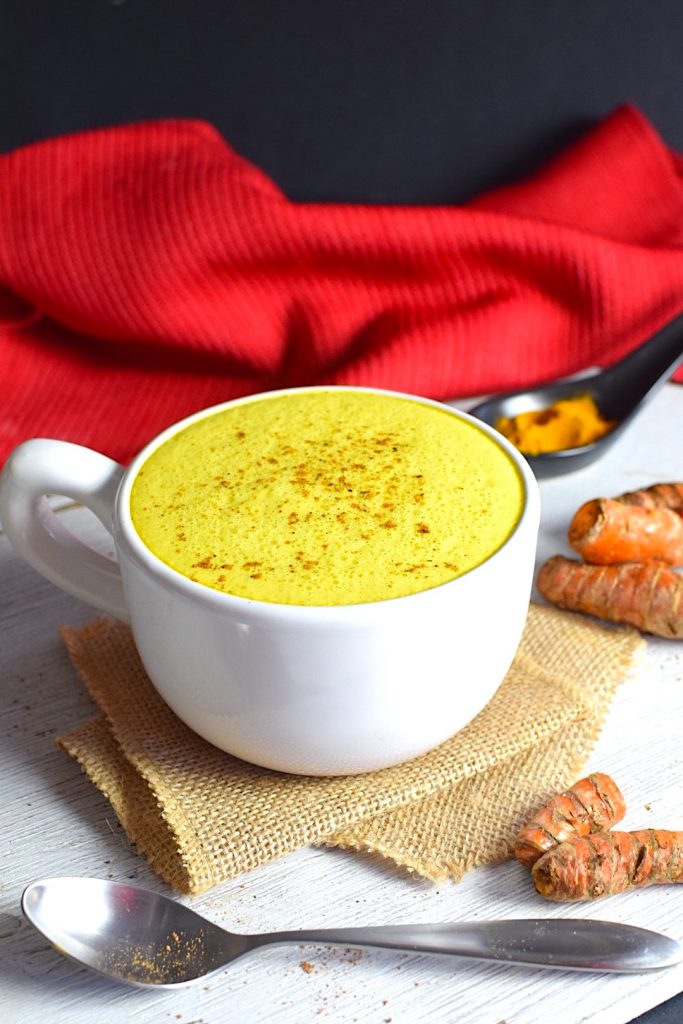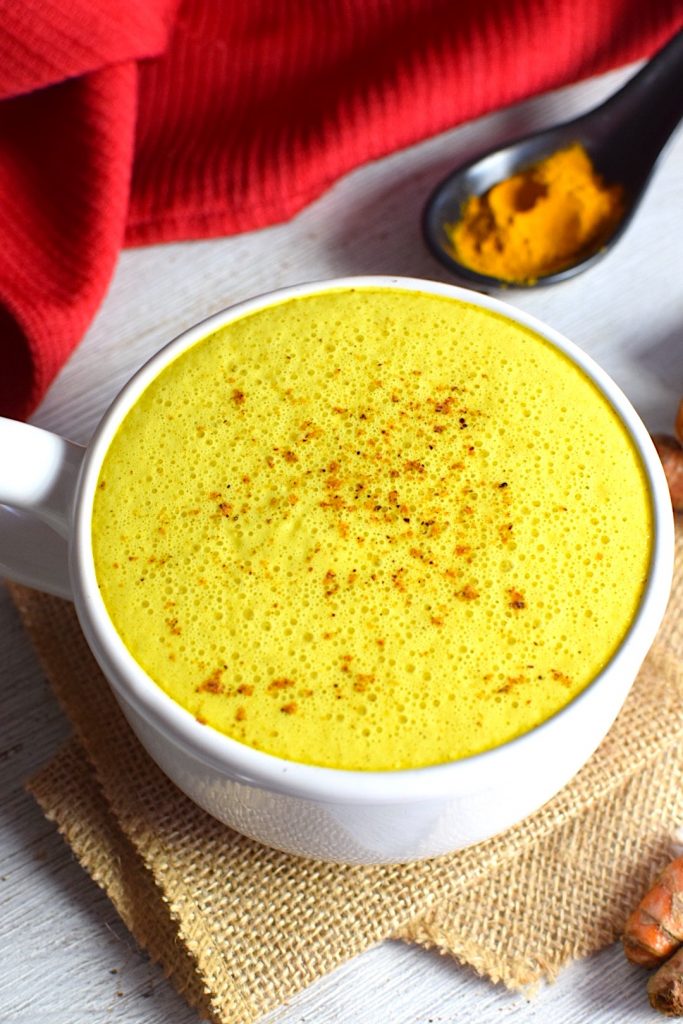 Health Benefits
Today, science can back up what people across the globe noticed for many years when they consumed turmeric….that it's awesome!  There are soooo many health benefits to turmeric; I don't have enough space or time to write them all down.  In fact, some nutritionists, doctors, and overall health nuts list turmeric as the most beneficial thing you could digest!  You read that right, the MOST beneficial food you could digest!!  (Turmeric would have totally been voted "Most Popular" its senior year of high school).
I'll just mention 2 of turmeric's amazing perks!
Turmeric has properties which help fight depression, and
It also has powerful anti-inflammatory and antioxidant properties.
Turmeric's main component, curcumin, which gives it that bright yellow hue, is responsible for so many benefits to the human body, including its ability to counter depression.  A 2014 study concluded that subjects suffering from Major Depressive Disorder who were given curcumin had the same positive results as another group of subjects given Prozac.  Quite hopeful results, huh?!?  Another incredible asset of curcumin is its anti-inflammatory and antioxidant properties.  It's becoming increasingly accepted throughout the medical world that chronic inflammation in the body creates the perfect climate for cancer, heart disease, arthritis, Alzheimer's, and other diseases and degenerative conditions to thrive in.  So adding foods, herbs, and spices into your diet that fight inflammation, like turmeric, helps fortify yourself against chronic inflammation.
For these reasons and so many others Golden Turmeric Milk is so great this wintery time of year.  As we fight off colds and flu bugs and flock indoors to warm up inside, this festive drink is not only delectable-looking on the outside because of it's bright and attractive color, it also does wonders for your insides too 🙂
Enjoy!
—
If you like dairy-free latte recipes, you may also enjoy our Vegan Maple Matcha Latte Recipe, our Candida Diet Yerba Matte Latte, or our Healthy Chocolate Salted Latte.
Golden Turmeric Milk Latte Recipe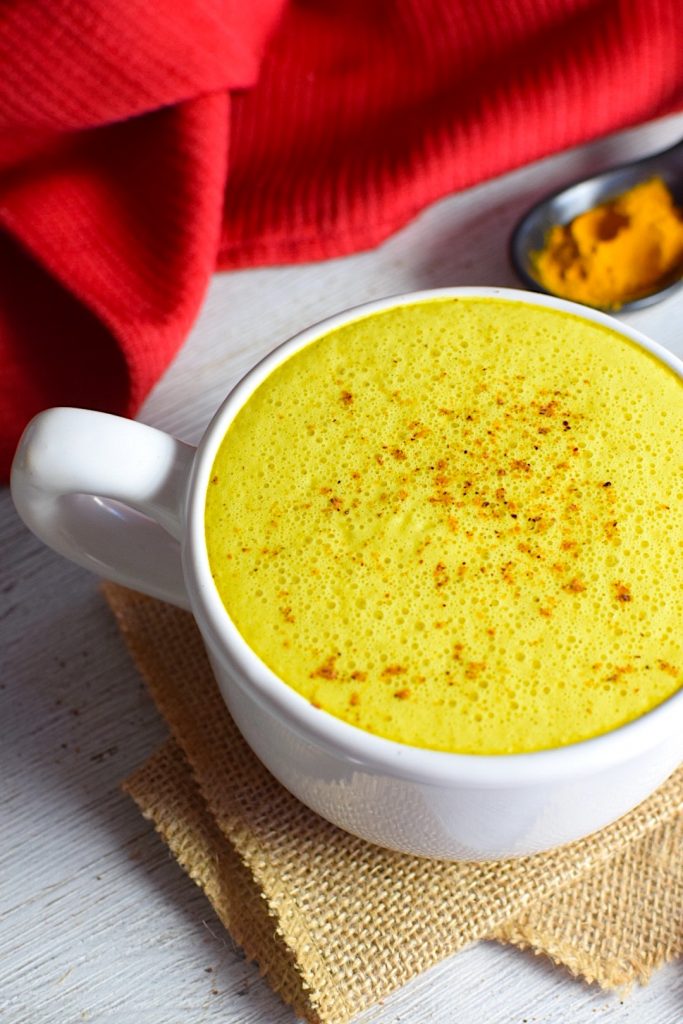 Sugar Free Turmeric Latte Recipe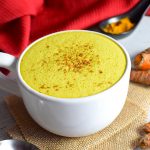 Sugar Free Turmeric Latte
Anti-Candida | Vegan Option
Servings
2
small servings
Ingredients
1

13.5 ounce can full fat coconut milk, about 1 and ¾ cups

3/4

teaspoon

ground ginger OR 1 inch piece fresh ginger

minced

3/4

teaspoon

ground turmeric OR 1 inch piece of fresh turmeric

minced

1/4

teaspoon

ground cinnamon

1

teaspoon

grass-fed butter or coconut oil for vegan option

1

teaspoon

xylitol*

Pinch

nutmeg

Pinch

sea salt

6 - 10

drops liquid stevia
Instructions
If using fresh ginger and turmeric, wash and cut into small pieces. Place milk, fresh or dried turmeric and ginger, and ground cinnamon into a small saucepan and bring to a boil over medium-high heat. Whisk to combine, reduce heat to low, and simmer for about 5 – 10 minutes. Remove from heat and strain through a fine mesh strainer if you are using fresh turmeric and ginger.

Pour strained liquid into a blender with the remaining ingredients. Blend until fully combined and frothy. Enjoy warm.

Store leftover milk in a mason jar with a fitted lid and store in the fridge for 4 – 5 days.
Recipe Notes
*Can substitute coconut sugar if Candida is not an issue.
**Enjoy through a straw since turmeric will stain your teeth!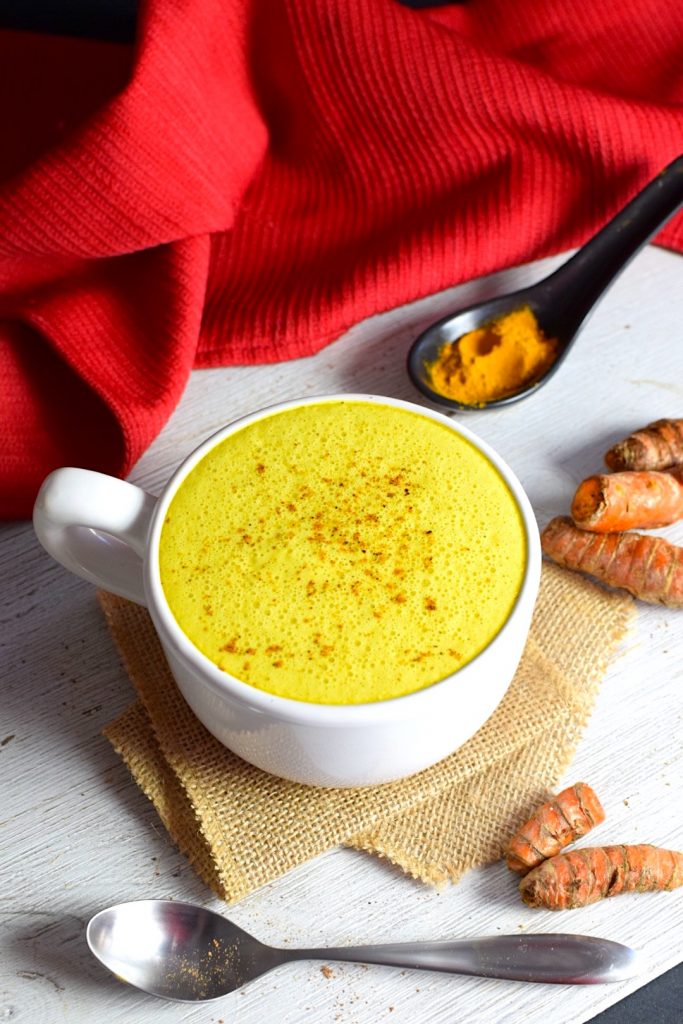 For more delicious Candida Diet Recipes, be sure to check out our Digital Cookbook Everyday Recipes for Your Candida Diet.