A healthy and delicious Vegan Maple Matcha latte that's not only beautiful but full of amazing health benefits!
Are you familiar with Matcha?  I wasn't until just recently.  Normally, a coffee snob, I didn't really have time or a desire for Matcha.  That was until I had my first Matcha Tea Latte at a Coffee Shop. It was creamy, soft, beautifully green and absolutely delicious!  I had to recreate it in my kitchen, which I did, and once I started learning about all it's amazing health benefits, I was hooked!!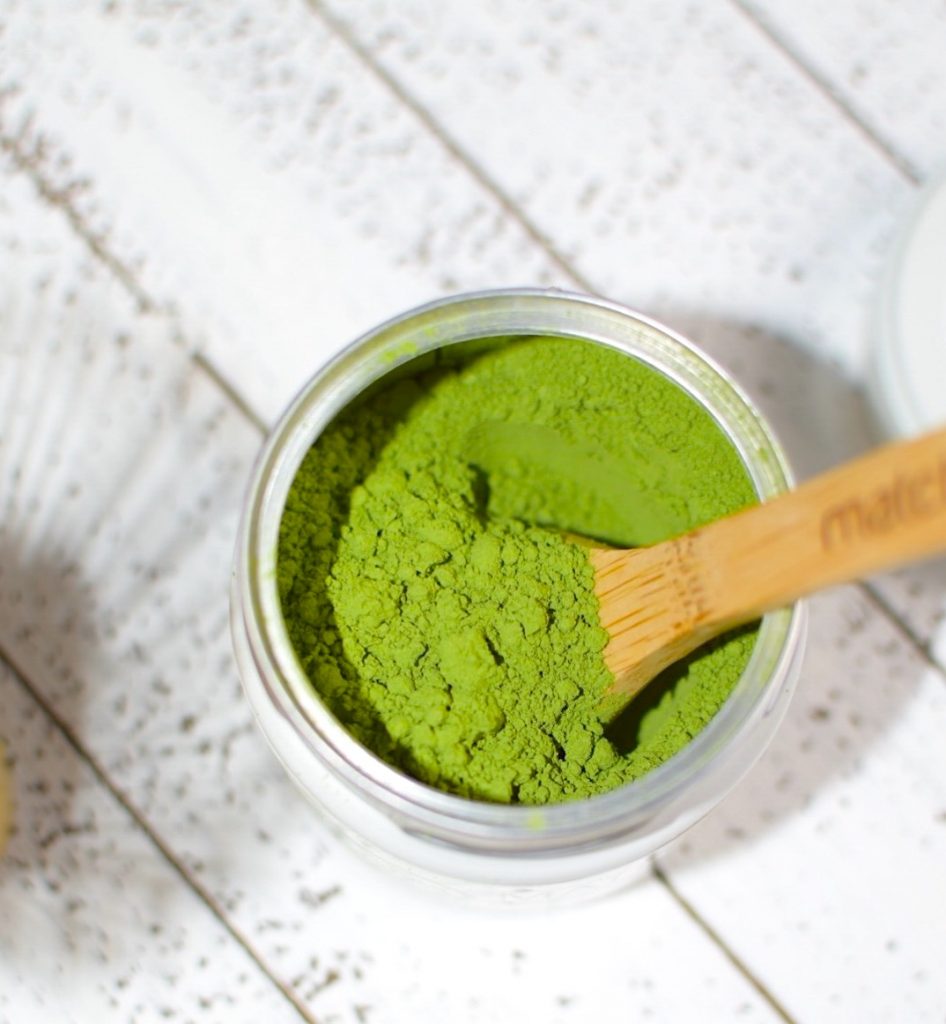 Picking the right Matcha Powder
It's important to point out that not all Matcha is created equal!  Just like any other food or supplement, it depends on where it grows and if it comes from a trustworthy source.  Best quality Matcha is grown in Japan, so look for that on your container.  Also, the color should be a bright beautiful green, which shows that it was harvested properly.
My most recent purchase of Matcha was from a company called Aiya, which I conveniently purchased with my produce order from the grocery delivery service Milk and Eggs. If you live in Los Angeles or Orange County, Milk and Egg's service is easy, affordable, supports local farms and you can purchase great products like Matcha!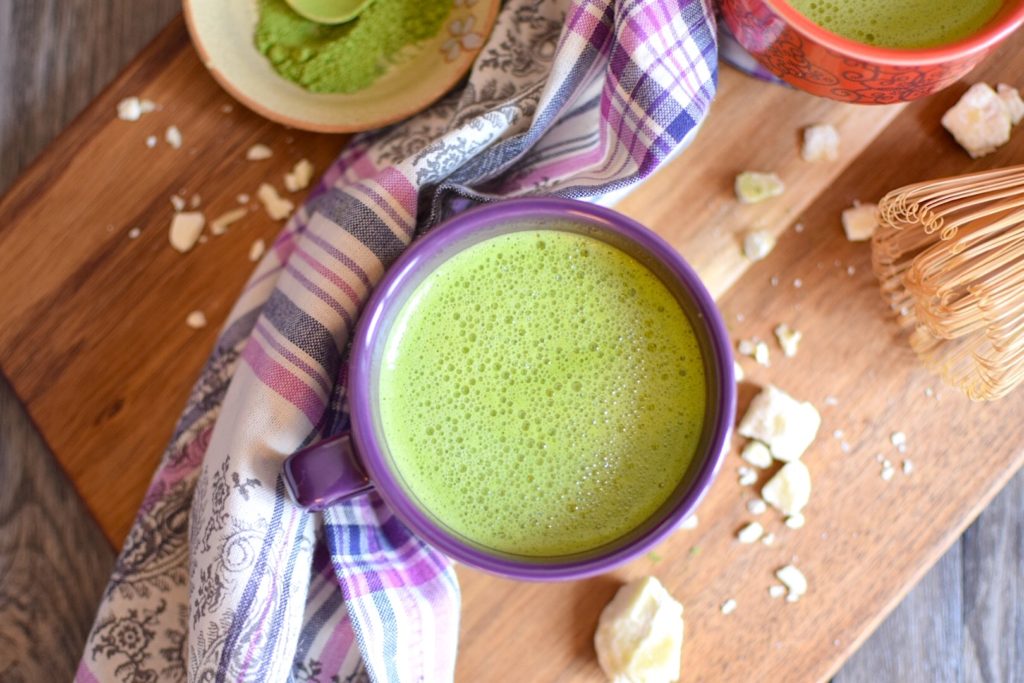 Matcha is a POWERHOUSE!
Correctly harvested, Matcha is high in Antioxidants, Chlorophyll (that's why it has that beautiful, green color), and L-Theanine.  L-theanine is an amino acid that's thought to induce calming effects while also improving alterness. For this reason, matcha is also known as a mood and mind enhancer, making it ideal for yoga, meditation or a QiGong practice.

Back to the Matcha Latte Recipe
As you'll see, this recipe is pretty basic but with some key ingredients.  Coconut milk, to keep it vegan, cacao butter gives it a rich, chocolate-scented depth and a combination of liquid stevia and maple syrup to keep sugar content down and give it the perfect level sweetness.
After playing around quite a bit, I've found that I like a blend of filtered water and organic, full-fat coconut milk best.  But feel free to experiment with other non-dairy milks.
Specialty Ingredients and Utensils recommended for this recipe:
Enjoy!
Vegan Maple Matcha Latte Recipe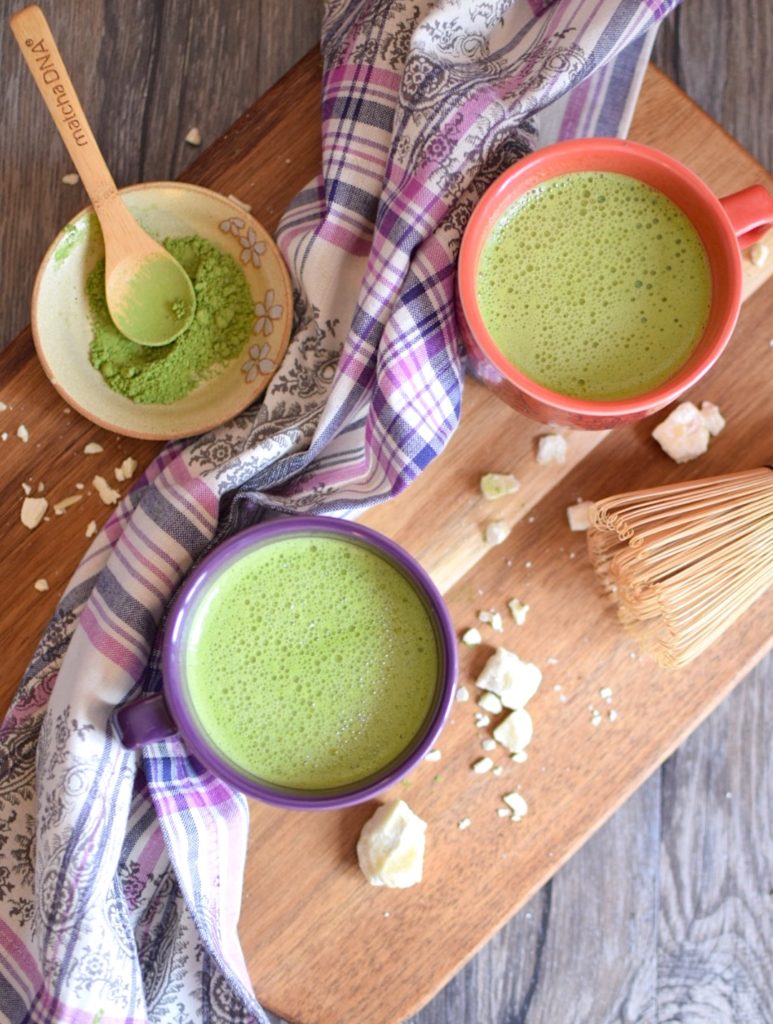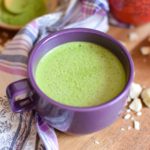 Vegan Maple Matcha Latte
Vegan | Gluten-Free | Naturally sweetened
Ingredients
1

teaspoon

good quality matcha green tea powder

1

cup

full fat or light coconut milk*

1/2

cup

filtered water

4 - 5

drops

organic liquid stevia**

1

Tablespoon

pure maple syrup

1

Tablespoon

raw cacao butter or coconut oil

(optional)
Instructions
If using a Bamboo whisk:
Add matcha powder to your favorite mug.

Place coconut milk, filtered water, stevia, maple syrup and cacao butter or coconut oil (if using) in a small saucepan and heat over low heat.

When the coconut milk mixture has warmed slightly, add about 3 Tablespoons of liquid to your mug and using your bamboo whisk, whisk to remove any lumps.

Continue to heat the remaing liquid to almost boiling. Add to a blender and blend until frothy. Pour into the same mug with the matcha mixture and enjoy!
If not using a Bamboo whisk:
Place coconut milk, filtered water, stevia, maple syrup and cacao butter or coconut oil (if using) in a small saucepan and heat over low heat until almost boiling. Add to a blender with matcha powder and blend until frothy.

Savor and enjoy!
Recipe Notes
*I like canned coconut milk since it is rich and creamy, but you can  carton coconut milk instead.  I do NOT recommend Trader Joes canned coconut milk for this.
**I used a combination of maple syrup and liquid stevia to reduce the overall sugar content, but if you do not like stevia you can double the maple syrup or vice versa.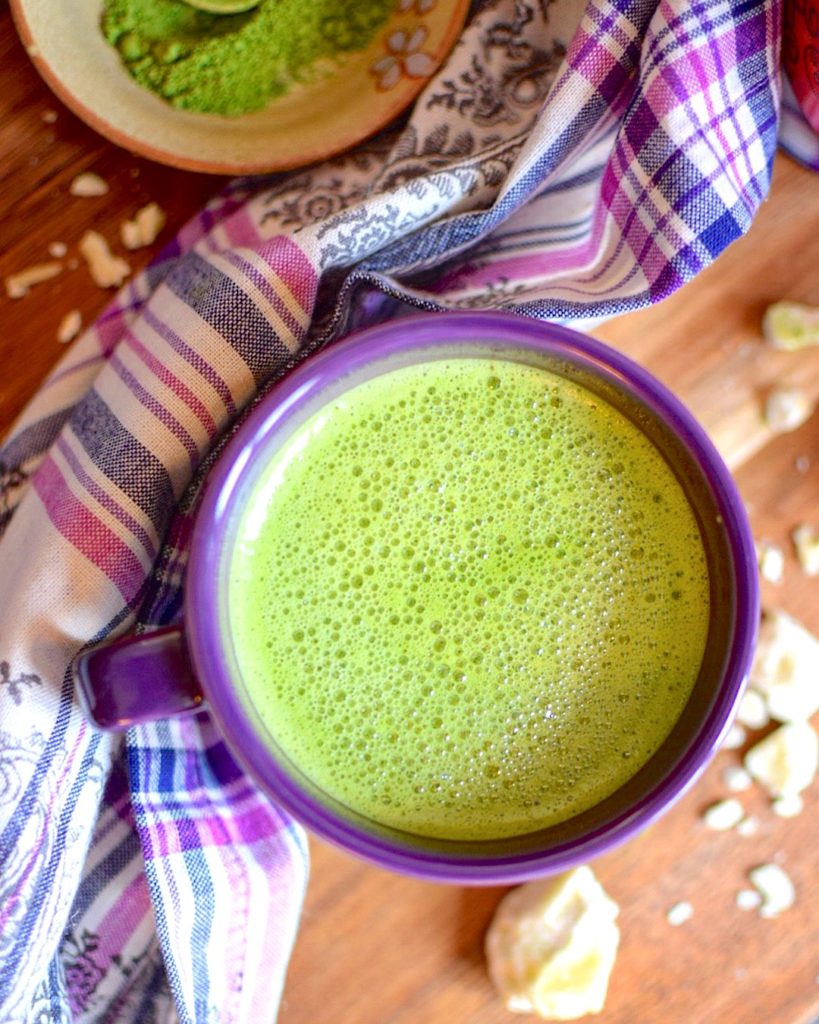 ___
Need some help navigating your health and wellness?
Check out my HEALTH COACHING

SERVICES.

  Book your FREE complimentary 30 minute session

HERE

!