An Interesting, healthy spin on a latte that's dairy-free, sugar free and made in the blender!
Coffee is so good first thing in the morning, but also after a meal, at a sunset, or keeping you warm (and attentive) while reading a good book. Here's my all time favorite way to prepare my morning cup of Joe!  Healthy Chocolate Salted Latte 🙂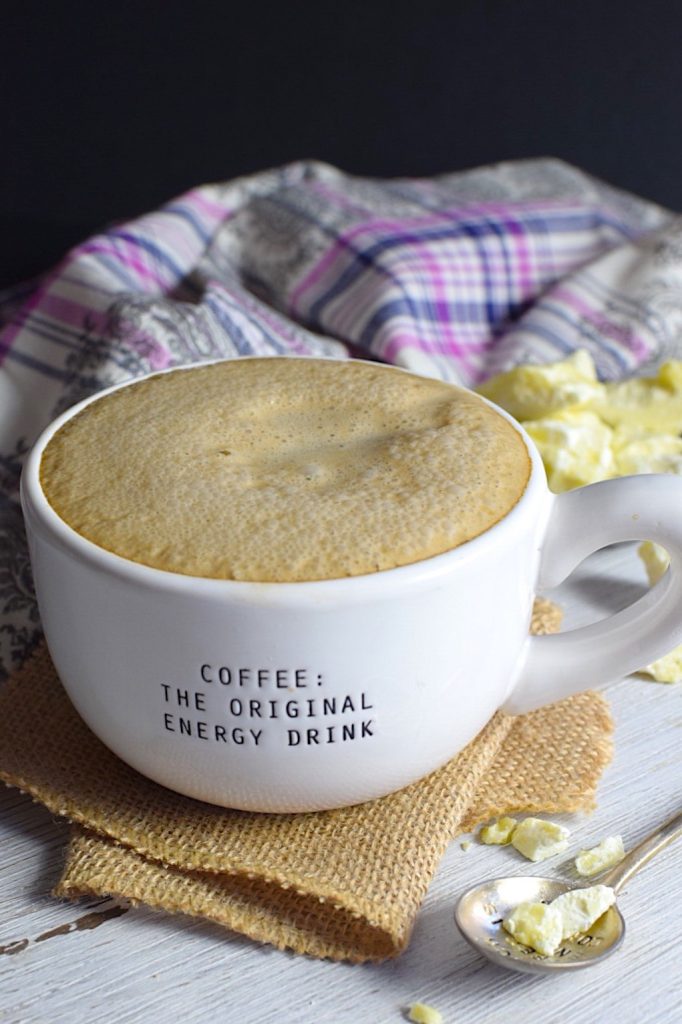 Decadent and Satisfying
I absolutely love this recipe.  Flavor wise it's rich, decadent and oh so satisfying. I also love how this recipe makes me feel.  The fat from the cocoa butter keeps me satiated and balances out any caffeine buzz.  This preparation is my personal spin on Bullet Proof Coffee. If you practice intermittent fasting, this is the perfect drink to tide you over.
Intermittent fasting
Intermittent Fasting is basically not eating for about 10 – 16 hours, typically from after dinner until late morning the next day.  It's a great way to give your digestive system a rest on a daily basis.  It helps reduce blood sugar levels, enhances hormone function, increases metabolism and is good for your brain! Studies have actually shown that Intermittent fasting may decrease the risk of Alzheimer's Disease.
For me, I'll typically eat dinner around 6 or 7 p.m. and won't eat again until around 12 noon the next day.  I'm not extremely rigid with this practice. Some mornings I'm more hungry than others, so I eat earlier. I'd say on average I practice intermittent fasting about 4 – 5 times a week.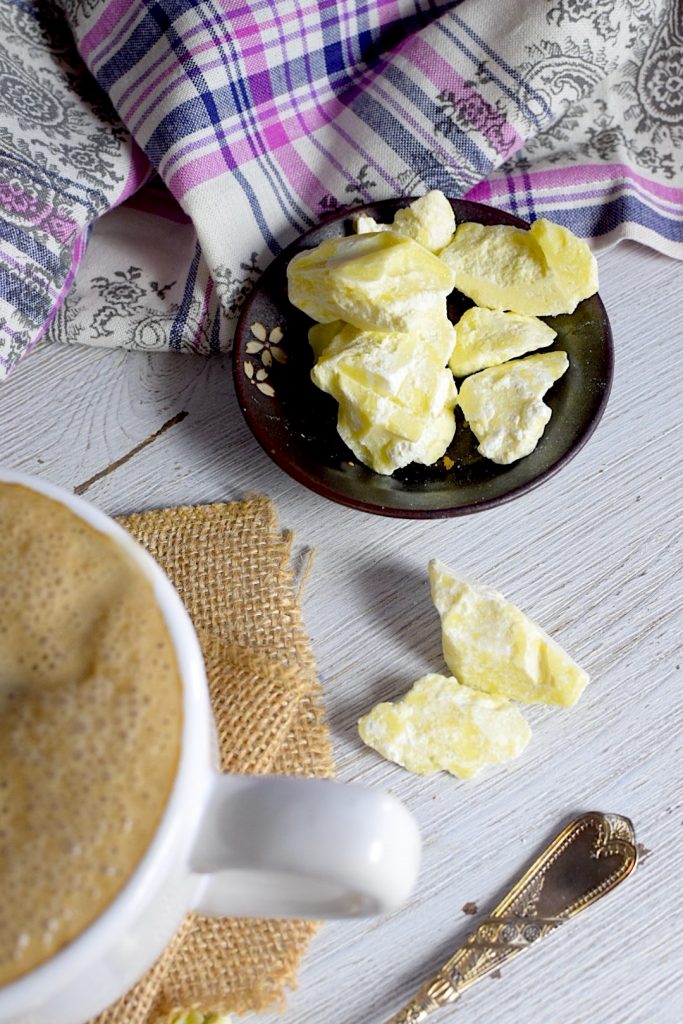 About the Cacao Butter
Now, onto the Cacao Butter.   Cacao is said to be the purest form of chocolate, less processed than cocoa powder, or the straight chocolate found in bars or candies. Cacao offers a variety of health benefits, besides being very yummy. Cacao is very high in magnesium, and is known carry the highest level of antioxidants than other types of food, and has other nutritious benefits. Cacao butter comes from the fattiest part of the fruit, and is white in color. Overall its buttery texture both tastes and looks like white chocolate. You can stir either cacao or cocoa into coffee, but I prefer this Chocolate Salted Latte recipe for a rich, dreamy flavor – which I know you'll appreciate! My favorite brand of Cacao Butter is The Raw Food World and you can buy it on Amazon HERE.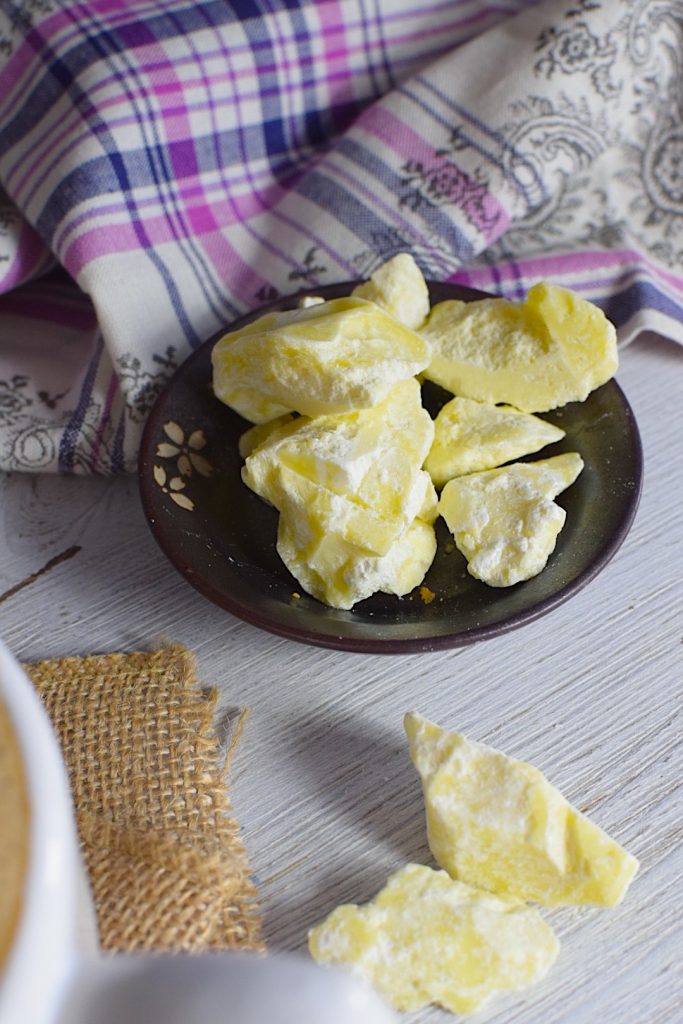 Healthy Chocolate Salted Latte

Specialty Ingredients: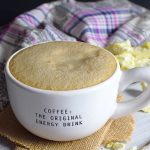 Healthy Chocolate Salted Latte
No Espresso Machine Needed
Vegan | Gluten-Free | Healthy
Ingredients
1 - 2

cups

brewed coffee 

I always choose organic

1

cup

non-dairy milk

I like Trader Joe's unsweetened vanilla almond milk

1

generous pinch pink Hyamilian sea salt

I like Wild Himalayan Pink Salt

4 - 5

drops liquid stevia

1

heaping Tablespoon raw cacao butter

I like The Raw Food World
Instructions
Brew your coffee as usual.  I have a french press, but a drip machine will work well too.

In the meantime, warm 1 cup of non-dairy milk with the cacao butter, sea salt and stevia in a small saucepan over low heat until just about boiling.  This should take no longer than 1 minute.

Once the coffee has finished brewing, add coffee (about 1 - 2 cups) with the warm milk mixture into a blender.  Blend starting on a low speed working up to high for about 5 - 10 seconds, or until nice and frothy.

Pour back into your coffee mug and savor!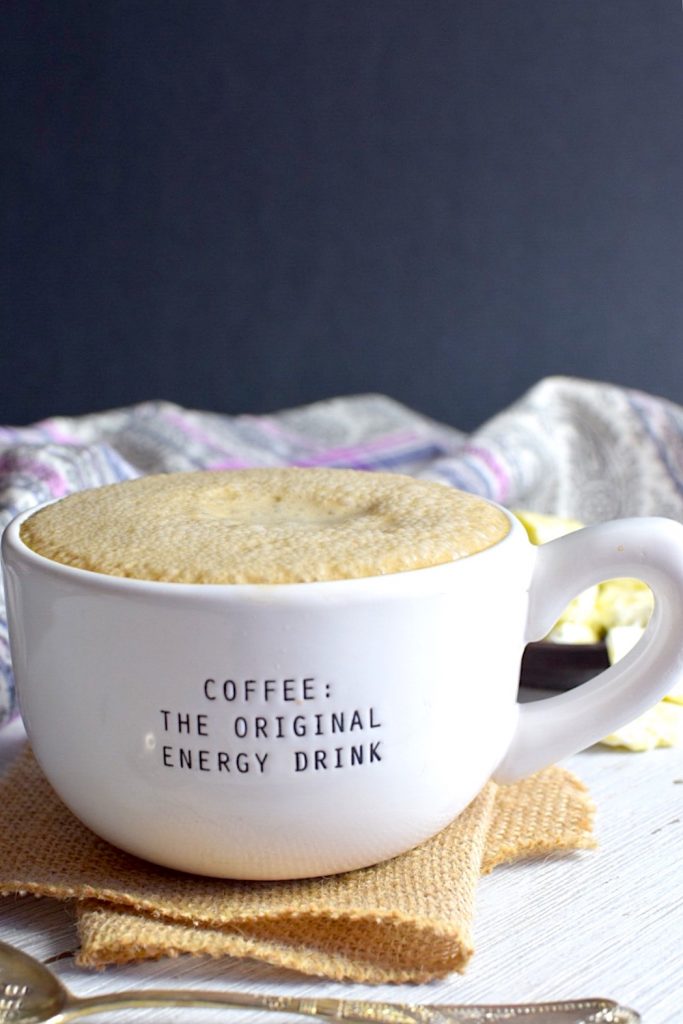 Think you might have Candida and need some help navigating the diet?
Check Out My HEALTH COACHING SERVICES. Sign Up For Your FREE  Complimentary 30-Minute Session By Clicking HERE Today!