A creamy and crunchy hummus recipe that's actually a dessert!  Tastes like edible cookie dough that's high in protein and oh so satisfying! Say hello to Chocolate Chip Cookie Dough Hummus!
It's dessert…it's hummus…it's DESSERT Hummus!
Have you seen dessert hummus yet?  It's quickly becoming the new trend. Just look around Whole Foods or another similar health food store and you'll most likely find many different flavors.  Dessert hummus is basically the base of a traditional hummus, with a slightly sweeter spin. In this recipe we're making Cookie Dough. Sound good?!
What's not to love
Hummus on it's own is an incredibly healthy snack. Garbanzo beans (also known as chickpeas), which are high in protein, fiber, iron and zinc, get mixed with fresh garlic, olive oil, lemon juice and spices. It's a delicious and nutritious snack to dip fresh vegetables, pita bread or chips into.
In this sweeter version, we omit the savory stuff and add nut butter, natural sweetener, cinnamon and vegan chocolate chips!
Mix it all together for your inner child's dream come true; raw cookie dough that you can EAT!
Quick and Easy to Prepare
What I love most about this recipe is how quick and easy it is to make.  All you need is a food processor and 5 minutes.  Just toss everything into the food processor, process and enjoy! Really, it's that simple 🙂
How to Enjoy
Dessert hummus can be enjoyed with apple or pear slices, graham crackers or with a SPOON! Get your kids in the kitchen and whip up a batch. I promise it's going to be a family favorite!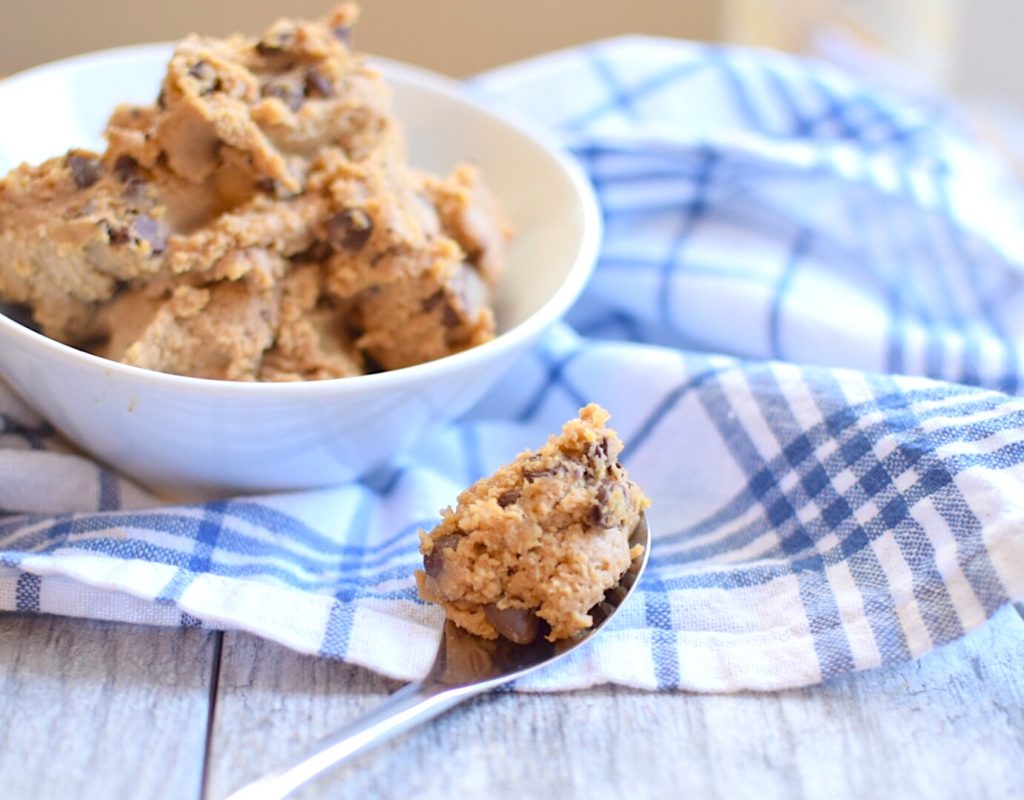 This recipe is:
Vegan
Gluten-Free
Grain-Free
Dairy-Free
Soy-Free
Specialty Equipment and Ingredients: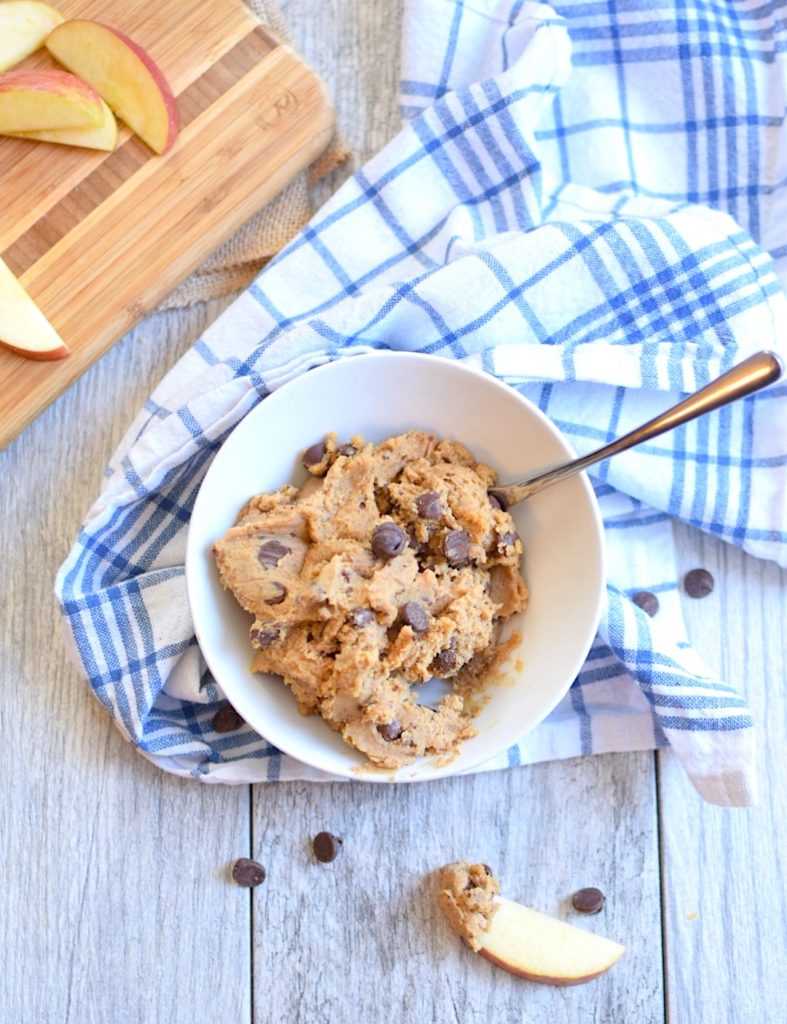 Chocolate Chip Cookie Dough Hummus Recipe
Chocolate Chip Cookie Dough Hummus
Vegan | Gluten-Free | Refined Sugar-Free
Ingredients
1

15 ounce can garbanzo beans, rinsed and drained

1/2

cup

all natural

unsalted cashew or peanut butter

1/3

cup

pure maple syrup or agave

1/2

teaspoon

ground cinnamon

1/4

teaspoon

sea salt

1/3

cup

vegan chocolate chips

I like Enjoy Life Brand
Instructions
Start by placing the garbanzo beans, cashew or peanut butter, maple syrup, cinnamon and sea salt into a food processor. Process until smooth, creamy and well combined.

Add the chocolate chips and pulse again to incorporate throughout.

Enjoy with a spoon, apple slices or graham crackers!
Recipe Notes
Leftover Dessert Hummus can be stored in an sealed, airtight container in the fridge for up to 1 week.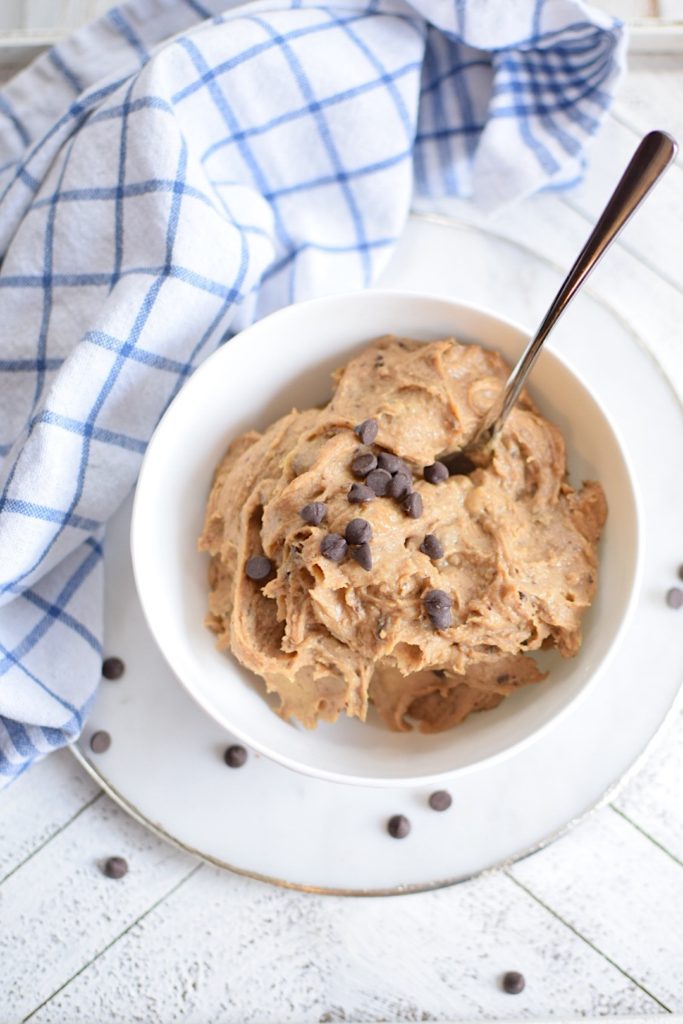 If you liked this recipe, you might also like our Vegan Chocolate Pudding Recipe or our Vegan Strawberries and Cream Parfait.
Interested in what a diet change can do for you? Try our One Week Clean Eating Meal Plan and enjoy weight loss, increased energy, clearer skin and oh so YUMMY food!!
If you make this recipe, let us know with a comment below or tag us with your photos on Instagram @NaturalTastyChef or on Facebook @Alison Charbonneau, Natural Tasty Chef!  We LOVE hearing about and seeing your re-creations 🙂