An Asian style Turkey, Cabbage Sauté that fits a Candida Diet. This dish is quick and easy to make, healthy and full of flavor.
My Turkey, Cabbage Sauté is a dinnertime regular at my house. It's yummy, healthy, and is somehow both light AND filling at the same time. It gives a nod to Asian-inspired cuisine, and actually reminds me of those famous lettuce wraps at PF Chang's. Except without the gluten. And the soy. And the MSG.
Let's look a little deeper at one of the most underrated veggies out there, and one of the main players in this recipe: Cabbage.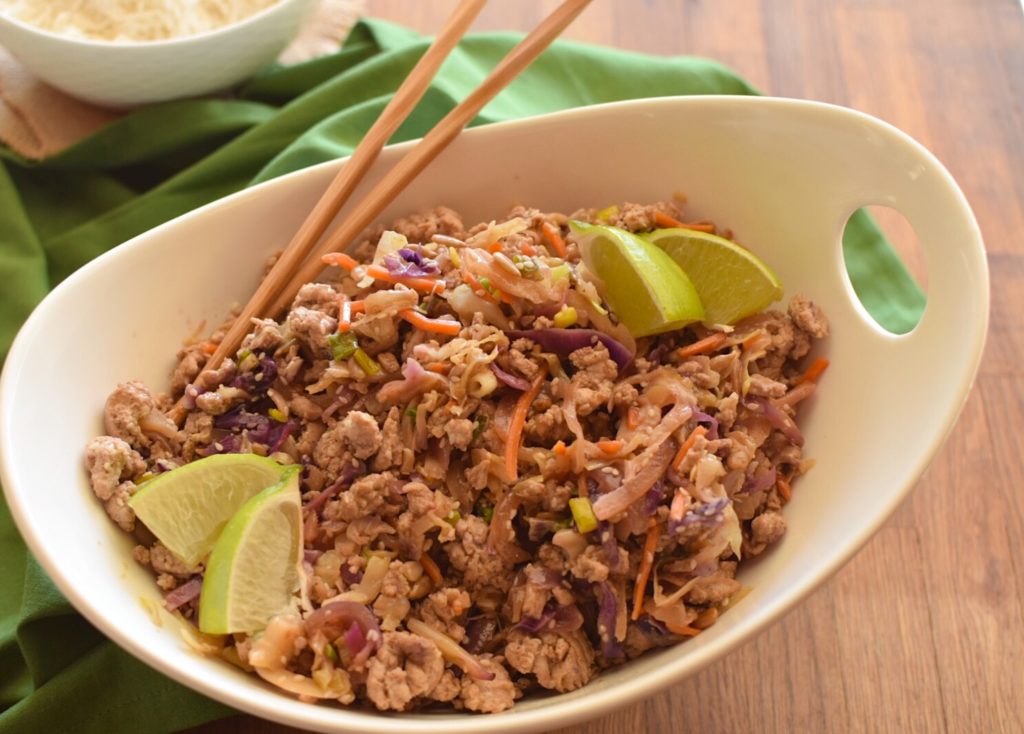 Here are 5 amazing things about cabbage:
1) It's abundant and easy to grow.
Profitable cabbage fields can be found in almost 150 countries. This is because of how easy it is to grow cabbage across climates and regions. There are about 70 million tons of cabbage produced annually, which is 4 times the amount of cabbage's cousins: cauliflower and broccoli. So if you're thinking of adding something green to your vegetable garden, cabbage is a great option.
2) It's extremely economical.
According to the U.S. Department of Agriculture, cabbage is the second most economical cooked vegetable, in terms of price per edible cup, behind potatoes. (Damn Potatoes, always wanting to be first and all.) But seriously, there is a strong belief that health food is expensive. And although there might be some products out there that are more expensive than a cup of top ramen, not all healthy foods are costly. Perfect example: cabbage!
3) It has an incredible nutrient complex.
Cabbage scores really high in the vitamin K and vitamin C departments. It's also pretty high in B6, potassium, folate, and manganese. And because of its "rouphage" nature, cabbage provides a nice dose of fiber to help keep you regular. Why hello, bathroom. It's me again…
4) It's an anti-inflammatory vanguard.
Cabbage boasts a high amount of very powerful antioxidants. Some of these antioxidants include sulforaphane and kaempferol, which are believed to give cabbage its anti-inflammatory properties. In fact, proponents of macrobiotics actually use cabbage leaves as a compress on sprained muscles to reduce swelling. I also know some female friends who used cabbage leaves as a cold compress on their breasts when they experienced pain and engorgement with breastfeeding. (OMG, can't you see the latest fad at Victoria's Secret?! Yes, I'll take the cabbage bra please.)
5) It's great for digestion.
Cabbage can be tough on the thyroid when it's consumed in its raw form. That's why it's always a good idea to eat it cooked or marinated/fermented in the form of sauerkrat or kimchi. This fermentation process creates so many healthy probiotics that eases digestion and fortifies gut health. And as the phrase goes, happy gut = happy girl. Or boy. Ok I just totally made that up.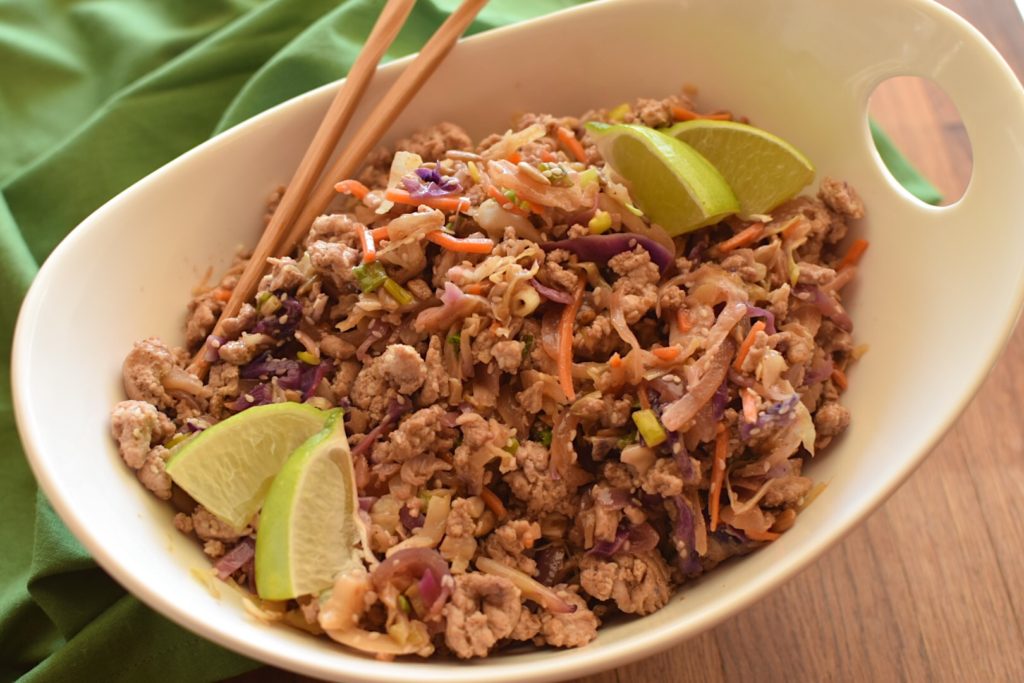 Clean, healthy ingredients
Besides super amazing cabbage, the remaining elements in my Turkey and Cabbage Sauté are surprisingly simple, using nutrient dense ingredients such as onions, garlic and ginger and then adding in some ground turkey for some bulk, protein, and vitamin B12.
I've kept the seasoning simple: apple cider vinegar, lime juice, and stevia lightly dress this dish. If you don't like the aftertaste of stevia, try subbing it out for some agave. However, if you are on a sugar free diet or an anti candida diet, definitely stick to the stevia.
I like to finish it up by serving with some brown rice or Nut Free Paleo tortillas, if you're trying to be completely grain-free. I hope you enjoy my Turkey and Cabbage Sauté as much as I do 🙂
Some commonly asked questions about this recipe
Can I use ground beef in place of ground turkey?
Yes, of course! I've even used cooked, shredded chicken in place of the ground turkey. 
What if i cant find coconut aminos?
Tamari can replace the coconut aminos is this recipe in equal amounts, but since Tamari (and Shoyu – soy sauce) are both derived from soy beans this dish will no longer fit a Candida Diet.
Is liquid stevia necessary?
No, it's not necessary, but in my opinion is what helps make this dish taste slightly Asian. If you don't like the taste of stevia and candida is not an issue, you can substitute 1 Tablespoon honey, agave or maple syrup for the liquid stevia.
What's the best way to serve this for a Paleo Dish?
This dish is great served as lettuce wraps. Take several large leaves of butter or romaine lettuce, wash them and serve by plating a small scoop of the Turkey Cabbage inside the lettuce and eating like a burrito.  As mentioned earlier, this dish is also yummy served with Nut Free Paleo Tortillas.
How should I serve this dish for a Candida Diet?
This dish is great served as lettuce wraps, over arugula or with brown rice if you can tolerate gluten-free grains.
Asian Turkey Cabbage Sauté – Candida Diet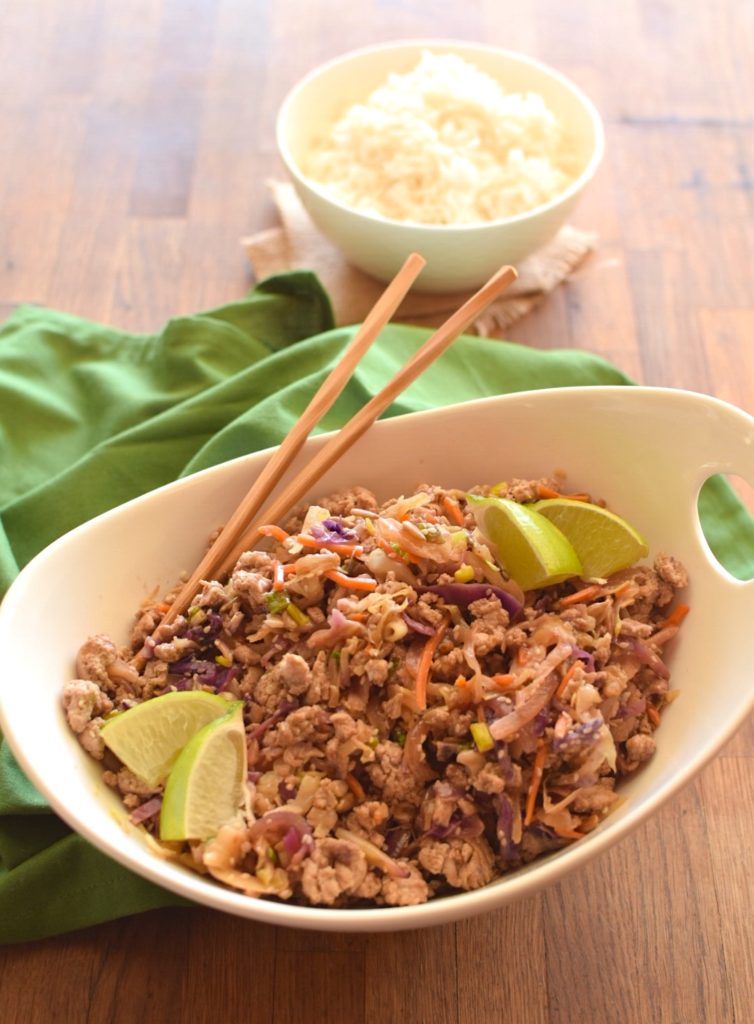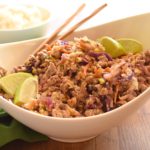 Healthy Asian Turkey Cabbage Sauté - Anti Candida
Paleo | Gluten-Free | Anti-Candida | Keto
Ingredients
2

Tablespoons

olive oil

divided

1

pound

ground turkey

dark or white meat

1/2

teaspoon

sea salt

divided

1/2

cup

medium size red onion

sliced into half moons

4

garlic cloves

minced

1

1-inch piece of fresh ginger, peeled and minced

2

cups

shredded cabbage

red, green or both

1

Tablespoon

raw apple cider vinegar

1

Tablespoon

coconut aminos

Juice of 1 lime

2 - 4

drops liquid stevia*

2

green onions

white and green parts, minced

2

cilantro sprigs

minced

2 - 3

Tablespoons

sunflower or sesame seeds

1

avocado

sliced for garnish
Instructions
Heat 1 Tablespoon of oil over medium heat in a large nonstick skillet. Add the ground turkey and a pinch of sea salt and sauté, stirring constantly and crumbling the turkey, for about 5 – 10 minutes or until all of the meat is cooked and no longer pink. Remove turkey from the skillet and place into a large mixing bowl.

In the same skillet, add a Tablespoon of oil over medium heat and add the red onions, garlic, ginger and a pinch of sea and sauté for 2 – 3 minutes, stirring constantly, until the onions start to soften.

Add the shredded cabbage, apple cider vinegar, coconut aminos, lime juice, stevia and a pinch of sea salt and cover with a fitted lid. Let simmer for about 2 – 3 minutes. Remove the lid and using a wooden spatula sauté for a couple minutes more, or until the cabbage is soft and cooked.

Add this mixture to the ground turkey in the mixing bowl. Mix in the green onions, cilantro, and sunflower or sesame seeds and taste for seasoning.

Garnish with sliced avocado.
Recipe Notes
*option to sub 1 Tablespoon honey, agave or maple syrup in place of the liquid stevia, if not following a Candida Diet.
If You're Following A Candida Diet You May Like Our Digital Cookbook Everyday Recipes For Your Candida Diet. Grab Your Copy Today.