This Creamy Thai-Spiced Vegan Kabocha Squash Soup is velvety smooth and hearty. It's also pleasantly sweet with a hint of Thai Spice that's sure to keep you feeling warm and nourished this fall season.
Kabocha squash, sometimes referred to as Japanese Pumpkin, is (in my onion) the most delicious of all the squashes!   It's soft, sweet and makes the most delicious creamy soup.  In culinary school, my good friend, Katie, and I used to call this soup liquid candy!  In this recipe I've added some Thai spice to create a creamy soup with a kick that will help keep you feeling warm and nourished this fall season!
How to pick a perfect Kabocha Squash
The key to picking the perfect Kabocha Squash is the shape of the squash and the color markings.  You want it to be oval, horizontally, in shape and to have a round yellow/orange marking on it.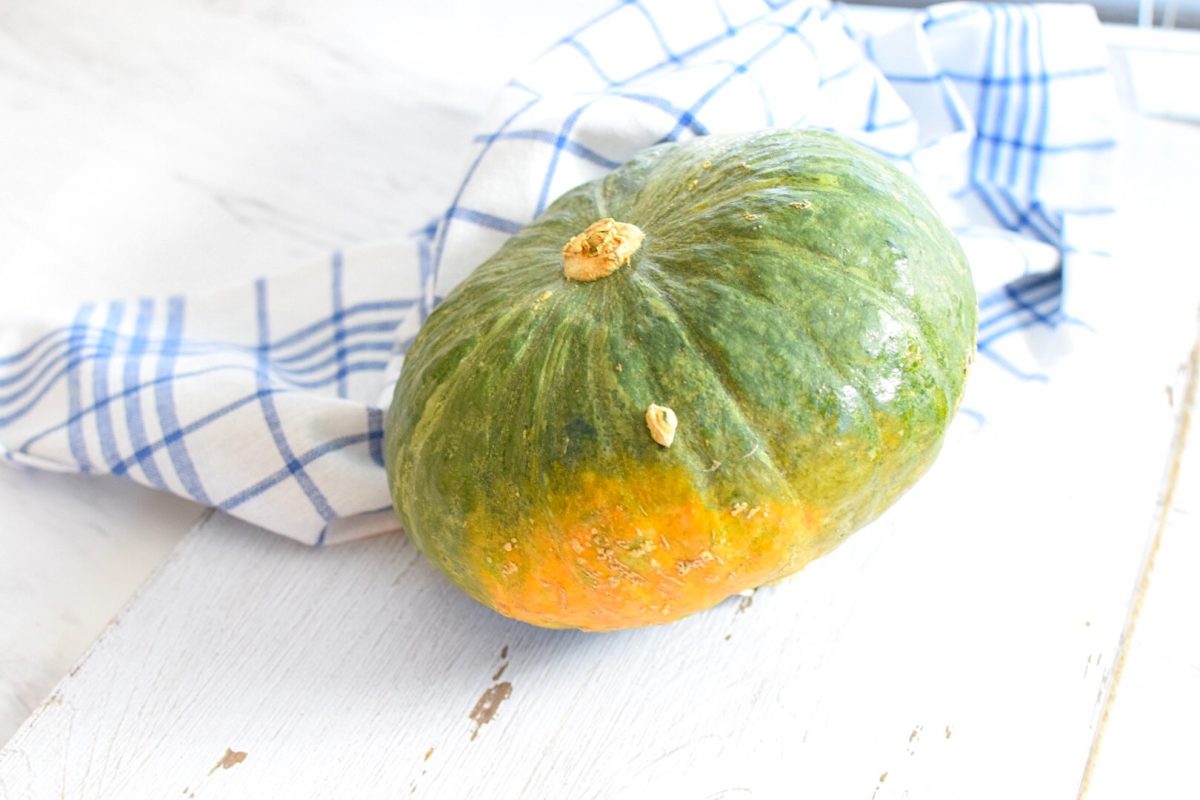 This yellow/orange marking is where the squash was resting while it was allowed to ripen.  If your squash does not have a marking similar to this it means that it was picked too early and therefore will not be as sweet.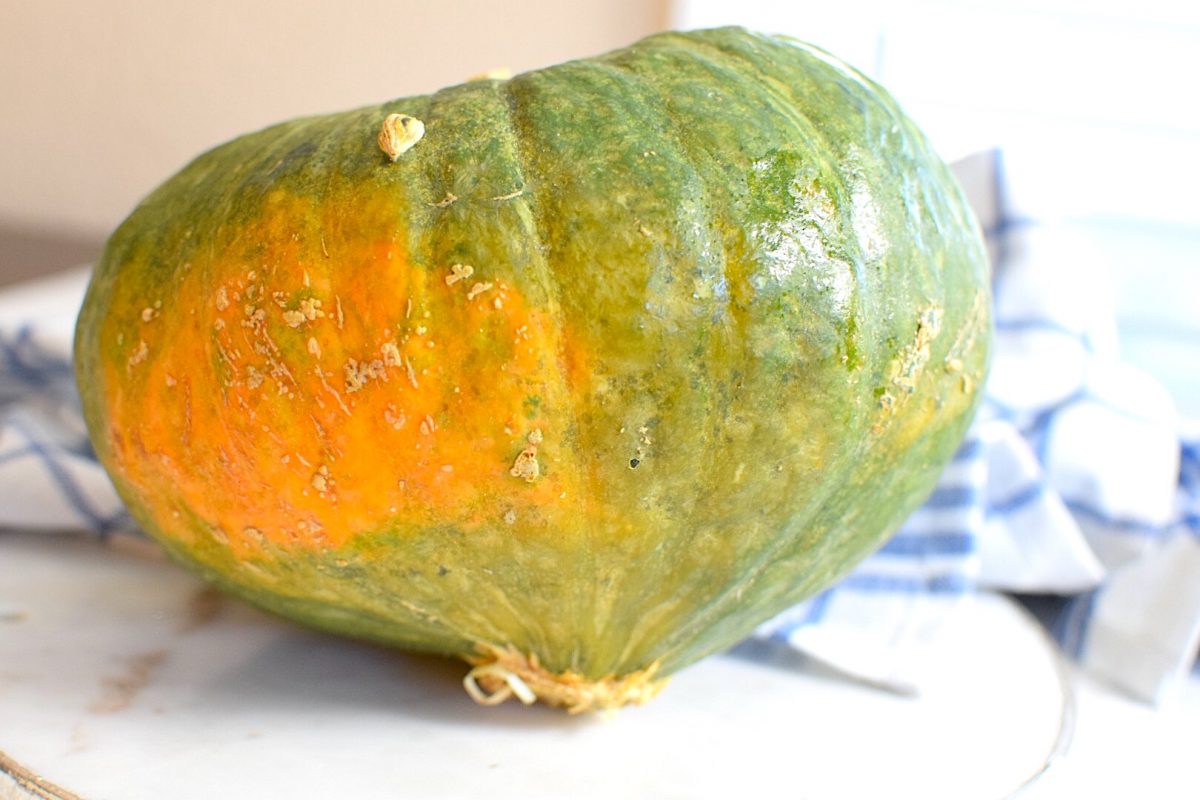 In this soup I remove the skin, which I keep to use at a later time (and for a later post) and add it to a soup pot with 1 yellow onion (for added sweetness), one can of FULL-FAT coconut milk and a pinch of sea salt.  And of course the Thai Spice!  This gives it a bright punch and an interesting twist.  If you don't have Thai spice on hand or just don't like it, this soup remains completely delicious without it.
This creamy, soothing and delicious soup fits the following diets:
Vegan
Paleo
Gluten-Free
Anti-Candida
Creamy Thai-Spiced Kabocha Squash Soup Recipe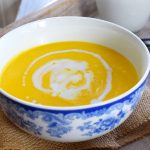 Creamy Thai-Spiced Kabocha Squash Soup
Vegan | Gluten-Free | Anti-Candida
Ingredients
1

medium kabocha squash

peeled, seeded and cut into 1 inch cubes*

1

can full fat coconut milk

1

medium yellow onion

diced

1

heaping Tablespoon red curry paste

more if you like kick

Pinch

sea salt

Filtered water to cover
Instructions
Place the squash, milk, onion and curry paste in a tall soup pot and cover with water until just the tips of the squash are poking out.   Add a pinch of sea salt.

Bring to a boil,  cover and reduce to medium heat.   Simmer about 15 min,  or until the squash is soft.

Pour everything into a blender, preferably a Vitamix, and blend until smooth and creamy.  At this point you can add more water to reach your desired consistency.

Add seasoning to your liking and Enjoy!!!
Recipe Notes
*If the squash is organic, save the skin for roasting later into kabocha squash "chips".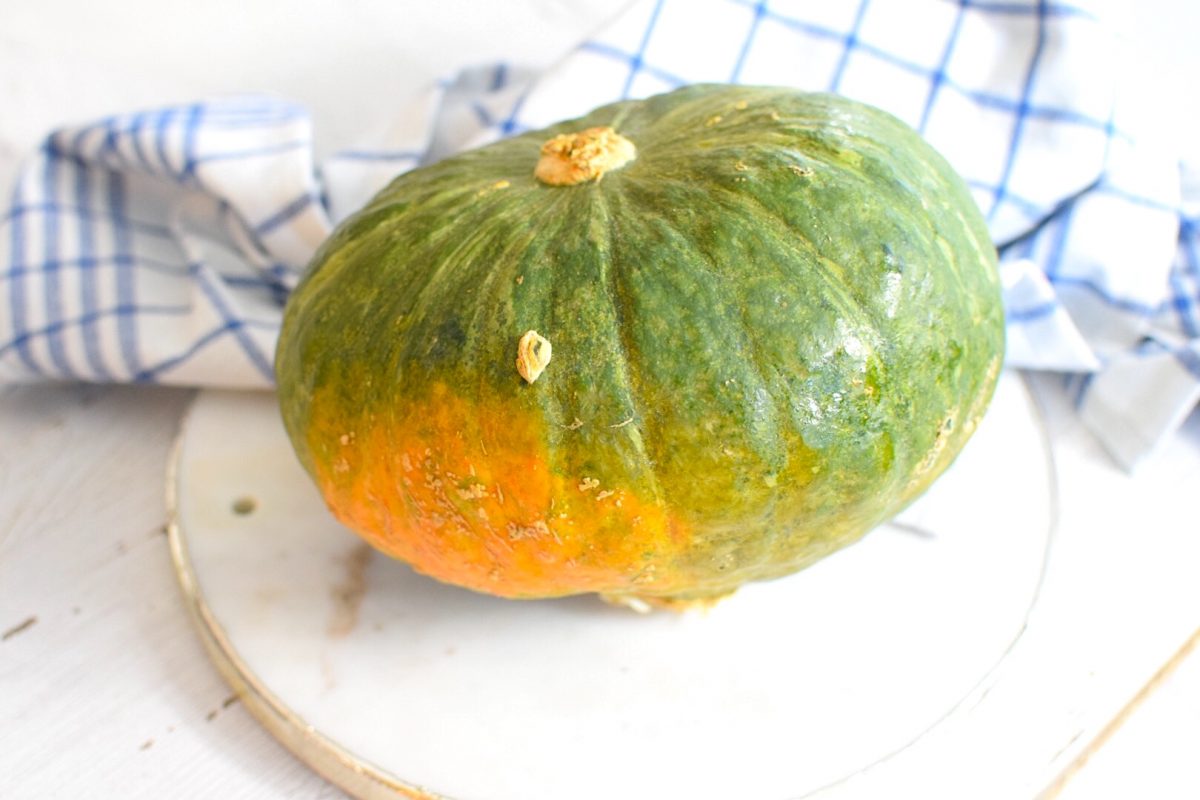 ✨ ✨ Need Some Help Navigating Your Health And Wellness?  
Check Out My HEALTH COACHING SERVICES.  Book Your FREE Complimentary 30 Minute Session HERE!