Soft and chewy flourless chocolate chip cookies that use natural sweeteners and are kid approved!
Picky Eaters
Let's face it, kids can be picky eaters and it's not really their faults. Did you know that infants have over 30,000 taste buds, the majority of them craving fat and sugar (naturally leaning them towards breast milk) and bitter foods are thought to trigger an alarm response as a potential poison. No wonder they gravitate towards sweets and not vegetables. As we get older we naturally lose taste buds, with the average adult having only about 10,000. This is why even the pickiest kids pallet will normally lessens over time.
Since kids already crave sweets, let's find ways to incorporate healthier versions of their favorite snacks and desserts. These cookies are here to help. They're a total gateway cookie to clean and healthy eating with their soft and chewy texture and sweet chocolate chips but using natural peanut butter and sweeteners.

It's all about the Peanut Butter
Not all peanut or nut butters are created equal. You'd think that they'd be pretty straightforward, but have you ever looked at a label before? Most peanut butters are loaded with sugar and poor quality oils. Below are the ingredients of Traditional Skippy and it's Low-Fat option (which is even more alarming):
Skippy Peanut Butter Ingredients
ROASTED PEANUTS, SUGAR, HYDROGENATED VEGETABLE OILS (COTTONSEED, SOYBEAN AND RAPESEED) TO PREVENT SEPARATION, SALT
The low-fat option…
ROASTED PEANUTS, CORN SYRUP SOLIDS, SUGAR, SOY PROTEIN, SALT, HYDROGENATED VEGETABLE OILS (COTTONSEED, SOYBEAN AND RAPESEED) TO PREVENT SEPARATION, MONO AND DIGLYCERIDES, MINERALS (MAGNESIUM OXIDE, ZINC OXIDE, FERRIC ORTHOPHOSPHATE, COPPER SULFATE), VITAMINS (NIACINAMIDE, PYRIDOXIDE HYDROCHLORIDE, FOLIC ADIC).
All Natural Peanut Butter for the WIN
PEANUTS, SEA SALT
True peanut butter only requires 2 ingredients; Peanuts and Sea Salt. Pretty simple, right! So why all the fillers? To make it sweet (and addicting) and to stabilize shelf life.
Keep in mind that all natural peanut butter should be stored in the fridge after opening since there are NO preservatives.  Also, there may be separation from the natural oils in the peanuts when you first open it.  Don't be alarmed, this is totally normal and natural.  Just stir the peanut butter with a butter knife or spoon and it'll be good to go!  It's small pantry changes like that make the big, lasting changes in overall health.
PRO TIP:  before you open your peanut butter for the first time, store it lid side down for about 24 hours. This will shift the oil to the bottom making it easier to stir.

Okay, now that we got all that out of the way, let's get baking! These cookies couldn't be easier to prepare, using only one bowl and taking about 8 minutes to bake. The kids may even enjoy preparing this recipe too! Enjoy Xo

specialty ingredients for this recipe:
Grain Free Peanut Butter Chocolate Chip Cookies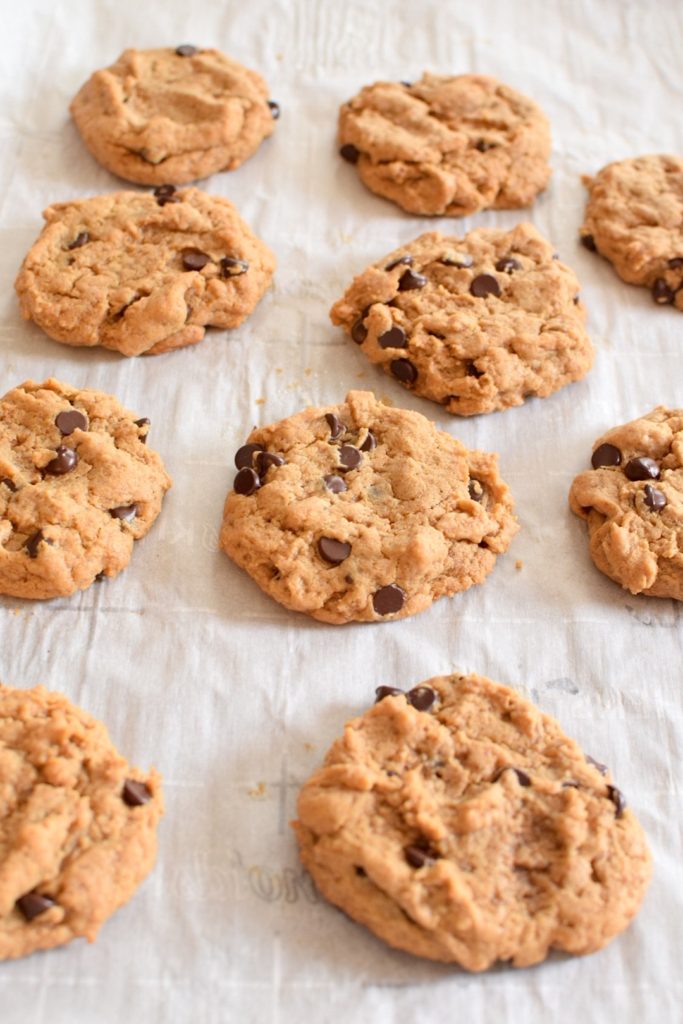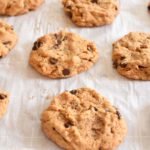 Peanut Butter, Chocolate Chip Cookies
Gluten free, grain free
Ingredients
1

cup

peanut butter

1/4

cup

maple syrup

2

Tablespoon

coconut sugar

1

egg

1/2

teaspoon

sea salt

1/2

teaspoon

baking soda

1/2

teaspoon

cinnamon

1/2

cup

vegan chocolate chips

I prefer Enjoy Life Brand*
Instructions
Preheat the oven to 350 degrees.

Using a fork, spoon or spatula, combine everything in a large glass bowl.

Place 1 full Tablespoon at a time on a lined baking sheet and bake for 8 minutes.

Let cool on baking sheet for at least 5 – 10 minutes before transferring to a cooling rack to cool completely.

Enjoy