A juicy burger recipe that's free of gluten, dairy, corn, soy and grain! These Healthy Gluten Free Sliders are easy to prepare and oh so delicious!
Who doesn't love a good burger?  I mean, I would seriously question someone's patriotism to America if they didn't like burgers.  Just joking.  Or am I??…
The problem with burgers is…
Well, there are a lot of problems.  An excess of red meat and cheese have not been the heart's best friend in past studies, although the cholesterol jury is still debating about what kinds of cholesterol-high foods we should skip or how much we should intake.  But mixing ground beef, cheese, and bread together seem to spell more issues.  One of the main no no's of food combining is to mix a protein with a carb.  That meat and bun combo, along with cheese, can create a smorgasbord of problems in your digestive tract including a back-up of food in your stomach, along with bloating and gas.  Top it all off, there can also be an obscene amount of calories found in many burgers.  Some burgers at popular food chains can reach up to 1300 calories!!!
Grass-Fed
Grass fed beef simply means that the cattle were allowed to forage and graze for their own fresh food. They may be given close substitutes like alfalfa during the winter, but unlike grain-fed animals, the emphasis is still on providing the closest thing to a natural diet as possible. Grains are higher in calories, and encourage the cows to grow much faster and cheaper, but grass is much higher in key nutrients like Omega–3s and B vitamins, and result in steaks that are leaner, healthier, and much more flavorful.
Keep your eye out for Grass-fed meats at your local grocery stores or Farmer's Markets. Or, if possible, use a company like Milk and Eggs Grocery Delivery (Los Angeles and Orange County only) who works directly with farms, and has a wide variety of Organic, Grass-Fed options!
So let's strip.
Not talking about your clothes, but hey, if you're into that, go for it.  I mean strip down the burger.  Let's take off the bun and the cheese.  Get rid of the frozen, store-bought patties and make our own, smaller sliders fresh from beef, turkey, or lamb.  We'll wrap them in lettuce leaves, add some sugar-free ketchup, include some veggie toppings, and bada-bing bada-boom!  We have a much more body-friendly burger.  Now that's what my stomach calls a Happy Meal 🙂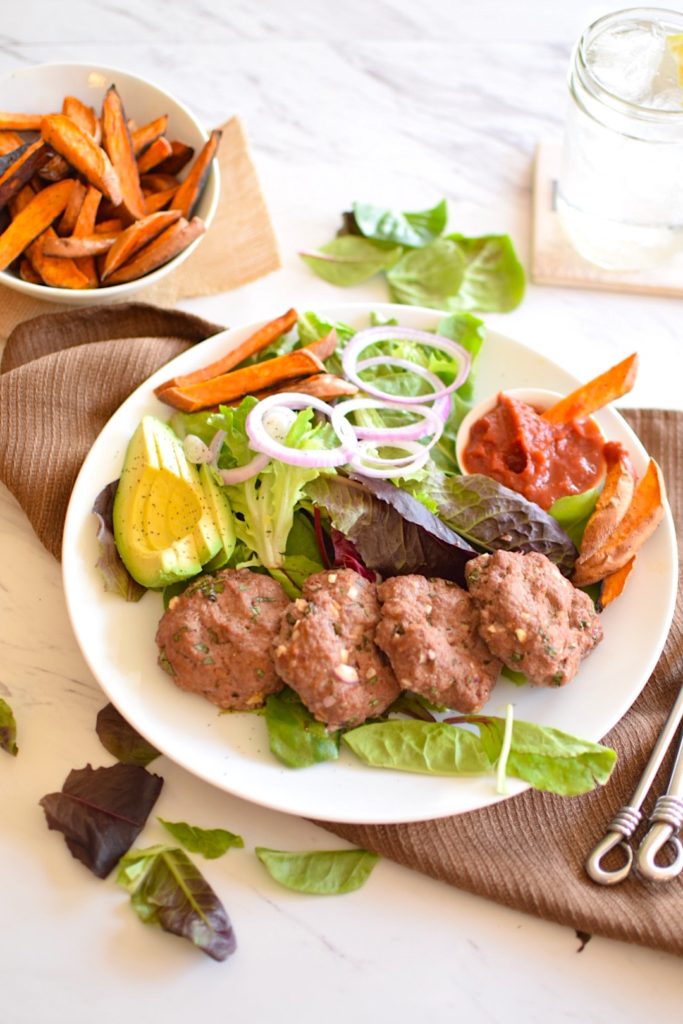 These Sliders are:
Gluten-Free
Yeast-Free
Anti-Candida
Paleo
Ketogenic
Healthy Gluten-Free Siders Recipe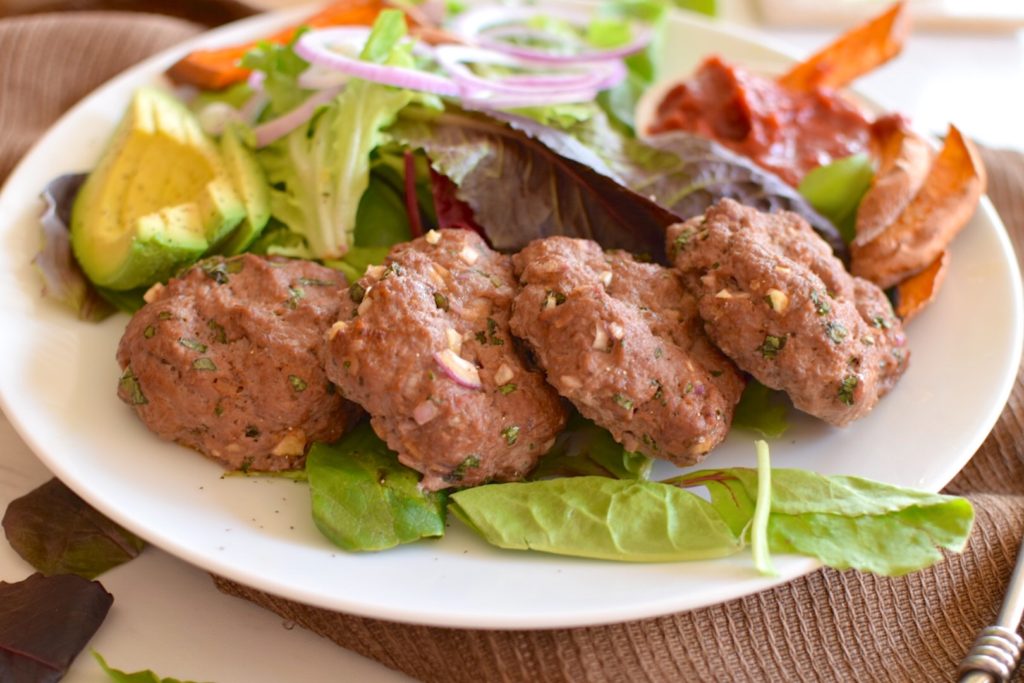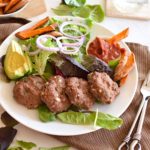 Healthy Gluten-Free Sliders
Gluten-Free | Anti-Candida | Paleo
Ingredients
Ingredients for Sliders:
Olive oil spray

1

pound

ground turkey

beef or lamb

1/4

cup

fresh basil

minced

1/4

cup

red onion

minced

3

garlic cloves

minced

1/2

teaspoon

sea salt

1/2

teaspoon

smoked paprika

1/4

teaspoon

black pepper
Ingredients for Toppings:
4 - 6

large lettuce leaves

1

avocado

sliced

1

beefsteak tomato

sliced

Ketchup

homemade is preferrable. If not, choose a sugar-free store-bought brand
Instructions
Preheat oven to 350°F. Line a baking sheet with parchment paper and spray with olive oil spray.

Place the ground meat into a large mixing bowl* and add the basil, red onion, garlic, sea salt, smoked paprika and black pepper. Mix thoroughly with your hands to incorporate evenly. Make 4 – 6 round turkey patties. Place patties on prepared baking sheet and bake for about 14 - 16 minutes or until the internal temperature reaches 165°F.

Place each patty in the center of a lettuce leaf, top with sliced tomato, sliced avocado, and homemade ketchup, then wrap and enjoy.
Recipe Notes
*If using lean meat, add 1 Tablespoon olive oil to mixing bowl.