A Healthy and Dairy-Free Caesar Salad recipe that's rich, tangy and even safe for pregnant mamas!
Caesar Salad
When I first moved to California I became obsessed with Caesar Salads. Despite the eczema that the parmesan cheese gave me, I'd continue to order them whenever I went out to eat. Once I started a Candida diet, I became much more strict and disciplined with my diet, no longer allowing myself to stray. That's when this recipe was created. I learned how to recreate Caesar Salads in a healthier, non-diary way for myself and for my cooking clients. This recipe even made it into my Digital E-Cookbook Everyday Recipes for Your Candida Diet!!

A Healthier Twist
Traditional Caesar Salad Dressing consists of anchovies, salt, garlic, raw eggs, vegetable oil, dijon mustard and Parmesan cheese. In this twist we omit the anchovies, egg yolks and Parmesan cheese all together and substitute olive oil for vegetable oil and sea salt for table salt. These small changes make for a healthy, vegan and dairy free dressing that's even fit for mom's to be.
Nori Seaweed
Although totally optional, I absolutely love the addition of Nori Seaweed in this recipe. Nori adds a salty flavor and a  significant nutritional punch. It contains minerals and trace minerals, vitamin B12, a significant source of iodine and anti-carcinogen properties!!
Seaweed also has an alkalizing effect on the body which is ideal for maintaining optimal health. Eating a diet high in alkaline rich foods helps with inflammation and chronic pain, helps boost your immune system and also protects your bones and muscles!
If you've never tried Nori before, this is the perfect opportunity to give it a try!
This recipe fits the following diets
Dairy-Free
Gluten-Free
Anti-Candida
Ketogenic
Paleo
Whole 30

Dairy Free Caesar Salad Recipe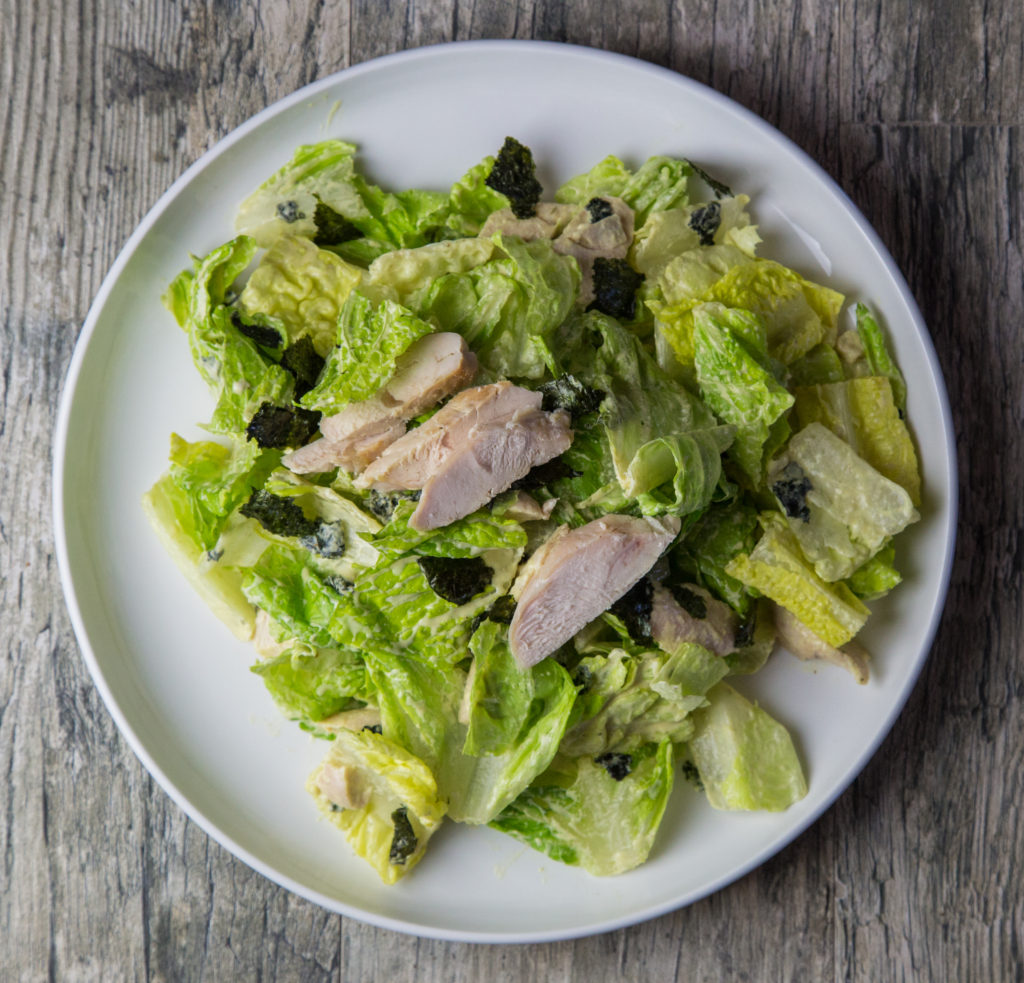 Dairy Free Chicken Caesar Salad Recipe
Gluten-Free | Anti-Candida | Paleo | Dairy-Free
Ingredients
Salad Ingredients:
1

organic chicken breast

1

large head romaine lettuce

but into bite-sized pieces

1

cup

cucumber

chopped

1/2

cup

carrot

shredded

1/2

sheet nori seaweed

ripped into small strips (optional)
Salad Dressing:
1/4

cup

filtered water

1/4

cup

olive oil

2

Tablespoons

fresh lemon juice

2

Tablespoons

unsalted natural almond butter

1

Tablespoon

raw coconut aminos

3

small cloves garlic

1/4

teaspoon

sea salt
Instructions
Preheat oven to 350°F and bake chicken until tender, about 20 minutes.

Combine all dressing ingredients in a blender, and starting on low speed blend until smooth and creamy.

When chicken is cooked, let cool slightly and then cut into strips. To assemble the salad, toss the lettuce, cucumber, carrots and half the nori (save some for garnish) in a serving bowl. Add dressing and toss to combine. Top with sliced chicken and remaining nori strips.
Recipe Notes
*Save extra dressing in an airtight container in the fridge for 1 - 2 weeks or in the freezer for up to 2 months.
**If dressing is too thick, dilute with a little filtered water.
//
If you've recently embarked on a Candida Diet, you might like my One Week Candida Diet Meal Plan. I've mapped out one week's worth of meals, including recipes and grocery lists so that you stick to you diet without the fuss. To learn more click HERE.