A unique spin on Tuna Salad using wild Alaskan caught salmon in place of tuna and homemade mayo.  Health Salmon Salad makes a perfect lunch or dinner, served over leafy greens, with gluten free sandwich bread or wrapped in a paleo tortilla.

The inspiration
Years ago, when I was focusing a lot more on personal chef work, a client of mine enjoyed a salmon salad dish at a restaurant so much, she begged me to re-create it.  I went to work and…voila!  Out came my Salmon Salad Recipe!  It's been a staple recipe in my kitchen ever since its creation and is always a crowd favorite.
Aside from all its amazing healthy benefits, fresh salmon is meaty, flavorful and juicy.  Mix it with salty capers and olives, crunchy red onion and celery, and tangy lemon juice, and it's soon to be a new favorite of yours too!
Why Salmon?
Salmon is a great source of Omega 3 fatty acids, which are not only great for their anti-inflammatory properties but also thought to be beneficial for brain health!  Omega 3's are even thought to help prevent or treat Alzheimer's.  Not bad for a delicious fish!
Salmon is also high in protein and low in fat, which helps you feel full and satisfied without the need to keep grazing.  It's also high in B vitamins (3, 6 and 12) and vitamin D.
Fish: Wild caught or farm-raised?
Farm-raised fish are thought to be more contaminated with mercury and other toxins; they typically eat an unnatural diet and are often injected with antibiotics and artificial coloring.
That's why I choose wild caught fish, because, quite frankly, they are caught in the wild! These fish are found swimming in their natural environment while eating their natural diet.  They are typically healthier than farm-raised fish, boasting lower levels of mercury and other toxins.
If environmental impact is a concern of yours, look for fisheries that employ responsible fishing practices.
Going the extra mile:
Another healthy twist to this recipe is the homemade mayo.  If you are in a pinch and don't have time to go the whole 9 yards, there are many good quality mayos in stores nowadays for purchase. Some things to look for in the ingredients list:
olive oil or avocado oil instead of canola oil
apple cider vinegar in place of white vinegar
sea salt in place of regular table salt
If you're up for making your own, try my healthy Homemade Mayo recipe, which can be found HERE!
This recipe is:
Paleo
Anti-Candida
Gluten & Grain Free
Soy & Nut Free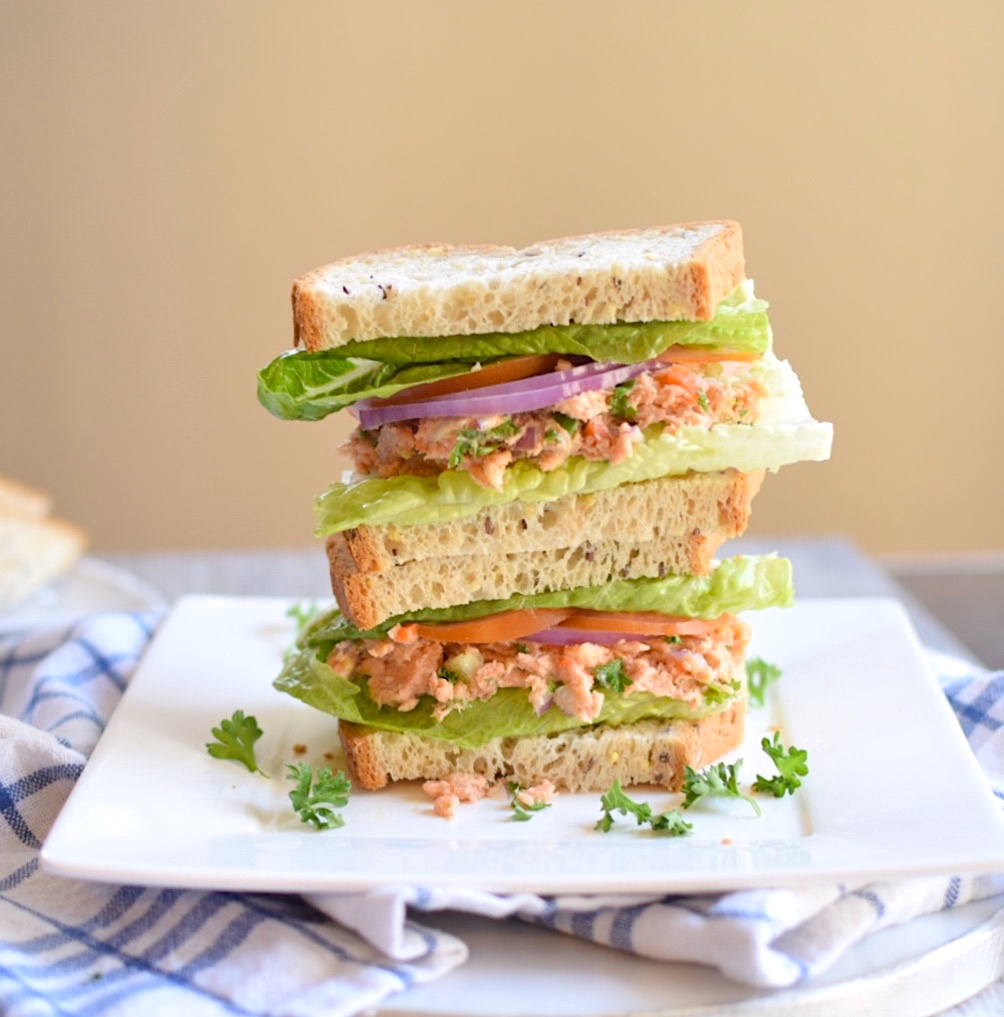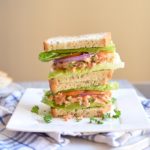 Salmon Salad over Leafy Greens
Ingredients
1

pound

fresh Alaskan Wild Caught Salmon*

1

tablespoon

olive oil

Zest of one lemon

1/4

teaspoon

sea salt

plus 1 pinch

1/3

cup

persian cucumber**

small dice

1/4 - 1/3

cup

red onion

small dice

1/4

cup

capers

1/4

cup

black kalamata olives

rough chop

1

teaspoon

fresh or dried dill

minced

1/4

cup

homemade mayonnaise

more if desired

juice of one lemon

pinch of black pepper
Dressings
1

tablespoon

olive oil

1

teaspoon

raw apple cider vinegar

pinch sea salt

pinch black pepper
Instructions
Preheat oven to 350 degrees F. and line a baking sheet with parchment paper.

Place fish skin side down on lined baking sheet and drizzle with olive oil, lemon zest and a pinch of sea salt. Bake for about 10 – 12 minutes or until easily flaked with a fork in the center.**

Place the cucumber, red onion, celery and dill in a large mixing bowl. Once the salmon is finished cooking, let cool for about 5 minutes, peel away the skin, and crumble the fish into the same mixing bowl, being careful to remove any bones. Add the homemade mayonnaise, lemon juice, 1/4 teaspoon of sea salt and pinch of black pepper. Use a fork to finish crumbling the fish and combine all of the ingredients together.

In a separate bowl, whisk together the dressing.

To serve, place leafy greens on a plate, top with a scoop of salmon salad and drizzle with dressing.
Recipe Notes
*I prefer Persian cucumbers because they are less watery.
**Cooking time will vary depending on the size of your fish.