A soft and chewy grain free tortilla that looks, feels and taste like a traditional flour tortilla! These Nut Free Paleo Tortillas are going to be your new go-to wrap!
Who doesn't love a good tortilla?
I absolutely love tortillas. I love to stuff EVERYTHING in them. Fish is the most obvious, since I love fish tacos, but I also use them for eggs, beans and even kale and quinoa salads!  Food just seems to taste better wrapped in a tortilla.
However, if you're trying to stick to a gluten free, corn free or even grain free diet, it can be hard to find tortillas that measure up.
That's until now! These grain free tortillas are seriously the best. They remind me of flour tortillas since they're soft and pliable with a mild flavor.  Best of all there's only 4 ingredients (2 of which are sea salt and filtered water)!  No additives, refined oils or sugars snuck into these tortillas.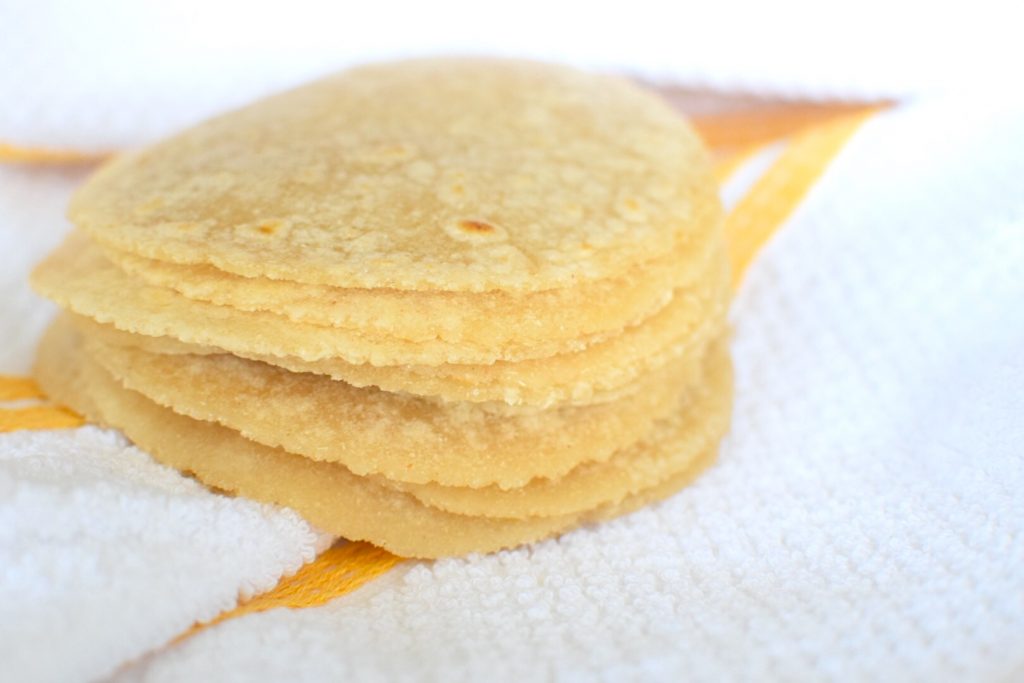 What's Cassava?
These tortillas are made from cassava flour which is made from a fibrous root vegetable called Cassava (or Yuca) which grows in South America. The most commonly consumed part of cassava is the root, which is very versatile. It can be eaten whole, grated or ground into flour, as we'll be using in this recipe.
Cassava Flour is a gluten-free, wheat free and nut-free alternative to flour that's versatile because it's very soft (reminding me of oat flour) and doesn't have a distinct taste.
You may already be familiar with Tapioca Flour, which you'll see in many gluten free baking recipes.  Tapioca is actually derived from Cassava, it's a starch extracted from the cassava root through a process of squeezing starchy liquid out of ground cassava root and allowing the water to evaporate. When all the water has evaporated, a fine tapioca powder is left behind.

Back to the Tortillas:
The key to these tortillas is getting the dough to the correct consistency of flour/water ratio.  It shouldn't be too wet or too dry and should stick together and hold it's form when you pinch it.  Also, when rolling into balls it shouldn't stick to your hands. That's how you'll know it's ready to press.



I like to use these with my Vegan Butternut Squash and Black Bean Tacos. I hope you enjoy these tortillas as much as my Husband and I!
Specialty Equipment and Ingredients for this Recipe
Paleo, Nut Free Tortillas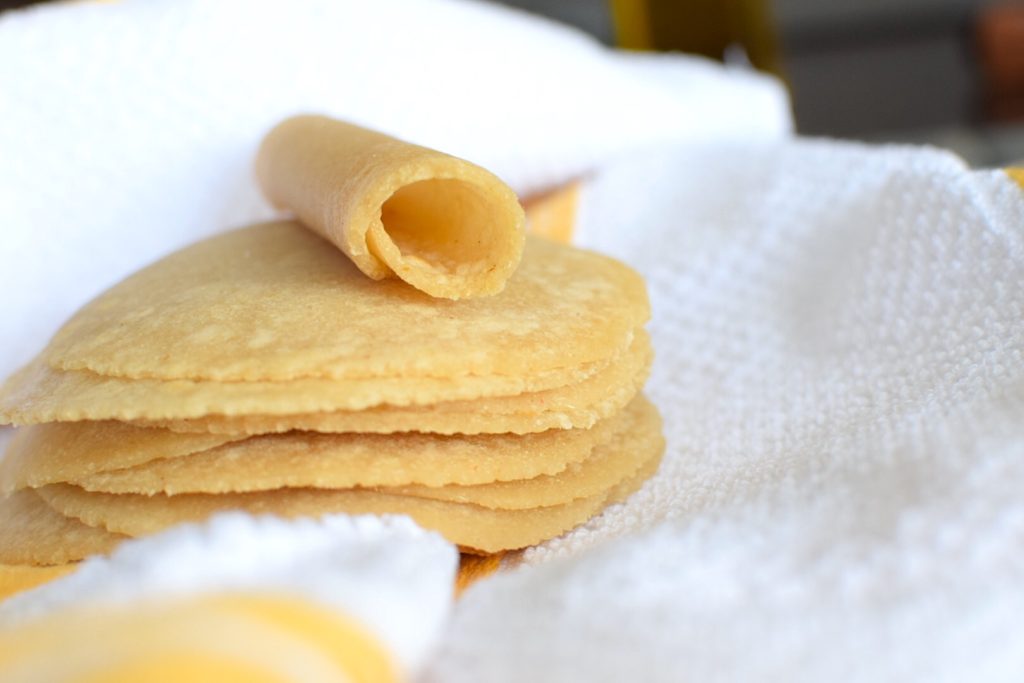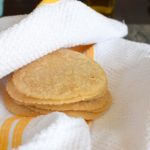 Nut Free Paleo Tortillas
Gluten-Free | Grain-Free | Corn-Free | Anti-Candida | Vegan
Ingredients
1

cup

cassava flour*

1/2

teaspoon

sea salt

2/3

– 1 cup filtered water

room temperature

2

Tablespoons

olive oil
Instructions
Using a whisk, combine the cassava flour and sea salt in a medium sized mixing bowl. Add 2/3 cup filtered water and olive oil, switch to a spoon or mini spatula and combine fully. The batter should not be too wet or too dry and should stick together if you pinch it. If too dry, add more water, 1 Tablespoon at a time. If too wet, add more flour 1 Tablespoon at a time.

Roll all of the batter into balls of about 1 Tablespoon worth, about the size of a golf ball.

If using a tortilla press, line it with 2 pieces of parchment or wax paper, place dough in the center, one ball at a time, and press. If you do not have a tortilla press, you can use 2 pieces of parchment paper and place the batter in the middle and roll out using a rolling pin.

Heat a dry skillet over medium-high heat. Place pressed tortilla on the hot skillet and allow to cook for about 30 seconds, flip over, and cook for 30 seconds more. Cool on a cooling rack. Continue until all the batter is gone.

Enjoy warm. Store leftover tortillas, once completely cooled, in a sealed zip lock bag or container in the fridge. Reheat the same way you made them.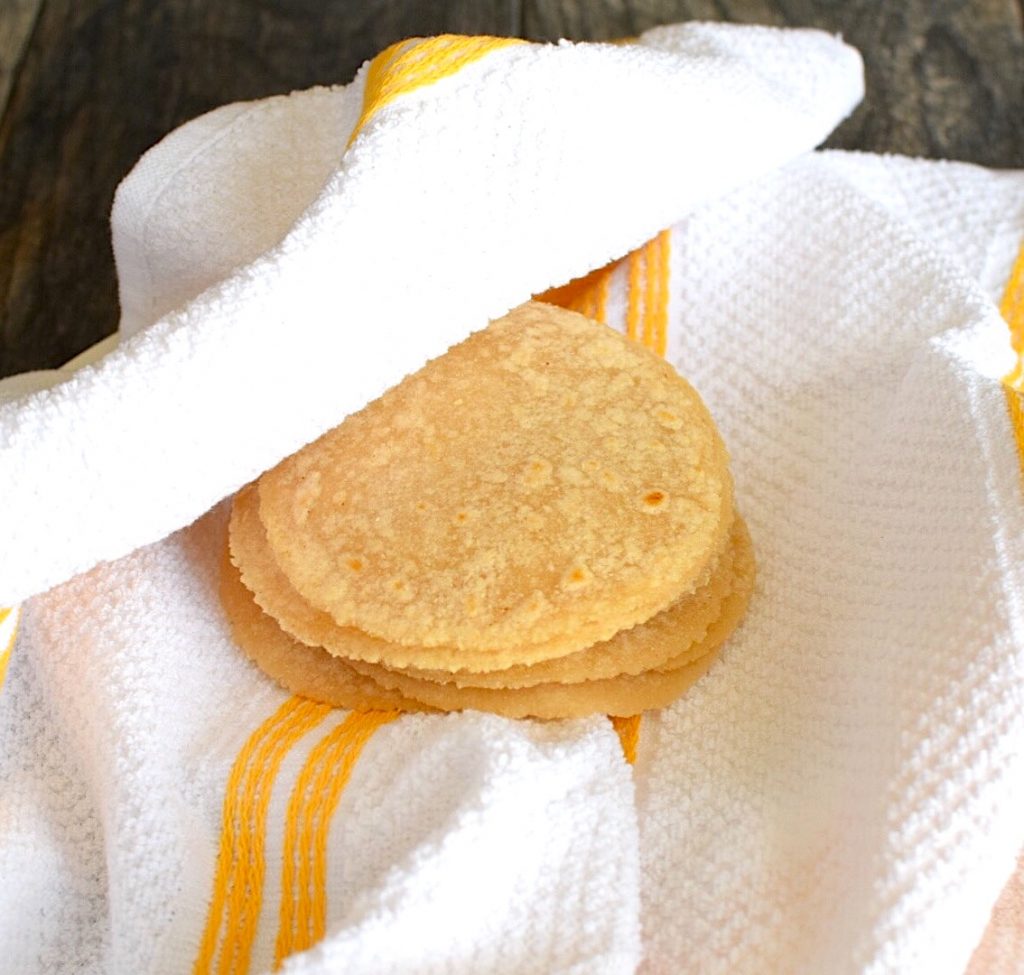 If you make this recipe, let us know with a comment below or tag us with your photos on Instagram @NaturalTastyChef or on Facebook @Alison Charbonneau, Natural Tasty Chef!  We LOVE hearing about and seeing your re-creations 🙂