Ready for your new favorite scone recipe?  Slightly sweet, with a buttery-golden crust and just a hint of orange…these scones are delicious! They're an elegant addition to any breakfast, brunch or dinner party.  I've sent these Gluten Free Orange, Cranberry Scones on many occasions to family and relatives over the years, and they're always a favorite!
These scones are incredibly easy to make
One of the best things about these scones is how incredibly easy they are to make.  I know you're probably thinking scones are pretty fancy looking and probably tricky to make , but as you'll see they're not!  We let the food processor do the bulk of the work. 🙂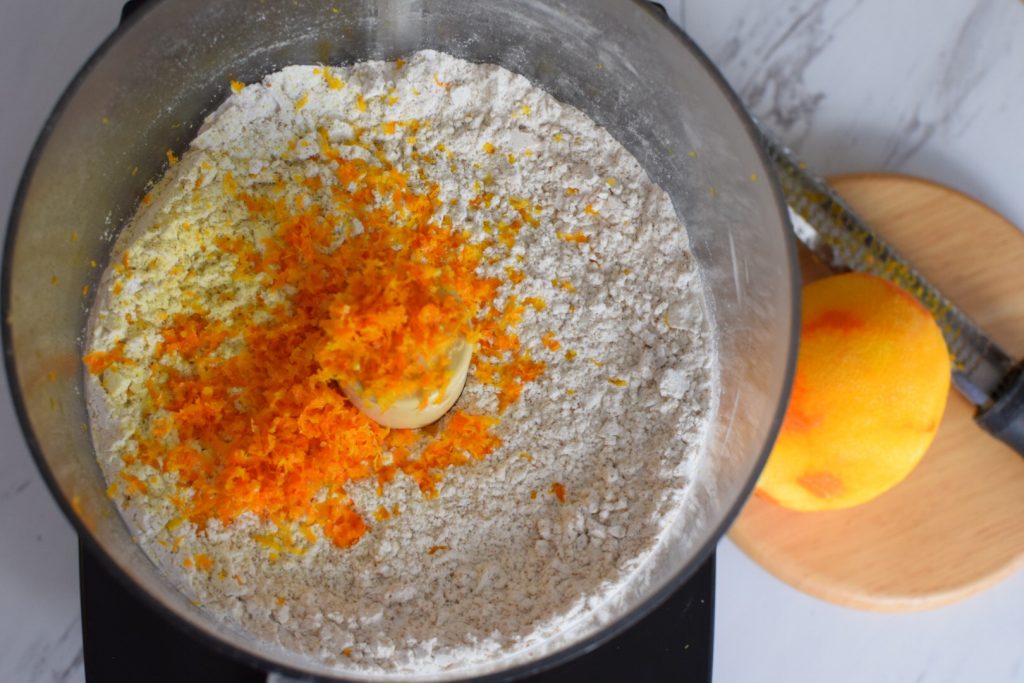 First we add the dry ingredients and the orange zest to our food processor, then the cold butter goes in and we pulse for a couple seconds to break up the butter and spread it throughout.  Finally the wet ingredients get added and now we have our batter.
If you don't own a food processor, you can achieve the same results by adding all the dry ingredient into a mixing bowl, use a whisk to combine and remove any lumps and then add the cubed butter.  From here you'll use a strong fork or your hands to incorporate the butter and create the sand-like texture.
If you're in the market for a food processor, here's the one I use and love: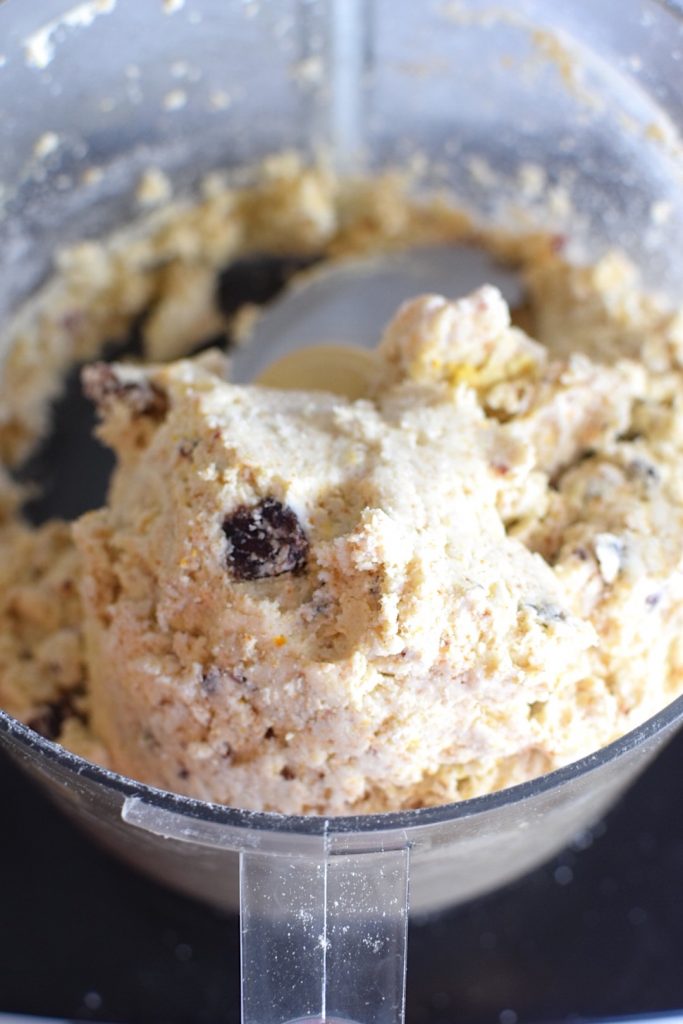 Now for the fun part, rolling the dough into a log.  First make sure your counter is clean and lightly floured with your gluten free flour blend. Next roll the dough using your hands into a log that's about 12 inches long and 4 – 5 inches wide.
Gluten Free Orange, Cranberry Scones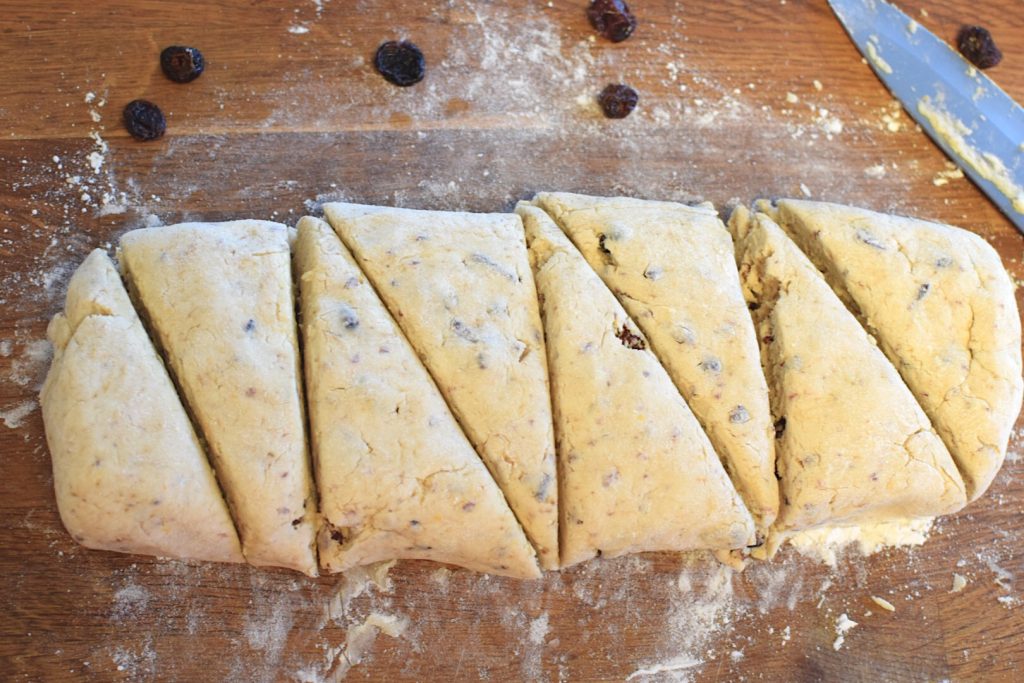 Once the log has been shaped, using a knife that has been lightly oiled, cut into 8 triangles.  Transfer these to a your baking sheet and lightly spray the top of each scone with oil.  Sprinkle with more coconut sugar and pop em in the oven.
Look at how gorgeous these scones are…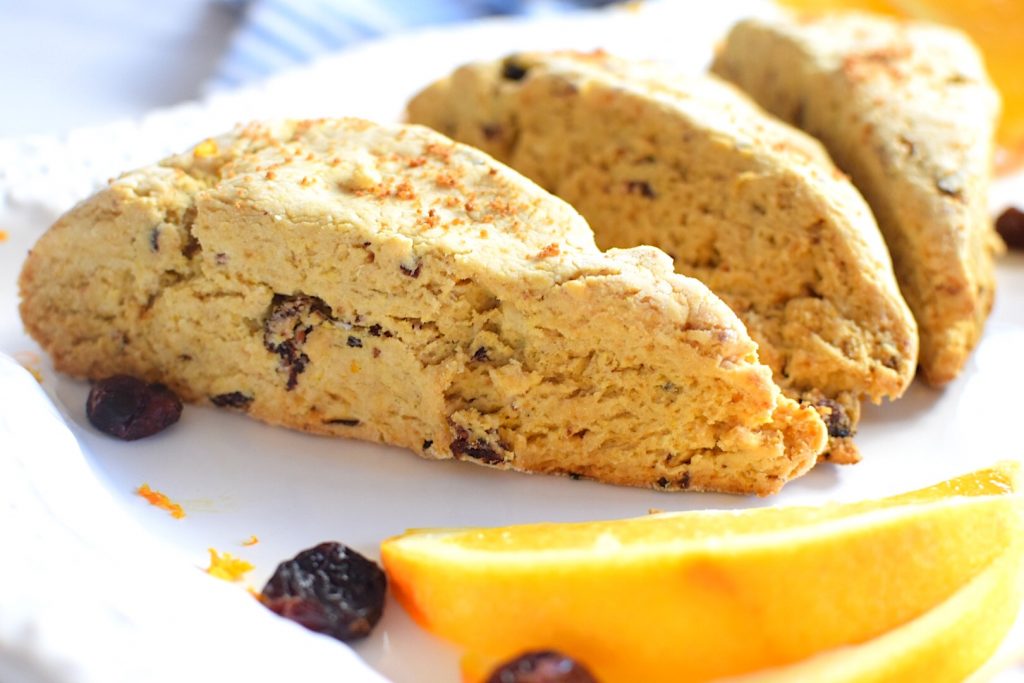 These Gluten Free Orange, Cranberry Scones are pretty healthy for you too.  Choosing coconut sugar as opposed to cane sugar is a game changer.  Coconut sugar is less refined and therefore better for you and your bones.  Also, using grass-fed butter helps boost our brain health and the orange zest contains Vitamins A & C, enzymes, fiber and pectin.  Not bad for a scone, eh!
My favorite brand of grass-fed butter is by a company called Vital Farms and you can find it at Whole Foods, Sprouts or if you live in Los Angeles or Orange County here at my favorite grocery delivery service Milk and Eggs Grocery Delivery Service.
Okay friends, let's start baking!!
Specialty ingredients used in this recipe:
Gluten Free Orange, Cranberry Scones Recipe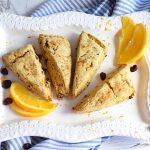 Gluten Free Orange Cranberry Scones
Gluten-free | Refined Sugar Free
Ingredients
Coconut or Olive Oil Spray

1

cup

unsweetened coconut or almond milk

1

Tablespoon

apple cider vinegar

12

Tablespoons

unsalted

grass-fed butter, chilled and cut into small cubes

3

cups

gluten free flour mix

I use Trader Joes Brand

1/3

cup

coconut sugar

more for dusting tops of scones

2 ½

teaspoons

baking powder

1

teaspoon

sea salt

¾

teaspoon

xanthan gum*

½

teaspoon

baking soda

1

Tablespoon

grated organic orange peel

¾

cup

dried unsweetened cranberries
Instructions
Preheat the oven to 400 degrees F.  and line a baking sheet with parchment paper and spray with coconut or olive oil spray.  Take your cubed butter and place it in the freezer.  In a small mixing bowl, combine the coconut or almond milk and apple cider vinegar and set aside.

Next add to a food processor the gluten free flour, coconut sugar, baking powder, sea salt, xanthan gum (see note about this), baking soda and orange zest.  Pulse several times to fully combine.  Take your butter from the freezer and add to the food processor. Pulse again, breaking up the butter until the mixture resembles course meal.

Now add the dried cranberries and pulse 2 - 3 more times. Finally add the milk mixture and pulse until the dough is completely combined, but not over-mixed.

Turn the dough out onto a lightly floured, clean work surface and knead lightly and form it into a log that's about 12 inches long and 4 - 5 inches wide.  With a lightly oiled knife, gently cut into 8 wedges.

Place on the baking sheet about 2 inches apart and lightly spray the tops with oil spray and sprinkle with a dash more coconut sugar.

Bake for about 15 - 17 minutes or until golden on top. Let cool for about 5 minutes on the baking sheet before transferring to a cooling rack.  Enjoy warm.
Recipe Notes
*Check to see if your gluten free flour mix already includes xanthan or guar gum.  If so, then no need to add ore. **Stored leftover scones in a sealed container on your counter for up to 2 days, or in the fridge for up to 7 days.
If You Make This Recipe, Let Us Know! Please Rate It And Leave A Comment Below
Also, We LOVE To See Your Kitchen Creations! Tag Us With Your Photos On Instagram @Naturaltastychef #Naturaltastychef Or On Facebook: Alison Charbonneau, Natural Tasty Chef.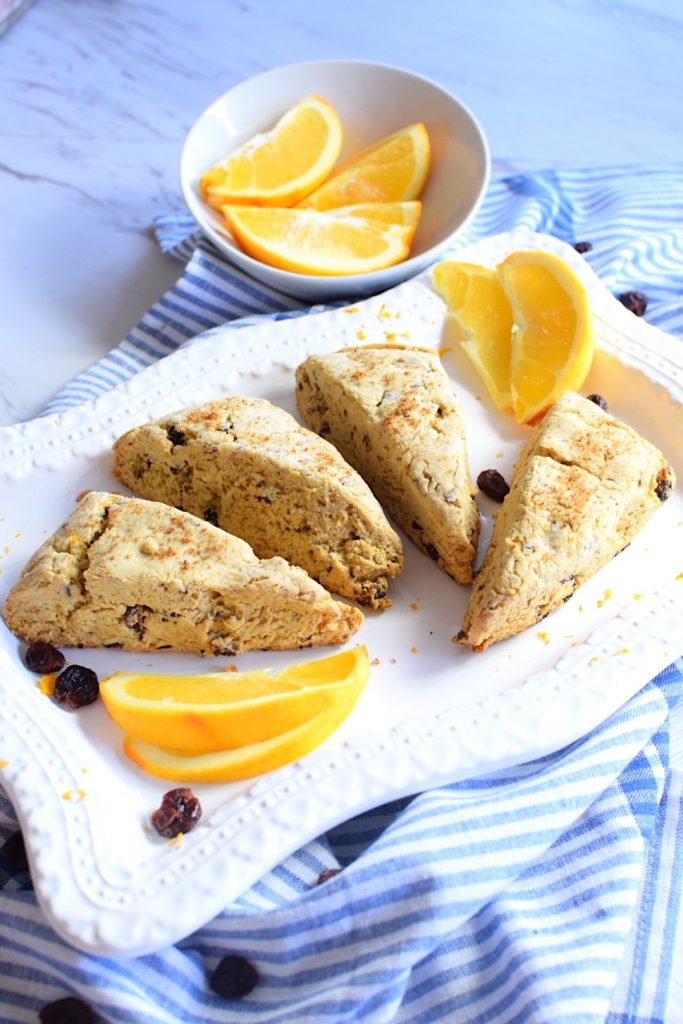 Going Gluten-Free but not sure where to start?  Check out my HEALTH COACHING SERVICES. Book your FREE complimentary 30-minute session

HERE

 today!
—