Changing the way you eat pizza, one Eggplant at a time! In this recipe we ditch the gluten-filled crust of traditional pizza and replace it with a vegetable. 
I'm not talking about Cauliflower here; today we're using Eggplant!
Vegan Eggplant Pizzas
People who suffer from Candida, Multiple Sclerosis (MS), Crohn's or Gluten Intolerance typically find that their symptoms improve when they limit  gluten and grains. That's why I created this super healthy twist on the all-time comfort food.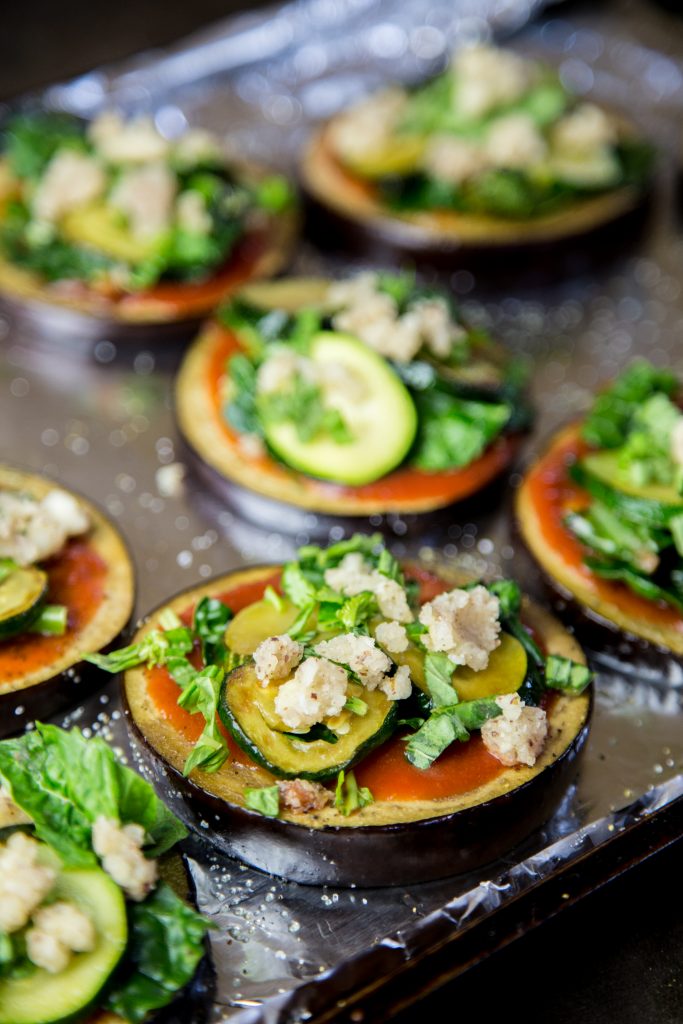 Totally Plant Based!
Using Eggplant as the base and a combination of zucchini "pepperoni" and kale on top make this a totally plant-based dish.
To keep this dairy free and in line with a Candida Diet, I choose to top this with my favorite 3 Ingredients, Vegan Parmesan Cheese, which adds an additional nutritional punch.  However, if dairy is not problematic for you, feel free to top it with Mozzarella, Goat or your favorite cheese!
You can find my 3 Ingredient, Vegan Parmesan Cheese HERE!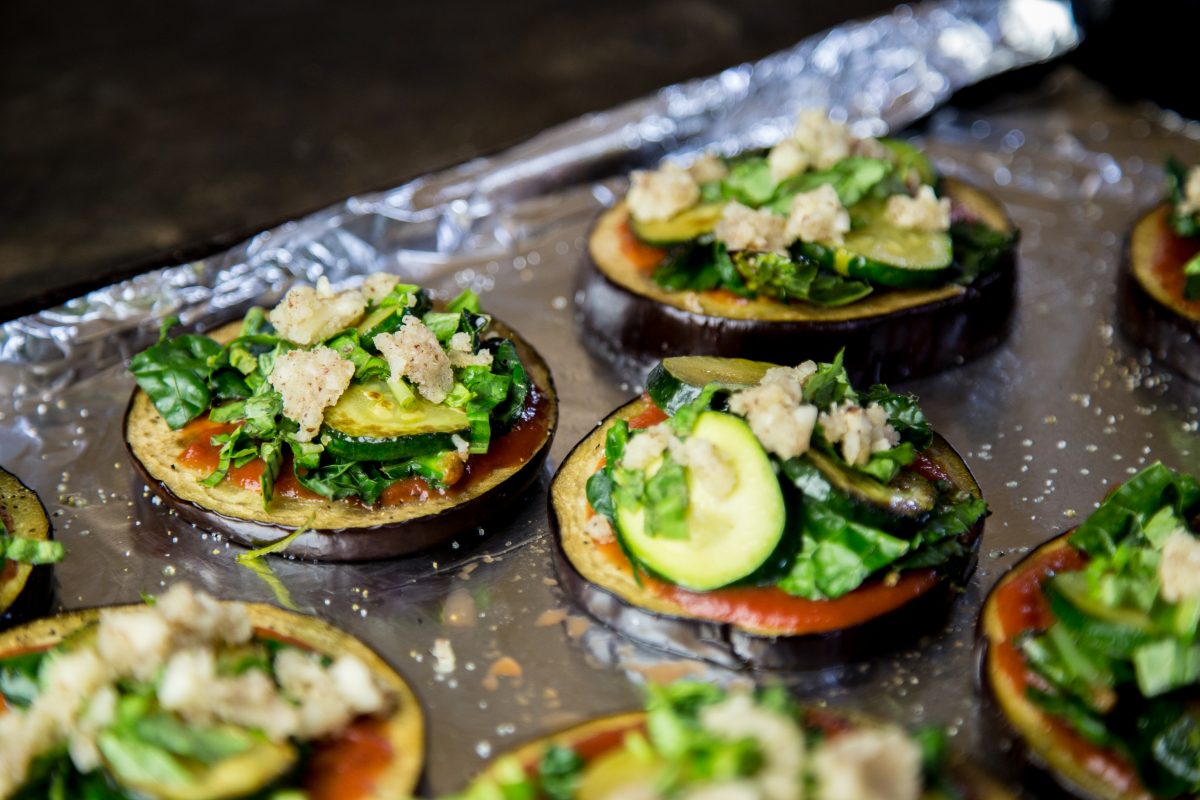 Coconut Aminos
Lastly, I use Coconut Aminos to flavor the kale and zucchini in this recipe.  If you aren't yet familiar with Coconut Aminos, it's a healthy swap for soy sauce or tamari.  Since on a candida diet you should avoid soy and gluten completely (which are both contained in soy sauce and tamari), Coconut Aminos is a great, healthy swap!
Coconut Aminos has a rich, slightly sweet and savory flavor.  I like to season my grains and vegetables with Coconut Aminos as well as add it to salad dressings, dips and sauces.
Tada! Vegan Eggplant Pizzas!
I hope you enjoy this healthy spin on Pizza!!
Vegan Eggplant Pizzas with Brazil Nut Cheese Recipe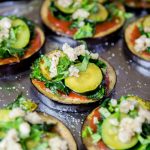 Eggplant Pizzas with Brazil Nut Cheese
Paleo | Vegan | Anti-Candida
Ingredients
1

large

Eggplant

cut into 1/2 inch - 1 inch rounds

1

teaspoon

sea salt

divided

1/4

cup

olive oil

divided

1/4

teaspoons

black pepper

1/2

cup

lacinato kale

chopped into small pieces

1

zucchini

cut into thin rounds

1

Tablespoon

raw coconut aminos

1/3

cup

tomato sauce

1/4

cup

fresh basil

chiffonade cut

½

cup

brazil nut cheese *

see recipe

olive oil spray

for baking sheet
Instructions
Preheat an oven to 350 degrees F.

Cut the eggplant into ½ - 1 inch rounds and place in one layer on a baking sheet. Sprinkle with sea salt and let sit for about 10 minutes. This will help remove some of the water. After 10 minutes pat dry with a paper towel.

Remove the eggplant from the baking sheet, line with parchment paper and spray with oil spray. Place the eggplant back on the sheet in a single layer. Drizzle eggplant with 2 Tablespoons olive oil and sprinkle with sea salt and black pepper. Bake in the oven for about 10 minutes until it starts to get soft.

while the eggplant is baking, heat 1 Tablespoon olive oil in a medium-sized skillet over medium heat and saute the kale and zucchini rounds with the coconut aminos and a pinch of sea salt for about 2 - 3 minutes. Place in a small bowl and set aside.

Remove eggplant from the oven. Spread a layer of tomato sauce on top of each eggplant slice. Add about 2 Tablespoons of the zucchini and kale mixture, some fresh basil and a sprinkle of Brazil Nut Parmesan Cheese.

Drizzle with the remaining olive oil and sea salt, and bake for another 10 minutes. remove from the over and serve hot or let pizzas cool on baking sheet to allow for them to firm up.
Recipe Notes
Think you might have Candida and need some help navigating the diet? Check Out my HEALTH COACHING SERVICES.