Oh Quinoa, shall I compare thee to a summer's day?  No really, how do I describe the versatility of quinoa?  Quinoa is like a hand-held vacuum.  No, no…it's like liquid blush.  No, it's like a safety pin.  It's small and versatile, and useful when you're in a tight spot.  You can use a safety pin to attach things to your clothes, to hang your kid's artwork, or to pick a lock (so I've heard).  Quinoa is the same way.  Although you can't pick a lock with it (just imagine that mess), you can use it to substitute meat in a plethora of recipes.  If you're going the vegan route but want something similar to ground meat that also happens to be chock full of protein, quinoa is your go-to gal.
Vegan Red Quinoa Taco Salad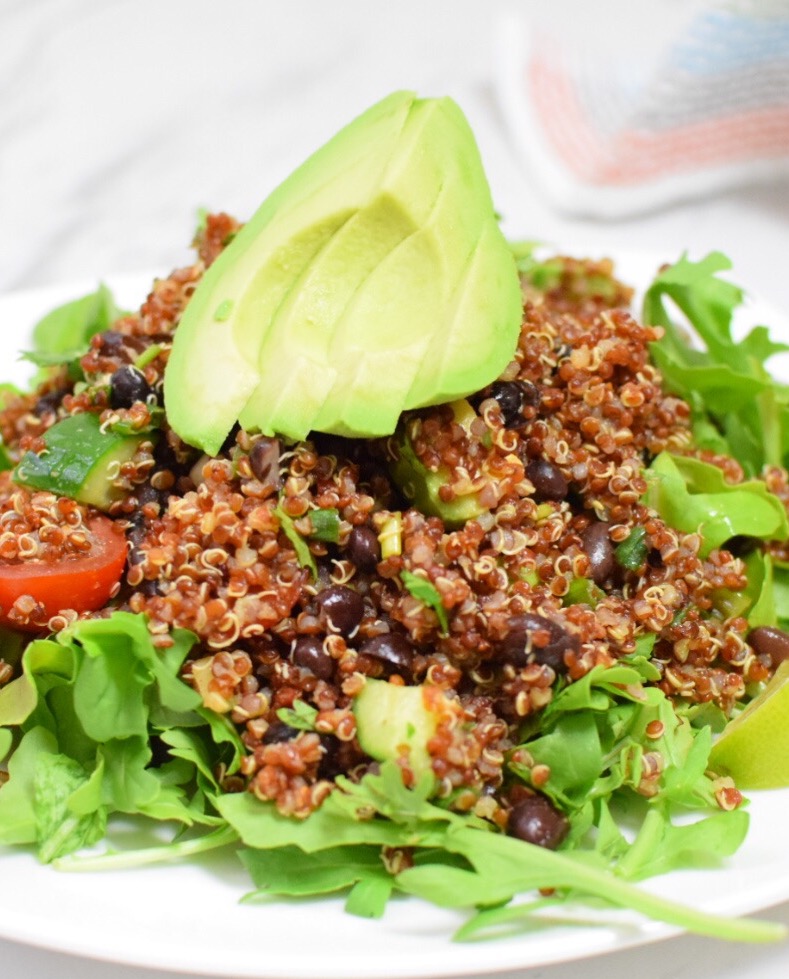 In this vegan recipe, quinoa takes the place of crumbled ground beef or turkey in a healthy taco salad. When we add in a bunch of veggies like leafy greens, cucumber, tomatoes, avocado, onions and cilantro, but leave out the tortillas, we also get a gluten-free dream come true.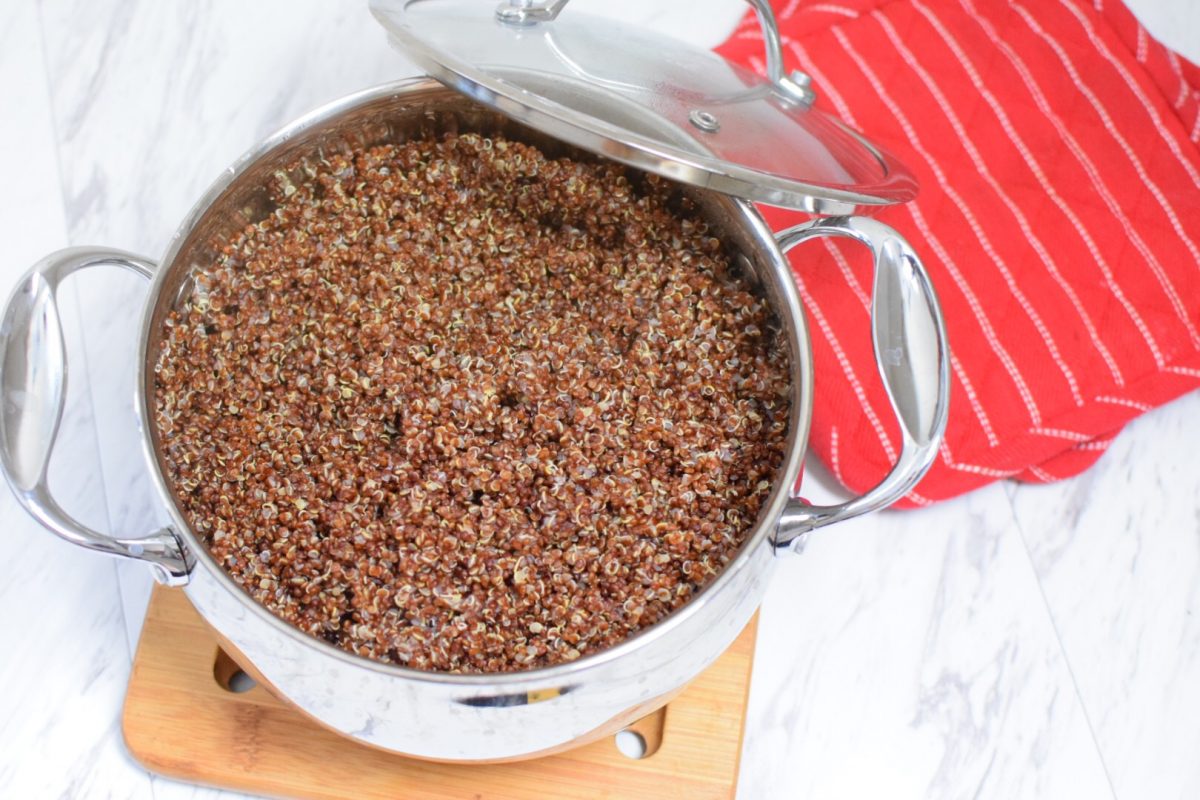 Thank you for your service, quinoa. Thank you!!
And thank you Milk and Eggs, my favorite Grocery Delivery service, for providing such beautiful and delicious tomatoes, cucumbers and avocado that I used to put this dish together.  🙂

Vegan Red Quinoa Taco Salad Recipe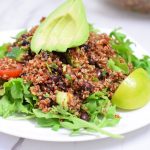 Vegan Red Quinoa Taco Salad
Vegan | Gluten-Free | Anti-Candida
Ingredients
for the quinoa:
1

cup

red quinoa

1

cup

filtered water

Pinch

of sea salt
for the salad:
½

cup

cooked black beans

¼

cup

cherry tomatoes

cut in half

¼

cup

cucumber

chopped

2

Tablespoons

red onion

small dice

1

Tablespoon

taco seasoning

1

Tablespoon

each of fresh cilantro and green onions

minced

1

avocado

chopped 2 cups leafy greens

2 - 4

cups

leafy greens of choice

I love arugula, spinach or mescaline greens
for the dressing:
2

Tablespoons

olive oil

Juice of 1 lime

1/2

teaspoon

sea salt
Instructions
Rinse the quinoa in a fine mesh strainer under cool water using your hand to scour the seeds.  This step not only helps remove any dust or dirt but also assists in removing the bitter outer layer of the quinoa.

Now place the rinsed quinoa in a small sauce pan with filtered water and a pinch of sea salt.  Bring to a boil, cover and reduce the heat to low.  Let simmer for 15 minutes and then turn off the heat.  Wait 5 minutes before removing the lid (this step helps prevent sticking).

Place your cooked quinoa in a bowl with black beans, cherry tomatoes, cucumber, red onion, taco seasoning, cilantro and green onion, and avocado.

In a small bowl combine the dressing ingredients and then put over the quinoa mixture.  Stir to combine.

Serve over a bed of leafy greens.  Enjoy 🙂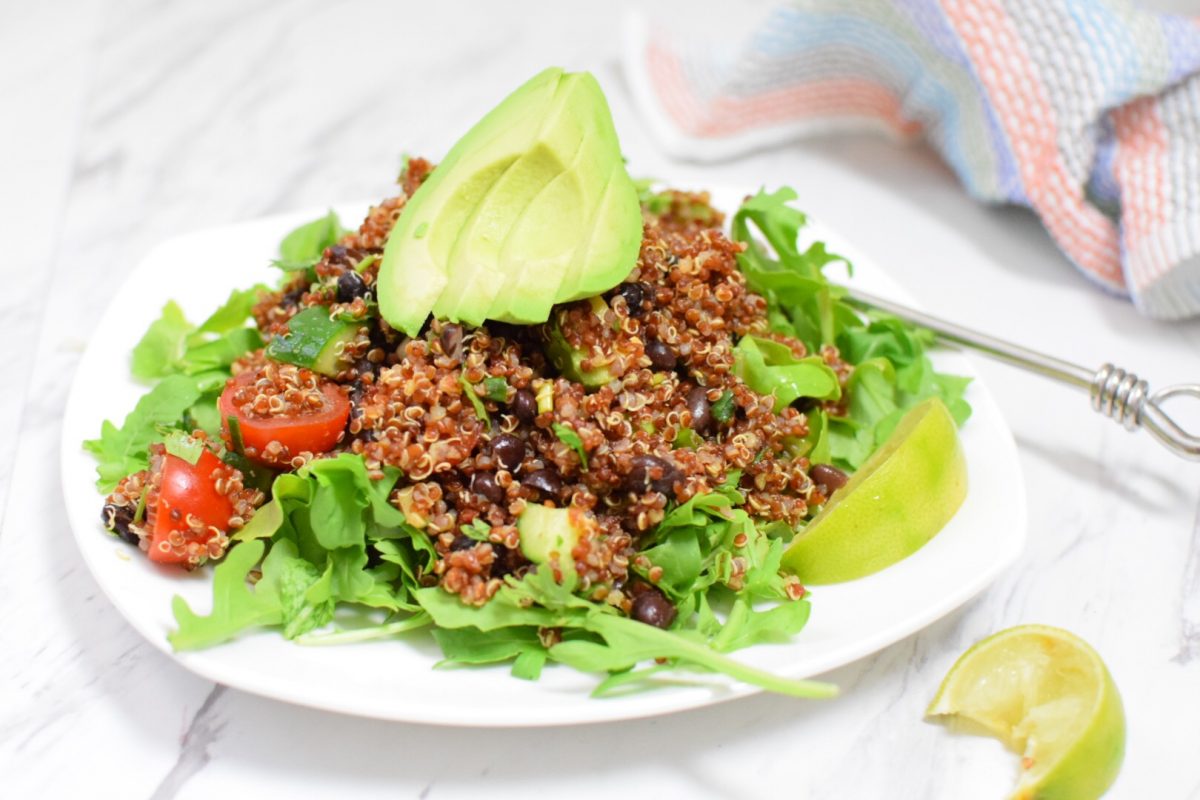 If you make this recipe, let us know! Please rate it and leave a comment below 🙂
Also, we LOVE to see your kitchen creations!
Tag us with your photos on Instagram @Naturaltastychef #naturaltastychef or on Facebook: Alison Charbonneau, Natural Tasty Chef.