A high protein, grain free breakfast that incorporates brussels sprouts served my favorite way…shredded!  Eggs over easy with Shredded Brussels sprouts is soon to be your go-to breakfast!
Vegetables are like hugs.
You should have plenty of them everyday, throughout your day.  But often times, we reserve vegetables only for lunch foods, like soups and salads, or side dishes for dinner.  This recipe is an easy and delicious way to incorporate more green stuff into your breakfast.

Brussels Sprouts and Eggs
Let's look at the two main ingredients in this recipe: brussels sprouts and eggs.  Brussels sprouts are a part of the cruciferous vegetable family, also known by the more modern terminology as the brassica family.  These veggies, such as broccoli, bok choy, cauliflower, and kale (among others), have a shared compound called glucosinolates, which happens to contain stinky-smelling sulfur.  (So maybe that foul smell at Thanksgiving wasn't uncle Richie, after all). 
Glucosinolates have been under the literal microscope in recent years and have created lots of buzz around its success in preventing certain types of cancers (specifically lung cancer, breast cancer, colon and rectal cancers).  These studies are on-going and scientists around the globe are working to replicate these results consistently.

One note about glucosinolates
(if I have to write that word one more time…): This magical compound can have negative side affects on the thyroid, especially for those who already suffer from a thyroid issue, have Hashimoto disease, and/or have an iodine deficiency.  Therefore, it is better, in general, to cook cruciferous vegetables and avoid eating more than a couple servings per day.
Easy Digestion…
Going back to the topic of sulfur and gas – this leads us to eggs, nature's wonder and fuel for a 10 year old boy's fart session.  "Hard" cooked eggs, such as fried eggs and hard-boiled eggs, spend over three hours in the stomach and can pass through the entire digestive system without being completely assimilated.  This can create a build up of gas in the body that can lead to digestive discomfort and bloating, not to mention awkward first date moments.  Eggs are more digestible and more wholesome when they are coddled, or cooked "softly".  This happens during the cooking process when the egg white becomes partially firm but the yolk still maintains its liquidity.  That's why in this recipe, the eggs should only cook for a short amount of time.  If you are unskilled at flipping eggs on the frying pan without breaking the yolk, don't be so hard on yourself.  This dish will still taste yummy with broken yolk!


Specialty Equipment and Ingredients for this Recipe:
Eggs Over Easy with Shredded Brussels Sprouts Recipe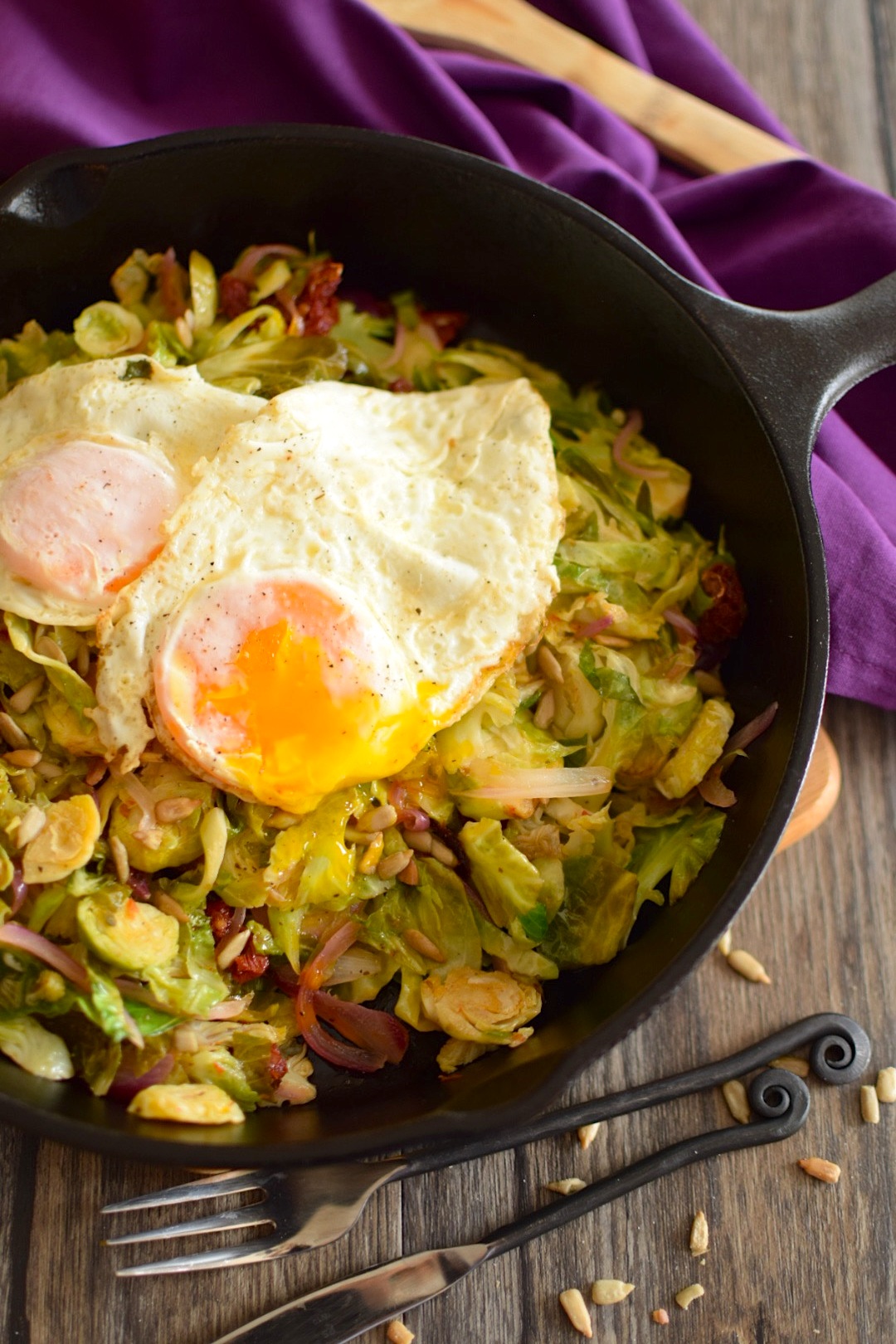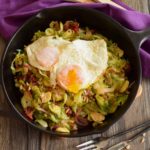 Eggs Over Easy with Shredded Brussels Sprouts
Paleo | Gluten-Free | Anti-Candida
Ingredients
6

cups

shredded brussels sprouts

about 12 - 15 brussels sprouts

1/4

cup

olive oil, coconut oil or grass-fed butter

divided

1

small

red onion

sliced into half moons

1/2 

teaspoon

sea salt

divided

1/2

cup

sun dried tomatoes

in olive oil

1

Tablespoon

apple cider vinegar

4

organic

free range eggs

3

Tablespoons

sunflower seeds
Instructions
For the brussels sprouts:
Wash and trim the ends off the Brussels sprouts and cut in half. Thinly slice each half, like you would an onion or head of cabbage, creating thin shreds.

Heat a large skillet with 2 Tablespoons oil or butter and place the sliced onions in the pan with a pinch of sea salt. Sauté on medium heat for 2 – 3 minutes, or until the onions start to soften. Add the sun dried tomatoes, allowing a little oil from the jar to drip in and continue to sauté for about 1 - 2 minutes more.




Next add the shredded brussels sprouts with another pinch of sea salt and sauté for a couple more minutes. Add the apple cider vinegar and place a fitted lid over the top to create steam. Continue to sauté until the brussels sprouts are no longer tough and hard. Finally stir in the sunflower seeds.
For the eggs:
Heat a medium non-stick skillet over medium-low heat and add 2 Tablespoons of oil or butter.  Once the oil is hot, crack the eggs into the pan.  Sprinkle eggs with a pinch of sea salt and pepper.  Once the whites start to set and go from translucent to white, gently lift one side and flip the egg over, avoiding breaking the yolk.  Cook for about 1 minute more.

Slide onto plates and serve warm with Brussels sprout and onion mix.
Check out our Digital Cookbook Everyday Recipes For Your Candida Diet. Over 100 Recipes that are Sugar-Free, Gluten-Free, Yeast-Free & Dairy-Free.
Grab Your Copy Today!