Tabbouleh is one of my favorite ways to prepare Quinoa.  Traditionally made with wheat, this is an equally delicious gluten free version! I hope you enjoy this healthy Quinoa Tabbouleh Salad Recipe.
Tabbouleh…Tabouli…Tabbouli…
This dish has many names, and almost as many opinions about how it should be prepared!  And for good reason.  Tabbouleh is a dish that originated in the Levant, which is a large area of land east of the Mediterranean Sea. This land is now covered by several countries including Israel, Syria, Lebanon, Jordan, and others.  Therefore, tabbouleh's history does not stem from one particular country, but from this large region of land that dates back before many of those countries were even founded!  That probably explains the numerous variations of tabbouleh: as time passed and the Levant broke up into smaller countries, each region, whether consciously or not, developed their own spin on this signature dish.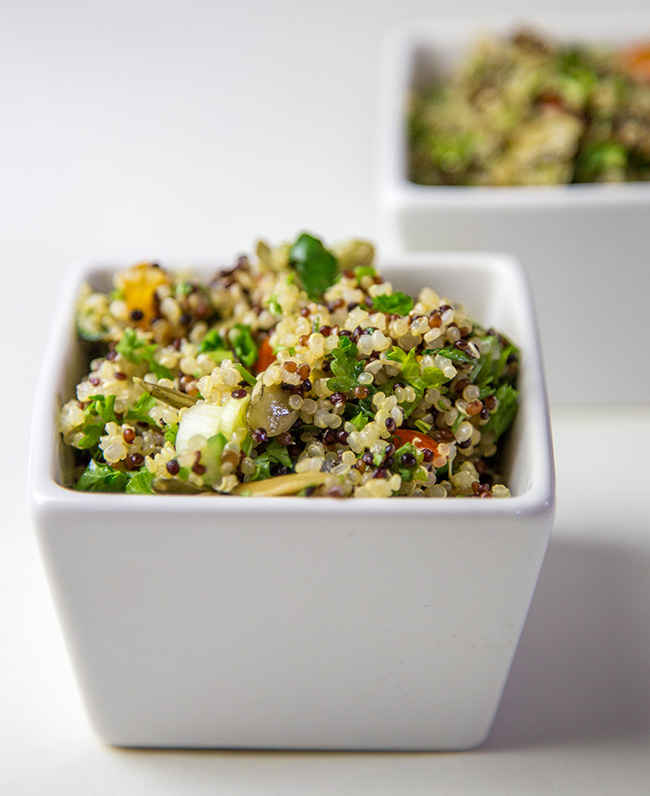 Tabbouleh with a TWIST:
One ingredient that is a common in most forms of tabbouleh is bulgar wheat.  However, for this recipe, I've swapped out quinoa for the bulgar for a few reasons. Although bulgar has less calories and more fiber than quinoa (cup for cup), quinoa's dense little kernels (they're actually little seeds) contain more nutrients like protein, copper, magnesium, and phosphorus. Quinoa is also gluten-free, making this dish more accessible to people with gluten allergies and to hippies in California, like me. Of course, let's not forget about all the other great things that comprise tabbouleh like mint, cilantro, parsley, and lemon.  FYI, 1/4 cup of lemon juice provides 47% DV intake of vitamin C and just 1/4 cup of fresh parsley has almost 300% DV of vitamin K (both for a 2,000 calorie diet). Not too shabby.
Another neat-o thing about tabbouleh:
Tabbouleh can be eaten as a main course or a side dish, either served hot or cold! Go on, give both a try. Be experimental, just like in college 😉
On a side note:
Many Tabbouleh recipes also include the use of cherry or grape tomatoes. In my recipe below, I've included them only for optional use. For those following food combining techniques, tomatoes are technically a fruit and should therefore be eaten alone.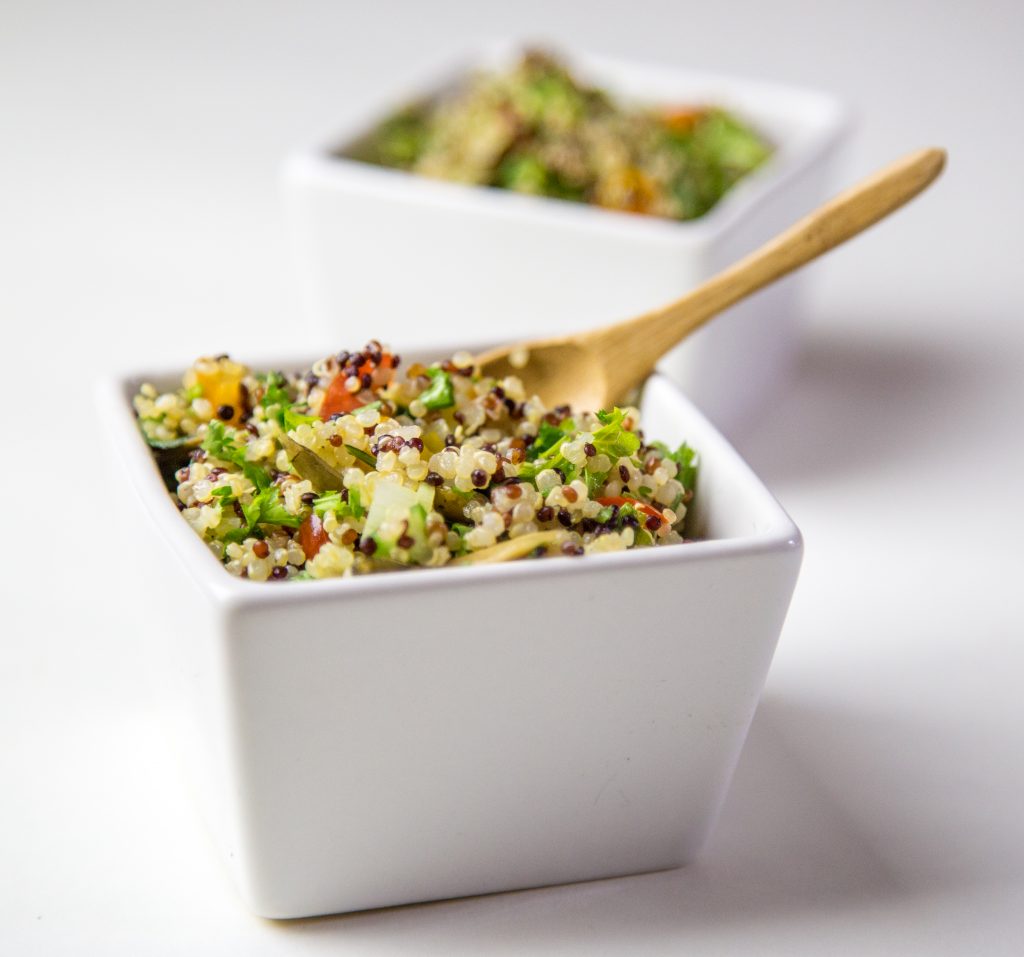 For my personal chef clients, I normally pair this dish with Homemade Hummus and grilled veggies such as asparagus, zucchini and broccoli.
Enjoy ❤
Quinoa Tabbouleh Salad
Gluten-Free | Anti-Candida | Vegan
Ingredients
1

cup

tri-colored quinoa*

1

cup

water or vegetable broth

1

teaspoon

sea salt

divided

1/4

cup

olive oil

Juice of two lemons

1

Tablespoon

rice vinegar OR apple cider vinegar

Pinch

black pepper

2

scallions

finely sliced (green and white parts)

1/2

cup

Persian cucumbers**

very small dice

1

handful parsley

minced about 2 Tablespoons

1

handful cilantro

minced, about 2 Tablespoons

1/3

cup

cherry tomatoes

quartered (optional)

1/2

cup

roasted and salted sunflower seeds

1

handful mint

minced (optional)
Instructions
Place the quinoa in a fine mesh strainer and rinse thoroughly under water to remove any dirt and loosen bitter coating. Place quinoa in a small saucepan with 1 cup water or broth and a pinch of sea salt. Bring the liquid to a boil, then cover and reduce heat to low and let simmer for 15 minutes. Turn off heat but keep the lid on the quinoa for another 5 minutes to prevent sticking to the bottom of the pan.***

In a small bowl, whisk together olive oil, lemon juice, vinegar, sea salt and black pepper.

In a separate bowl, mix scallions, cucumber, parsley, and cilantro. Add cherry tomatoes and mint, if using.

Place quinoa in a large mixing bowl and fluff with a fork (this keeps the dish light and airy). Slowly drizzle olive oil mixture over the quinoa and fold in herbs and cucumber. Add sunflower seeds, if using.

Taste for seasoning.
Recipe Notes
*Any color quinoa will work; tri-color quinoa makes the dish extra enticing and colorful
**Persian cucumbers have less seeds and seem to be less wet inside, making them great for a dish that calls for finely diced cucumbers.
***If the quinoa becomes overcooked and is stuck to the bottom of your pan, let it sit covered for 5 minutes, allowing the steam to un-stick it.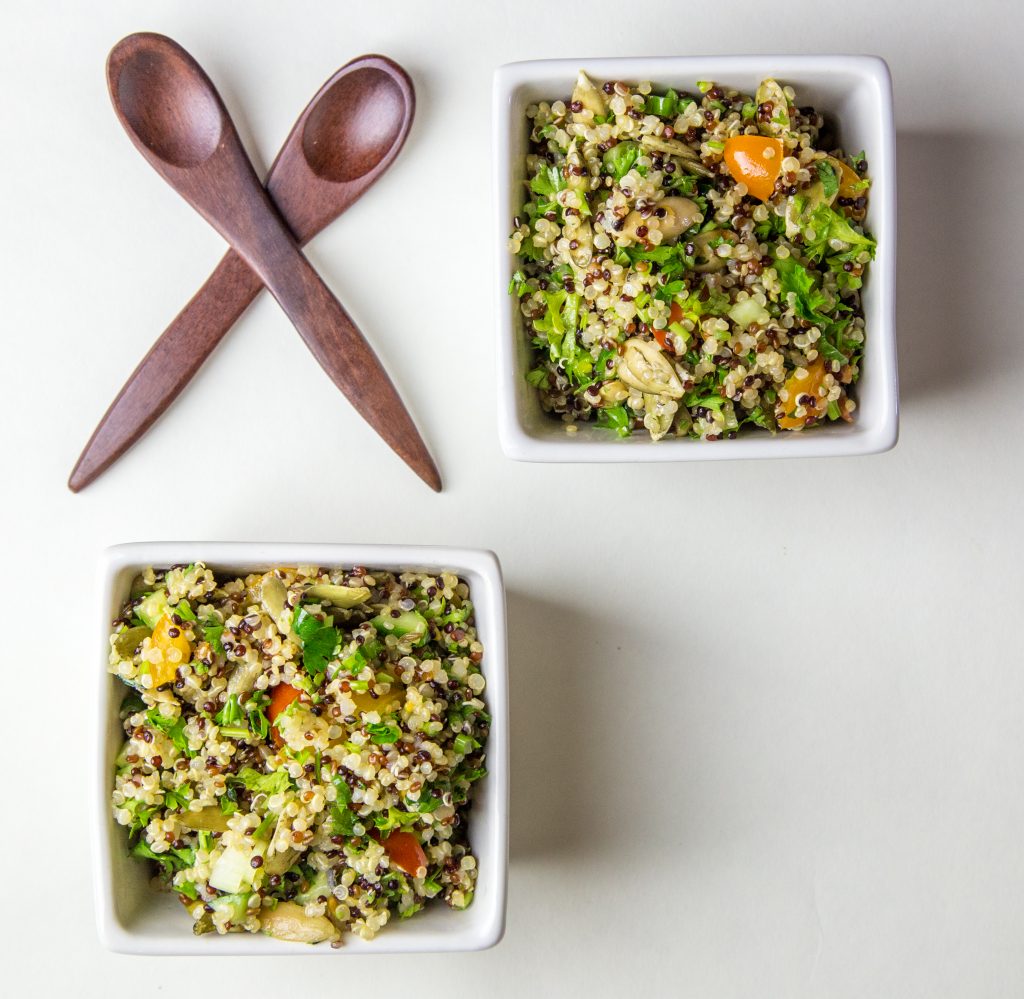 Photos in this post courtesy of Bobak Radbin: www.bobakradbin.com